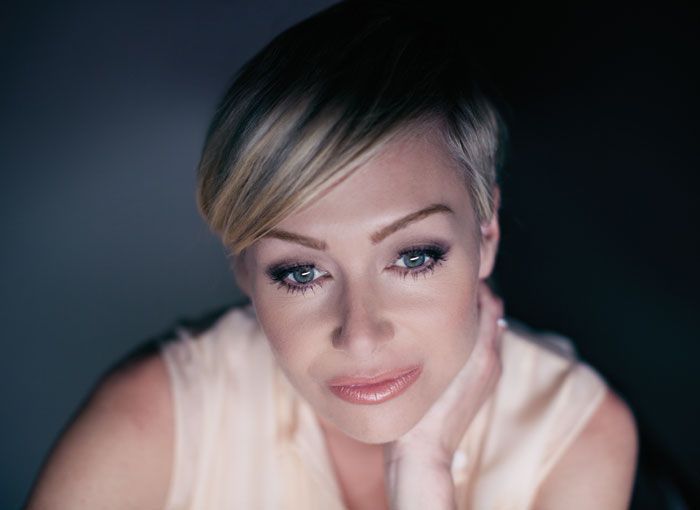 Don't ask Portia de Rossi to do the chicken dance.

"I don't understand. Everyone seems to want to do the chicken dance in front of me or asks me to do it," she says. "People always ask Ellen [DeGeneres, her spouse] to dance and me to chicken dance."
In case you don't know, the Australia-born actress did the unforgettable routine ("Chee Chaw! Chee Chaw!") as Lindsay Bluth Fünke on the comedy
Arrested Development
, which will be resurrected in all its absurd glory this May as part of Netflix's new original programming. Since Fox canceled the series after three seasons seven years ago, rumors of a triumphant return have circulated nonstop among comedy nerds (and everyone else, for that matter).
Prayers are being answered in the form of a 14-episode season that reunites the whole gang--from George Bluth Sr. to Bob Loblaw. De Rossi says that not only was no one surprised ("We all wanted to do it and knew it was only a matter of time until Mitch [Hurwitz, the writer] made it happen"), but, on set, nothing's changed.
"It was surreal," she says. "We were exactly the same in character and everything was exactly the same between takes. On set, Michael [Cera] doesn't even look grown-up, and he's a successful adult movie star. Actually, that makes it sound like he's in the porn industry. Sorry, Michael."
De Rossi, says to anticipate growth from the delightfully self-absorbed Bluth daughter. But fret not, die-hard fans: Lindsay is still the kind of person who wears diamond night cream (de Rossi's favorite Lindsay moment of all time). And she is just as enjoyable to play.
"
Arrested Development
is more fun than you could ever imagine.Every single person, when you're in a scene with them, you're watching them and thinking, 'That is the funniest person I have ever seen.'"
***
Portia de Rossi answers our TV survey:

Do you watch your show when it airs?
If it's not in HD, I do.
What's the best thing about going to set everyday?
I'm providing a service to better mankind. And P.A.s will do stuff for me.
Do people come up to you to talk about your character? What do they say?
Do the chicken dance.
Portia's Hair by Benjamin Mohapi for Crosby Carter Management and Salon Benjamin. Dress by Salvatore Ferragamo.
More Of Our Favorite TV Stars