Listening to Aristophanes's whirlwind spit, you'd never guess the Taiwanese rapper only heard her first rap song five years ago. "My mom doesn't like music. That's why there was no radio or TV when I was a child," she explains. "When my classmates talked about [pop stars], I was just like 'who's that, who's that?'" So instead of torrenting Nas's Illmatic, she developed a deep love of literature, running the gamut from Harry Potter to classic Greek philosophy, an admiration made evident by her chosen stage name.
Even though hip-hop was a fairly recent discovery for Aristophanes, the poetry-like musical form made a big impression on her, so much so that she decided to try it for herself. Rocketing to international notoriety thanks to a rapid-fire guest spot on Grimes's Art Angels last year, the former creative writing teacher says that despite her newfound fame, she remains relatively small-time in her home country. But she seems to prefer it that way, opting to work on her own music rather than interact with the rest of the male-dominated Taipei rap scene, which she believes to be superficial and derivative. "They watch a lot of US rappers and videos and try hard to be like them," she says, emphasizing that this sort of grandiose braggadocio just isn't her. "I'm not really interested in champagne or cars because it's not part of my life." After all, she still hasn't even told her parents she's a globally known rapper working on an album with Arcade Fire frontman Will Butler (the two have released previous tracks like "3001: A Space Disco") and underground dance darling Jam City. "Maybe I will invite them to my show in the future," she smiles. "But not now."
When did you first get into rap?
Maybe 5 or 6 years ago. I heard a Mandarin rap by our local rapper -- I think it was Soft Lipa. I was so surprised by that, because it was so poetic. I was not really into music before then but after that I just wanted to do this.
You weren't into music before?
No. I was really into literature, but I wasn't really into music.
Was that love of literature sort of a segue into rapping?
Yeah!
Can you walk me through your writing process? What inspires you? What do you like to rap about typically?
Mostly I want to rap about situations the modern human is facing. Sometimes I just like to write something poetic or abstract and inspired by a lot of movies, literature or modern dance.
Modern dance? That's an interesting lyrical inspiration.
Yeah, do you know Pina Bausch? She's German and [was the subject of the 2011 documentary Pina] a movie directed by Wim Wenders. I just watched that movie and I was moved a lot. Every time I feel confused in my own creative life, I will watch it.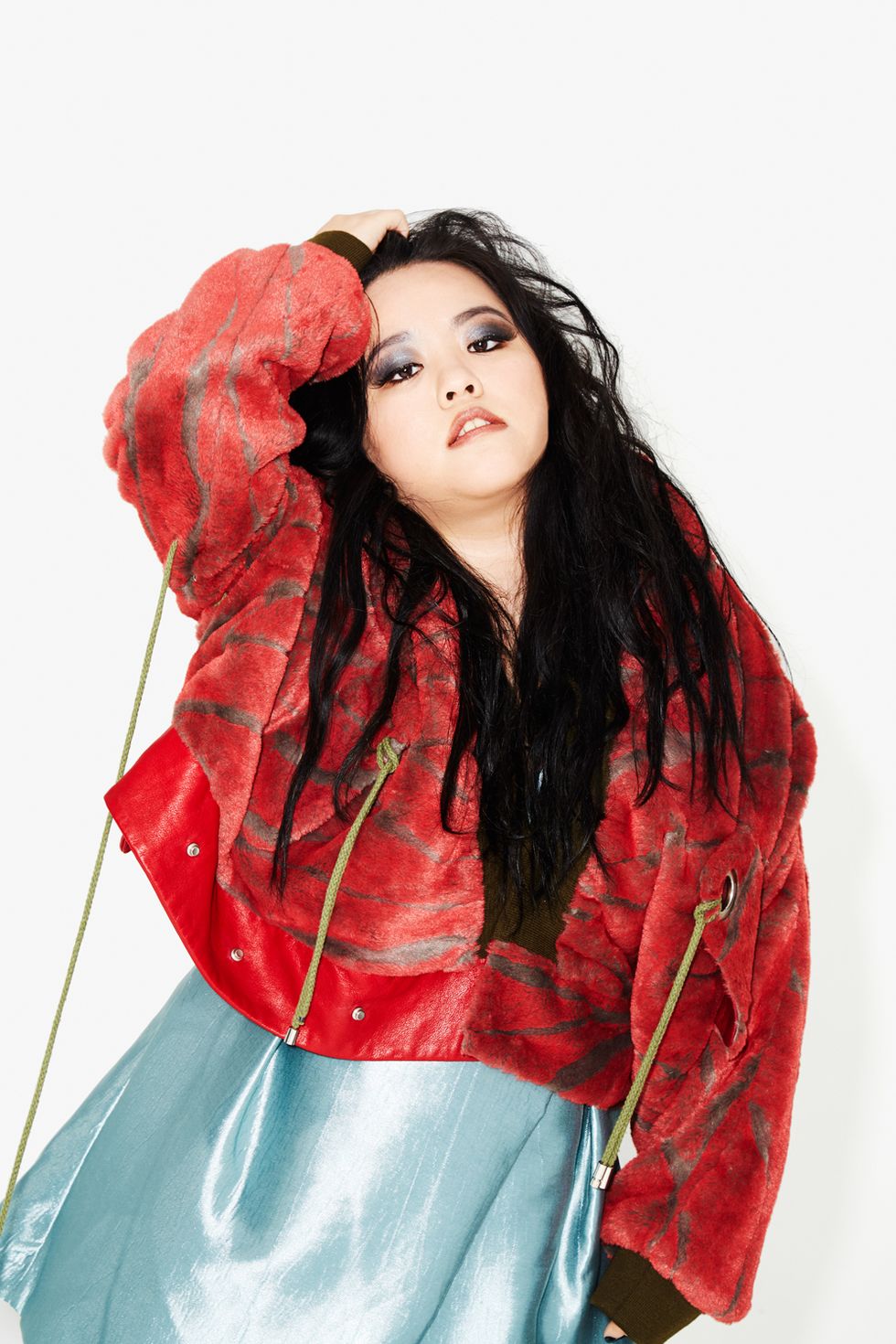 In this and splash photo Aristophanes wears a jacket by Ming Studio, a dress by Topshop and sneakers by Vans
Why choose the name Aristophanes?
Because I was really into Greek philosophy maybe six years ago [when I first started rapping]. One day I fell asleep and I dreamed of some guy and he wanted me to spell [Aristophanes]. He didn't say why he wanted me to do that, but after that I just wrote it. After I woke up I decided to use that name. I like his work too.
So you're big on philosophy?
I'm interested in it, but I'm not an expert.
What kind of literature are you into?
Harry Potter, and some Mandarin literary work.
So what's the rap scene in Taipei like? Is it as male-dominated as it is here?
Yeah it's male-dominated. It's all male MCs. The rap scene there is not mature but there are some interesting things happening. Small but interesting.
Do you ever feel like you're the underdog in the sense that you're the only female out there?
A little bit, because they're so used to seeing male rappers and they feel comfortable with that. And I don't really feel comfortable hanging out around them. I just don't like it.
So you don't go out and hang out with other rappers and collaborate?
I collaborate with producers but I don't really collaborate with rappers. I don't really like their style in Taipei. It's like they're showing off. Or they just want to be liked. Or be a famous rapper in America. They watch a lot of U.S. rappers and videos and try hard to be like them.
Okay so instead of money and bottles, would it be fair to say you're more interested in loftier subject matter?
Yeah, just like that. I want to be myself. I don't want to be an American rapper, because I'm not American. I mean the cultural connection to it makes me feel like "Okay, I want to rap about this." I don't want to just rap to get famous fast. I don't want to do that.
Speaking of Asian rap, there's been a big explosion lately. Like you see Korean rappers like Keith Ape making headlines and going international, but I'm curious to know what you think about that. Especially since there's been some debate in regards to African-American culture being appropriated by East Asians.
I think it's really cool. It's about diversity because when there's more and more Asian rappers -- or female rappers, or queer rappers -- people can say something now like "That's my opinion, that's my feeling and my culture." I think it's always a good thing for many kinds of people to say something really different.
What kind of perspective do you think you bring?
[I think I can give insight into] political situations in Taiwan. My history and my country and the people I'm connected to. I also care a lot about LGBT [rights].
Is that a big issue in Taiwan currently?
Yeah, I think so. All of my friends care about it and it's a big issue to me.
Speaking about your production, who have you been working with?
I'm now working with Will Butler from Arcade Fire. He's producing my album. And David Kahne, he's a producer for Paul McCartney, and a British guy named Jam City.
Jam City is an interesting one. It's cool to see you working with a mix of high profile names and more underground producers. Though I did notice you have a penchant for dark, dystopian beats. Is there a particular reason why you gravitate towards darker sounds?
I'm not really interested in champagne or a cars or something because it's not part of my life. I also like to imagine something really dark. Like how human beings face [a dark, difficult] kind of situation.
Right, but there's a marked industrial influence in a lot of the beats that you choose -- did you grow up listening to underground rock or something like that?
No, there's not much influence from those subcultures. I just feel that it really attracts me and I grew up in literature. I didn't really get into industrial culture, you know?
What were you like growing up and before you became Aristophanes?
It's really interesting because there was no television, no radio, no music collection in my home. I never thought I'd be a rapper when I was young. I just read. I didn't really know the pop singers or pop stars on television. When my classmates talked about that I was just like "who's that, who's that?" What's really interesting was that there was no pop influence in me before I was 20 years old. I started to listen to rap and hip hop music then. I was a college student and I became a creative writing teacher and after I began working with Grimes, I just quit. Being a rapper became a full time job.
What do your parents think about making this a career?
They don't know about it. They don't get why I'm always out when I'm on tour. They just don't get it. They can't speak English so I don't know if they can read magazines or something. Maybe they found [my photo on a website or something] but they haven't talked about this with me...My mom doesn't like music, that's why there was no radio or T.V. when I was a child. She just doesn't like that.
Have you been met with any negativity? Can you tell me a little bit more about that? What kind of struggles have you faced in Taiwan as a female rapper?
I mean it happens everywhere. Now it's cool, but on my first Japanese tour there were so many venues that I needed to go to and I was the only female artist there. They want to touch you like you're a rare animal or something. And when they were drunk things got worse. Now it's okay, I have my manager with me but [it was hard] when I was on the first Japanese tour on my own...just trying to touch me. In Asian culture, Japanese boys don't always touch girls. But they did it to me. I was so confused.
Are you an icon in Taiwan now? Do you get recognized on the street and all that?
No, but Taiwanese people are so shy, so even after the show they don't come and talk to you. In other places like New York, someone will watch my show and just come to me and want to say hello. Taiwanese people aren't like that. They like you and they watch your show and just leave. They're just curious about how I did it but they don't really understand music now. I don't feel like they are really supportive of me. I feel like I'm just a crazy girl.

Styling by Lin Xiu Wei and Ella Cepeda
Hair by Isaac Davidson at Wilhelmina
Makeup by YuuiVision using Obsessive Compulsive
Nails by Narina Chan at Wilhelmina
Location: Dune Studios