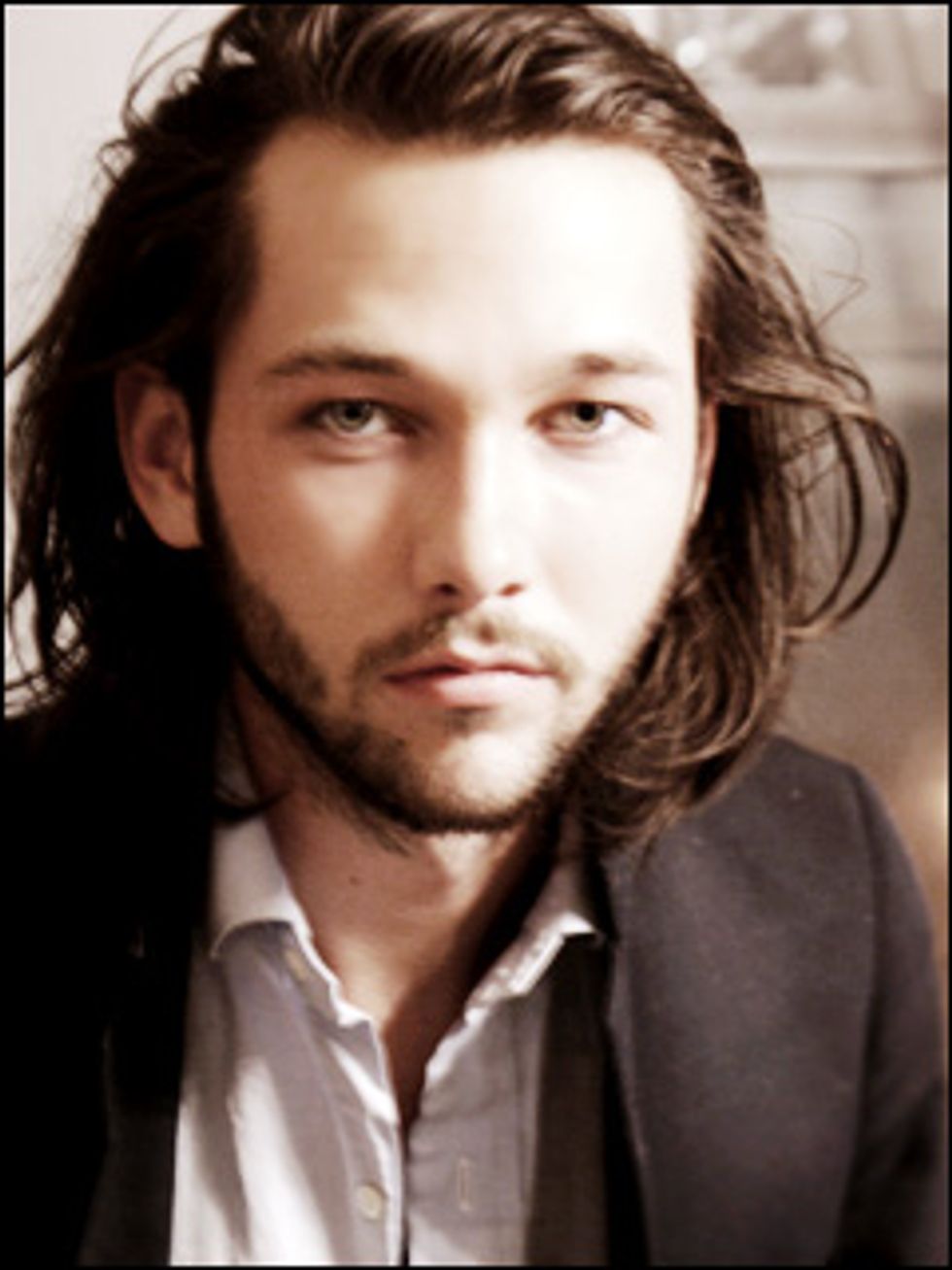 Designer Chris Benz introduces his office on a busy commercial street in the Garment District, where he moved last August. "We painted everything," he says. The gray walls are subtly dual-toned, while the black floor is lathered in industrial-grade garage paint. The studio is filled with rigorously ordered boards, graced with Benz's long, practiced calligraphy.
Along the walls of the studio are the racks, color-coordinated in bright colors, lying in wait for fittings, and ultimately the runway. This, his third season, is a break-out for Benz, who at 24 has already won a CFDA Emerging Designer Award. For the second year in a row, his show is right before Marc Jacobs', the line where he once worked as an intern. He's been profiled by Teen Vogue and The New York Times Magazine. With his label on the move, Benz is collaborating with luxury jewel makers Lulu Frost on a line of eclectic, African inspired pieces, to benefit Women For Women, an organization that aids female survivors of war.
Benz's mixture of rigorous design and casual presentation has tapped in with a certain type of woman. There's some amount of pretense, but it's performance, and it's all in good fun. There are flouncy hats and mohair jackets. There are long dresses, hyper-matchy suits and pajama tuxedos. Last season, Benz sent his models out in plastic celluloid glasses; this time around, they're candy-colored sunglasses. Given the amount of editorial and retail notice he's gotten in such a short time, Benz has struck a chord. But who is the Chris Benz girl, and what does she want?
On the street outside his office, Benz leans against a wall, then points: "I designed that girl's dress for J Crew," pointing to a plaid strappy dress on a short young woman inelegantly plodding away, department store shopping bags in hand. She is not a Chris Benz girl.
Alex Gartenfeld: What type of woman you feel you're dressing for the Spring collection?
Chris Benz: Spring was about this kind of '30s girl in this big house, Ava Gardner strung out. She's wearing the skirt she was wearing last night, with some big old straw hat or whatever. That girl, kind of dazed and restless, I guess. And there's kind of a little African undercurrent.
AG: Is she a Victorian woman?
CB: Exactly. Well the African influence comes from the movies, like the African Queen. It's less about specific movies and more about a kind of fiction. This woman, she is like the biggest starlet in the '30s and she's got this big house. She can't leave because there are so many people outside who would, like, bum rush her. So she's stuck in the house and she's all alone and throwing clothing on, just wearing her negligee kind of. Then we have these big scarves, which are all like tablecloths in a way.
AG: People often mention your Seattle provenance. How does that manifest in your clothing?
CB: I feel like the collections are not very Seattle, but maybe there is this undercurrent of ease and luxury that everyone in Seattle has. My clothing has a very coffee house mentality.
AG: What is the color palette for the show?
CB: It's very pinks and yellows, and kind of like, hospital greens. Any color that you can think of that was in a black and white movie with a Technicolor restoration: intense, off-oranges. Weird neutrals and stuff.
AG: What about hair and makeup?
CB: The hair is very blown out and kind of fried. We're using weird orangey makeup. Like she wore it out and just rubbed it off and then she slept in it.
AG: Did you know a lot of dowdy schoolgirls growing up?
CB: No I wish I did! I think that's where it comes from. The collection is full of these weird, nerdy girls: there's also something happening with the '70s kind of nurse. There's a tuxedo thing, like boys in the '70s would wear all those matching tuxedo things with the shirt and the vest and everything.
AG: Do the girls you dress exist in reality?
CB: I feel like those girls exist. I mean I know lots of them.
AG: Where do you find them?
CB: I don't know... around. I hang out on my stoop; I feel like people who hang out on my stoop are like that kind of person. I always like those types of wanderer girls. They don't really have a job but they're great and grand and they're always flying around. They're in Sao Paulo or something totally chic.
Chris Benz shows at the New York Yacht Club on September 10, at 6 p.m. His ready-to-wear apparel is available nationwide at Fred Segal in Los Angeles, Linda Dresner in New York, Blake in Chicago and limited Saks and Nordstroms. Available online at www.net-a-porter.com and www.shopbop.com.