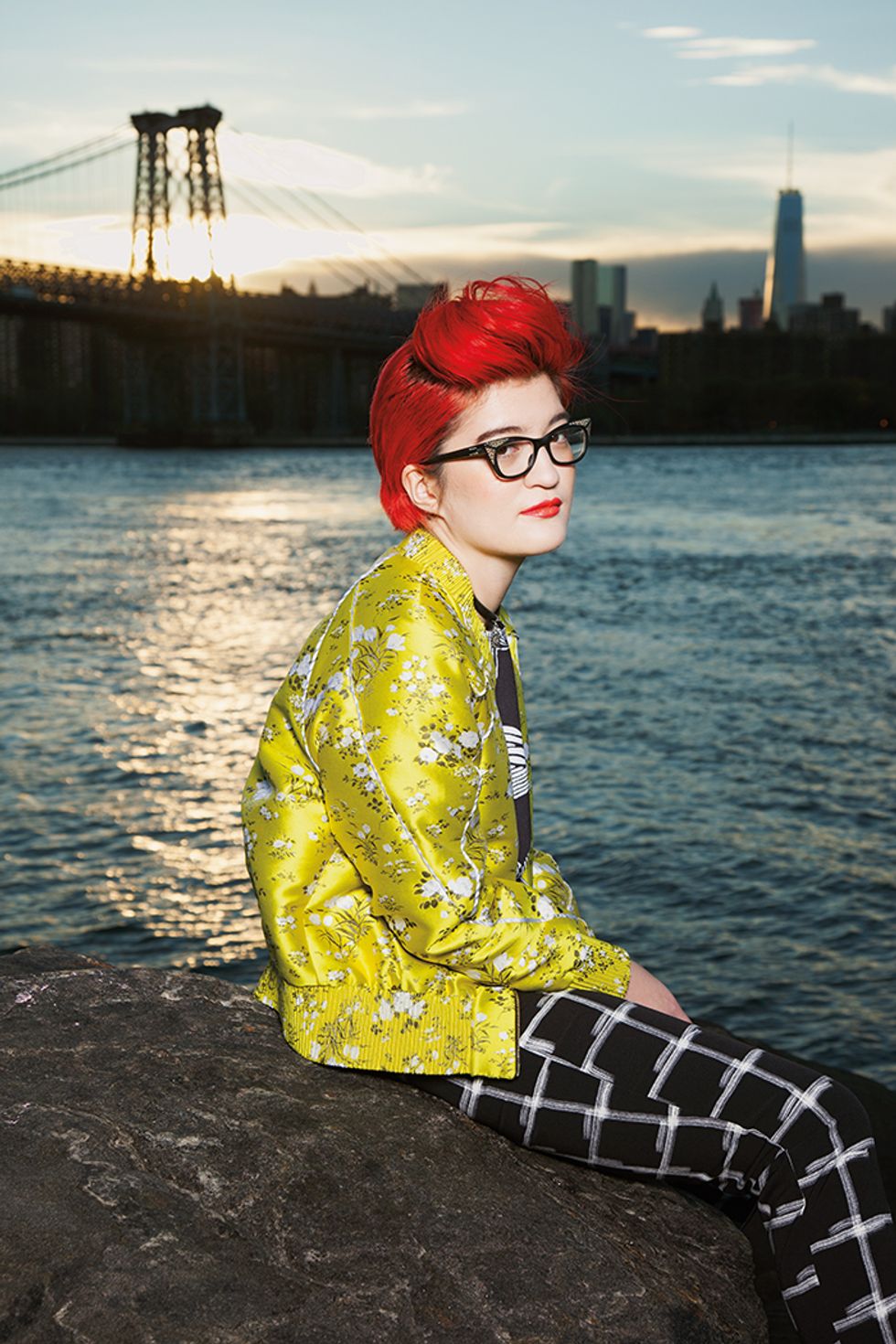 Jacket by Erdem, top by Asos, pants by Topshop

Before she became
Buzzfeed
's newly minted Beauty editor right out of college,
Arabelle Sicardi
quietly reigned as Tumblr's go-to fashion philosopher and beauty oracle. Her blog, bearing the tagline "slightly frumpy, somewhat feminist" (a line ripped and re-purposed from the
New Yorker
's description of Prada), is a collage of dense feminist theory boiled down to its most quotable passages, Drake GIFs, endless questions from young girls from the
Rookie
set looking for advice, and high-fashion images of women who wear makeup like armor. Sicardi often refers to this specific brand of feminism, futuristic
lewks
, and purposely fugly makeupping with the hashtag "robot blogging" -- just one of the ways that the queer beauty blogger engages with fashion on her own terms while highlighting the dynamics of gender and race within it. She also just really likes baby goat Vines and selfies. Enter Arabelle Sicardi's Tumblr-fueled, cyborg vision, below.
When did you start your Tumblr?
I think I started mine in, like, 2007 or something. My current blog is my third one. With this blog I've made it more of my own space and I block people constantly, without blinking, to ensure that it's a space I want to be in. I love blocking people. I wish eliminating people in real life was as easy. But I have really wonderful readers for the most part and I love using my blog as a space to alert them to cool stuff to read and sales and whatever.
When did you start tracking cyborg fashion on your blog?
I've been interested in cyborg fashion for about two years now. As a Gender Studies and Journalism double major in college, I started out with more of an interest in the origins of cyberfeminism through theory I was reading in school, but I wanted to dismantle that really difficult and unapproachable theory into something visual and more accessible using Tumblr.
Who are the biggest players in this movement right now?
I'm interested in
Iris Van Herpen
's approach to technology and fashion -- and have been for years -- but the uniformity of last Spring's shows was really robot, too. The
Marc Jacobs
show was also terrifying. I loved it.

You created the Tumblr tag "robot blogging." What does that mean?
The tag was originally called "Donna Haraway robot blogging" as a reference to the theorist Donna Haraway and her work,
The Cyborg Manifesto
, which is this manifesto from the 90s about women and the reinvention of nature in a capitalist, technological framework. I read it several years ago for the first time and totally hated it to the point of ripping it up -- it was so unapproachable and removed from real human tragedy and oppression.
But, that being said, "robot blogging" is the result of ripping up Donna Haraway's manifesto and rebuilding it into something I could actually identify with. I'm a very visual learner, but still a total nerd, so robot blogging is a visual tag (like cyborg fashion, etc) wrapped in my reworking of feminist theory.
Does Tumblr allow for a discussion on gender, race and beauty that mainstream coverage doesn't?
Absolutely. You're not beholden to advertisers or editorial concerns that would hold you back in other places. The thing about Tumblr is you always kind of feel like you're talking to yourself, or into a void. It always surprises me when other people in the industry tell me they read my blog. I get vaguely embarrassed like, "shit, you weren't supposed to see that, that was just me goofing off, my gloves are off." Anyone can write real, truthful stuff on Tumblr, but not everyone gets access to publications and web platforms to write about these things in a professional context. Mainstream media is still accessed through gatekeepers. You don't have that happening on Tumblr.
What posts of yours are you most proud of and why?
I go through my research and work in very distinct obsessive chapters. Before cyborgs I was into the concept of the female monster. I called her Lady Vengeance, based on my favorite film heroine in
Sympathy for Lady Vengeance
by Park Chan Wook. The film's protagonist is a vigilante -- a beautiful, angry woman who subverted her beauty -- and her signature is her red eyeshadow, which she wears to not look kind. It was so inspiring to me that she used makeup as part of her politics and presentation. The film's approach to race and beauty and desirability made me think very critically about my own identity in these terms. From there, I spent, like, a year and a half building on the ideas of that movie and exploring it in my own work.
But a lot of my work under the "Lady Vengeance" tag has been taken out of context and I don't want the same thing to happen to robot blogging. I've actually begun to make most of my original writing on cyborgs/fashion/body dysphoria private because I don't like when people replicate my ideas without building on them, which is what I think a lot of people tend to do on Tumblr. So now I keep my original posts on the subject private. I still laugh at one of the early ones, though.
This
was a good one.
And I enjoy doing diptych's of beauty looks with quotes from famous cyberfeminists
-- it's a low key way of educating people on really inaccessible subjects. I don't mind tracking other people's work on cyborg aesthetics in public, I've just leaned to keep mine private because it's so wrapped in how I navigate my own body.
Is there anything that you will always reblog?
I deeply appreciate a selfie from a friend who is having a good day or is celebrating something. Reblogging selfies means "I'm proud of you."
Have you ever deleted a post?


Ha, of course!

Who do you think does beauty writing or coverage "right" on Tumblr?
I read
rgr-pop
, my friend Rikki, she came up with the tag "feminist makeupping." We talk about makeup all the time. She's a very under-rated critical thinker on the Internet.
Another a cool thing about Tumblr is that you don't need to specialize your production. You can post random stuff 99% of the time but jot down a very important post about the beauty industry under the #makeup tag and contribute to the conversation without devoting your whole time to this one idea. I like my friend
Elanor
's Tumblr too. It's not ever specifically about beauty but about women and vampires and monsters, which are all related to beauty in their own ways.
#BreakTheInternet Lightning Round Questionnaire
What would your career look like in a world without the Internet?
I have no idea. I owe everything I am to the internet. I am the product of the Internet.
What was your first-ever email address? I think my first email address was a yahoo one?
vinylfinal@yahoo.com? My dad made it for me.
What were you into in the early web 2.0 days--Friendster? Myspace? LiveJournal? Napster?
I was totally into Livejournal -- I was totally in LJ for kpop. I used to be a huge kpop nerd.  
Are you now or have you ever been an online dater?
Yes, excessively so -- and never again. If you talk to me about my blog I instantly do not want to ever bone you.
If you could adopt any web-famous animal, who would it be?
All the bratty goats! I love
goats
!
What's the longest you've ever been offline?
Ummmmm this is pathetic but maybe like a week or something. I'm going on a 3 week detox for the Holidays though, if i don't chicken out.

How many times a day do you look at your phone?
Calculating this makes me nauseous. 
What's the weirdest thing you've ever searched on Tumblr?
Human ponies!
How much time a day, in your estimation, do you spend manning your various online channels?
Ummmmmmmm hours......
Do you ever post during the influence of substances?
Wow, my favorite color is red thank you for asking!
Fashion by Jessica Zamora-Turner / Hair and Makeup by Kim White at Artists at Wilhelmina

BACK TO OUR SOCIAL MEDIA STARS PORTFOLIO