Everything '70s Is New Again
A season after their puppy-filled fashion show, Tod's championed women's empowerment for their spring 2019 collection. The runway was filled to the brim with cropped leather jackets, suede suits, and a few bold, color-blocked sweaters in the shades of beige and blood orange that have swept runways from Milan to London this season.
Mile High Club
Across the collection, neckerchiefs and aviator sunglasses lent a high flying touch to the catwalk. The accessories paired perfectly with leather dresses, aviator jackets, and millennial pink power suits for a series of looks that made the models look ready to go from the runway to the pilot's cabin.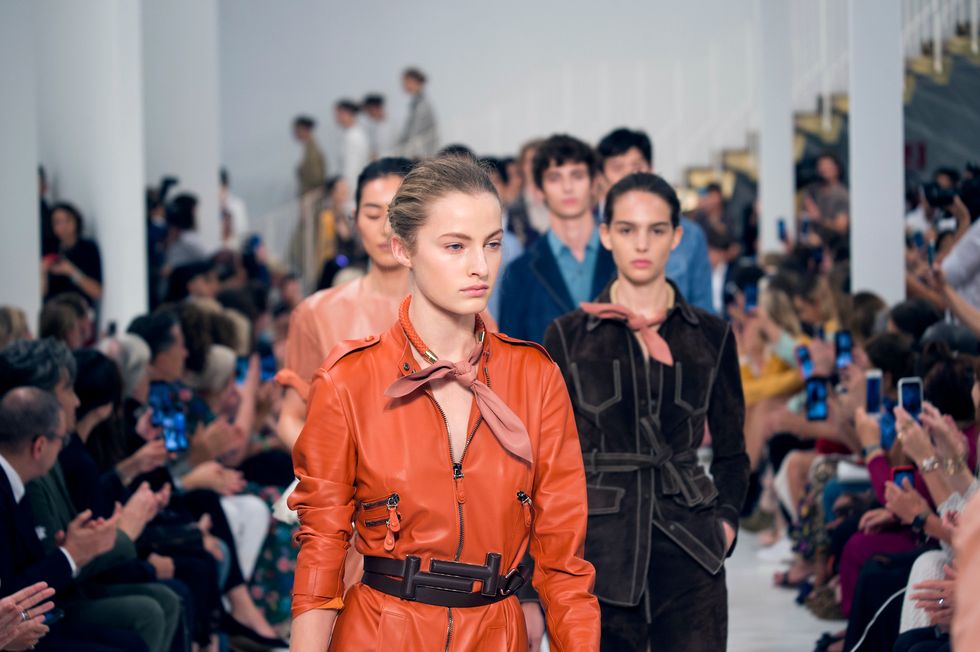 Men and Women Unite
For the first time, Tod's brought together men and women for their spring 2019 runway show. It was a unifying show that mirrored the brand's own offerings, with gender neutral leather jackets, trenches, and suits effortlessly draped on the mix of models.
Three Hadids
Bella and Gigi weren't the only Hadid kin working the runway for Tod's. Hot on his sisters' flats, Anwar Hadid glided down the runway sporting a new, bleach blonde hairdo. Outfitted in suede mocha brown suit and plain white t-shirt, Anwar brought a casual flair to the catwalk.
Sign Up For The Morning PAPER