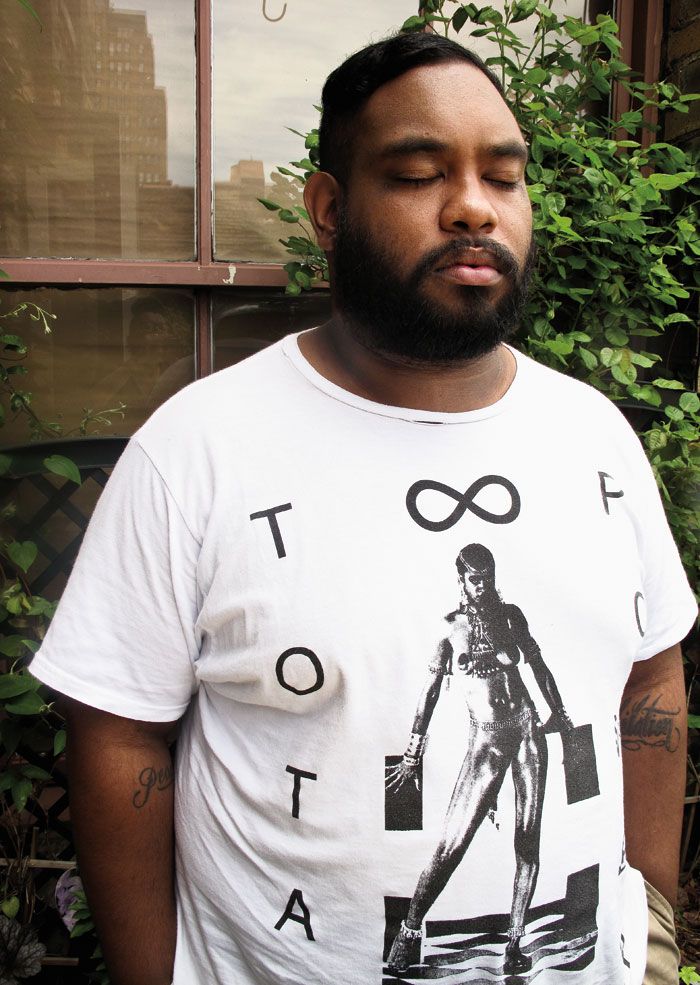 It's a Saturday afternoon and Antwon is at a barbecue -- "the barbecue is over, so it's just drinking now," he clarifies -- but he'll gladly take time out to talk to a journalist. "I really like doing interviews," he says. "I would definitely do a talk show...talk about cooking, talk about drug experiences."
Lucky for him there will be plenty more interviews to come -- the Bay Area experimental rapper is on the ascendant, with recent mixtapes
End of Earth
and
In Dark Denim
lighting up the Internet. Over a sound that is sometimes sprawling and dreamy, other times dark, industrial, pounding and distorted, Antwon raps about "feelings of loneliness, things you're going through yourself." This emotional honesty -- something that sets Antwon apart in the otherwise oversaturated Internet-rap scene -- is defined by his commitments to punk and hardcore. "Punk and hardcore and rap and hip-hop are all street music, they're all the people's music," he explains. "I always liked rap music when I was a kid but I liked other stuff too. There were a lot of times when other kids were like, 'Why are you listening to white people's music?' But I didn't give a fuck. I went to school in upper-class areas and lived in the hood. I was just about being friends with people. I liked a lot of stuff, and that was a good thing."
He credits his career to a couple of genre-crossing eccentrics: "If there was no Kid Rock there would be no Antwon." The same goes for Prince. Currently he's listening to metal bands like Turnstile and Power Trip: "I like big mosh wigger hardcore bands."
And though Antwon was once a member of the Philly-based hardcore band Leather (and can play guitar, bass and drums), he has no plans to back his rhymes with a live punk band. "It would kind of take away from it," he says. "Don't get it misconstrued, don't get it fucked up. I'm basically just rapping, but I'm doing it with passion."
Hey Punk!
Antwon's not the only rapper with experience on the punk stage.
Cities Aviv
The Memphis rapper, who produced three songs on Antwon's
In Dark Denim
mixtape, used to sing in the hardcore band Copwatch.
Juiceboxxx
The Milwaukee MC (and occasional Antwon collaborator) has said, "I've been in some noise and some punk bands over the years, but nothing that was very serious."
P.O.S.
The star of Minneapolis' Doomtree collective, who plays Denver's Westword Music Showcase on June 22nd, also fronts the hardcore band Building Better Bombs and the Warped Tour supergroup Wharf Rats.
Dee Dee King
The Ramones bassist recorded the rap single "Funky Man" and the LP
Standing in the Spotlight before leaving the band in 1989. Sample lyrics: "I'm a funky man / I got funky bones / I'm a funky man / My name is Dee Dee Ramone."