In the chess game of front row seating there is one undisputed queen: Vogue EIC, Anna Wintour. Everyone else, mere pawns. Famous or otherwise, an attendee's proximity to AW is a measure of their standing at that very particular (and fleeting) moment in time. Usually, Wintour's direct seatmates are her Vogue colleagues — Grace Coddington, Hamish Bowles, Tonne Goodman — or occasionally an actress who happens to be on the cover that month. Often it's usually an actress or celebrity the brand showing is promoting; which is to say, all highly orchestrated.
However, for as many shows as Wintour has attended in her 30 years at the helm of Vogue — probably in the 10s of thousands — there are bound to be some surprises (or pairings that are, shall we say, outliers). Some, like Nicki Minaj at Carolina Herrera in 2011, are now iconic images; there are others though, with the benefit of hindsight, that strike a much stranger tone (Donald Trump at Marc Jacobs). Herewith some of the most memorable and major moments of Anna's + 1s.
Queen Recognize Queen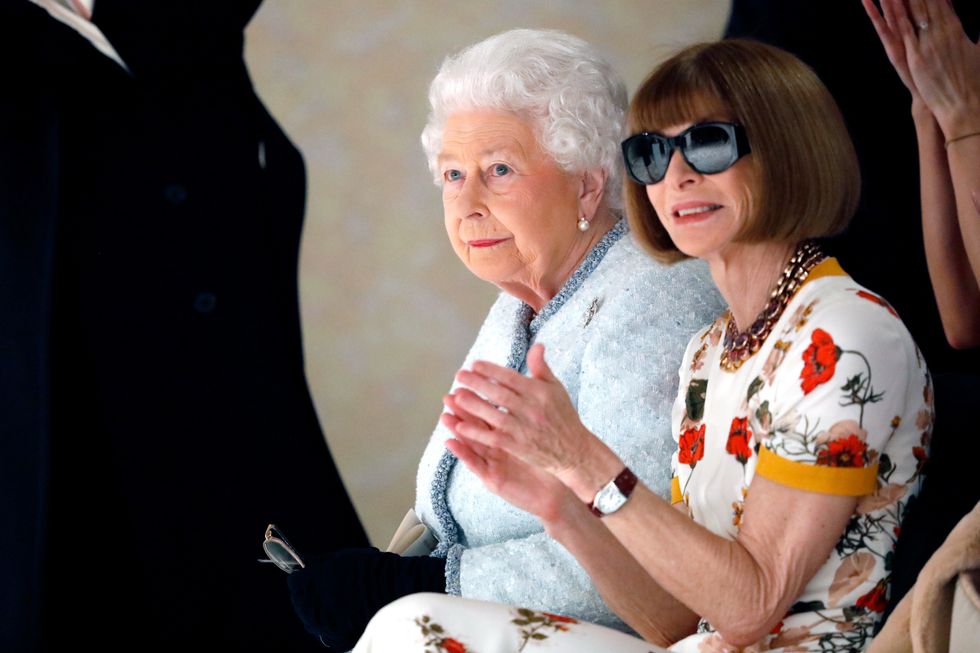 Photo via Getty
The most recent one for the books was at last season's Richard Quinn show in London where none other than Queen Elizabeth II was seated next to (Dame) Anna Wintour. The two had met at least once before in 2017 when Her Majesty The Queen presented AW with the Order of the British Empire. It was one of those moments, looking at the two, where one can say with absolutely certainty... yes this makes complete sense. Rare anymore at a fashion show.
Anna, Cardi. Cardi, Anna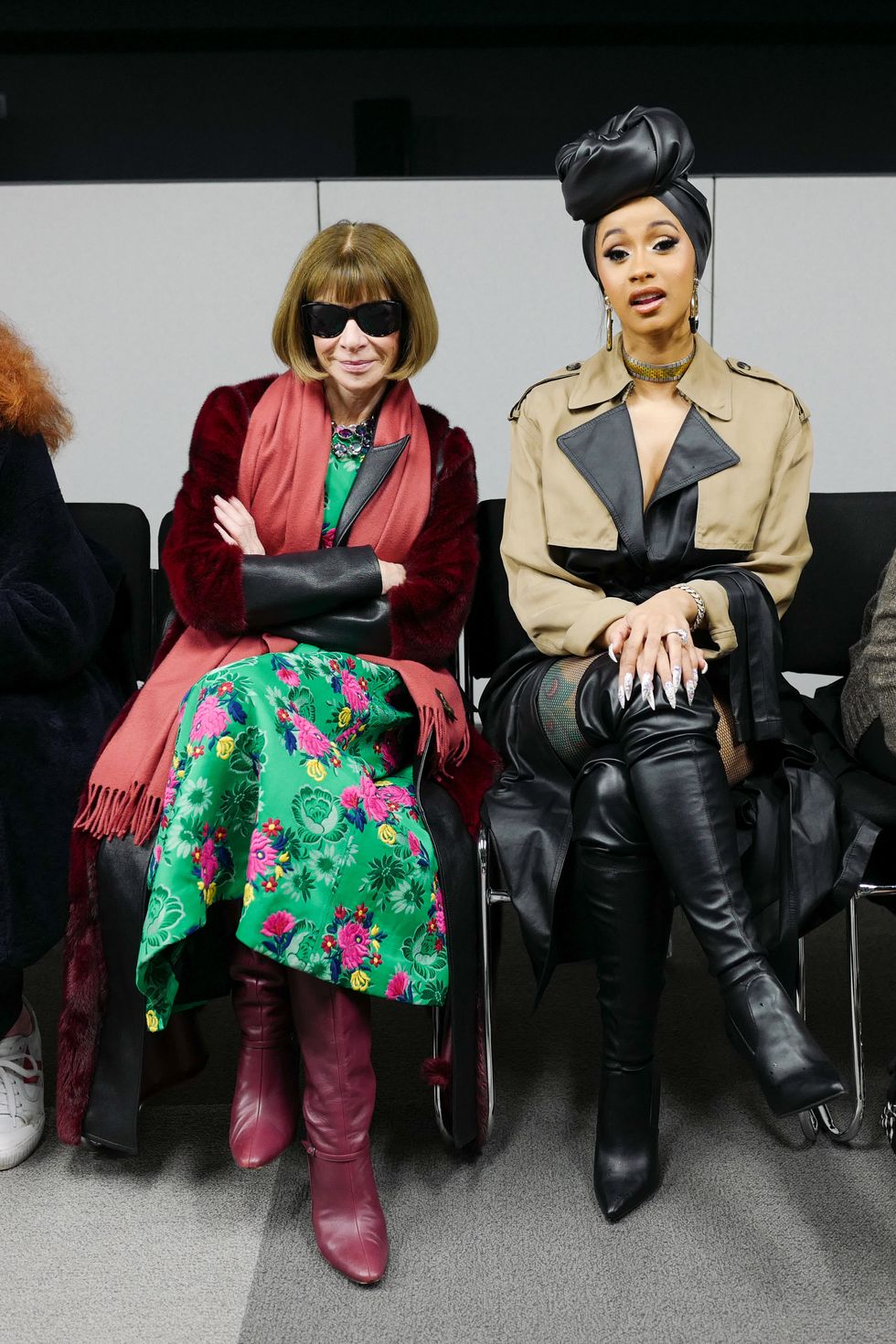 Photo via BFA
The best part about this picture is imagining Anna listening to "Bodack Yellow" for the first time, which is what we guess happened right after she met Cardi B at Alexander Wang last season. Despite Cardi's predilection for Louboutins and Anna's unwavering allegiance to Manolos, it seems like they were able to put their differences aside for the duration of the Wang show.
Same TBH
Photo via Getty
​It was an admirable (if ambitious) gesture of mom Kim Kardashian to think that her 2-year-old (at the time) North West would be able to withstand the sensory overload of a fashion show and the hurry up and wait confines of a crowded venue. Seated between Anna and Beyoncé at the Fall 2015 Yeezy show, naturally North got a little antsy, and like any toddler, eventually had enough and let everyone know with a mini tantrum. Been there! AW and Queen B remained characteristically unbothered.
Hey Yo, Anna!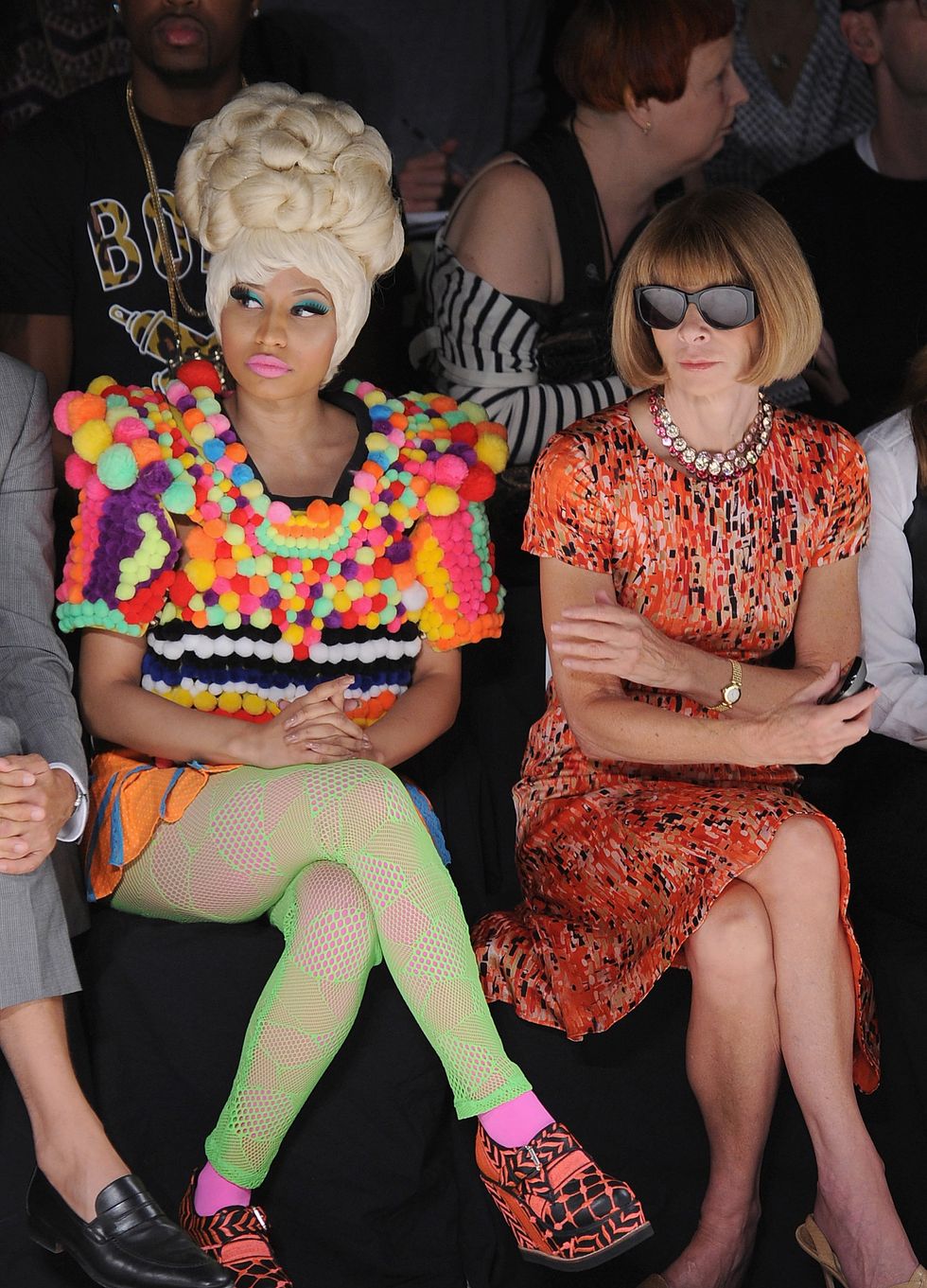 Photo via Getty
The strangest part about this picture to me is that it took place at... Carolina Herrera? Anyway, it's truly iconic. Also... Nicki is still waiting on that Vogue cover 7 years later. Book the bad guy!
Our Hearts Go On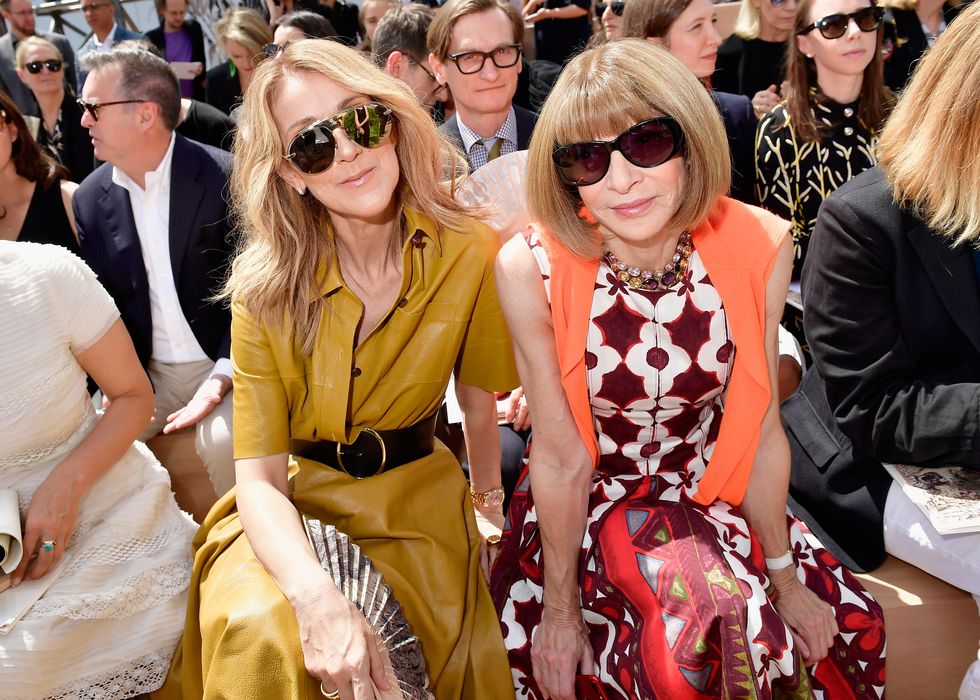 Photo via Getty
Remember that couture season that Celine took Paris by storm and we were never the same? Well, of course, she was seated next to Anna at Dior and there was a glimmer of hope there would be a Celine (in Celine) cover but alas...
Drizzy at Serena Williams for HSN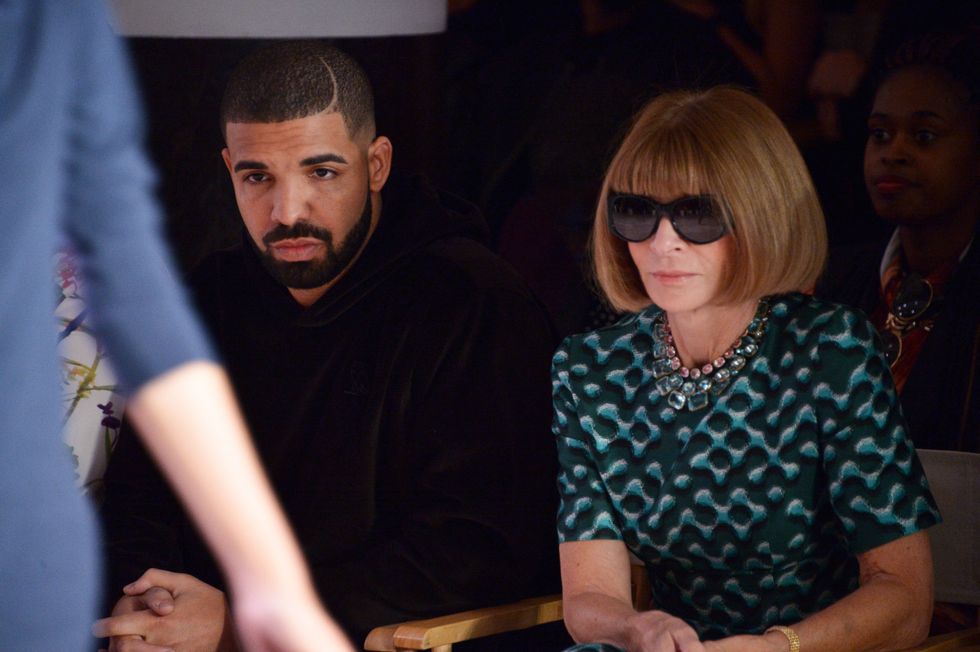 Photo via Getty
In your feelings? Can't relate.
The Donald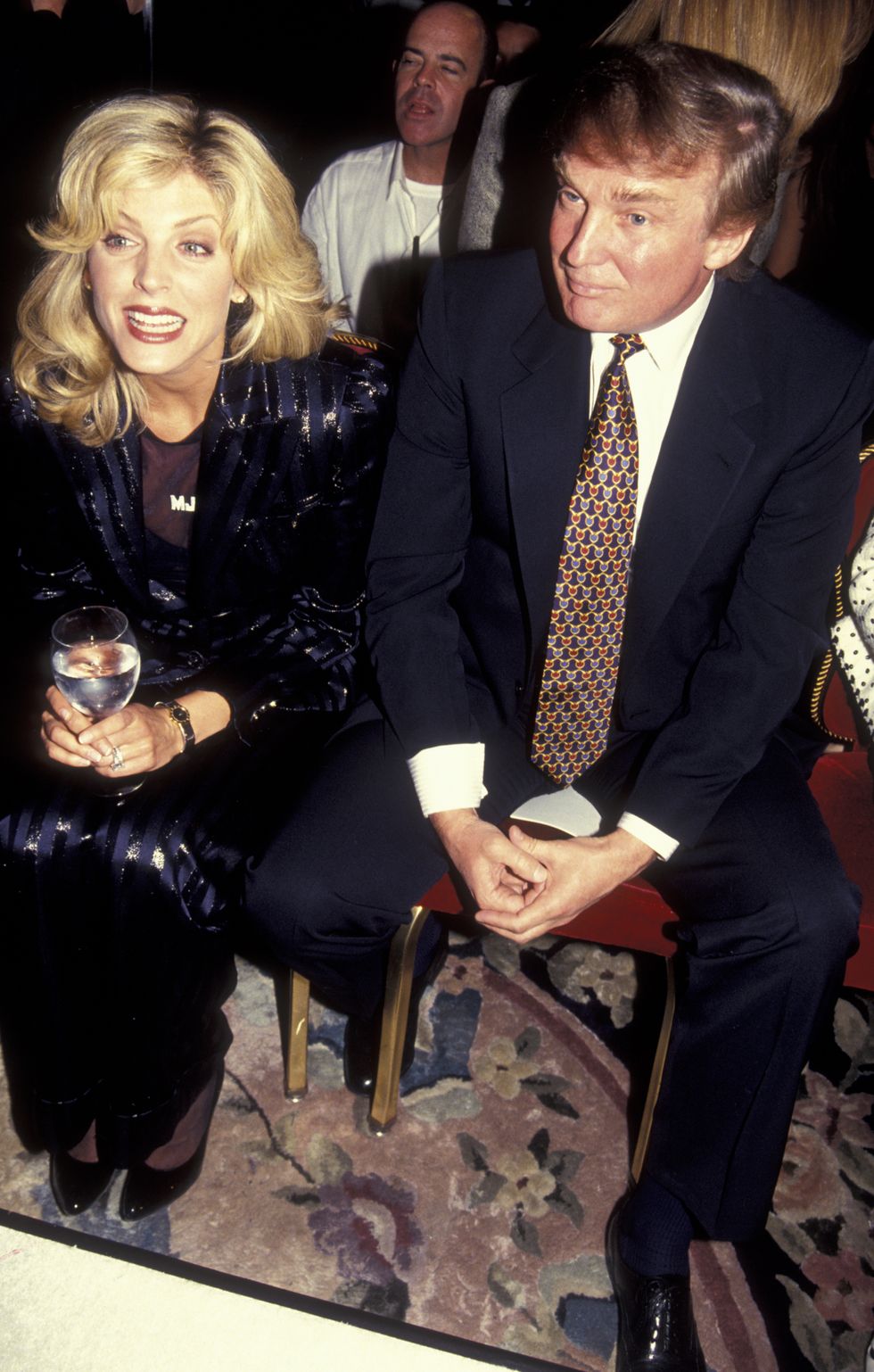 Photo via Getty
Ah, the simpler days of 1995 when Donald Trump was just a local blowhard that owned The Plaza! This particular season, as legend has it, Anna convinced the Donald to lend a space at the hotel to a cash-strapped Marc Jacobs for his show — a favor I'm sure he's never let anyone forget. Omg don't remind him.
Sign Up For The Morning PAPER