The room where Anita Sarkeesian plays video games and edits her YouTube videos is tidy and cozy, with a space heater whirring in the corner and a tabby cat who eschews playing with sushi-shaped catnip toys to lounge in Sarkeesian's lap. It doesn't feel at all like the bunker you'd expect for a woman who's faced nearly four years of serial online harassment in the form of rape and death threats. But Sarkeesian never let the abuse stop her from publishing her critiques of portrayals of women in pop culture -- in fact, she's about to start publishing more than ever.
Sarkeesian is the public face of Feminist Frequency, a nonprofit organization that publishes feminist media criticism on its website and YouTube channel. She launched the site and channel in 2009, while still in grad school studying social and political thought, in an effort to make the feminist concepts she was learning more accessible. Academia felt like an alienating club that trapped the social good of feminist theory inside it. Linking complex political concepts to pop culture, like highlighting "manic pixie dream girls" in films like Garden State and 500 Days of Summer, was a way to make them understandable to a broader audience and, Sarkeesian says, a way to marry her interests. Critiquing came naturally: "I don't know what it means to watch media with my brain turned off," she says.
Although she'd faced the occasional sexist comment on her videos, the harassment began in earnest in 2012, when Sarkeesian launched a crowdfunding campaign to create a web series about the ways women are often sexualized, given as rewards, or killed in video games. "What's fascinating to me is how sometimes creative people don't even realize they're telling the same stories over and over again," she says of game developers and screenplay writers. Previously, Sarkeesian had focused primarily on film and television and the project, titled Tropes vs. Women in Video Games, would be her first major endeavor dedicated to gaming. The idea struck a chord and she raised $159,000 -- her original goal was $6,000 -- but she started receiving threats even before the campaign was over or any of the promised videos had been made.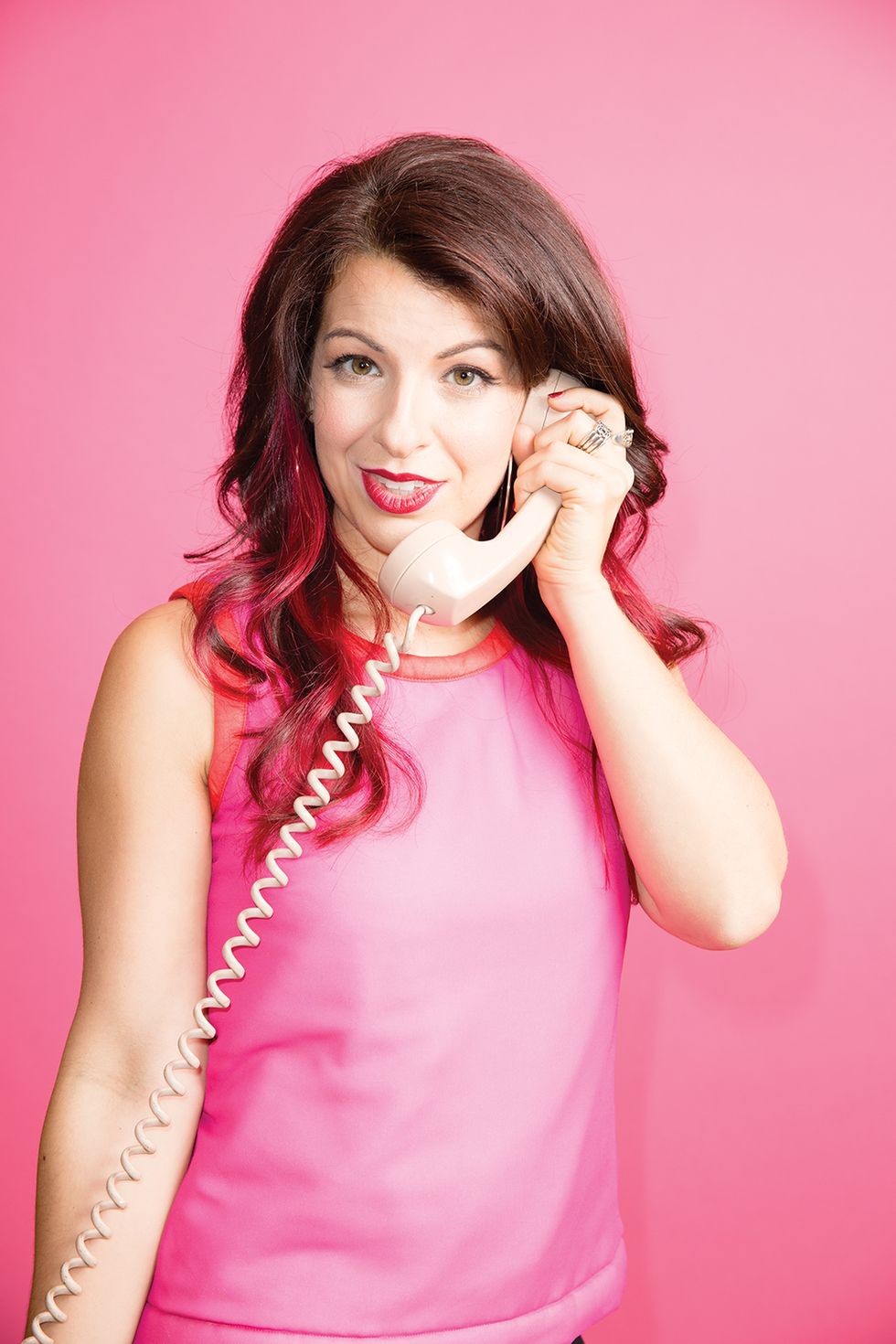 Anita wears a top by Comme des Garçons

And even though the Tropes videos were funded years ago, the harassment hasn't stopped. "I was just editing a new video and I noticed the notifications for Tweetdeck, and it was like, 'Blah blah blah, gonna rape you; I hope someone kills you, you stupid bitch,'" she says. "I cannot do anything in my public sphere, and to a lesser but still prominent degree, my personal life, without considering the harassment as an ongoing factor that I have to include in making decisions about what I do and how I do it. It's the background radiation of my life. It's just kind of normal. And that's the really sad part about it."
But lately, Sarkeesian has started reclaiming her life online and having fun again, Instagramming pictures of her cat and cracking jokes with her friends on Twitter. "It is a conscious decision to be human again, because that's one of the things that happens with the harassment -- it takes away your humanity," she says. "That's a really shitty way to live."
Feminist Frequency is branching out, too. After years of focusing on creating the gaming tropes videos, Sarkeesian began reviewing films and TV shows last fall. She plans to make reviews a regular part of Feminist Frequency, and she's launching a new project to tell the stories of women who have been written out of history. And as online attacks have become an ugly part of her daily life, Sarkeesian has made it part of her mission to fight harassment. She consults with social media companies about how to address harassment on their platforms, and co-authored an online safety guide for victims that has been translated into Spanish and Arabic. She says, "I went through it and I will be more than happy to keep going through it as long as no one else has to."
Hair and makeup by Jane Kim / prop styling by James Whitney for Artist United Agency
Photographic Assistant: Ellie Hogue