Angela Rye, political talking head, has been making the viral rounds today, after this glorious clip of her on a DNC panel for CNN, surfaced earlier:
This girls face on @CNN is EVERYTHING. 🙄😂 #mythoughtsexactly pic.twitter.com/J7bQdLXzuU
— Rachel Potter (@therachelpotter) July 27, 2016
In the clip, Rye (very clearly) shows her dismay for the words of conservative commentator, Kayleigh McEnany, who critiqued Hillary's role as Secretary of State; McEnany called Clinton a "change maker for the worse."
Then, after McEnany is asked about Hill's history-making ventures to better children's education and health care, she starts saying, "Donald Trump has done great things in his private time, too."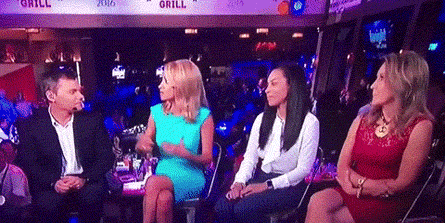 That's when Rye goes OFF, and crosses her eyes like you've never seen eyes cross before.
It's an iconic, perfect symbol for Trump's entire bid for presidency; Rye is eye-rolling on behalf of the nation.