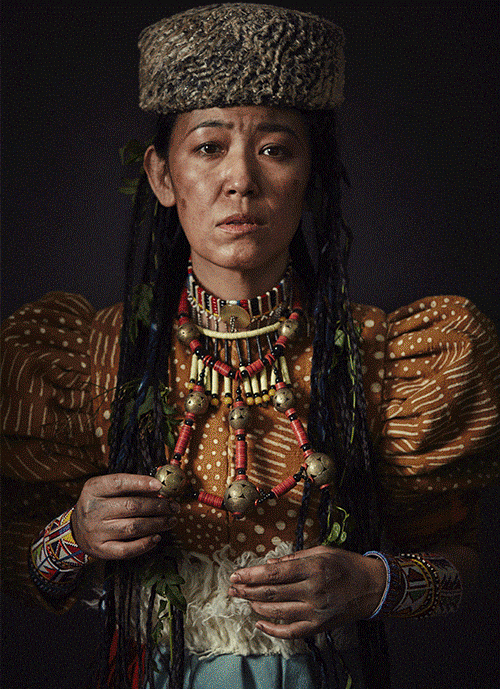 Photos by Georgia Nerheim
Inspired by August Strindberg's A Dream Play and the work of 16th century Flemish painter Pieter Bruegel, Andrew Ondrejcak's ELIJAH GREEN follows a divine spirit as it wanders through contemporary life. Despite unremarkable existences, the stories of the characters layer into a portrait of the interconnectivity of all humans, with each individual both the center of the world and part of something they cannot comprehend. Featuring a multi-generational international cast of 12, ranging in age from 11 to 72, the show also highlights the first theatrical collaboration of the Ethical Fashion Initiative (EFI), which pairs artisans in developing countries with jobs for high-end fashion companies, such as Stella McCartney, Donna Karan, and Vivienne Westwood. ELIJAH GREEN is making its world premiere at The Kitchen in New York on March 10-12 and 17-19.
In advance of the opening, PAPER is giving readers an exclusive first-look the costumes, accompanied by a Q&A with writer/director Andrew Ondrejcak and the Ethical Fashion Initiative's Simone Cipriani.
How did the collaboration between Andrew Ondrejcak, the Ethical Fashion Initiative, and costume stylist Alba Clemente come about?
Andrew Ondrejcak: I met EFI through Vivienne Westwood, for whom I've art directed fashion shows, and I met Alba through one of the performers, Tanya Selvaratnam.
Simone Cipriani: Andrew wrote to us at some point in 2015. He heard about us from Vivienne who has been working with us since 2012 and has become a good friend of the EFI. We loved the idea of promoting some of the less commercial, yet beautiful skills/materials our artisans master.
What is your process of designing the costumes?
AO: I spent months pulling reference images, sourcing vintage garments and other odd costumes. I like to work with real objects in full scale, so we put these items on the actors in rehearsal. Eventually, I discovered that making costumes that were made of bits and pieces of other costumes was an interesting idea which began to shape the concept of the show - that we are all products of many strands of people and ideas. When the EFI and I began our collaboration, we wanted to feature the best hand-crafted works from their artisans, so I traveled to Haiti, Burkina Faso and Mali, gathering and commissioning items from various artists.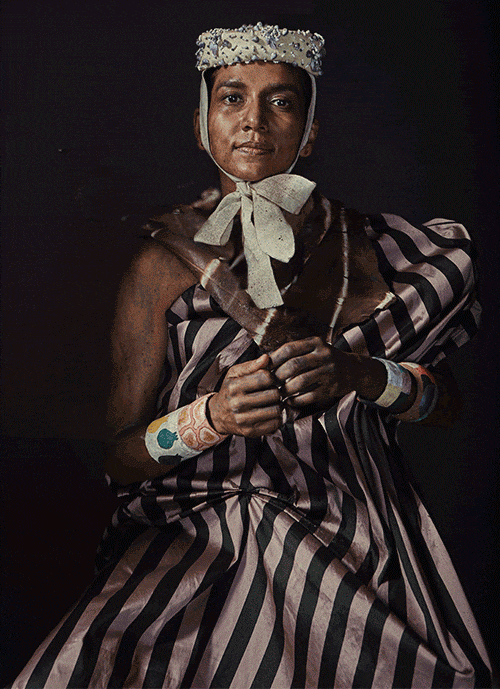 What does the slogan of EFI, "Not Charity, Just Work," mean?
SC: When we started the Ethical Fashion Initiative, many people thought it was some kind of charity project. What we do is real business: facilitating trade between top fashion houses and the best artisans—sometimes very impoverished—in Africa and Haiti. This slogan actually came up in a conversation when I was explaining that we were not a charity and this was just work.
Andrew, how does your work in fashion inform your work in performance?
AO: For a long time, I found it hard to reconcile the two. They have such specific and different goals. Eventually, I let the two things collide—asking fashion people to work on theater projects and imbuing my fashion work with a more artful and performative slant. As I grew as an artist, I can see how these unexpected intersections are kismet and have become some of the best creative relationships.
Is the fashion in ELIJAH GREEN the star of the show?
AO: There is no star of the show—the costumes are like another character that doesn't have any lines.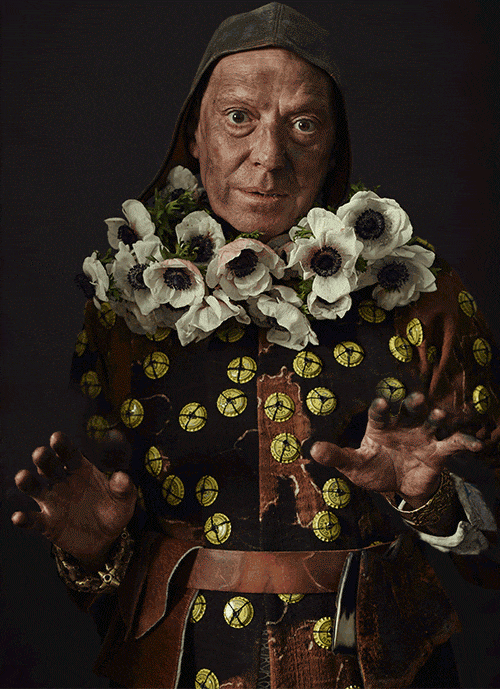 What attracted you both to each other's work?
AO: I believe in the EFI and their core concepts, especially in providing safe working conditions, refusing to hire children and their emphasis on employment for women.
SC: Very fast I understood that Andrew was not a regular fashion show producer, but an artist and a visionary from the performance world. I believe that the art world informs and inspires the fashion world. This is why it was a fantastic experience to work with someone who did not have the pressure of looking at things from a commercial perspective, but who could appreciate the artisanal skills really for what they were. The result is outstanding: the costumes Andrew and his team have developed from these sourcing trips to Haiti, Burkina Faso and Mali are incredibly unique and contemporary.
What can an audience member do to be more ethically fashionable?
SC: By purchasing more mindfully, valuing handwork and quality and not giving into compulsive purchasing the world has been increasingly used to. By asking brands and designers questions on the making of products, the stories of those who were involved in the production process. By expecting to pay a bit more for something beautiful and handmade, which is the true luxury of today.
You May Also Like