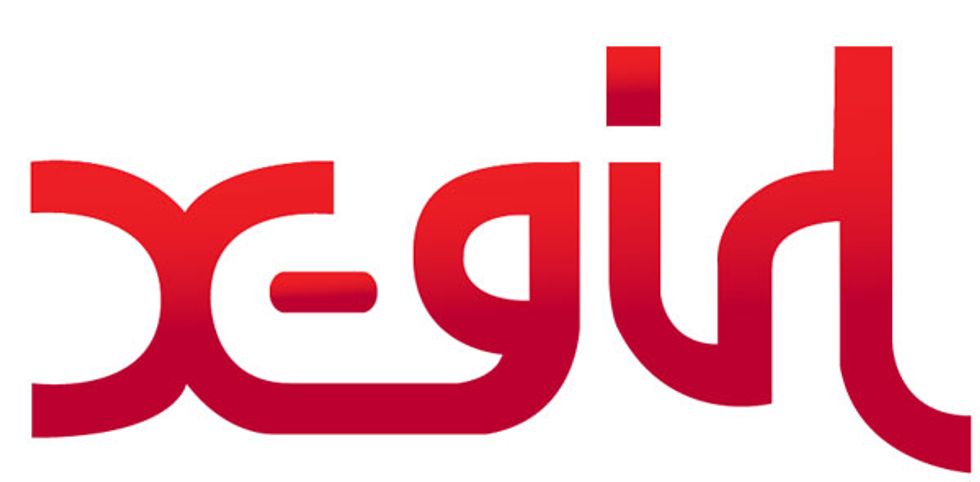 In putting together our September issue, which is devoted to both fashion and cult followings, no brand spoke more personally to us than X-Girl, the short-lived mid-'90s fashion line, which perfectly captured a certain era of New York; a time when calling yourself a hipster or an indie band actually had some significance. Started in 1993 as an offshoot of the Los Angeles men's streetwear brand X-Large, X-Girl was created by Sonic Youth's Kim Gordon and stylist Daisy von Furth as a more fitted, cleaner answer to the baggy, skateboard-influenced fashions that X-Large made.


Though the two of us spent our high school years in (and subsequent years frantically searching on eBay for) X-Girl T-shirts, our interest in this brand goes beyond '90s nostalgia and hinges more on X-Girl's role as a pioneering, viable DIY indie line. In moving fashion beyond the general grunge aesthetic at the time, X-Girl created a chic, preppy-esque look that has become so prevalent in the nearly 20 years since. We were also interested in the community of creative people who were involved in X-Girl, many of whom went on to become super-famous, including filmmakers Mike Mills and Sofia Coppola, actress Chloë Sevigny and designers Wendy Mullin of Built by Wendy and Susan Cianciolo. (The X-Large family tree includes founders Eli Bonerz, Adam Silverman and the Beastie Boys' Mike D, who was a shareholder and big promoter of the line, as well as filmmaker Spike Jonze and actress Ione Skye). Below, we asked people involved with X-Girl to reflect on the brand, the clothes and its legacy.



In 1993, X-Girl was born.


Daisy von Furth, X-Girl cofounder: After college, I moved to New York and interned at Mirabella and Sassy, and was styling little things, like music videos for friends. Kim Gordon was friends with my sister [Pussy Galore and Free Kitten's Julie Cafritz], and we used to go shopping together all the time. We were really into dead-stock stuff, and so we'd go to Army-Navy stores in Danbury -- where Thurston Moore's mother lived. Or if there was a weird store on 14th Street going out of business and had like a million football T-shirts from the '70s, we'd buy them.


Kim Gordon, X-Girl cofounder, Sonic Youth bass player : It was around the time that the Beastie Boys, who had been in L.A. for a few years, had come back to New York. Eric Bonerz -- who was the brother of [X-Large founder] Eli Bonerz, who the did X-Large store in L.A. with Adam Silverman -- was working in the New York store.


Daisy: In the early '90s, I worked at the Beastie Boys' X-Large store in New York on Avenue A. It was during the era of appropriation, like, 'Oh there's a guy wearing a mailman jacket.' I had never known boys who were so fashion-oriented. It was a real hangout. You had all these people, like Futura 2000, or Lyor Cohen who was the Bonerz's babysitter, and Harmony Korine and Chloë Sevigny all coming in.


Kim: Doing a girl's line for X-Large was Eric's idea, and he asked Daisy and I if we'd do it. He knew we were interested in fashion. We were always going to thrift stores and looking for like the perfect '70s 517 Levi's cords or talking about the way T-shirts fit. Stuff like that.


Eli Bonerz, X-Large cofounder: You could credit Eric with the idea but then we all worked on it together -- Adam [Silverman] and I and Kim and Daisy.


Daisy: The business model was completely the X-Large template. It was all about being cool and having stuff that other people didn't have. We had no official style background. The first thing we did was a T-shirt that said 'X-Girl' in agnès b font. We got a quick cease and desist.


Mike Mills, X-Girl designer, filmmaker: I knew a guy named Dave Aron who worked at the X-Large store. Kim and Daisy had mentioned they were looking for a graphic designer. That was back in the days where everyone was going to Max Fish and for whatever reason everyone lived between Canal and 14th and you would just sort of bump into people socially. Shortly after I met Kim and Daisy and started working for them, within a month, I had done work for Boss Hog, the Jon Spencer Blues Explosion, Sonic Youth and the Beastie Boys. All those people knew each other. You'd go to some event and all of the others would be there.


Wendy Mullin, X-Girl pattern-maker, owner of Built By Wendy: I was doing
my own line and was selling it out of a record store called Rocks in
Your Head. I had a little shop in the corner of the store and Thurston
used to shop there and he bought my guitar straps for Kim. I had heard through
the grapevine that Kim was doing a fashion line with Daisy, who I had
mutual friends with. And then I ran into Kim at a show at Brownies on
Avenue A. I said, 'If you need any help with it, let me know.' I started
helping them make patterns and helped them with other office and
production stuff.


Sofia Coppola, X-Girl catalogue designer, fashion show producer, filmmaker: I first met Kim and Thurston at a wedding in the '90s. I loved Kim and Daisy's style and spirit. It was before you could get anything with style that was also inexpensive.

No one better personified the X-Girl girl than a young club-kid from Darien, Connecticut. Her name was Chloë Sevigny, and she went on to be the brand's unofficial mascot.


Kim: In 1992, Sonic Youth was looking for someone to be in our 'Sugar Kane' video, and we asked our friend Andrea Linett, a fashion editor at Sassy, and she recommended
Chloë, who was an intern.


Chloë Sevigny, X-girl model, actress: I was in high school, interning at Sassy. Kim was looking for a sort of street, grunge girl who was androgynous. [The 'Sugar Kane' video] was actually the first film I ever did. So I met Kim and Daisy on the set of the shoot, and started babysitting for both of them. Then a few years later, when they started working on X-Girl, I had moved to New York at that point. They loved the way I dressed, and they asked me to be their fit model. I was very skinny then.


Daisy: The three of us, me, Kim and Chloë, would get together when Chloë was available and try stuff on. She'd also bring us stuff, 'Here, you should do a shirt like this.' She was always kind of bopping around. I think it was pre-Kids, and she had a lot of time on her hands.


Chloë: I would go over to Daisy's apartment on Crosby Street and they would try their samples on me. I got a lot of early samples, which was nice. My favorite piece was a pair of white jeans that I dyed pink and wore everyday.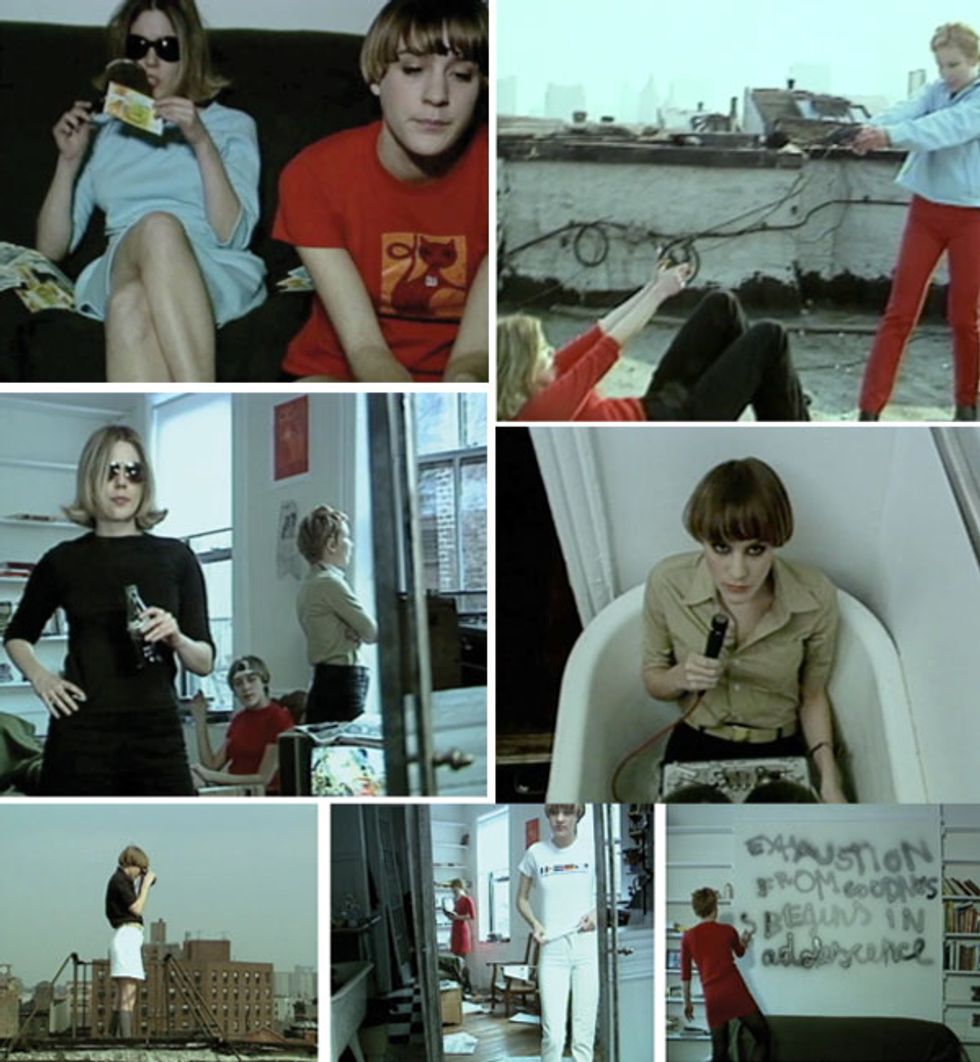 Stills from Phil Morrison's video look book highlighting X-girl's second season and starring Chloë Sevigny, Pumpkin Wentzel and Rita Ackermann.


The clothes themselves were fitted and flattering -- everything grunge wasn't.

Daisy: At the time, everything was Lycra, and everyone was dressing very '70s -- lots of grunge, vests, floppy hats and corduroy. And the initial thing was sort of rejecting that. We were just kind of like, 'Oh my god, can we get a stiff dress with a zipper up the back?' We wanted things to be new and fresh and clean again.


Kim: We wanted to do clothes that were fitted and casual. But fitted wasn't meant to be 'tight,' even though sometimes the clothes came out that way. There's this whole tendency with skater looks that everything needs to be over-sized, but we wanted to do stuff that was more fitted for girls. Stuff that was a little modish, more like '60s meets preppy; A-line skirts and A-line dresses, which was what we thought would flatter the most body types.


Wendy: That time -- 1994 -- was grunge. Girls were wearing ratty shirts, and beat-up cords. Or like an old slip with a flannel shirt over it, like Courtney Love. X-Girl was the antithesis of that. And it was also a reaction to streetwear. You'd see girls in big T-shirts and big clothes -- at that time girls just kind of threw on whatever. They maybe didn't realize that their jeans were really bad fitting. X-Girl was sort of preppy-tennis meets skater-cool-girl. They had skinny jeans in different colors and then you wore it with a little X-Girl baby tee and like a visor or something.


Mike: There was a whole counter grunge thing happening. You could see that in everything from a brand like Supreme to what X-Girl was doing to even my Washing Machine cover for Sonic Youth. It was anti all of the visual language that was associated with punk because in a way that had sort of run its course and had become co-opted. The more subversive thing to do was to do the opposite of grunge. And that's sort of what you're seeing with the weird preppiness that's around now. In a way, X-Girl was very much a precursor to that. It's funny because I'm kind of obsessed with the Talking Heads circa 1978 or 1979 right now, and the Talking Heads around the late '70s looked super 'X-Girl' too. They had this Izod-y, Polo-y, preppy, nerdy look. I think that was very much what Kim and Daisy were tapping into. It was this sort of counter-punk statement.


Daisy: The aesthetic was now what you'd take for a very Jack Spade sensibility. I had come from a very preppy background, and always loved preppy stuff. It was always trying to find what was the least cool thing, and making it cool. We took the Harvard logo, and just substituted 'X-Girl Prep.' A lot of our stuff was like, 'Oh, remember that coat the coach wore when you were on the lacrosse team?' We took the pineapple logo from the Round Hill Resort in Jamaica, which was this uptight hotel. It was all about taking things that were not punk rock, not indie rock, not hip-hop -- and making them that. We were also into medieval imagery, which inspired our 'Ye Olde X-Girl' logo, and the United Nations, which was so incredibly generic. I was always sort of chasing what I called, 'The lost generation of stuff in the '80s.' It was kind of inspired by my older brother, who graduated from high school in 1978. He was very preppy, and also kind of grungy, and it was sort of the combination of that.


Chloë: They were going almost for an androgynous kind of look, these very simple A-line dresses that were very Godard. 




Kim: The way we would design stuff is we would do a drawing of like, something that we had seen in a thrift store that we liked and then, eventually, we had Susan Cianciolo help us with the drawings. She actually ran our office before she had her line. I remember thinking, 'Oh, her stuff's really avant-garde. She's never going to get it,' which, of course, wasn't true at all. We were basically just learning as we went along and figuring out themes and inspirations. Like, 'Oh! The Burger King outfits!' One theme we had was French beach-y. One was prep school, with crests and stuff. One was camping. We had one theme that was 'Hello' written in a bunch of different languages: 'Bonjour, hola, hey.' Like an international feel. And we always made little booklets and had beach bags with 'Let's go to the beach' written in different languages. And X-Girl, that logo, it was repeated all over the place. X-Girl, X-Girl, X-Girl.


Mike: At the beginning, the very first designs I helped with were supposed to be like European sportswear, kind of like Alessi. That original logo had sort of a barer, more geometric feel to it. Almost like a tag logo or something. The very first shirts I did for them didn't have any big graphics on them, they just had little embroidered tags on the side, like Fila.


Susan Cionciolo, X-Girl pattern-maker: My friend, artist Rita Ackermann, introduced me to Kim and Daisy, and I worked sort of as their assistant. I was mostly working with Daisy, doing everyday things, and then Kim would come in and make decisions about design and fabric. They were really nice and let me work on my own line in the office after-hours. The clothes were really right in that moment, but also completely timeless; it was a very smart kind of design.


Mike: The very first thing that Kim showed me was some photography by Joseph Szabo who did these black and white pictures of these teens in the '70s. I remember her pointing out the sullen teenager-ness of it. From there, I started doing these high-contrast drawings that I had never done before at all. It was strange and new but it was also exciting and I think that's what made me want to do it. But that poster of the high-contrast image of the girl -- that was what was seen all over the place and what became the main hang tag. 



Daisy: That same girl was used on the Dinosaur Jr. album cover [for Green Mind].


Wendy: Kim and Daisy wanted something that was really of the moment. At the time, 'Girl Power' was coming out and this idea of 'anything boys can do, girls can do better' and X-Large was happening and it was sort of like, 'Well, but what about us girls?' I think it was really part of that early '90s feminist thing happening.


Kim: Daisy kind of oversaw the day-to-day stuff and then I would help with the fitting. Unfortunately, we'd have to send everything back-and-forth to L.A. where everything was manufactured and done for really cheap. No matter how much we tried to fit what we were doing correctly, it would still come out totally different. The X-Large guys in L.A. didn't know anything about making girls' clothes or about the fits and they were on a production budget that was pretty low. So it was a total crap-shoot about how things came out. Some things came out too big and some things came out too small and we'd get angry letters like, 'You're making clothes for anorexics!'



Wendy: The production needed to be better. I would make these patterns and then we'd get the samples back and Kim and Daisy would try them on and they'd totally be ill-fitting. And then I would set the pattern against the sample and the pattern would be a lot smaller and we'd be thinking 'How did you make the sample bigger?' It was really frustrating. The thing about X-Large is that they made over-sized skater boys' clothes. With girls, it's very important to get the fit right. Girls can't just buy a shirt or pants or anything if it doesn't fit right. But I think the attitude of X-Large was 'What? It looks cute.' And we were like, 'But wait, it's completely tight in the chest or it's way too big in the chest.' They sort of couldn't wrap their heads around that.


Daisy: The X-Large people thought we were crazy, but for a girl, an inch on the crotch of a pair of pants can really make a difference. Sometimes the collars on the shirts would crinkle up, or we'd get a shipment of something with fur on it in June.




Kim: There were times that the store was so bare because we were still waiting for the next infusion of clothes to be shipped from L.A. I lived at one end of Lafayette Street and Daisy lived at the other and we'd both try to avoid walking down Lafayette because we were embarrassed by the empty store.


Daisy: But when stuff was great, it was really great. Like our boot-cut pants and our sleeveless dresses. People come up to me now and say, 'I still wear my X-Girl dress!'


Dorien Garry, X-Girl's first New York shop girl, tour manager: When I tell people I worked at X-Girl, they'll be like, 'Oh my god, I wish I still had those pants,' or 'I really wish I still had that skirt.' Those girls were so good at making pants. They should have gotten an award for making the best pants that did not make your butt look big.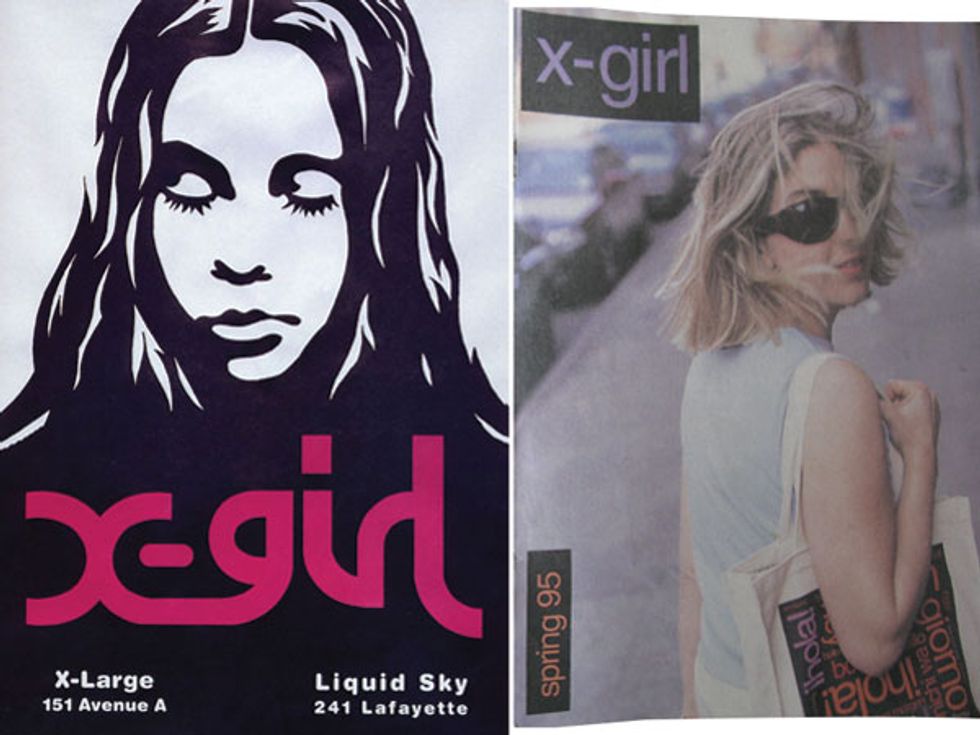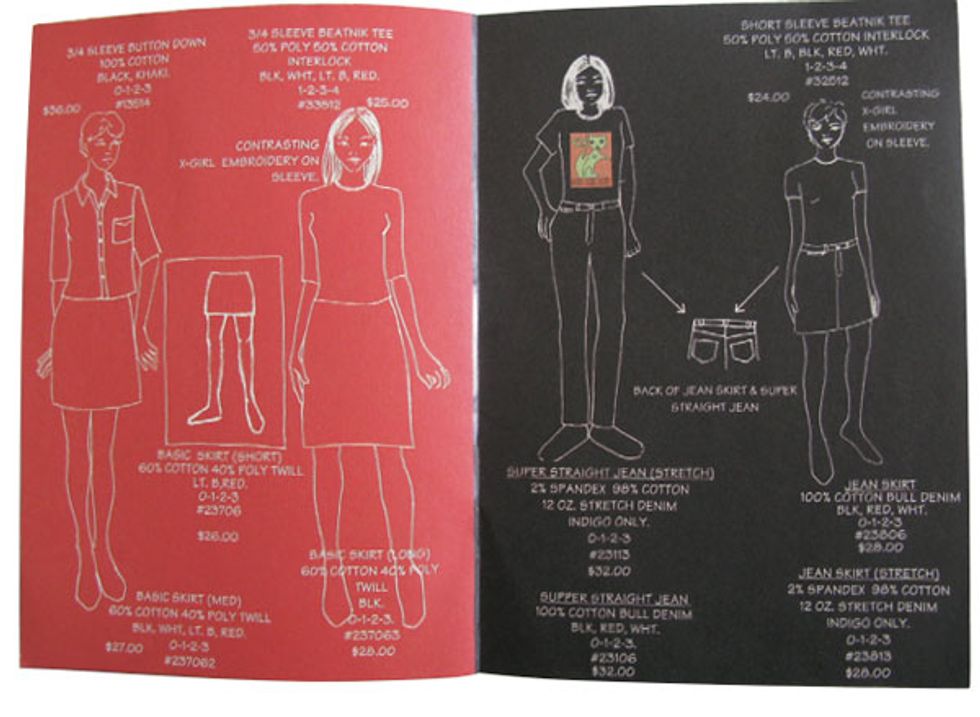 Pictured above, left to right: A Mike Mills-designed X-Girl poster; images from a 1995 X-Girl catalogue.



The first X-Girl store opened up in L.A. in 1994. A year later, X-Girl's New York outpost opened on Lafayette Street, becoming the flagship as well as a hang-out for downtown's coolest.


Dorien: I was Kim and Thurston's daughter Coco's babysitter, and then Kim asked if I wanted to work at the X-Girl store. I helped unpack all the boxes. I remember Mike Mills being in the store painting the logo on the wall.


Kim: When we started X-Girl there really weren't a lot of other stores downtown. There was Daryl K, there was APC, there was Liquid Sky and Patricia Field and Urban Outfitters and that's it. There weren't a gazillion designers in SoHo with stores like there are now. SoHo definitely was not the shopping mall that it is today. Lafayette Street has always been this sort of in-between-neighborhoods street and at the time, it was very much still Little Italy. It was more deserted and quiet. But even at that time it was starting to change.


Wendy: Everyone either lived on the Lower East Side or in the East Village and it was just sort of like a giant college campus. All of your friends lived within a few blocks.


Daisy: Everyone lived around where the store was -- Kim and I each lived a few blocks away, Chloë and Harmony lived on Prince Street, Mary Frey, who's now married to Mario Sorrenti, and was really good friends with Chloë, lived nearby. And so did Rita Ackermann.


Dorien: Lafayette Street was super-rad. There weren't any big stores there, it was very DIY. There was X-Large, but also Liquid Sky and this amazing place called Nylon Schmylon.




Mike: I designed the whole [Lafayette Street] store and all of the furniture and stuff. It was very nice of them to let me do that. It was all birch -- very simple cabinets and things and the back wall had a mural that had 'Hello' written across it in different languages. And then we had posters that reinforced the theme of each season. Those posters are some of my favorite things I've done and really helped me figure out my graphic language. They were very simple and would say things like 'communications' or 'listen' -- it was labeling things so obviously that it was kind of not obvious anymore. Or dealing with one centered image. That sort of all started for me in that store.


Wendy: I remember being really impressed by the fact that they had a custom-made wood counter. I was like, 'Wow. How do you do that?' I was 23. I remember the wall behind the counter was painted, I think, bright blue and then the X-Girl face logo was painted in white. It was just really clean and fresh.


Daisy: The store was so Helvetica. This was before the documentary, Helvetica. I mean it sounds so lame now because it's all such a cliché.


Kim: The store looked great. It had a big window. But I hardly went there. I was kind of embarrassed by it. I felt uncomfortable, in a sense. But also, I was touring and then had a baby, so I wasn't really hanging around. But it was nice to be able to go by and stop in. 




Daisy: We always had a TV on playing, like, Godard movies. There was always indie rock and punk playing. Matador Records was around the corner at the time, so they'd bring us a lot of CDs. We couldn't play anything that was too abrasive. But it was a lot of Matador, K Records, and Drag City.




Wendy: They had cool people working there and sometimes you'd see kids in there hanging out. Sort of like what you might see now with the Supreme store on Lafayette. I don't really get how I lived when I think back to the early '90s, there was a lot of just hanging out. Who's just hanging out now? Everyone in that scene was kind of ... I didn't know anyone who had a real job. Everyone was an artist or a musician. I had an apartment on the Lower East Side that I shared with two other people and we each paid $250 a month. I mean, I shared a room with one of my roommates and had a bunk bed, but it didn't matter. It was possible for me to just work in a record store and make clothes at night. I could survive on my own with whatever money I made. Now, there's absolutely no way I could do that. It's sad.


Daisy: Because the clothes ran really small, we'd get young girls who were like 15 - I would occasionally get voicemails from a mother saying, 'My daughter brought these home and she looks like a prostitute!'



Chloë: I was working across the street at Liquid Sky when they opened the X-Girl store, and I was bummed because I wanted to work there. But I felt loyal to Carlos Slinger from Liquid Sky, and didn't think it would be right for me to quit their store and work across the street. X-Girl, though, was more my vibe. I was definitely in awe of Kim and Daisy, and was so honored that they wanted to work with me. X-Girl was a little more snobby than Liquid Sky. The Liquid Sky thing was a hippie, kind of raver, free-love whatever, whereas X-Girl was more retro, a little more 'too cool for school.' At Liquid Sky, I had to listen to jungle music all the time and have all these kids bum cigarettes off me. And I really wanted to be across the street listening to Bikini Kill. But so it goes.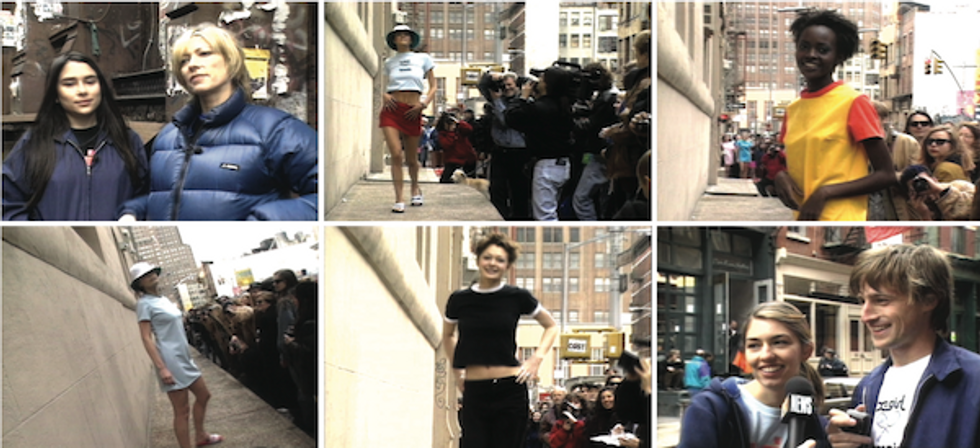 Above: Scenes from MTV's House of Style episode covering the 1994 X-Girl fashion show. (Clockwise from left) Daisy von Furth, Kim Gordon; Models in X-Girl get-ups; Sofia Coppola and Spike Jonze. Images courtesy of MTV's House of Style.

For its first collection, X-Girl held a guerrilla-style fashion show in SoHo. For the next, Phil Morrison directed a guerrilla-style film wherein Chloë Sevigny crashed a Marc Jacobs fashion show.


Daisy: At that time, Spike Jonze had been in a video with Sonic Youth, and worked a lot with Dirt, Sassy's magazine for boys, so we knew him. Kim had known Sofia Coppola for a long time and she was doing her own line, Milk Fed. Sofia and Spike weren't going out yet, but doing a fashion show was their idea. They really wanted to do something with walkie-talkies, and honestly, I think it was an excuse for them to hang out with each other. It really didn't have much to do with me and Kim.


Kim: We kind of planned it to be right after Marc Jacobs' show in SoHo when he was first doing his line. I remember that Frances Ford Coppola was there. That was exciting. It was just really fun because it was kind of guerrilla-style. I was also pregnant at the time and feeling kind of not very... I was probably hiding as much as possible. I don't know, I have so many different memories of that time. That fashion show was right after, maybe even like one or two days after, Kurt Cobain killed himself. That was such a strange feeling that was sort of still lingering. I remember being in a meeting about the fashion show at Daisy's house and getting a phone call.


Sofia: We didn't have permission or permits to do anything. We just threw it together. I remember going over to Daisy's apartment and Kim was pregnant and crying and told me that Kurt Cobain had died.




Wendy: I have a lot of great photos of Chloë from that day. You know how some designers always do a bride's dress at the end of their shows? They had Chloë in a little white bride's dress. It was very early '90s. Like J. Mascis was there and all of those kind of people.




Mike: I had come late and I was rushing down and I think I had just missed it. And I remember turning the corner onto the street and all of these girls from the fashion show ran by me wearing X-Girl T-shirts, they were all like cute models, and that was quite a trip. It was the same kind of feeling of when I'd see a record cover I did in Tower Records. 



Daisy: MTV's House of Style filmed us. I mean, anything that had to do with X-Large and the Beastie Boys and Sonic Youth, MTV would cover it. The Beastie Boys were so huge at the time.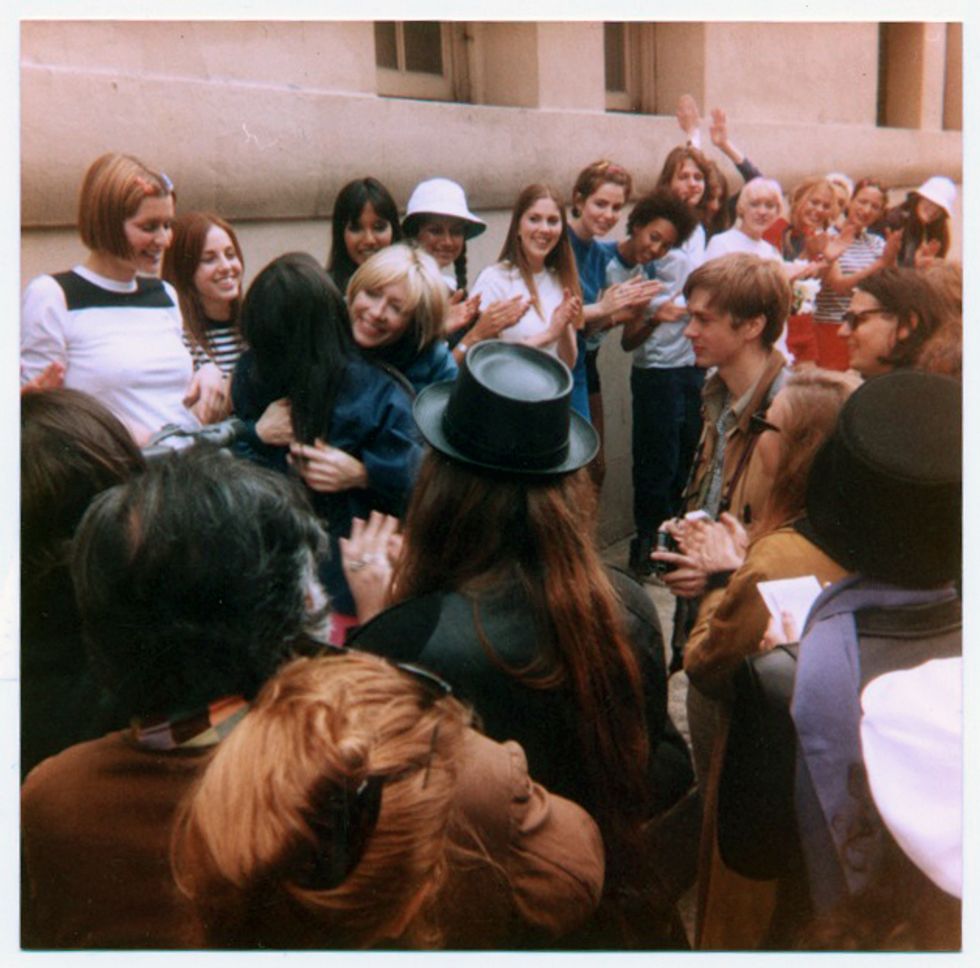 Kim Gordon and Daisy von Furth hugging after the sidewalk fashion show. Models in the background include Pumpkin Wentzel, photographer Brooke Williams and Chloë Sevigny. J. Mascis, in a black hat, has his back to the camera. Photo courtesy of Wendy Mullin.


Chloë: I was a model in the show and I got to be the bride at the end. I was surprised at how many people came -- Zoe Cassavetes, and Donovan Leitch, and this whole '90s crew was there. Doing that show, I realized I didn't want to be a model. Afterwards, Sofia asked if I would be in a show for Milk Fed, and I said no.



Ione Skye, X-Girl model, actress: I was in the fashion show. My brother, Donovan Leitch, had a bullhorn and was the MC. The clothes were skater-ish but flattering, not the baggy look that girls wore at the time. It was an intellectual, creative, entrepreneurial scene to be a part of.


Kim: We did the fashion show for the first season and then, for the next season, we wanted to do a film. Sort of a faux-Godardian film. We got Chloë to be in it and she plays a spy. Phil Morrison [who later directed Junebug] directed it and got the concept completely. We had Chloë go to this Marc Jacobs show with a spy camera going around asking people if they had seen someone who didn't even exist. It was pretty great.


Daisy: The concept of the movie was purposefully boring.



Chloë: At the Marc Jacobs show, Daisy kept egging me on, to go up and talk to all these fashion people I didn't know, like André Leon Talley and Naomi Campbell, asking them about this fictional character. It's hard to believe how bold I was. I was so young. I was like, 'Yeah, I'll go up to all these people, I don't care.'



X-Girl was one of the first streetwear lines to become "big in Japan."


Kim: When Coco was a baby I went to Japan to do a fashion show. The show was going to be during a Beastie Boys concert. Daisy didn't want to go, so Sofia went with me. We basically just went up to girls on the street and asked them to be in the show.



We did the fashion show during the concert. There was kind of a runway and it happened before [the Beastie Boys] played. There's a video of it around somewhere. I think it was that same trip [that] I remember walking around with [Adam] Yauch in Tokyo. I remember thinking it was funny that he didn't mind hanging out with a baby because at that point I was the only person who had had a baby. That was nice. 




Eli: Yeah, we were fortunate with X-Large. We got off to a good start in Japan. It was a time when streetwear was just starting. X-Girl was able to do the same thing.




Mike: I remember going to Japan on a separate trip [from the Beastie Boys' X-Girl fashion show], ironically, also with Sofia. She did an art show called 'Baby Generation' and it had Kim in it and all of these other female artists. I sort of art directed it and did the catalog and we did a show at Parco Gallery. That art show was at the height of all of the X-Girl stuff. I remember you'd go down to Harajuku and you'd see like five or 10 girls in X-Girl shirts at once walking down the street. I remember meeting Yoshimi [P-We] from the Boredoms in Tokyo -- she's like the coolest thing on earth -- and I remember that she had an X-Girl bag and a shirt. It was definitely a very exciting thing -- I wasn't just a part of something in popular culture but I was also seeing people I admired wearing a shirt I helped make. 



In 1998, X-Girl was sold to B's International, a Japanese company.


Mike: I was in the middle of designing for the next line and, I don't know if we e-mailed in those days or not, but somehow I talked to Kim and she goes, 'Oh, we're not doing it anymore.' And I said, 'Uh... oh! OK! I guess I'll put this stuff away then.' It was kind of like that. Not with a bang but a whimper. Which was fine, because I felt like we had a great run and I really enjoyed working with Kim and Daisy. They taught me something about having an idea or a concept first that you're trying to communicate instead of just playing with any visual stuff. I think that's now part of my whole way of working.



Daisy: Basically, I had a kid, and we were just a little less into it. It just wasn't as fun as it had been. My husband and I were about to move to England, and I didn't want to do it anymore. We were at first just going to end it because Kim was, rightfully, concerned about her name being attached to something that [could become] tacky. But we ended up selling it. We were like, 'Finally, a payday!' It ended up coming back to the U.S. later. I didn't ever look at it.




Kim: We weren't really making any money on the line but eventually the Japanese company that was involved in distributing X-Large in Japan bought it. They did these X-Girl boutique things there that we had nothing to do with. I still have girls coming up to me in Japan and talking about X-Girl.




Eli: Sometimes it's more fun to start something and get it going than to be committed to it. And we were all happy with what X-Girl had done and accomplished at that point. After we sold X-Girl, we sold X-Large to the same company. I think it was around 2007. I wouldn't say that X-Girl and X-Large are mainstream brands in Japan now, but they're pretty solidly established.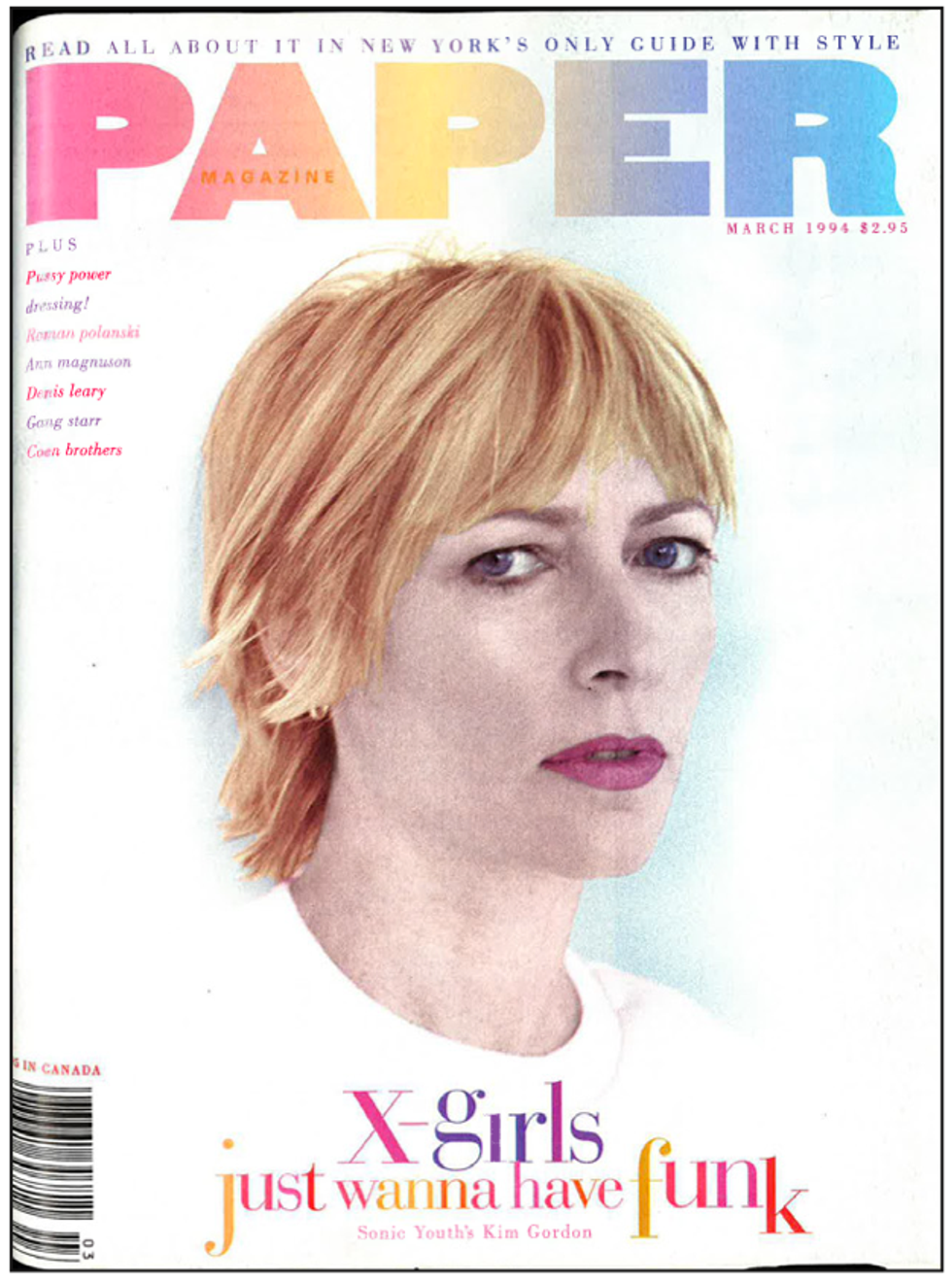 Paper's March 1994 issue featuring Kim Gordon on the cover. Photographed by Haim Ariav.


Though the line was short-lived, its legacy has been wide-reaching.


Kim: I don't think we thought we were doing anything important or different. I think we just thought we were making really bad clothes. But I think the name was really cool and Mike's designs were great. Looking back I still have all of these clothes that I've been hanging on to for some archives and even though some of them are pretty horrible, there's still a sense of fashion or style to them. I think that because of what was going on with street clothes then and the whole logo thing, we found a way to make it a big part of the clothes and yet, not. We were able to make it cool, and I think that's hard to do.

 It's always a challenge to make things that you can wear every
day that are cool. That was the number one driving force or idea with
X-Girl. But now there are so many people who do that.


My daughter wears these kind of high-waisted jeans that X-Girl made. They're kind of nerdy looking, actually, but she can totally pull them off and make them look cool. But that's also because she's so tall and beautiful. It's so funny and gratifying to see her finding the clothes. And there are some friends of mine who tell me they still have X-Girl pants or dresses. I don't really know what to do with the pieces I have.





Eli: Kim and Daisy were doing something that was pretty similar to what we were doing with X-Large. We took the clothing part of it seriously, though it might seem like a novelty now. We weren't a merchandising wing of the Beastie Boys. And it was the same thing with X-Girl -- we weren't going to be a merchandising version of Sonic Youth. We took what was street fashion at the time out in Los Angeles and figured out a way to present it as more of a directed fashion. And I think that's what X-Girl did too. And now I think that's what everybody does, but back then there weren't really smaller, independent brands out there. Back then there were designers, there were mainstream brands, and we either intentionally or accidentally saw our niche as being indie. We were a small brand but we acted like a bigger brand. We weren't doing hand-made stuff. We were doing production of clothing that was a little more unique or novel. 

Now, everybody has a clothing line. That wasn't the case back then. I'm old enough to remember those days. Everyone had bands back then, but not everyone had a clothing line. Now it seems like more people have clothing lines than bands.






Mike: I think X-Large and X-girl were part of this idea in the air, that 'do it yourself' thing brought to an entrepreneurial level. The idea that you could start your own fashion line and you didn't have to go fashion school. You could just start your own line and there was nothing wrong with going for it in a sort of mainstream way. There was no shame in that and you weren't ruining your punk credentials. There's something subversive and interesting in doing that. Around that same time was when Sonic Youth was headlining Lollapalooza, so it was this moment where a lot of those bands and a lot of those cultural figures had the power to play on the really big stage and not sell out in any way.

 I think it was a time where there was still a window left where people like the Beastie Boys could totally do whatever they wanted to do. They could own a company that produced their records, they could record the way they wanted to in the weird way that they wanted to or write about weird things that just entertained themselves and, yet, they were still able to play Madison Square Garden and be totally huge. They could be big and mainstream at the same time. Right now, it's getting harder and harder for bands to have that sort of mass appeal and still be real and individual.


Daisy: By the time I moved back to New York from England, everything started getting cool. Like, when we first started doing X-Girl, people didn't know stuff. It used to be like we were the only people who knew about these dead-stock football shirts, and all of a sudden it felt like everyone knew about everything. After Sex and the City, everybody started knowing labels. All of a sudden, things started exploding everywhere. I was like, 'Wow, everybody knows everything now, so I don't really have anything to do.'


Mike: There were just fewer hipsters. So if you were a band who was one of the major hipsters, then you had more of a national audience. Now that sort of market, or that world or that idea, is so flooded. You have so many people and the Internet has sort of diffused it all over the place. It's made it accessible all over the place but it's also made it so that it's really hard to have figureheads. That era did seem like this moment in time where there was all of this
play between what's cool and underground and what's mainstream and
what can be big.


Dorien: When X-Girl closed, that was when things in New York and that area started to shift, and things sort of were not cool anymore. So it goes.

Chloë: It really was this sort of brief magic moment.