Today is the birth date of Rihanna, Our Lady of Immaculate IDGAF, and we're celebrating all day here on Papermag.com. In honor of her 27th year of making this earth a better place, we take a look back on the bad gal's best and most essential moments, A-Z.
A IS FOR ART
Rihanna's Instagram is beloved for many reasons, one being that it's home to the bad gal's masterful stick figure illustrations. These drawings are not only works of art, they're also multipurpose. Rihanna has employed these stick figure drawings
in the name of shade
,
in place of selfies
, and to
mark her return to Instagram
. And
for her birthday
!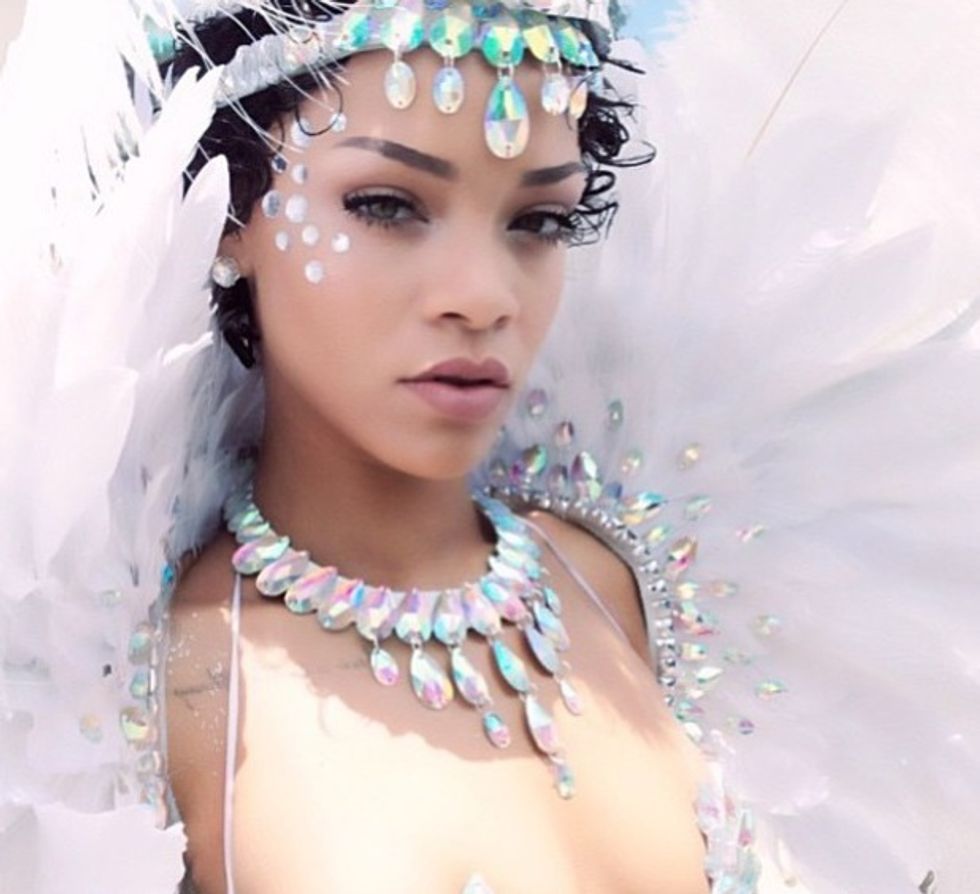 B IS FOR BARBADOS
Barbados is to Rihanna as Toronto is to Drake. Rihanna reps Barbados just as hard as Drizzy reps the 6,
possibly harder
. She's even made not
one
but
two
tourism commercials for the island she grew up on and every year she goes full goddess for Barbados' Kadooment Day Parade. Has Drake ever looked this good at a Raptors game?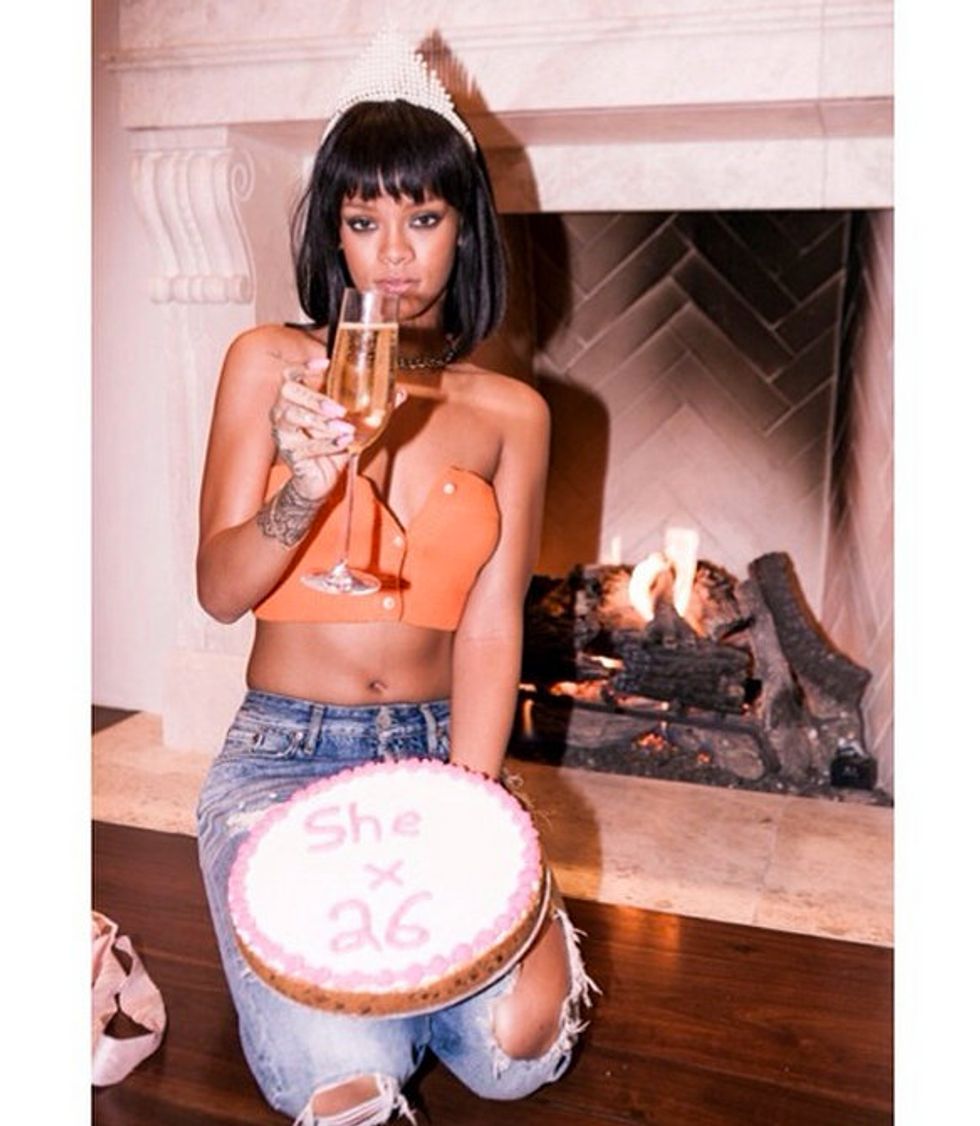 C IS FOR CAKE
Let's just gloss over that other C-word (cough cough, Chris Brown) and go straight to
CAKE
. Unfortunately, "Birthday Cake," in which we all know that badgal is not talking about actual cake, involves Breezy -- but let's focus on Rihanna's love of literal cake, as pictured above. Also
rice cakes
! She 27!  

D IS FOR DRAKE
Ah, the saga that is and was Rihanna feat. Drake. Starting in 2010, after Chris Brown and Rihanna broke up, Drake and RiRi became a thing, musically and otherwise. Since then, they're been rumored to be hooking up in some capacity as late as last year. According to a
salty Chris Brown
, Rihanna only dated Drake to get back at him -- but regardless of intent, this union between Drake and Rihanna gave us the beautiful poem that is Drake's verse on "What's My Name," and we'll always be thankful for that. Less pleasantly, the birth of DriDri also gave us the Chris/Rihanna/Drake/
Karrueche
love quadrangle from hell that will probably haunt our dreams forever.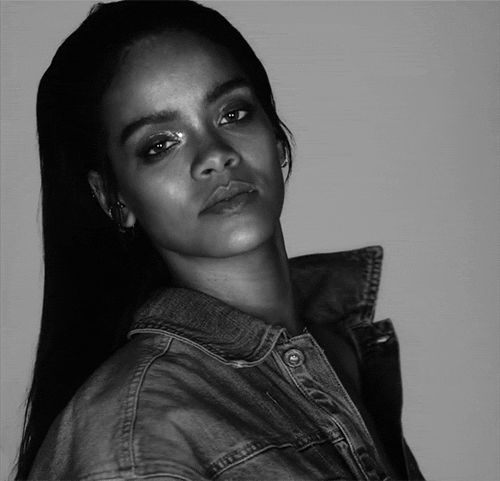 E IS FOR EYE ROLLS


Rihanna is perhaps at her peak badgal whilst rolling her eyes and her
"I can't even" moments
are unparalleled.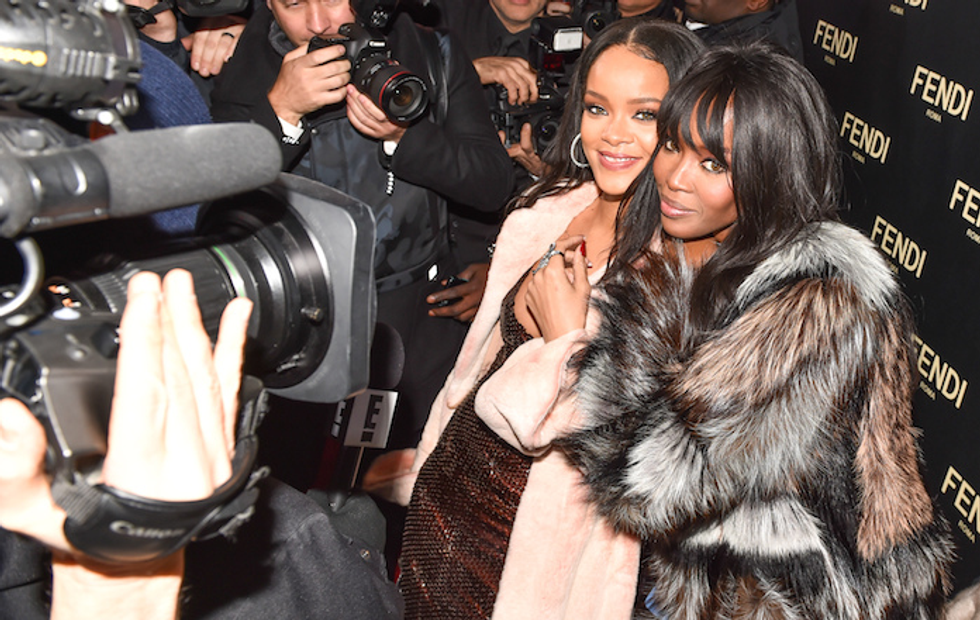 Photo via Billy Farrell/BFAnyc.com

F IS FOR FASHION
One side effect of RIhanna's
Good Girl Gone Bad
transition was her emergence as a style taste-maker. When Rihanna came out with her debut album, she was just a girl from Barbados and
dressed as such
: cute and trendy, but nothing that would inspire words
like these
from Tom Ford. Now Rihanna has graced the cover of almost every fashion magazine, appeared as the face of Balmain and Gucci, and when she wears a vintage over-sized Sean John jean jacket we all have to run out and get one ASAP. Now she's even the
Creative Director of Puma
for the Women's Training Category. Spotted multiple times in ultra wide-legged jeans, she seriously might even have
something
to do with the impending
resurgence of JNCOS
. We trust you, Rihanna (so please don't make us wear JNCOS).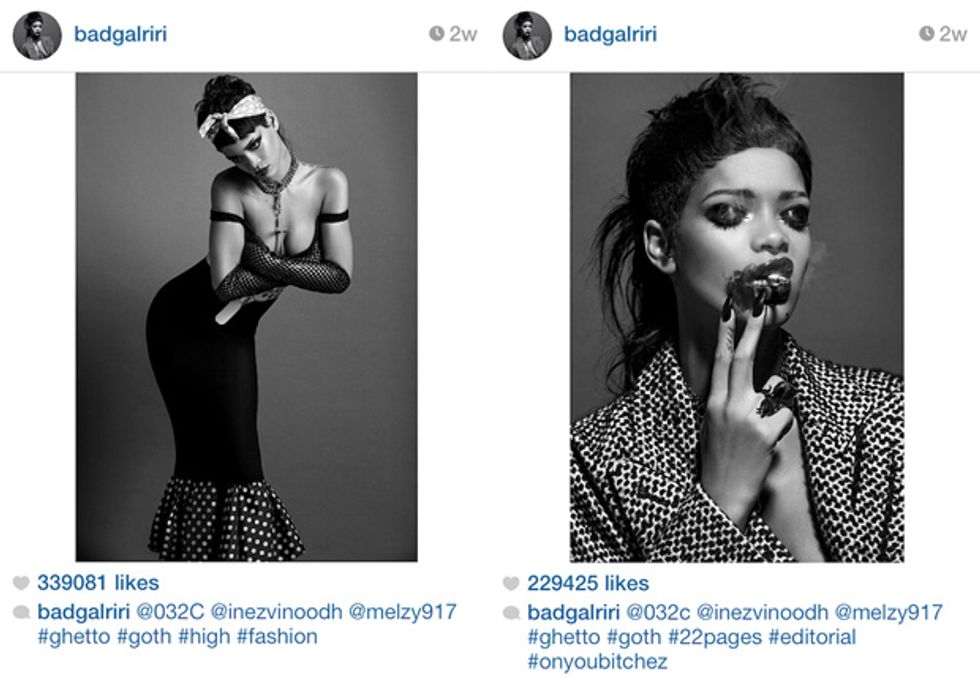 G IS FOR "GHETTO GOTH"

As noted, Rihanna is a fashion risk-taker, but she started a
mild controvery
when she ripped the "ghetto goth" aesthetic straight from Tumblr. In doing so, she simultaneously killed the aesthetic for early adopters -- causing the term's originator, Venus X, to shutter her party of the same name (
Ghe20 Goth1k
) -- and launched it into the mainstream. Although copping Tumblr trends isn't specific to Rihanna, she also did the same thing with
seapunk
two years earlier on SNL. There's a lot to be said about celebrities swiping the aesthetics of "underground" movements, but in Rihanna's defense, it's not her fault that she's an omniscient oracle of cool who can't help but pick up on trending Tumblr tags.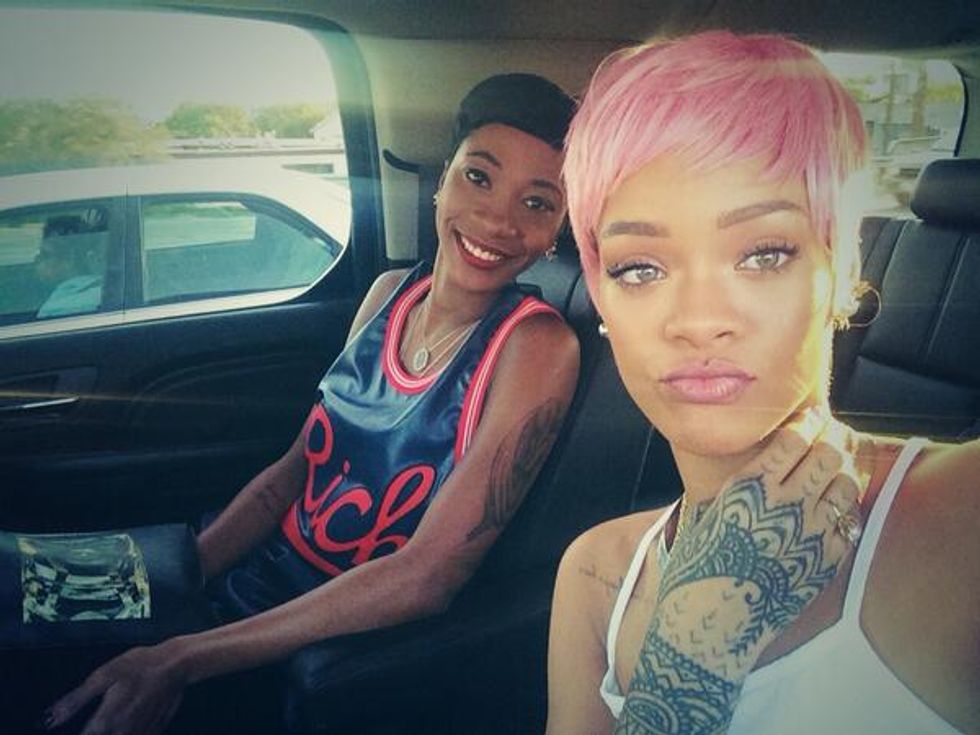 H IS FOR HAIR GAME


Rihanna's hair is so crucial. I like to think of Rihanna as our modern day Rachel, except infinitely cooler. It all started with the
Good Girl Gone Bad
bob. Then the red Mermaid hair under which Rihanna "ooh na na"-ed all up on Drake. And how could we forget about the
bantu knots
that momentarily stopped the world and the pink pixie wig that allowed us to believe, however brief, that anything is possible.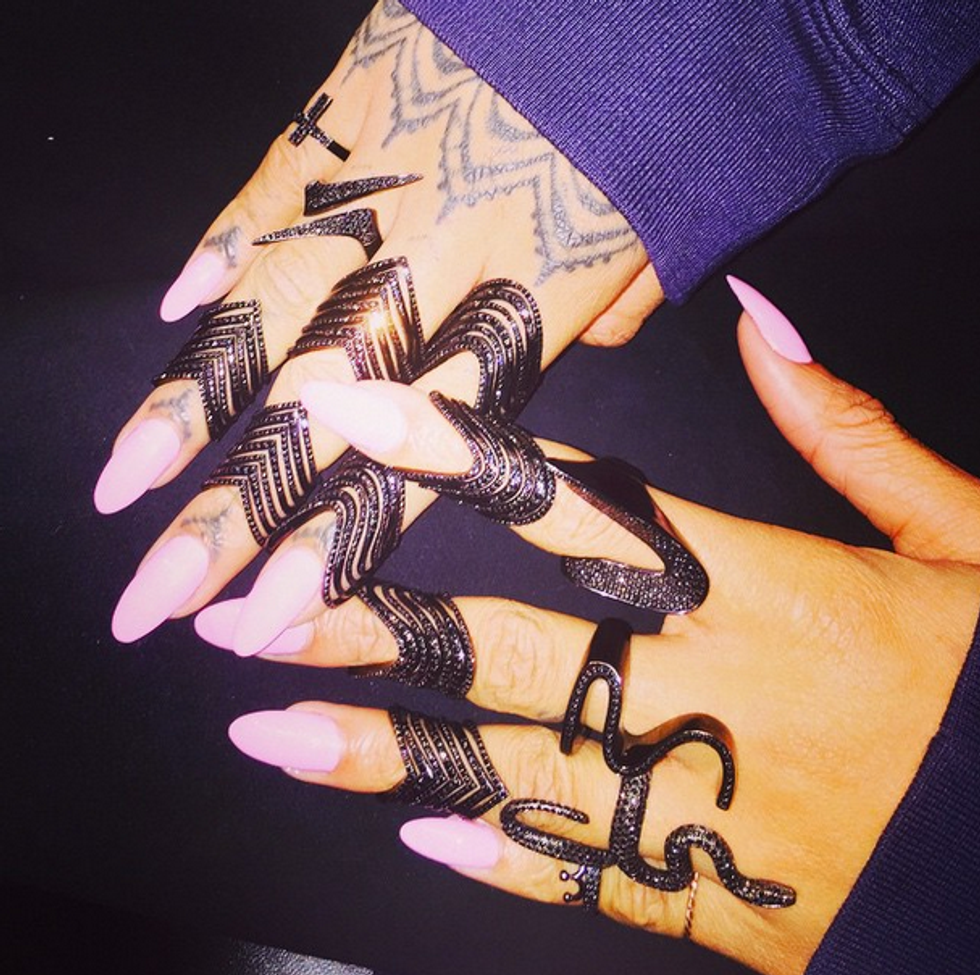 I IS FOR INK


It's no secret that Rihanna has a lot of tattoos. According to
Rihpedia
, the free enclopedia of Rihanna, she has a total of 21. Her first tattoo was a music note on her right foot and her most recent ink job includes those questionable hand tattoos.  
  J IS FOR JAY Z


I guess we kind of have to thank Jay Z for discovering Rihanna? Nah, let's not waste time on that.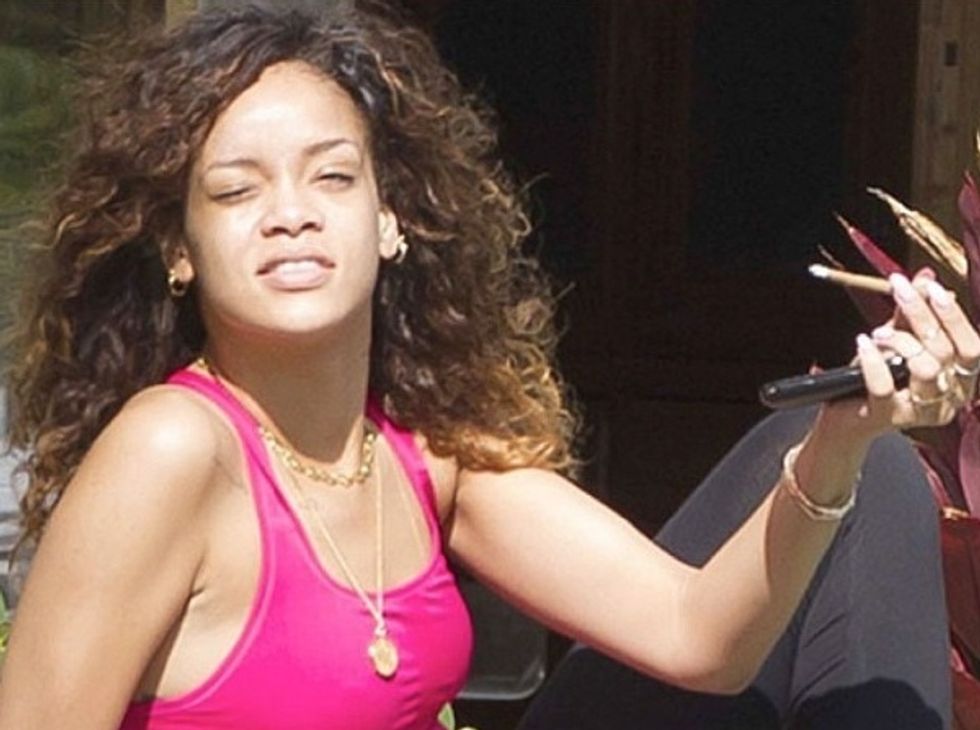 K IS FOR KUSH
Although the word "kush" makes me cringe, the fact that weed goes by many names helped out this list a lot because "W" is taken and weed is an essential part of the badgal's DNA. Not only that, but Rihanna is holding it down for all the
stoner girls
out there, proving that it's possible to be chic and on-point while simultaneously being lazy and stoned. Rihanna affirms that yes, ladies: we can have it all.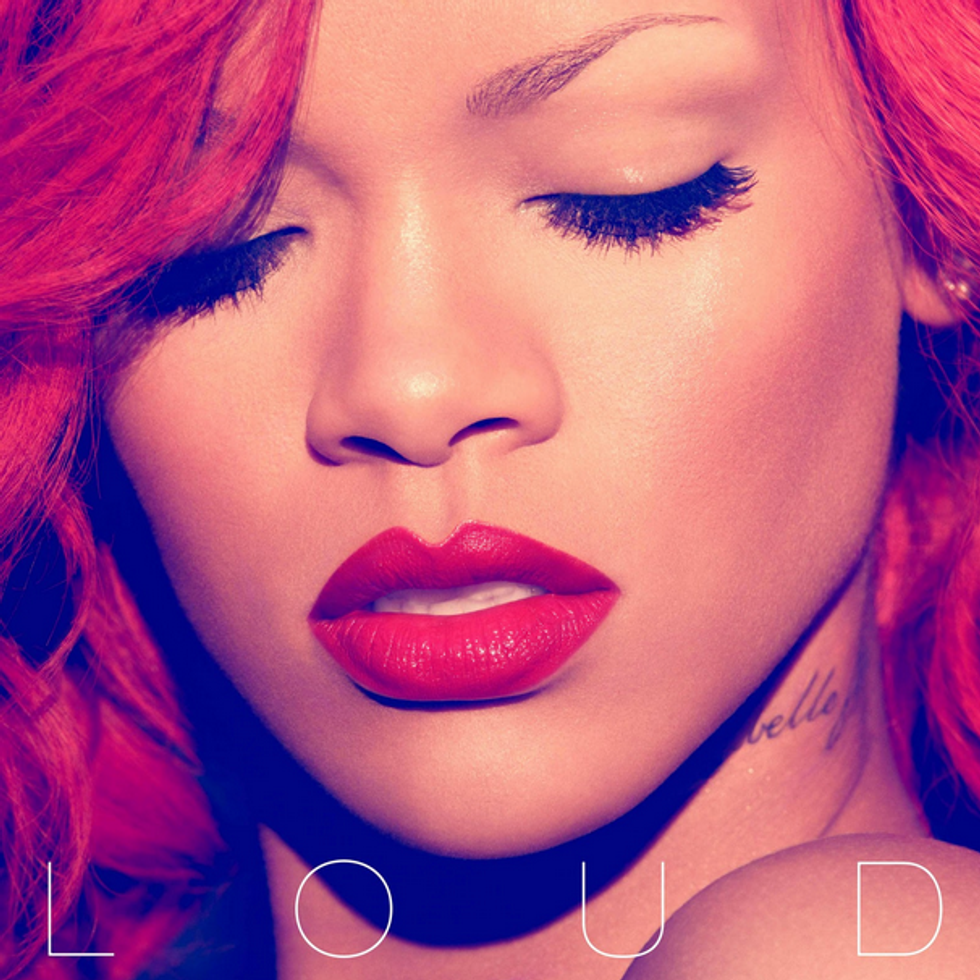 L IS FOR LOUD

Rihanna's excellent 2010 follow up to her dark
Rated R
,
Loud
, marked a triumphant victory over the trauma that is having Chris Brown in your life. Also, that red hair!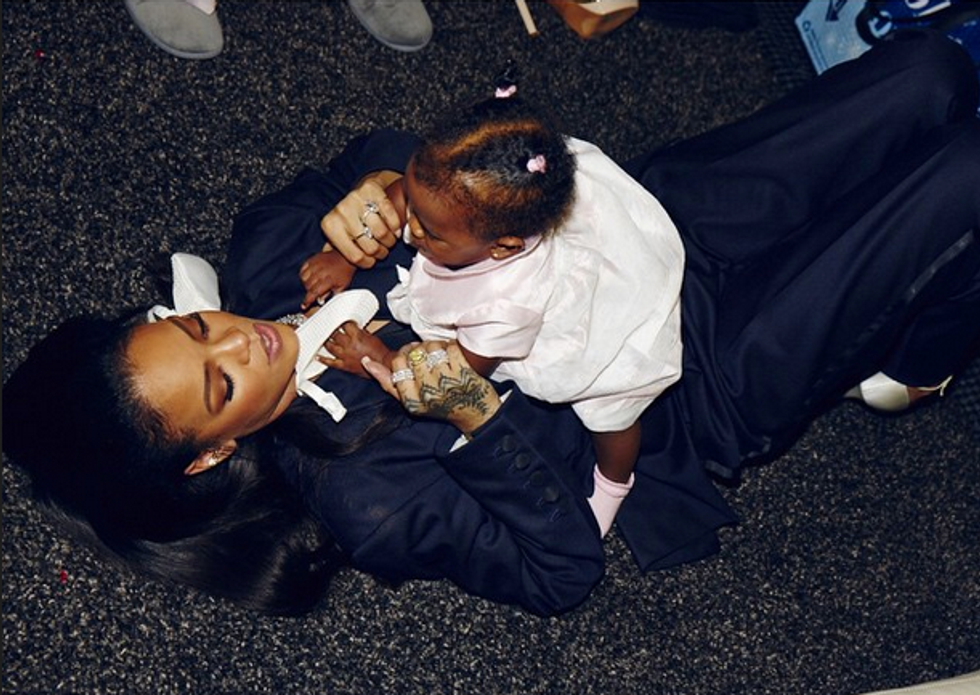 M IS FOR MAJESTY


Baby Majesty is the star of Rihanna's Instagram. Majesty is Rihanna's second cousin and also a baby, but Rihanna treats her like an equal. They take selfies together, wear matching Miami Heat jerseys, and are basically inseparable. They even wore matching white outfits to Majesty's
christening
in Barbados.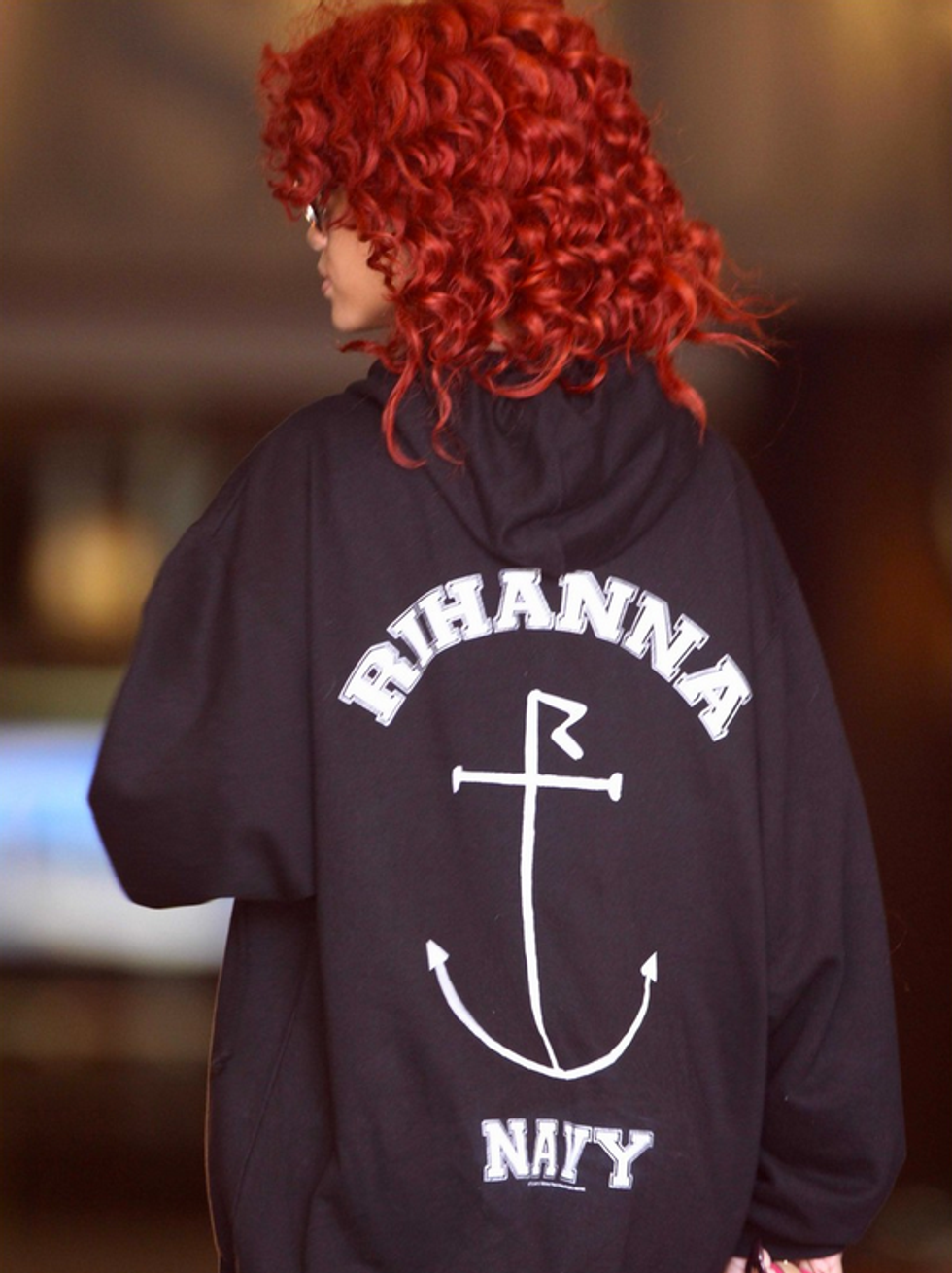 N IS FOR NAVY


Being a ride-or-die Rihanna fan is kind of like shipping yourself off to war to fight against all Rihanna haters (and
Beyoncé fans
). I've seen the Twitter and Instagram comments and things get dicey, fast. That's probably why they call themselves the NAVY. After CBS pulled Rihanna's "Run This Town" from
Thursday Night Football
, Rihanna's Navy went HAM, so don't step to Queen Rih unless you want to be endlessly tweeted at.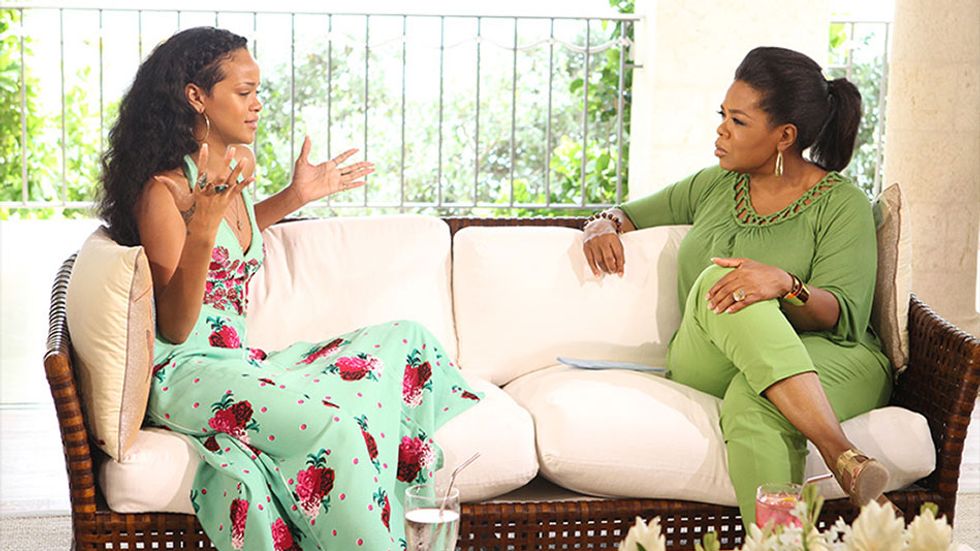 O IS FOR OPRAH
In 2012,
Rih opened up to Oprah
about her relationship with Chris Brown after he assaulted her while leaving the 2009 Grammys. With all the tears and Oprah's less than approving facial reactions, we as a nation felt deeply for badgal as we got to see her vulnerable side. Rihanna's love for Chris Brown was our love for the shitty, inescapable douchebags in our life. Rihanna's tears were our tears.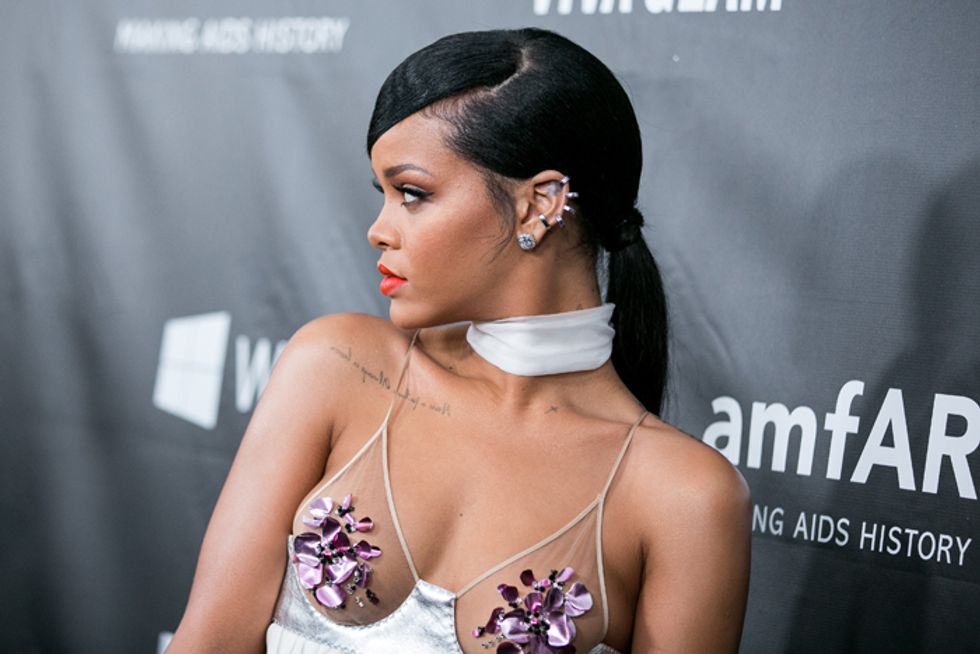 Photo via
John Salangsang/BFAnyc.com

P IS FOR PASTIES


Rihanna is a veteran at the pastie rodeo. She can be seen wearing pasties to almost any occasion. From
weed pasties
to designer pasties, when Rih isn't
freeing her nipples
, she's accessorizing them.

Q IS FOR QUEEN
Well, according to
The Sunday Times Magazine
and
Blu Ivy
she's at least a princess.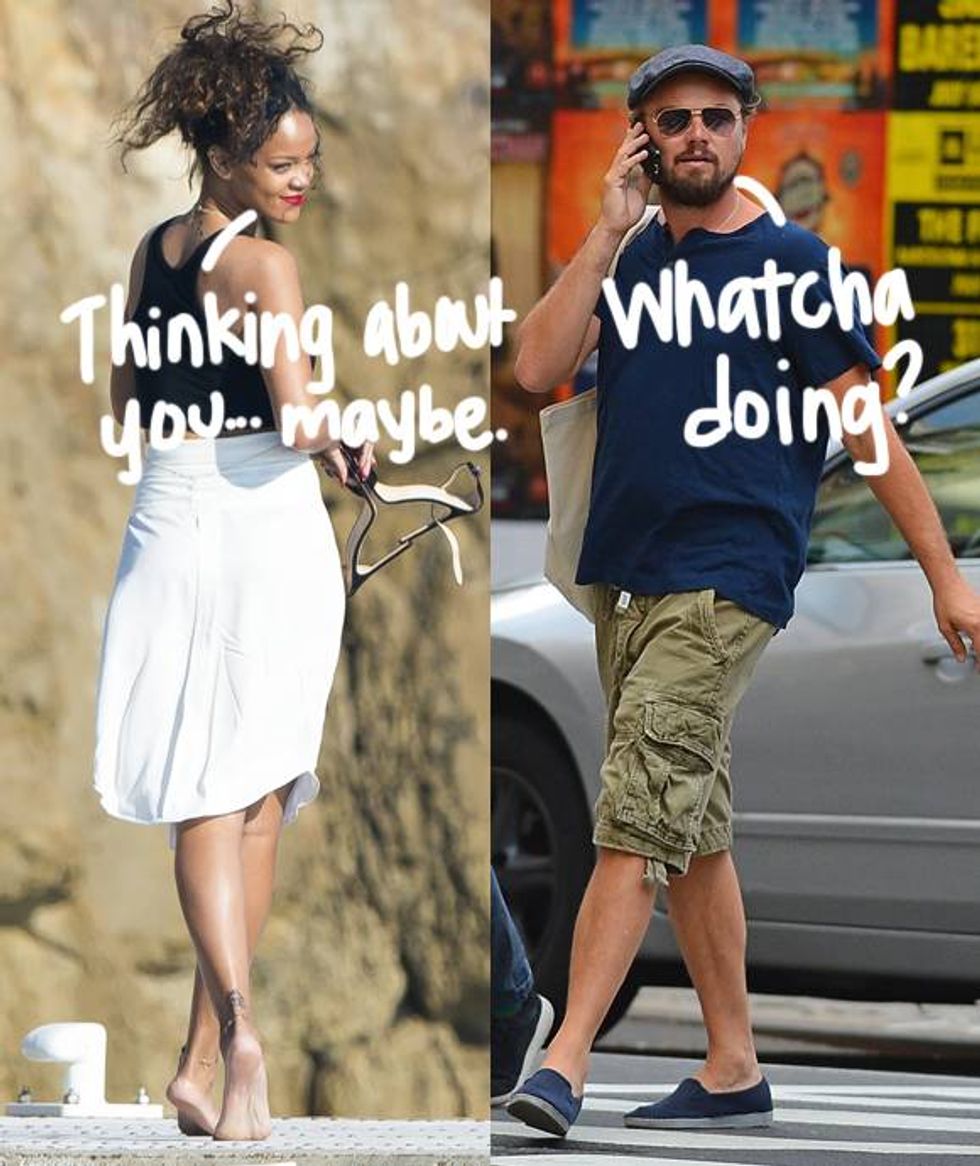 Photo via
P
erezHilton.com

R IS FOR RELATIONSHIP RUMORS
THERE'S SO MANY, but when you're Robyn Rihanna Fenty that's just life.
Watch your back, Leonardo
.
S IS FOR STRIP CLUBS
Rihanna straight up wrote an ode to her love of strip clubs (and how rich she still is after visiting one), so it's pretty clear how she feels about them.
Reportedly
, Drake and Rihanna (DriDri) dropped $17K in one night of making rain at a Houston strip club.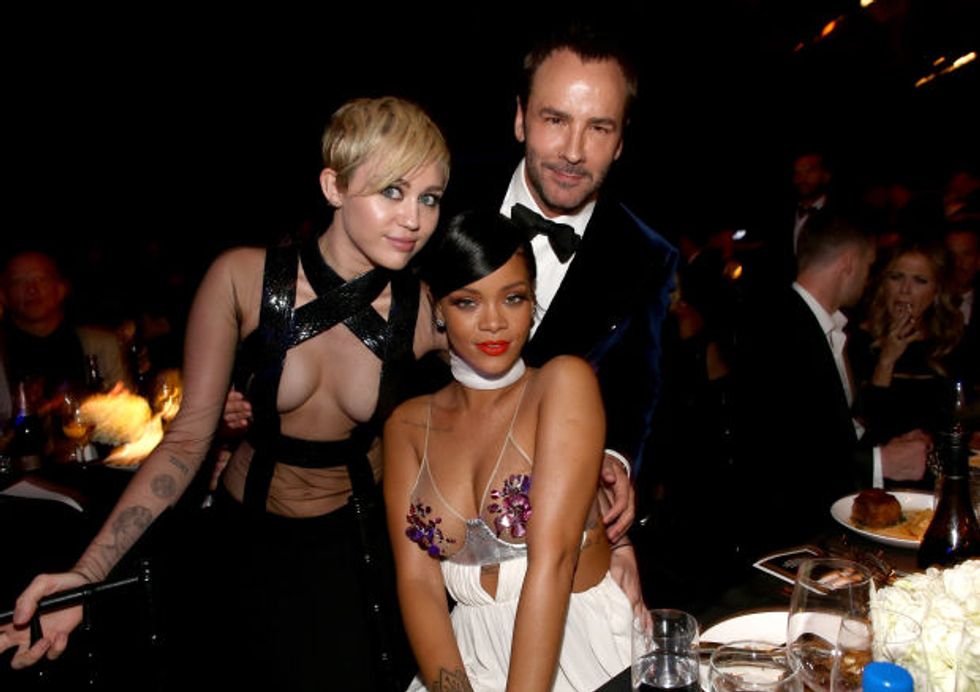 T IS FOR TOM FORD
We'll just let Tom Ford
speak for himself
: "I was at the CFDA awards as I was receiving a "Lifetime Achievement Award" [which I prefer to think of as a "Mid Life Achievement Award"], and I have to say that Rihanna was for me, that night, one of the most beautiful women that I have ever beheld. I had designed several things for her specifically for that evening which she did not wear, but when I saw her it did not matter. I whispered into her ear that she was right not to have worn one of my dresses that night because she looked more beautiful than I have ever seen her look. She was stunning. As Richard said plainly after the evening, "If you are as beautiful as Rihanna, you almost owe it to the world to appear in public almost nude" and I have to say that I wholeheartedly concur."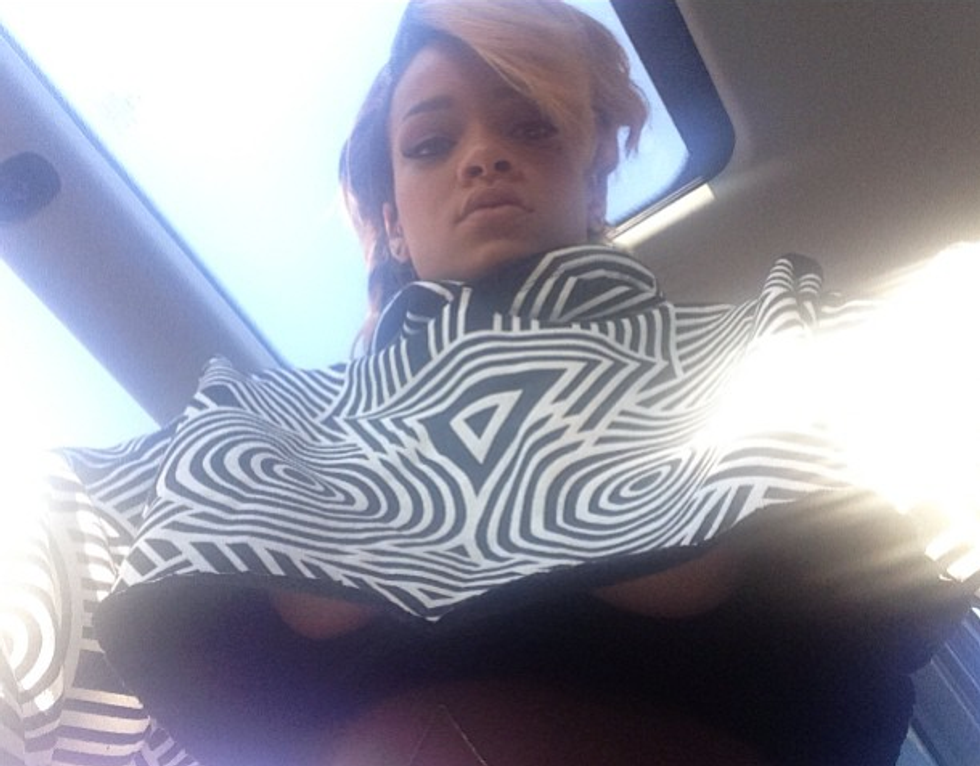 U IS FOR UNDERBOOB


Sideboob is for beginners and Rihanna is in the Big League. Do you even underboob?


V IS FOR VINCE VAUGHN
Fun fact: Rihanna has a crush on Vince Vaughn, just like the rest of us secretly do!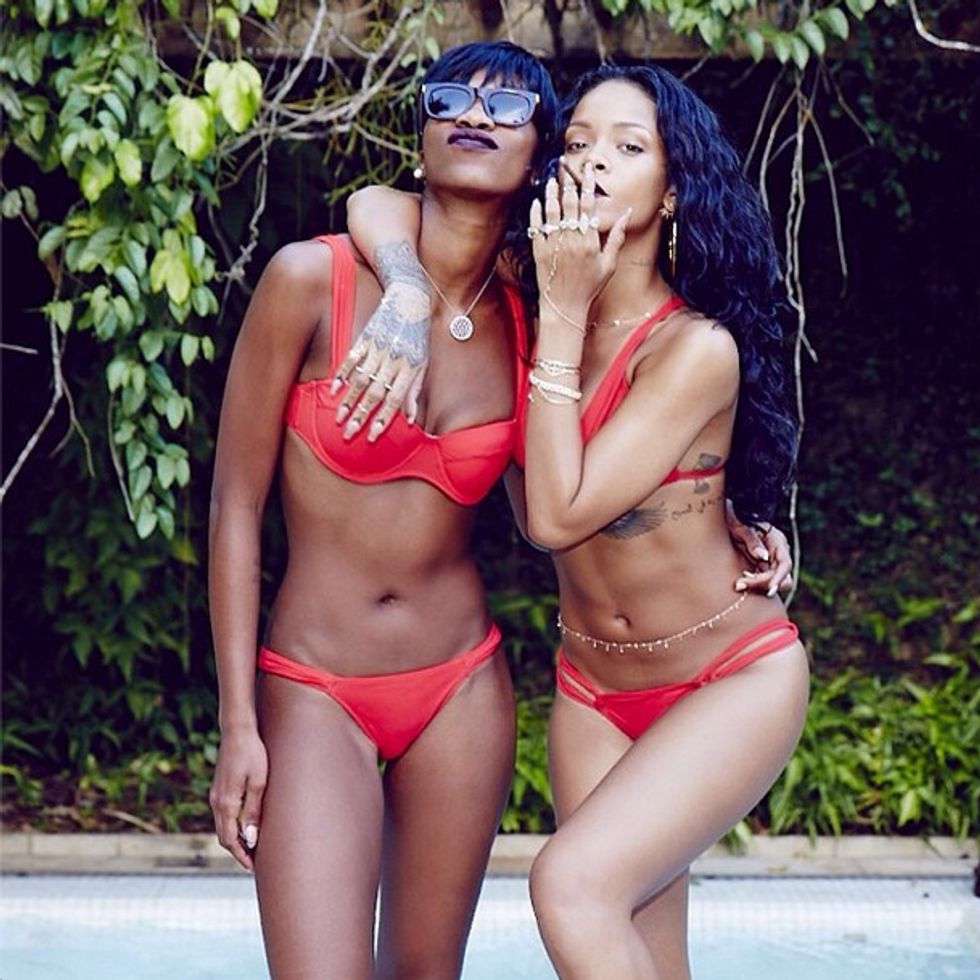 W IS FOR WOMEN
Rihanna has a rotating cabal of men in her life, but her girls are also a priority. Her
inner circle
is composed of
strong women
-- both family and besties for life. Her best friend Melissa Forde has been with her since the Barbados day and sticks by her side for every major event and, of course, vacation. Rihanna even has a tattoo of Melissa's birthday,
"11/4/1986
" in roman numerals, on the top of her left shoulder.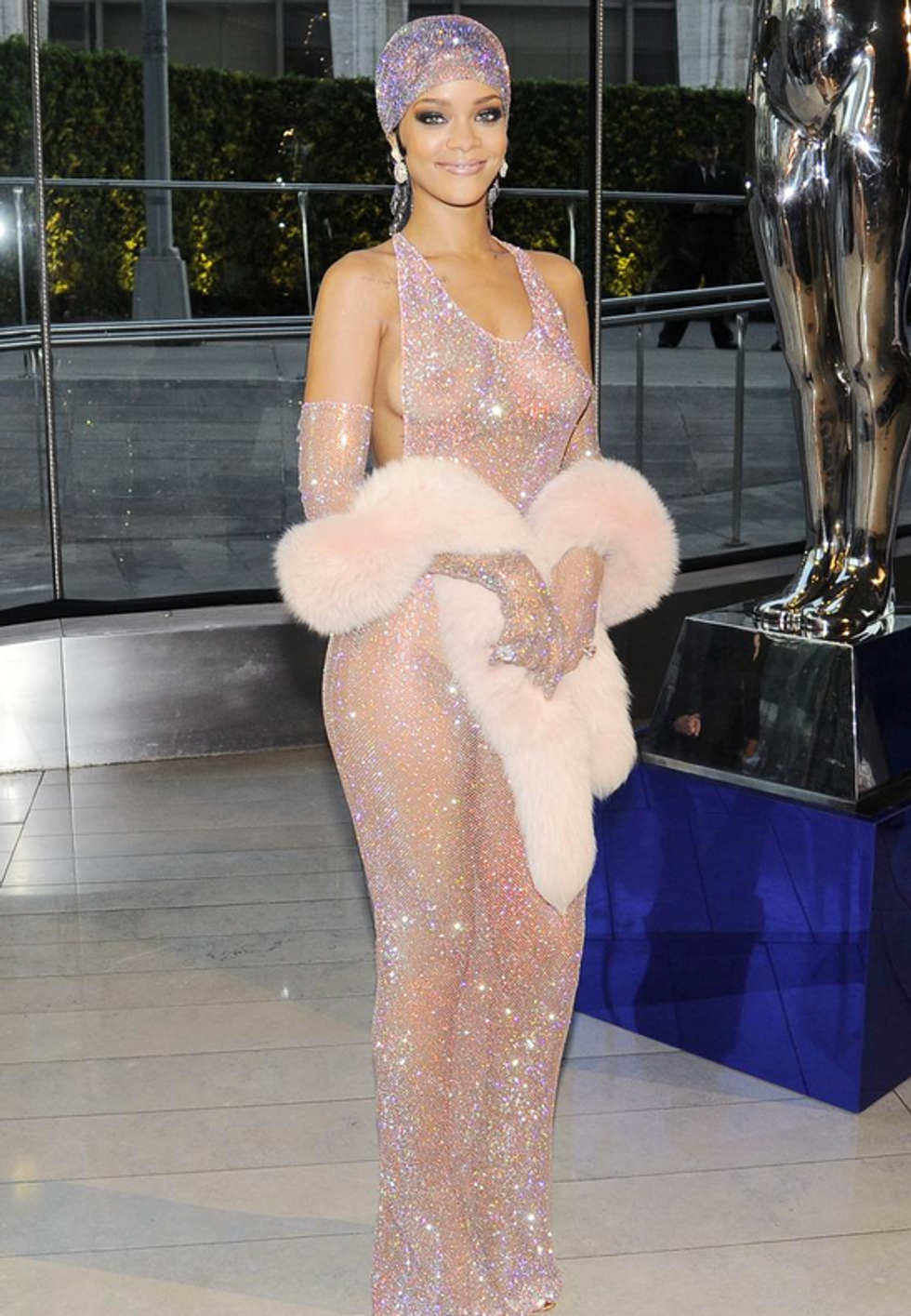 X IS FOR X-RAY DRESS


At the 2014 CFDA awards Rihanna SLAYED in a sheer, glittering dress with a matching do-rag (!). There won't ever be a moment more perfect than when Rihanna smiled at an inquiring reporter and said, "Do my tits bother you? They're covered in Swarovski crystals, girl!" To top it all off, she accepted the 2014 Fashion Icon award that night.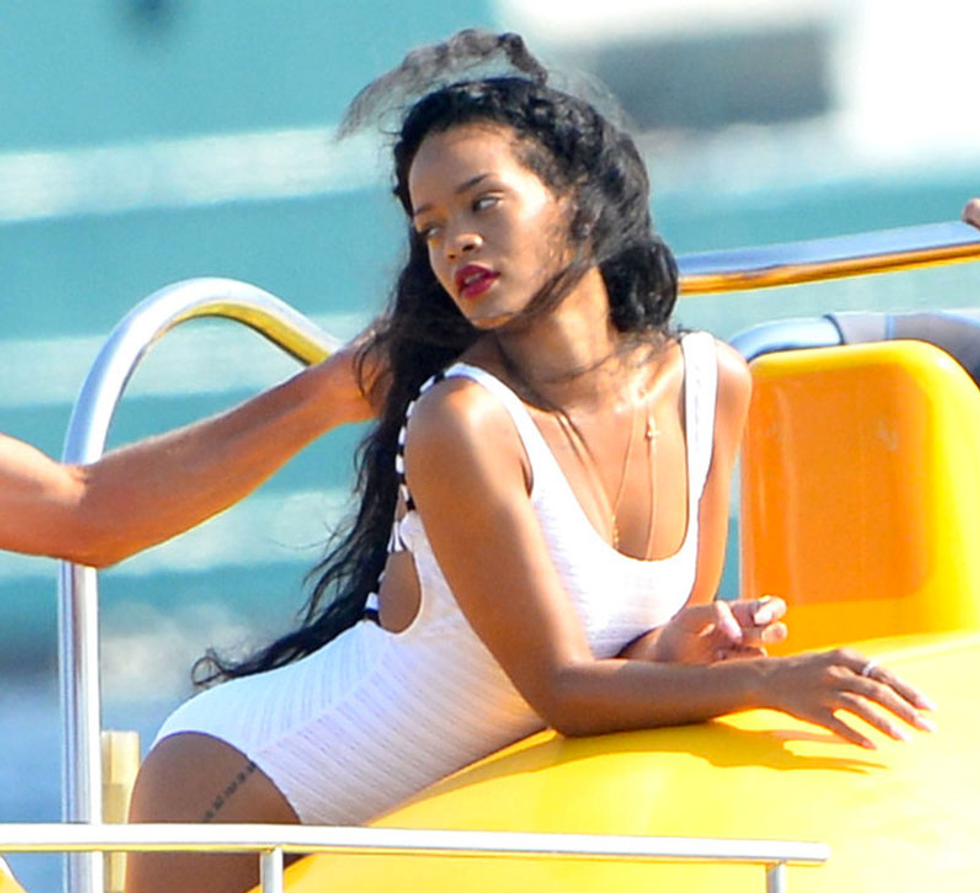 Y IS FOR (POSING ON) YACHTS

Rihanna really likes posing on yachts,
it seems
.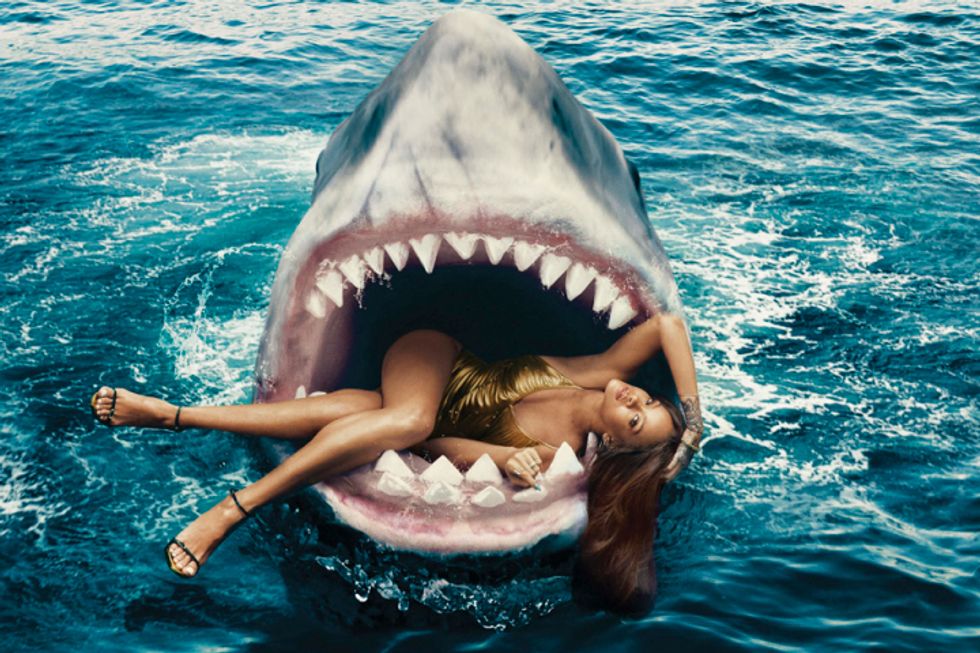 Z IS FOR ZOO
Badgal isn't called badgal for no reason. Even the most deadly, wild animals are no match for Rihanna. She's proved that she's not afraid to
swim with sharks
or casually
pin down a snake against her vagina
. NBD.
Homepage photo by John Salangsang/BFAnyc.com