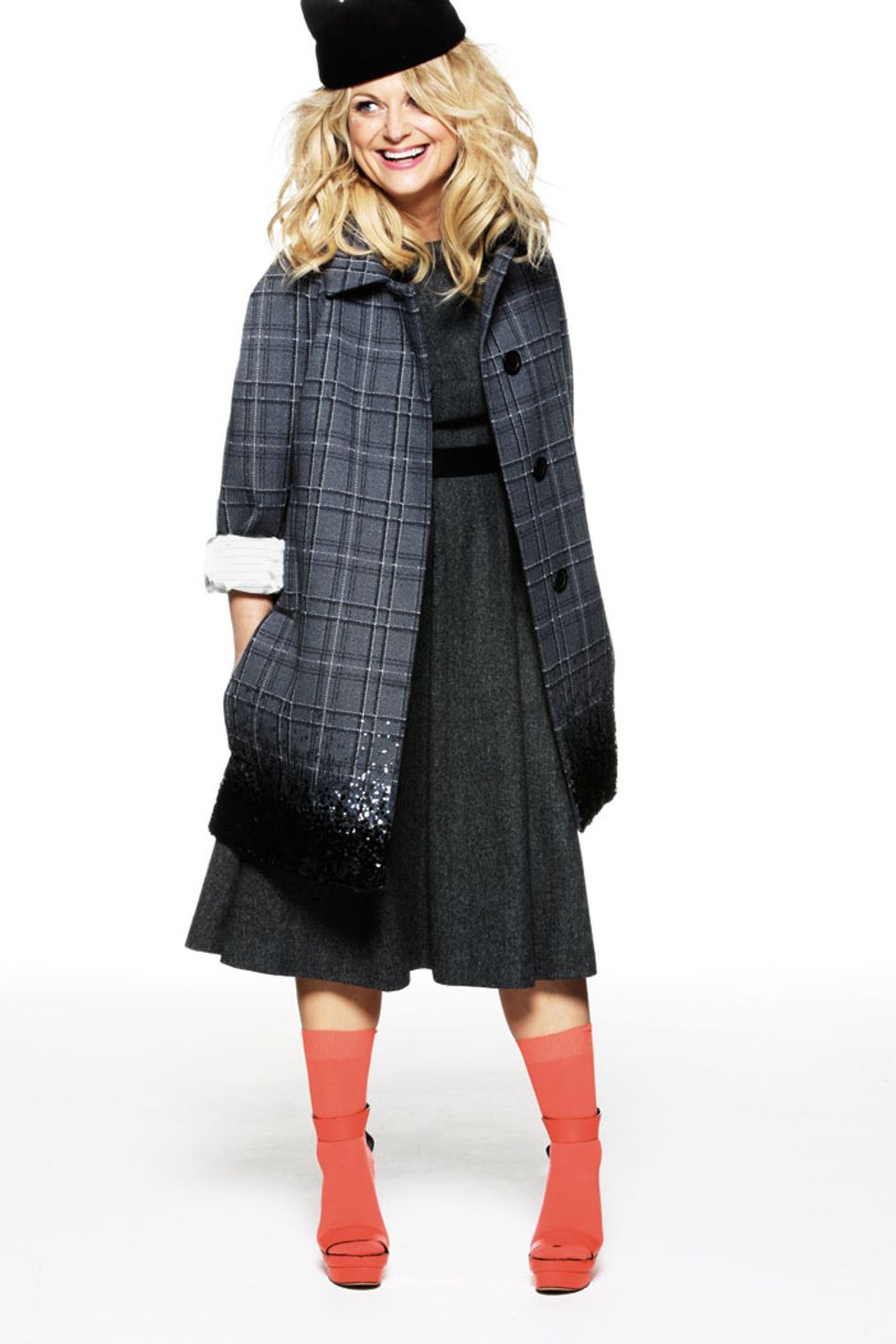 Dress by Novis, coat by Louis Vuitton, hat by Eugenia Kim, earrings by DANNIJO, socks by American Apparel and shoes by DVF.
WHEN
Amy Poehler glides into a cozy West Village café on a chilly autumn morning, her entrance has the same effect on the room of adults that, say, Mr. Rogers would've had on a room full of preschoolers. At the sight of the
Parks and Recreation
star, too-cool-for-school downtowners sit up in their chairs, eyes widen, smiles brighten. Instantly, every person in Poehler's path becomes an audience of one. She shares a quiet joke with the maître d', heartily embraces her publicist and scores a laugh from a passing waiter. They all regard her with a mix of wonderment and happiness.
We're ushered to a table in the back of the restaurant, and Poehler quickly orders her breakfast without consulting the menu. "Everything here's good," she declares. I place an iPhone on the table to record our interview. "Do you need me to hold the phone?" she asks. It's not necessary, I tell her, iPhones are great at recording conversations.
"That's good to know," Poehler says. Her eyes dart around the restaurant, then she leans and whispers, "...for spying purposes."
POEHLER
, 42, could be gracing the cover of Paper's holiday issue to promote a wide variety of projects. She's currently in her sixth season as the ultra-driven, ultra-optimistic Leslie Knope on NBC's
Parks and Recreation
; on January 12th she and Tina Fey are returning to host the Golden Globes (they're helming the awards show in 2015, as well); she has a book in the works with HarperCollins; and she's directing and producing
Broad City
, a new sitcom for Comedy Central premiering in 2014. But it wasn't her overloaded schedule of intriguing work that led her to this magazine. Poehler reached out to Paper to pay tribute to Tom Murrin, a performance-art pioneer and the magazine's longtime theater critic, who died last year, and was an early champion of the Upright Citizens Brigade, Poehler's improv comedy troupe.
It's this quality, an unflagging drive to give back to those who've helped her, and to mentor up-and-comers, that's made Poehler -- to borrow a phrase from Econ 101 -- a rising tide that lifts all boats. "It's important to be supportive, but let's not kid ourselves," she says. "In this business, we're all raging narcissists."
Yet in an industry filled with fame-starved egomaniacs, Poehler's the rare kind of performer who makes a Web series to answer young women's questions on how to survive their teenage years (her "Ask Amy" clips on YouTube), or who pays tribute to a beloved theater critic who encouraged her fledgling troupe nearly two decades ago.
"UCB's first [NYC] show was at a place called Surf Reality," she says, pouring honey from a bear-shaped bottle into her tea. "That was '96. At that time, there was an underground downtown movement -- which I'm sure there still is, but I don't know enough about it anymore. It was an interesting cross between performance art, sketch and music. Tom Murrin used to perform and help run that show -- he was one of the nice artists we met early on."
While talking about Murrin, Poehler recalls a memory of another New York legend who recently died. "I was just getting very nostalgic this week about Lou Reed, too," she says. "So many of my early memories of New York are of smoking. We all smoked. I was really young, and thought I could live forever. And I remember smoking after a show one night in the late '90s, outside Theatre 80 on St. Marks, and Lou Reed walked by. I bet a lot of people in New York have a Lou Reed sighting -- he's so iconic, and so New York. And I remember thinking, 'Oh my God, I can't believe I live here.' He was like a robin in spring. He was like the guy who told you you lived in New York. I always assumed that Lou Reed just walked up and down St. Marks all day long."
Like Lou Reed before her, Poehler has become somewhat of a New York fixture. She's called the city home (when Parks isn't shooting in Los Angeles) since Giuliani's first term as mayor.
"I moved to New York in April of '96," she says. "I was living with my boyfriend at the time, Matt Besser, who's a member of UCB, in an apartment on 10th Street and Bleecker, right across from a store called Condomania. It's probably a Ralph Lauren now."
Poehler's come a long way since then, but she still regularly performs at ASSSSCAT 3000, the UCB Theatre's long-running Sunday night improv show in Chelsea. "Like someone who can't stop visiting high school after graduation," she says. Attendance at the show is a rite of passage for comedy pilgrims in the same way that bumping into Lou Reed was for a generation of bohemian punks.
After reminiscing about Murrin, Lou Reed and Condomania, our breakfast is served, and Poehler magically transforms into an omniscient narrator.
"Then their bacon arrived," she says, "and they never spoke again."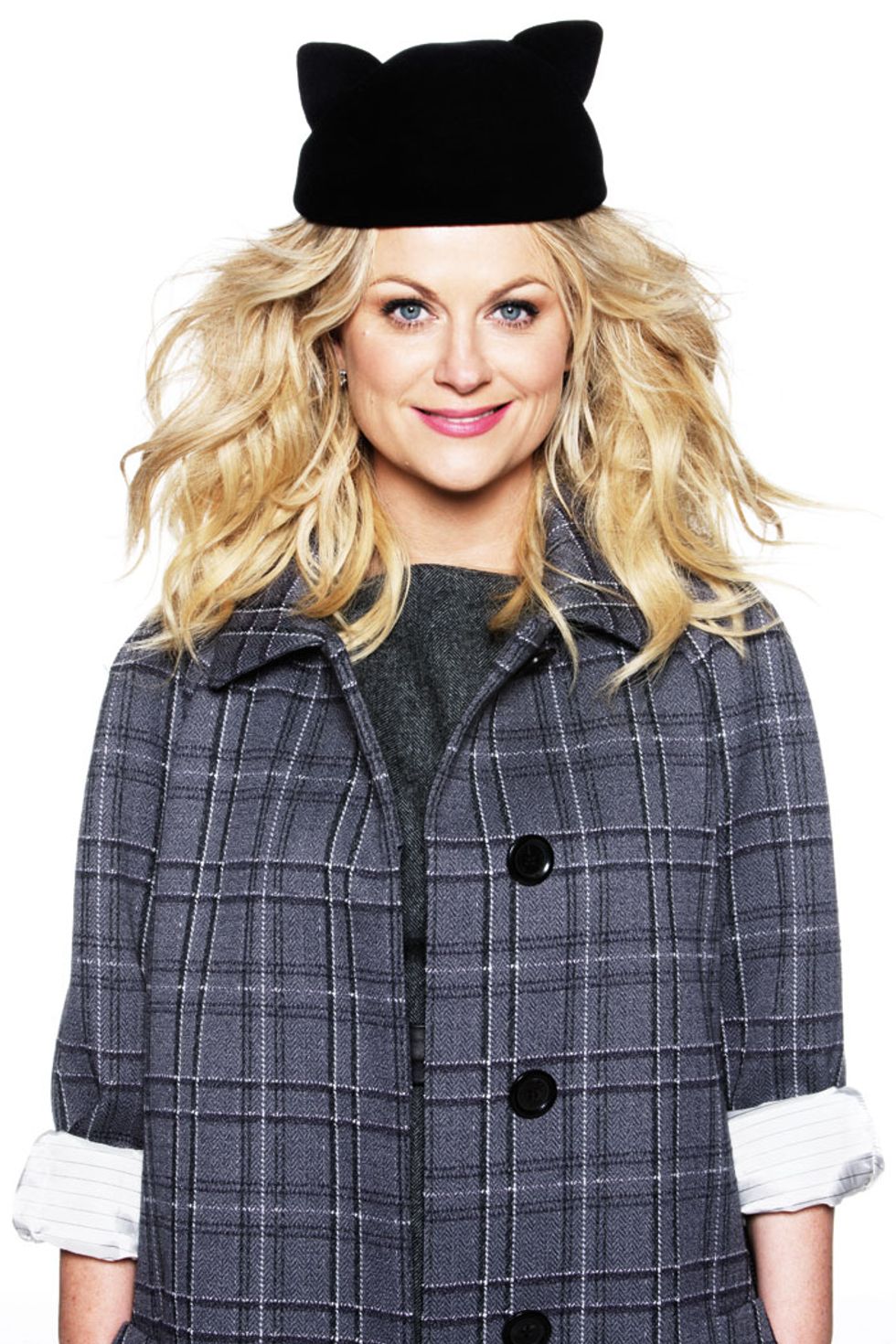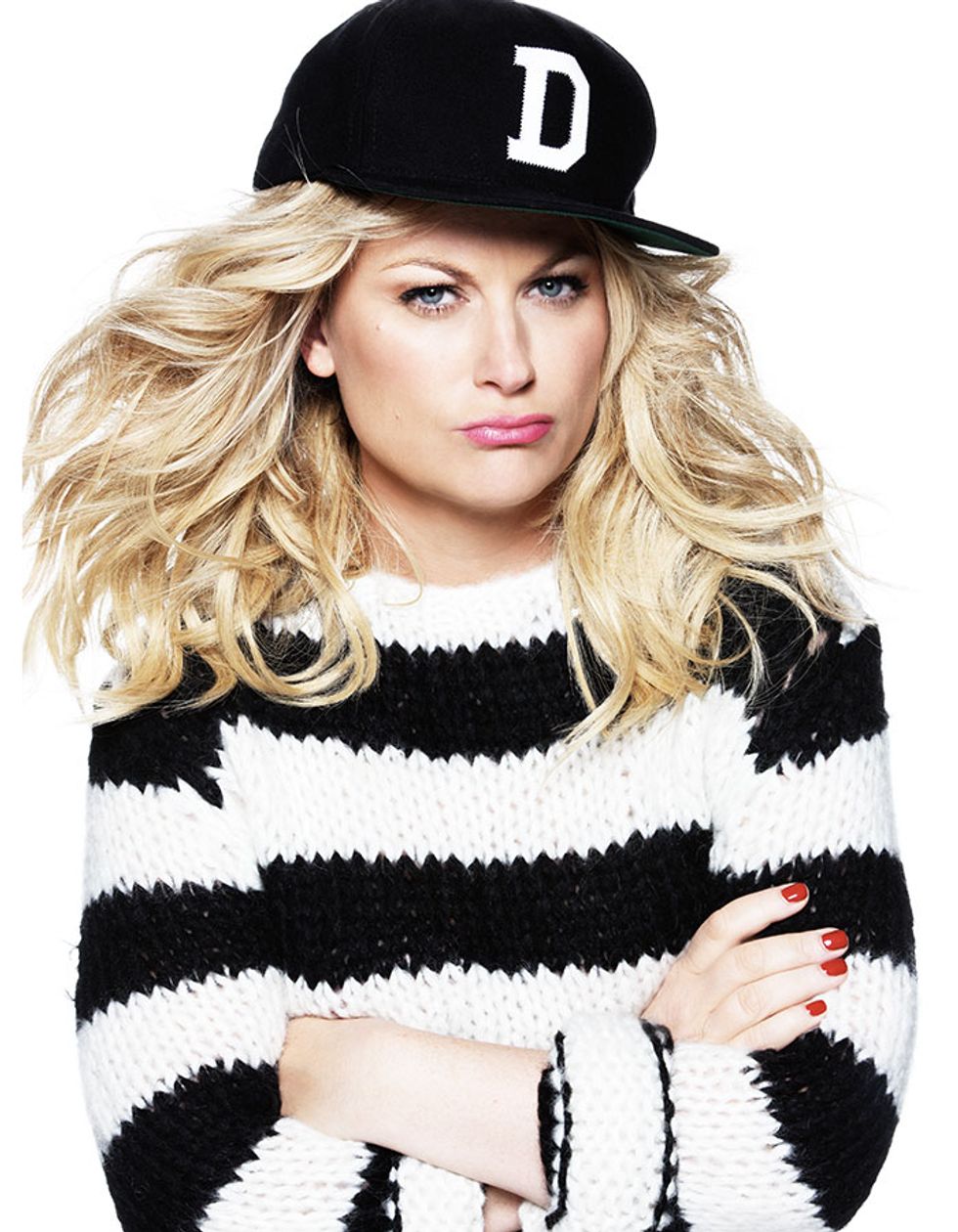 Top photo: Dress by Novis, coat by Louis Vuitton, hat by Eugenia Kim, earrings by DANNIJO, socks by American Apparel and shoes by DVF.  Bottom photo:Sweater by JOE'S and hat by Dave's Quality Meat.
AFTER
honing her comedic voice performing onstage and on television with UCB, Poehler landed a spot as a cast member on
Saturday Night Live
in 2001. The highly coveted comedy gig allowed her to continue her love affair with New York.
"I remember a Christmas show with Elijah Wood and the band was, oh shit..." she says, staring off into the distance for a few seconds. "... an Australian group that you can look up. [Editor's note: It was Jet.] So you say goodnight onstage, and then you run really fast, and put ice skates on, and you get to ice skate at Rockefeller Center. And that was the first time I ever: 1) skated at Rockefeller Center, and 2) skated along with 10 other people that were my friends. It was snowing, it was Christmas and the day before, we all got to go to the
The Lord of the Rings
premiere. I was a big fan of the films. And I remember thinking, 'Oh, this is totally awesome.'"
Poehler quickly became one of the most versatile actors in the show's history, joining a stacked cast that included scene-stealing female performers like Tina Fey, Maya Rudolph and Rachel Dratch. She excelled playing a wide range of characters, from political figures like Kim Jong-il and Hillary Clinton, to pop culture targets like Britney Spears and Michael Jackson, to hosting Weekend Update.
"
SNL
's like a factory, and you try to get your sausage made in time," she says. "Everyone's experience there is so personal and subjective and different. I kinda came at a time when the women were really crushing it. And I had a lot of friendly faces supporting and helping me."
IN
2009, Poehler departed
SNL
and settled into the role of Leslie Knope on
Parks and Recreation
. The show was an instant critical darling, and despite middling ratings, over time it developed a rabid fan base.
"That's a testament to Mike Schur, Greg Daniels [the show's creators] and the writers. The writing's really top-notch," she says. "I dig shows where all the characters don't talk like the 28-year-old writer in the room. Like, there was never a moment in
All in the Family
where Archie was aware of what an idiot he was, and wink-winked it, and said, 'OMG.'"
Despite the critical hosannas,
Parks
fans are in a constant state of anxiety about the show meeting a premature end, like
Arrested Development
or
Freaks and Geeks
. "I think I know how the show ends," Poehler says. "To some extent, with the exception of one or two seasons, we never really know if we're coming back. I know how this season ends -- it could be an ending for the show, or it could be an ending for the season."
While that news may break the hearts of
Parks
' viewers, they can take solace knowing that the show's firing on all cylinders while heading for the finish line. "We have an arc this season where Leslie has to get over her ego about helping Eagleton, the town next to Pawnee, who are all a bunch of rich snobs -- which I can relate to," she says. "It's a very Massachusetts thing. Lexington, Massachusetts, was the Eagleton to my hometown right next door, which was Burlington. Lexington had the Shot Heard 'Round the World, and more doctors and slightly fancier houses. Rachel Dratch is from Lexington. Our [high school football] teams play each other on Thanksgiving, and we still trash talk each other. I'll say, 'Lexington's a bunch of fuckin' snobs.' And she'll say, 'How dare you, you Burlington trash. Get out of my town.'"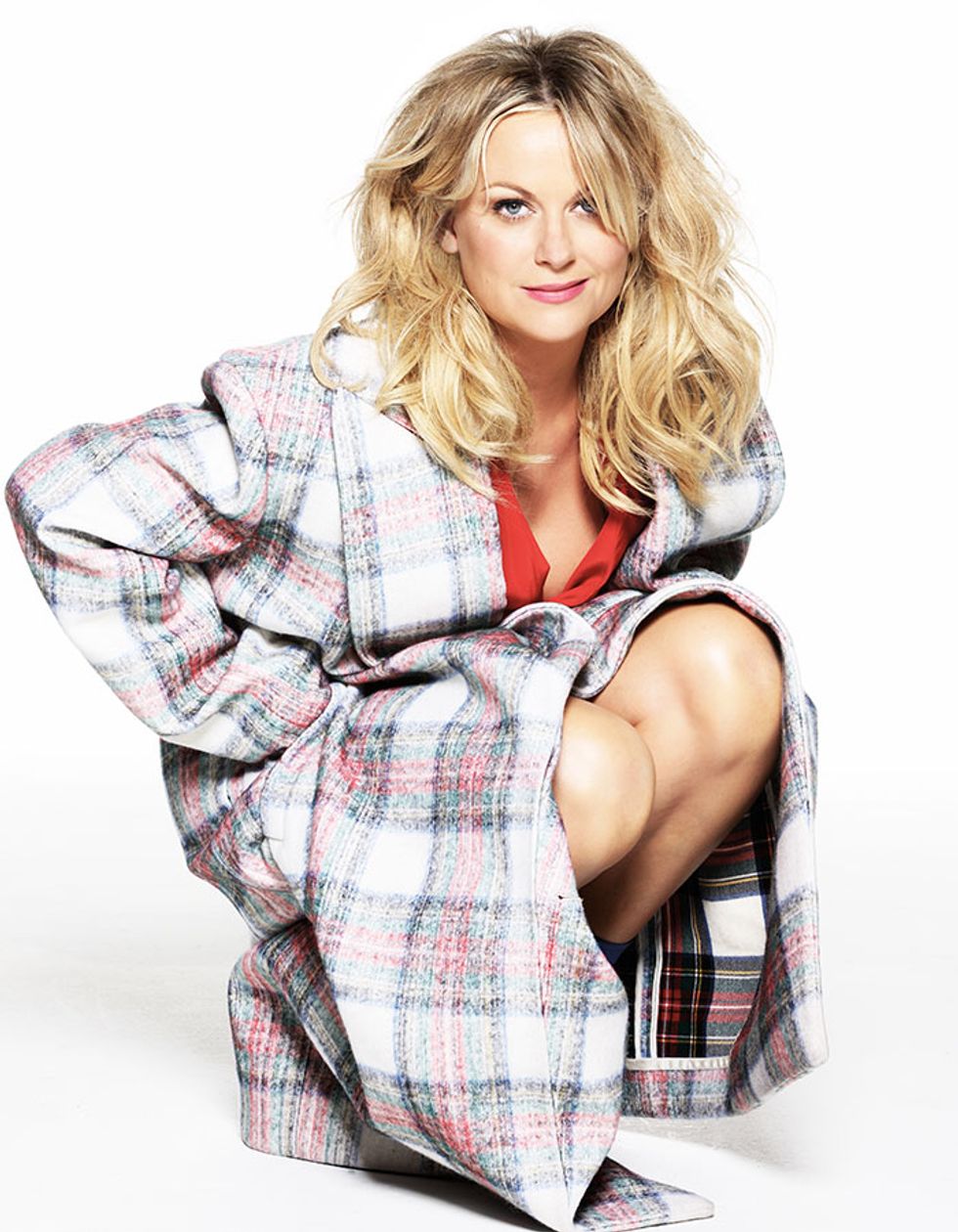 Coat by Stella McCartney and dress by Tibi.
As soon as New England enters the conversation, I congratulate Poehler on the Red Sox victory in the World Series the night before.
"I caught the end of the game after I got home from shooting," she says. "My parents are die-hard Red Sox fans, and I called them last night after they won. My mom was like, 'Your father and I split a bottle of wine.' They were both a little bit toasted."
Poehler laughs loudly at the thought of her tipsy Bostonian parents celebrating a Red Sox win. I ask if she thinks she's a generous laugher. "I don't break in scenes, but I do laugh too much," she says. "I was just directing
Broad City
, and the sound guy asked me, 'Can you laugh less during the takes?' And I was like, 'I can't promise you anything.' I like to laugh a lot. I have a crazy maniacal laugh that I try to maintain through diet and exercise."
BROAD City
marks Poehler's foray into executive producing a television series in which she's not the principal cast member. "I'm interested in producing and directing more in the next phase of my professional life," she says. "I liked
Abbi [Jacobson] and Ilana [Glazer]'s
voice, and they work really hard."
Glazer and Jacobson, the show's creators, reached out to Poehler in 2011 to make a cameo in
Broad City
, which was a Web series at the time. She enjoyed the experience so much that when the comedy duo asked her to help them bring the series to television, she agreed.
"I'm always asking Abbi and Ilana questions about their lives, because I'm fascinated," Poehler says. "I mean, everyone under 26 seems gay to me. Both men and women. I often ask myself, 'Is everyone gay?' There's this gender fluidity that I think is generational, and that's new. But young women now are so interesting and are taking full advantage of their opportunities. And Abbi and Ilana come from good supportive parenting. It's funny to see what comedy comes from those backgrounds because, historically, you have to come from a shitty background to succeed in comedy, but that was never really the case with the women I came up with."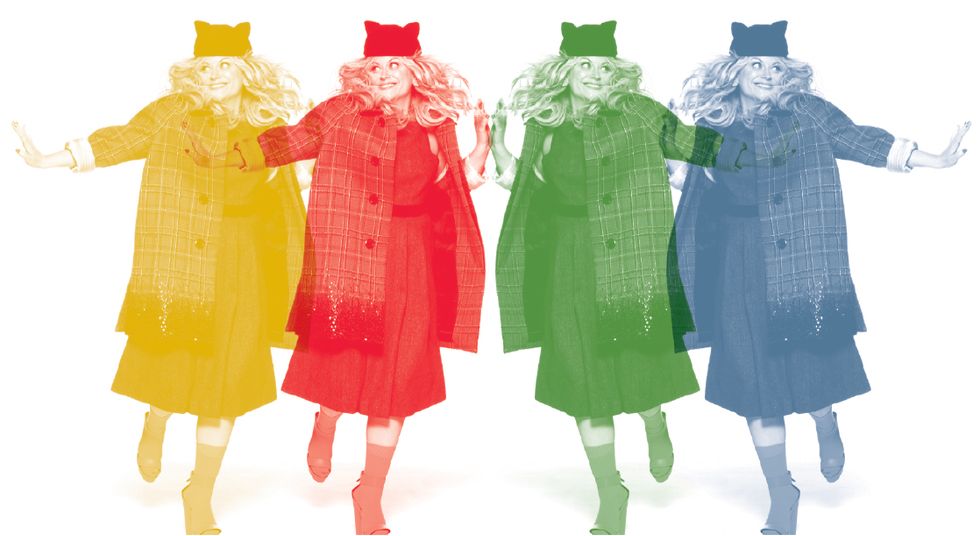 IN
an age when many comedians rely solely on the Web to showcase their chops, Poehler mainly uses her Internet platform to shine a spotlight on others with "Smart Girls," her talk-show Web series that focuses on inspiring women of all ages. "I'm not a real social-media person. I'm not on Twitter," she says. "I try not to read too much online because I always get my feelings hurt, even if someone's flattering you. Like somebody tweeting, 'Call me crazy, but I think Amy Poehler's attractive.' And you're like, 'OK? Thank you?' Or like someone writing, 'I'm gonna go out on a limb and say that I'd have sex with Amy Poehler.'"
And don't expect to be voyeuristically peeking at backstage and after-party selfies of Poehler on the night of the Golden Globes. "The amount of Instagram selfies seems crazy out-of-control," she says. "The idea of, 'This is my face and everyone needs to see it all the time,' is so far from the privacy that people used to seek. Now everyone acts the way '80s performance artists used to act. Everybody's Karen Finley. Everybody's like, 'This is my vagina! I'm gonna put shit all over me and take pictures!'
"When I was a kid, you'd go to a party or a punk rock show and you'd have fun, and you'd bring a camera, and you'd take pictures, and those pictures would stay inside the camera," she says. "Pictures were an addition to the experience. Now the picture is the experience. If I'm hanging out with a friend, and they take a picture of me, it's like 'Ugh.' I mean, I hate looking at pictures of myself. It immediately takes me out of the experience."
Curious to know if she was concerned for her two young sons with her ex-husband Will Arnett as they grow up in the social-media age, I ask, "Are you worried for..."
"Yes!" she shouts, cutting me off with a laugh. "I'm terrified!"
"IT'S
pretty spectacular bacon," Poehler says, as the waiter clears our plates. Ron Swanson, Nick Offerman's carnivorous character on
Park
s, would agree. Throughout her career, Poehler has gone out of her way to encourage and pass along advice to greenhorn comedians, and I wondered who passed along hard-earned wisdom to her? She didn't hesitate to answer. "I did a sketch on
Conan
in the mid-'90s," she says. "Nipsey Russell was there, too, doing a bit. He said, 'Amy, Hollywood's got one typewriter, and a hundred copy machines.' And I nodded as if I knew what he was talking about. And I will never forget those words, because I don't know what they mean."
Styled by Danielle Nachmani / Shot at Dune Studios

Hair by Earl Simms at Kramer + Kramer using Oribe Hair Care Products / Makeup by Robert Moulton at Make up For Ever / Manicure by Kiyo Okada at Garren NY using CHANEL LE VERNIS

Photographer's Assistants: Ernesto Urdaneta and Harry Kong