In addition to
TV on the Radio
releasing their new album
Nine Types of Light
today, they're also treating us to a short movie featuring music videos for each of the record's 10 tracks. The film,
currently streaming
on the homepage of YouTube, was helmed by TVOTR frontman
Tunde Adebimpe
and features clips created by various filmmakers and friends of the band. We got to see a sneak peek of the film last night and, hey, was that
Murray Hill
and
Michael Musto
making cameos in
Amy Davis
and
Jon Moritsugu
's video for track "No Future Shock?" Why, yes it was. The clip, which starts around 15:10  and features people partaking in an ecstatic, vaguely demented
American Bandstand
-esque dance-a-thon, was actually the brainchild of TVOTR's
Kyp Malone
. Davis, who is a
former
Paper
illustrator, tells us via-email that Malone wanted a video that went from, "A sort of a staid/conservative,
Soul Train
-esque [show] to basically a daggering freak-out...all crescendoing with the horns and dancers writhing and getting all confetti dusted/blissed out/exhausted." Well, congratulations, Amy and Jon, because that's really what we get here. Kudos as well to choreographer
Desiree Godsell
, who put together dance move "the no future shock" for the video. (Godsell, according to Davis, makes a cameo as "the Wonder Woman one who does all the upside down shit.") And what of those appearances by Hill and Musto (who pops up at the very end as a janitor)? According to Davis, "We wanted the REAL NU YAWK STARS." You can't argue with that.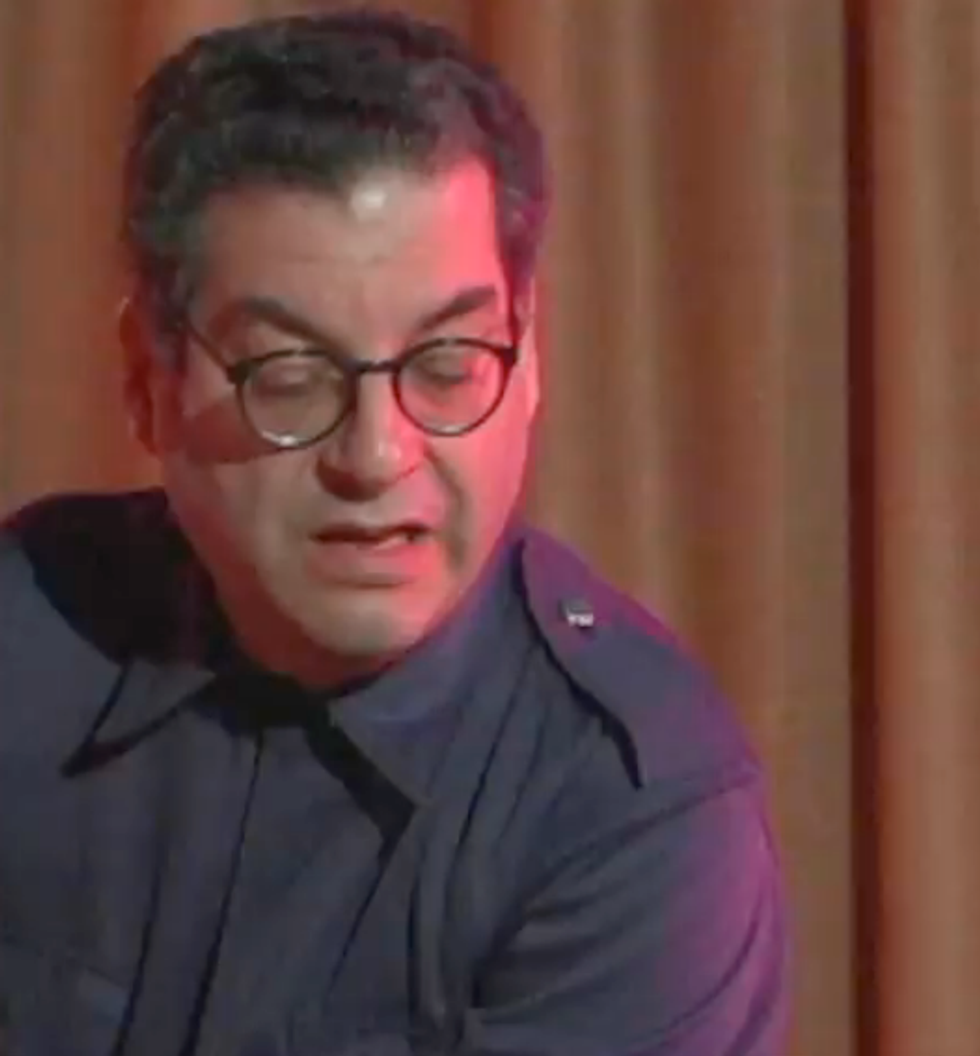 And because he's always a fabulous interview, we needed to get Michael Musto's take on his fun cameo. Here's an email Q&A we did with him about his big music video debut:
First you made it onto an LCD Soundsystem album and now you're in a TV on the Radio video? Will you soon be moving to Bushwick?
No! I'm from Brooklyn and don't want to ever go back, as God is my witness. More likely, what will happen as a result of all this insanely fabulous exposure is a big move to Hollywood! I'm ready for my closeup and already have my matching ensembles packed in very expensive luggage.
Your good friend and our boss, Mickey Boardman, thinks every band is named either TV on the Radio, Panic at the Disco, or a combination of both (e.g., "You kids and your Panic on the Radio!"). Under the gun, would you be able to distinguish between these two extremely different bands?
I am musically illiterate and still think of
Madonna
as one of the new kids. I have no idea who anyone is except for
Taylor Swift
(because I use
Swiffers
, so her name is easy to remember) and
Katy Perry
because she's married to a movie star (I know movie stars). Panic at the what? Are they the same thing as
30 Seconds From Bruno Mars
?
Are you a TV on the Radio fan now that you've been in their video? Will you be seeing them at either of their concerts tonight or tomorrow?
I worship them now, having been an integral part of their creative process from the ground level. I think their doing a movie of all videos -- on a budget, yet -- was a genius idea that will become copied by everyone, even
Panic at the Bruno Mars
. But I can't go see them at Radio City because I just saw
Charlie Sheen
's show there and if I go back, it might bring back REALLY traumatic memories.
You play a janitor in this video and looked like a natural holding a mop. Have you ever had a job that required cleaning up spills?
Please! I've been cleaning stains off myself all day long for years! But I actually have no idea how to use a mop. (I use Swiffers, remember?) Still, the second they handed me the mop and the camera zoomed in on me, I instantly, magically learned what to do because I HAD to in order to cement my stardom! I'm obviously a method actor like
Bobby DeNiro
and can just about do anything for a cameo. Next stop, scrubbing toilets. God, show biz is glamorous!
Nine Types of Light
is out now on Interscope. Amy Davis and Jon Moritsugu's film
Pig Death Machine
is out later this year.