Tonight on FX, we return to the nineties and re-visit one of the most infamous crimes -- and even more infamous trials -- of the 20th century. We go back to the white Ford Bronco, the ill-fitting leather gloves, and the verdict that became almost a punchline.
We go back -- pause for dramatic effect -- to OJ Simpson.
For some of us (hey millennials!), the trial itself is a weak memory. When OJ was acquitted of the murder of his ex-wife Nicole Brown Simpson and Ronald Goldman back in October 1995, I remember me and my fifth grade class eating lunch at our desks, while our teacher tuned into hear the ruling. I remember her turning the radio off in disgust when Simpson was declared not guilty, and the rest of us wondering if this meant we could talk again. I remember jokes on TV and among grown-ups and how we'd all try to unsuccessfully drop our own OJ references, despite having only a vague grasp of who Simpson was or what he was accused of doign. To us, a double murder was just as scary as dude's voice from Unsolved Mysteries.
And now we're grown and ready to face the facts. And thanks to Ryan Murphy's American Crime Story, FX's take on the murder and trial, we'll see it depicted in a way that we can all understand: on television, by actors, and via subsequent think pieces.
But first, here are the facts.
Cast of Characters
You've heard David Schwimmer's name dropped. You've heard Kardashian references. And this all begs the question: who are these people?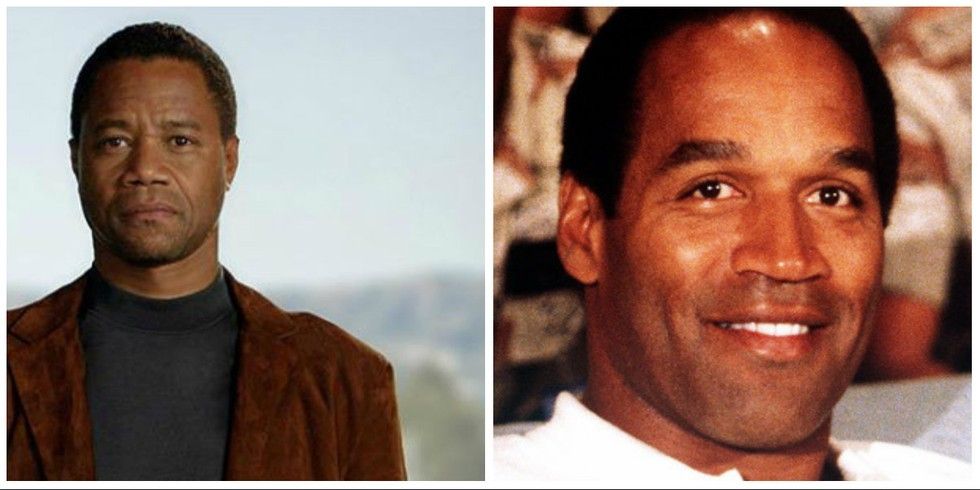 OJ Simpson (Cuba Gooding Jr.): A former (beloved) professional football player and comedic actor (think Lebron James) who was charged with murder after his ex-wife Nicole Brown Simpson and Ronald Goldman were found stabbed to death outside of Brown's home.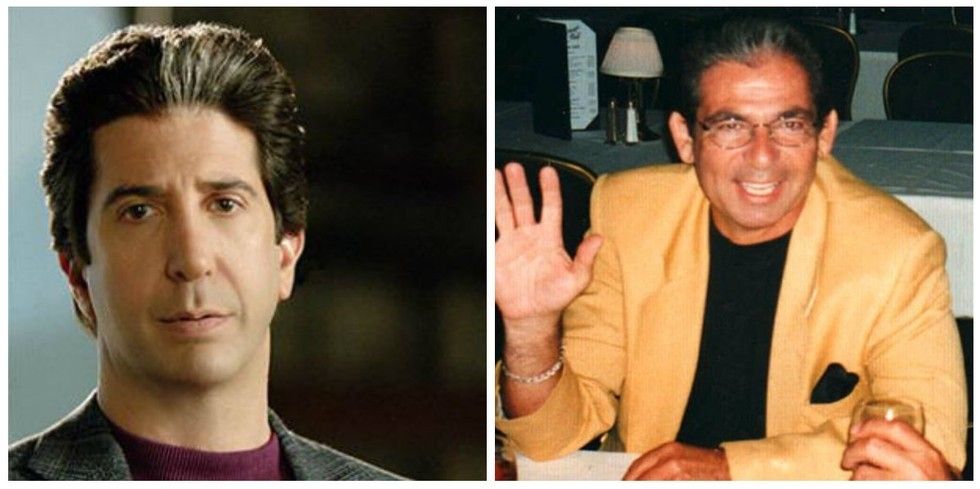 Robert Kardashian (David Schwimmer): Kim's dad (duh). Prior to defending Simpson, Kardashian and OJ had been friends since the 1970s. He was also the man photographed carrying the infamous garment bag which is rumored to have contained incriminating evidence (like Simpson's blood-covered clothes). He died in 2003. In a 1996 interview with ABC, Kardashian said that he had "doubts" Simpson was innocent: "The blood evidence is the biggest thorn in my side; that causes me the greatest problems. So I struggle with the blood evidence."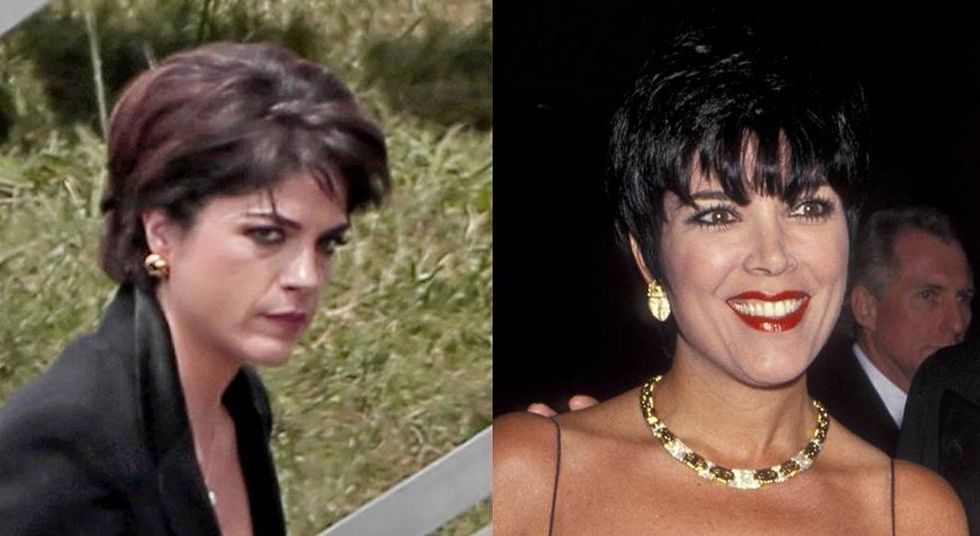 Gil Garcetti (Bruce Greenwood): The former Los Angeles DA (who is now pegged as LA's First Dad -- his son, Eric, is mayor).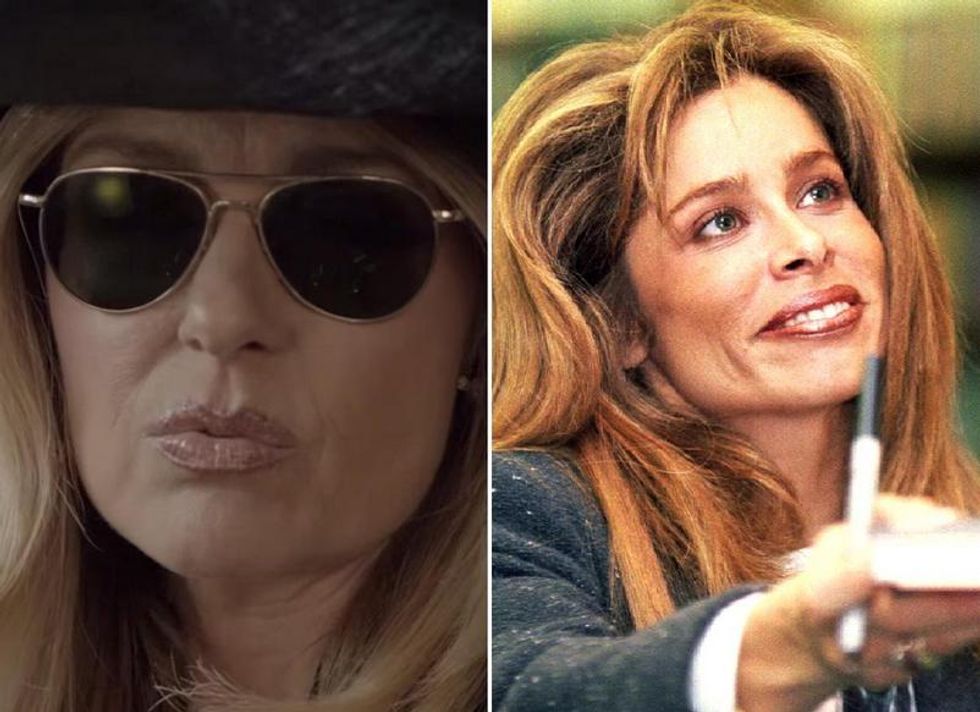 Christopher Darden (Sterling K. Brown): Co-prosecutor extraordinaire (regardless of the trial outcome).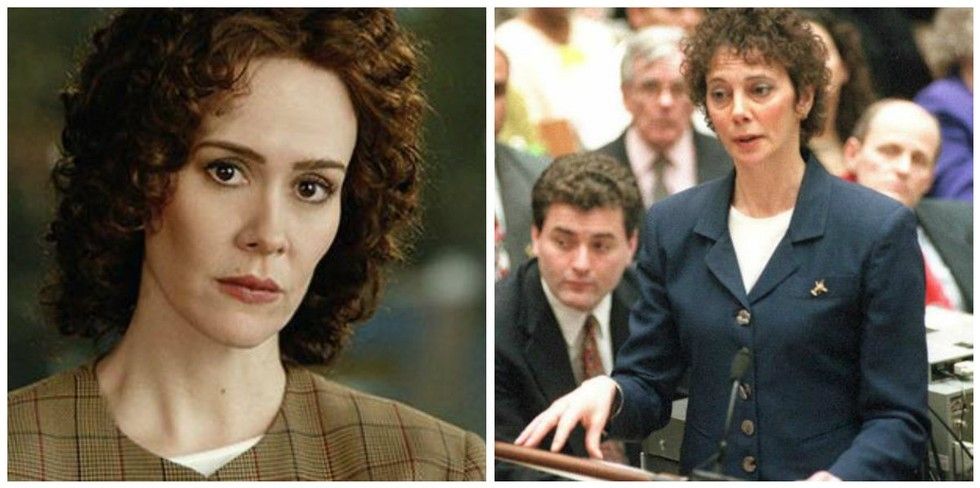 Marcia Clark (Sarah Paulson): See the above description/perm enthusiast.
Judge Lance Ito (Kenneth Choi): The judge who presided over the the trial (of the century). He invited cameras into the courtroom, but was consistently angry with the media for their approach to what became a judicial circus -- he still rarely does interviews.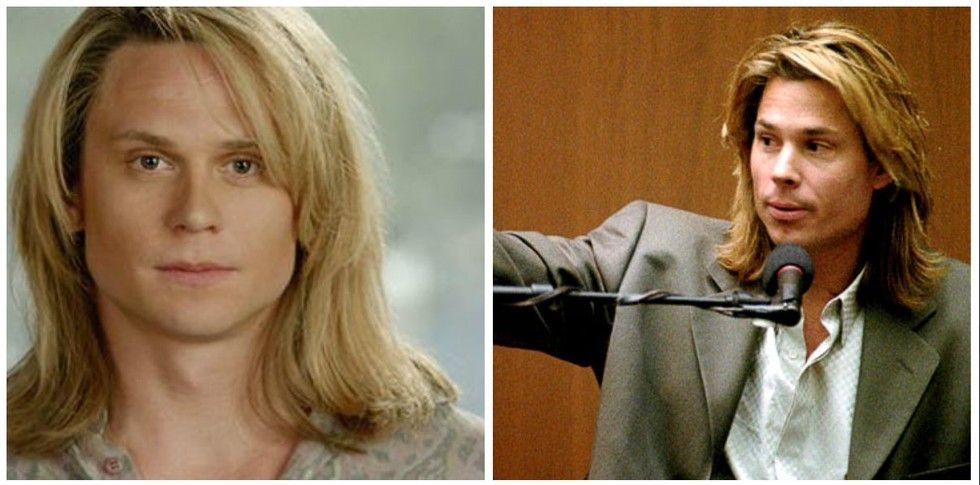 Kato Kaelin (Billy Magnussen): An example of when house-guesting goes terribly wrong. Kaelin was staying as a guest at OJ's in 1994 and after being called as a witness, his testimony contradicted that of his pal. He wasn't exactly beloved.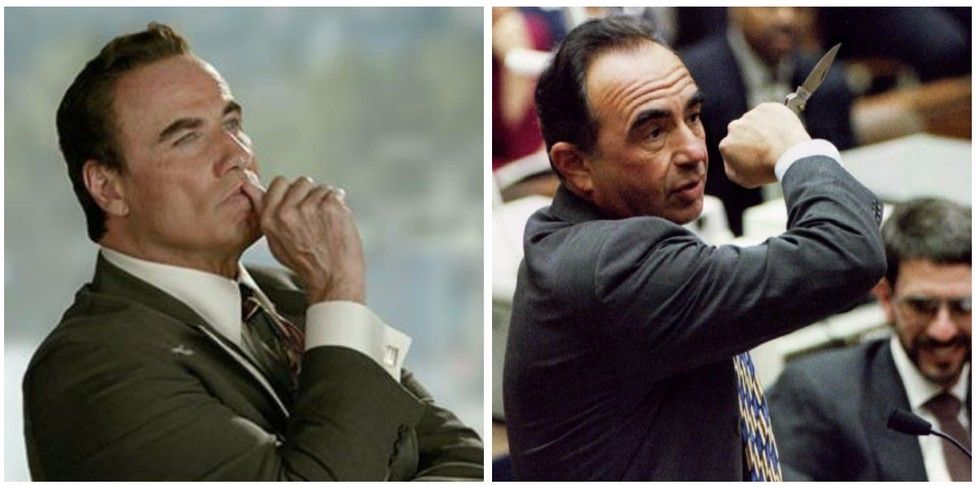 Robert Shapiro (John Travolta): Another key player in the OJ Simpson defense squad.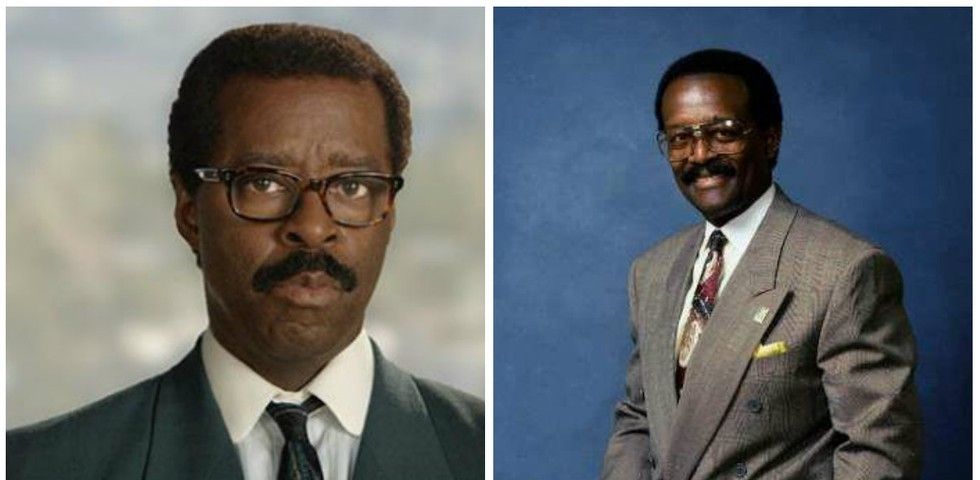 Johnnie Cochran (Courtney B. Vance): See above. Cochran famously delivered the "if it doesn't fit, you must acquit" glove defense to jurors. He died in 2007 of a brain tumor.
The Cold, Hard Facts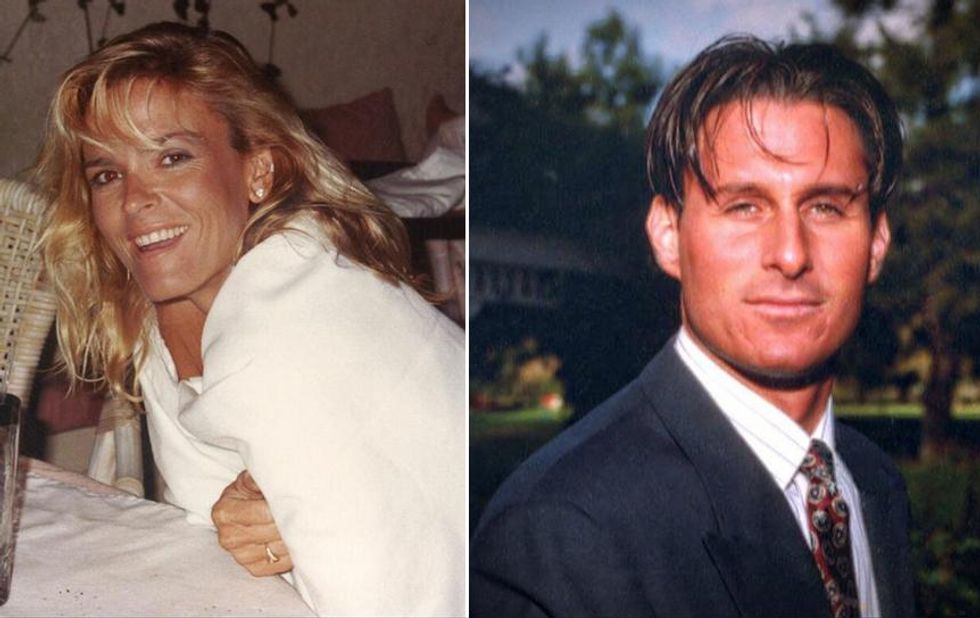 Let's get into it. Nicole Brown met OJ Simpson waitressing as an 18-year-old in Beverly Hills. Simpson was married at the time, but would later marry Brown in 1985. Within years, their marriage began to fall apart. Four years after the fact, Simpson pleaded no contest to a spousal abuse charge, and the two divorced in 1992. Brown and Simpson have two children, Sydney and Justin, who were 9 and 6 when their mother was murdered.
Then, on June 12, 1994, Brown and her friend Ronald Goldman were stabbed to death outside her home, and were found in the early morning hours of June 13. After being questioned, OJ was given orders to turn himself in on June 17 by 2 p.m.. Instead, he led officers on a high-speed chase in a white Ford Bronco, after leaving a note which was read by Robert Kardashian at 5 p.m.: "Don't feel sorry for me, I've had a great life, great friends. Please think of the real OJ and not this lost person. Thanks for making my life special. I hope I helped yours. Peace and love. OJ."
Eventually (at 8 p.m.) he drove home, and finally emerged from the car after a long time on the phone with police while in it. Inside the Bronco police also found a fake goatee and moustache, makeup glue, a gun, and a passport. He was then charged and tried with two counts of murder.
The Trial™
After being arraigned on June 20 1994, Simpson pleaded not guilty to both counts of murder, and opening statements in the case were made on January 24, 1995. Highly publicized (like: think 2016-era media coverage in an era that lacked smartphones and social media), the trial ended up garnering 100 million viewers on CourtTV the day the verdict was delivered.
The thing is, the prosecution brought forth compelling evidence, including traces of the victim's' blood in his car and Nicole's blood on his socks. But in response, the defense team used mistakes made by the forensics team to cast reasonable doubt -- as well a video of police officer Mark Fuhrman, who collected evidence for the trial, using racial slurs. Fuhrman found a glove at Simpson's estate that matched one found at Brown's condo.
And lest we forget about the glove. Left at the crime scene, it contained DNA belonging to both Nicole and OJ, and when the defense team compelled him to try it on, it didn't fit because it was too small. The prosecution, however, were against this because the glove had been soaked in blood (ugh) as well as frozen and re-frozen (which compromised its size) for the DNA tests to occur.
And we all know how that worked out.
The (Infamous) Verdict
And, well, the defense really did their job. Casting enough reasonable doubt to acquit, OJ Simpson walked free and led to twenty years of controversy.
Aftermath

Well, it wasn't exactly Christmas. In the wake of the verdict, 2000 people marched through Brentwood in October 1994 in protest, and as we remember, pop culture called foul on a verdict that didn't (allegedly) make any scientific or ethical sense. Eventually, a jury found OJ Simpson civilly liable for the deaths of Brown and Goldman, and he was ordered to pay $33.5 million as part of a civil suit. He has repaid little of it.
In fact, in 2014, Ron Goldman's sister, Kim, mentioned that her family is owed $40 million dollars of the suit; they've only received less than 1% of it.
How's that for justice?
On the upside, before passing away in July 2014, Louis Brown (Nicole's dad) started the Nicole Brown Simpson Charitable Foundation to help victims of domestic violence, and it's currently helmed by her sister, Denise.

We can only hope OJ can finally cut the Goldmans and Browns a check someday in his kitchenette at the Marriott Courtyard of the Ninth Circle of Hell.
If I Did It and the OJ Simpson legacy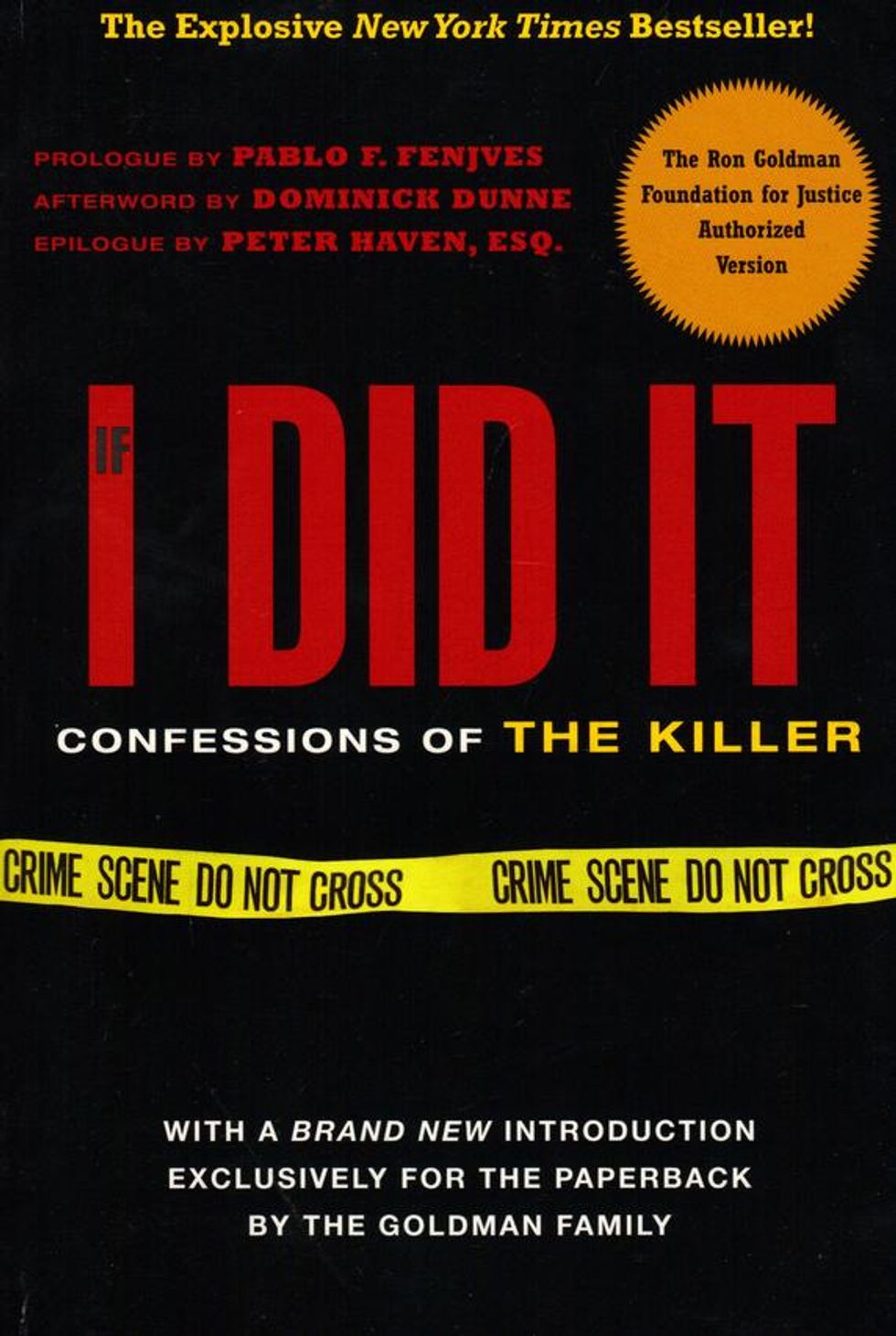 But wait: there's more. In the wake of the trial, Simpson still chased notoriety. As uncovered by a recent episode of This American Life, Simpson's dalliances with reality television were uncovered, including a Punk'd-like series where he just showed up and surprised unsuspecting people in places like open houses. (You have to listen to it: it's so weird and so sad.)
Then, in 2006, OJ Simpson attempted to release If I Did It, which was a ghoulish 'hypothetical' recounting of how he might have killed Brown Simpson and Goldman. Though the book was cancelled by Harper Collins imprint Regan Books before it could hit stands, it leaked online in 2007. The same year, a federal bankruptcy judge awarded the book's rights to the Goldman family, who were also given 90 percent of the book's profits. They changed the name of the memoir to If I Did It: Confessions of the Killer. (Fucking HAM)

Then, in October 2008 -- or, 13 years to the day he was acquitted of the Brown/Goldman murders -- Simpson was charged with armed robbery and kidnapping, in the wake of a truly bizarre plot to steal sports memorabilia (with an armed entourage in tow) in Las Vegas. He's currently serving 33 years at the Lovelock Correctional Center in Nevada, and will be eligible parole for 2017.

We don't know if he'll have access to FX in time for the premiere tonight, but here's hoping!