Is it time to start considering impeachment-wear? To wit, what did First Lady Pat Nixon wear on the day of her husband's resignation? She favored pink—a loud magenta peacoat for the inauguration, a frazzled plaid to meet Imelda Marcos. For the fraught walk across the South Lawn and up the steps into Air Force 1 on her last day, she wore a pepto-hued knit shirt dressed. Which is to say she stuck to her guns. The same could be said for the designers in New York this week. While fashion is still circumspect about how to handle the relevancy and value of the traditional fashion show, the notion of useful, straightforward ideas of dressing still ruled. In a week where the news was more about leaks than what was chic, lets take look at who wore what and where for the Fall 2017 collections:
Stamp of Approval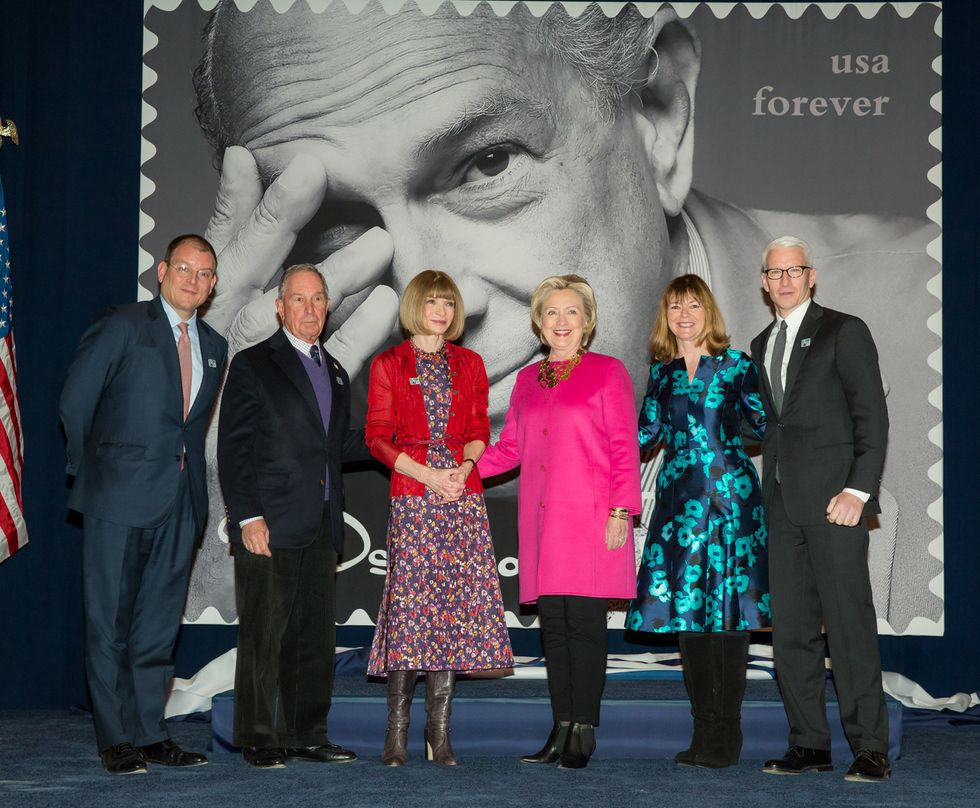 Will Ragozzino/BFA.com
The late designer, Oscar de la Renta, who passed away in 2014, was honored this week with a set of commemorative Forever stamps by the US Postal Service. In a moving speech at Grand Central Terminal, Hillary Clinton reminded us of the importance and necessity to welcome and celebrate immigrants, of which ODLR was from the Dominican Republic. The relationship between Seventh and Pennsylvania Avenues has a long and robust history and no one did better to pave it, with elegance and flair, than Mr. de la Renta.
Yeezy Does It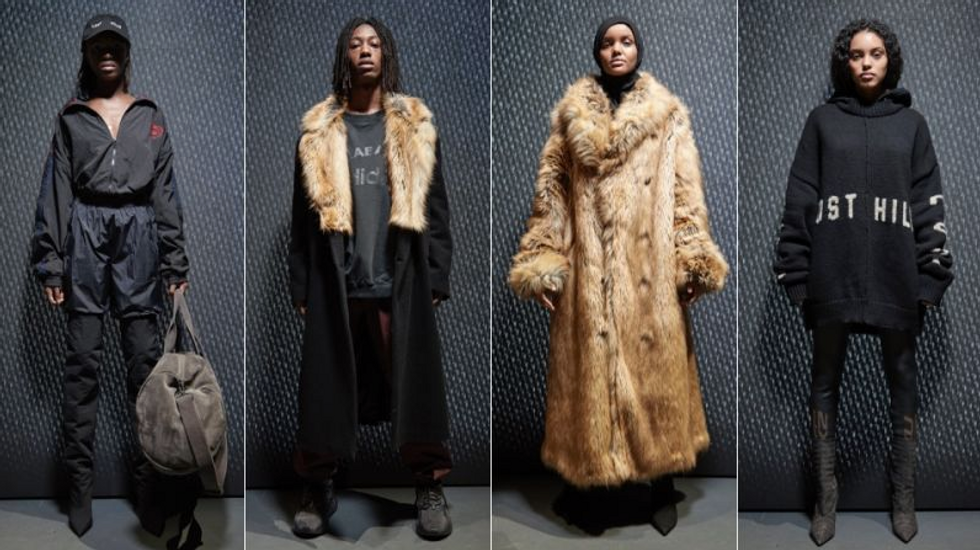 Courtesy Yeezy
It would seem that, after his disastrous and critically panned Yeezy 4 show last September, Kanye West has rethought his signature line and to palatable effect. A more low-key and accessible (no shuttles to islands in the East River) presentation was praised by attendees, and the easy sweats and denim separates were a welcome relief from the beige bodysuits and clear vinyl knee-high boots of yore. Though the clothes and accessories sell-out no matter what, his courting of the fashion establishment seems to have thawed, and quite happily, from last season's chill.
Silence is Golden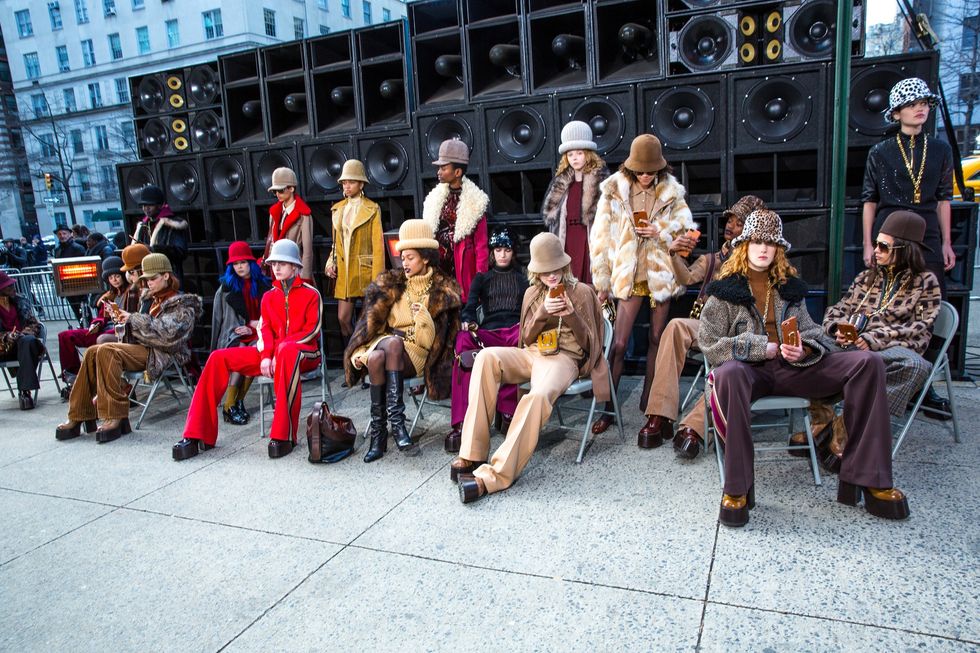 Benjamin Lozovsky/BFA.com
In a moving end to the week on Thursday, Marc Jacobs showed his fall collection, a luxe homage to '70s and '80s hip-hip and b-boy street wear, in a bright and bare Park Ave Armory where show-goers sat directly facing each other on utilitarian folding chairs in relative silence. The models spilled out onto Park Ave and took their own seats and in an elegant twist, were sat waiting, iphones at the ready, to film the editors and celebrities (Katy Perry, Li'l Kim, Emily Ratajkowski among them) as they filed out of the Armory, thinking that was the end of the show. Respect was what Jacobs stressed in his show notes; respect for the legacy of black culture and fashion from the period, noting he was heavily influenced by the documentary Hip-Hop Evolution. The clothes were exceptional and the execution of the show was nothing short of poetic.
Paris x Christian Cowan
A Paris Hilton moment at a NYFW is such a joyful rarity anymore and she gave us everything we wanted (and needed, given the week's doom and gloom) when she closed the Christian Cowan show in a knock-out, silver paillette gown (complete with signature tiara). Channeling Lady Liberty, she strutted to the strains of George Michael's Freedom '90 and truly what could be more New York?
Hey, Huma
In a season where the frow was decidedly calm, low-key stars, like HRC deputy Huma Abedin, were standouts. There she was at Prabal Gurung and then again at the Oscar de la Renta/Monse mashup show. It's only a matter of time before the Republicans somehow blame her for the faulty curtain snafu that nearly sunk the ODLR debut of Laura Kim and Fernando Garcia.
Put Me In Coach
There weren't a lot of mega stars around this week (no complaints) but when one pops up you REALLY feel it. Such was the case at the Coach 1941 show where Selena Gomez sat front row 'gramming to her 103 million followers and the crush of photogs barreling over hapless show goers felt like a throwback to another era. In a studded leather jacket and printed floral dress she was a jolt of pop (and paparazzi) to a somewhat staid week.
Au Revoir, New York
Proenza Schouler designers Jack McCollough and Lazaro Hernandez announced shortly before their fall show this week that they would heretofore show in Paris and during the Haute Couture schedule. As a stalwart of the New York season, and unfailingly one of the best and not-to-be-missed shows of the week, their absence will be greatly felt. This news gave a note of melancholy to an otherwise strong show with their signature fab coats and intricate and ingenious leather work.
Raf, White & Blue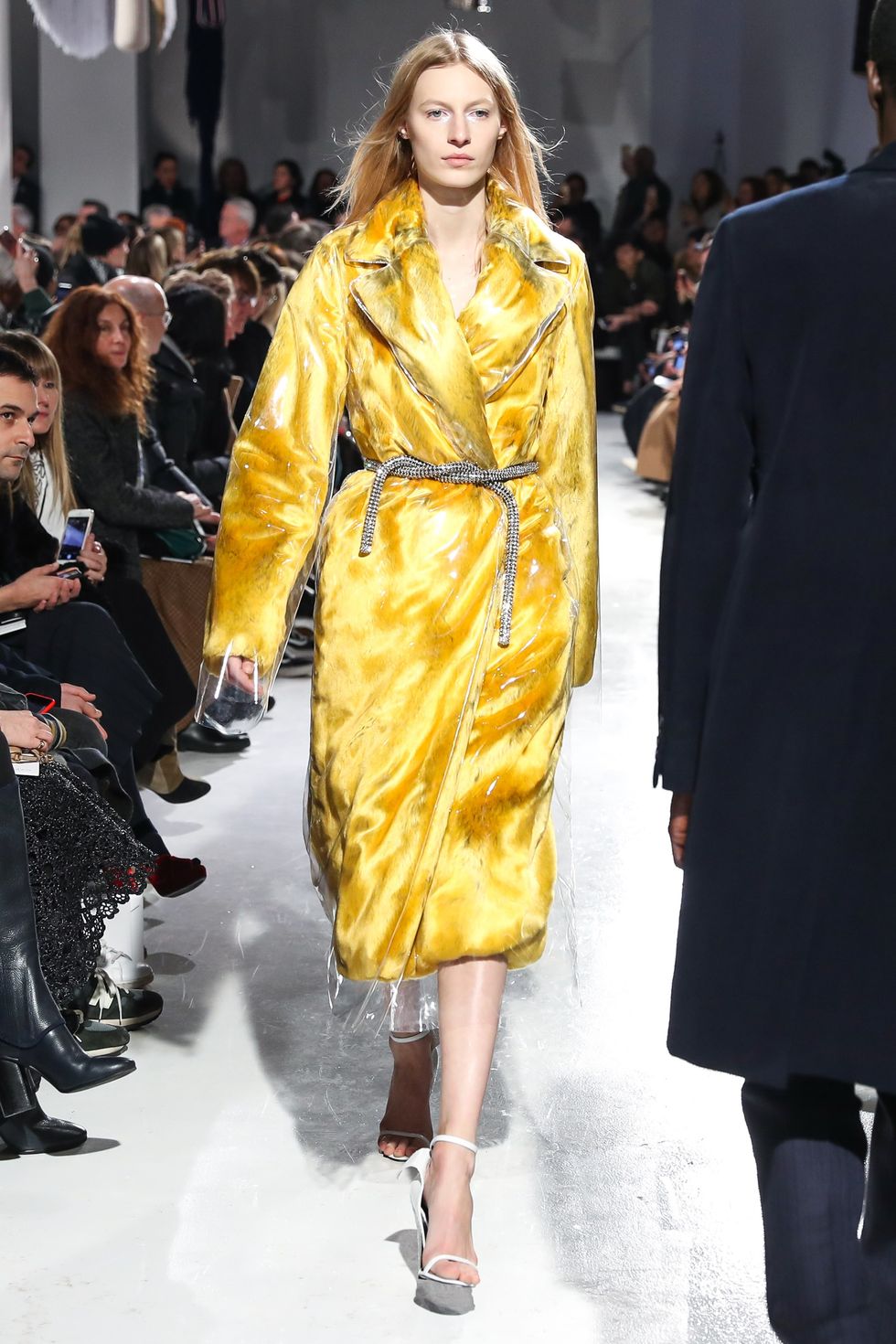 Neil Rasmus/BFA.com
The first part of NYFW was top heavy with anticipation as Raf Simons debuted his vision for Calvin Klein last week. The riffs on Americana and youth were strong and clarion clear. Held in the label's show space on 39th Street, Sterling Ruby, a friend and collaborator of the designer, filled the ground floor as his own all-encompassing installation which will remain. One couldn't ask for a more invigorating opening chapter to what will no doubt become one of the biggest fashion stories of our time.
Sandyland
J. Crew loves a "real person" model and a trope that can get a bit tired was delightfully saved when none other than New York legend and Sirius/XM radio queen (not to mention 1988 PAPER cover girl), Sandra Bernhard was spotted at the brand's presentation. Bernhard however is no stranger to modeling, having walked Chanel and the occasional Comme des Garçons show in the '90s.
Sign Up For The Morning PAPER