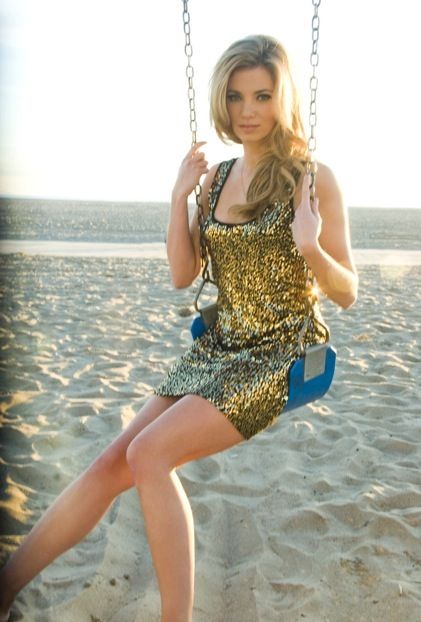 Amber Lancaster plays the cheerleading dream girl of a well-endowed geek on MTV's first single-cam comedy, The Hard Times of RJ Berger. The show premiers June 6th with a huge push by MTV, as they sober up from their ten-year reality show bender. The comedy is based around RJ's (Paul Iacono) huge appendage being unveiled during a school pep assembly, and how his popularity goes from zero to 60 quicker then Amber can do the splits. Lancaster has played a soap star diva, been part of the gang on Entourage, and, here, tells us about going to school with no clothes on. 
Describe your role on Hard Times.
I play the role of Jenny Swanson. She's the quintessential, all-American girl-next door that is also the girl of RJ's dreams (both literally and figuratively).
It's a funny role that requires good comedic timing.
The show is basically a series of awkward moments. My character is funny without knowing that she is funny, not because of the things she does, but because of how obsessed RJ is with her and she is completely oblivious.
Have there been any awkward moments on set?
My most awkward moment was a scene where RJ dreams that I come to school naked, with nothing but a backpack on. So I filmed the scene with literally nothing but a backpack and 50 extras, 4 cameras, 20 crew. You get the idea. It was very awkward.
What was is like playing a cheerleader?

It was fun!! Although, I didn't get to wear the uniform as much as I would have liked.
What are your three favorite possessions.

My grandmother's pearl necklace, old photo albums and music
Other then PAPERMAG.com what are your everyday websites?
Well I have a few, I am an absolute Google fanatic. I must Google at least five things a day. And I love facebook, gilt.com, and imdb.com
What is one of your favorite areas of LA and why?
I love living in Brentwood. It's a bit removed from Hollywood, close to the ocean, and I can walk anywhere from my apartment, which, in my opinion, is priceless in LA!
Make up by Kelsey Deenihan for Exclusive Artist/ Urban Decay Hair by Jennifer Baker /Gold Sequin Cotton Dress by Fifteen-Twenty $168.