Warning: This post contains disturbing details that may not be conducive to your Memorial Day party vibes. To see an otter blissfully snacking on cat food, click here.
The more we learn, the worse it gets. After being smeared by the press and painted by Johnny Depp's legal team as an opportunistic gold-digger, "attempting to secure a premature financial resolution by alleging abuse," Amber Heard's leaked court papers shed light on the harrowing details of their 15 months of marriage, including the May 21st attack that precipitated her divorce filing. According to Amber, Johnny arrived to their shared apartment that night "inebriated and high," and after a peaceful conversation about the recent passing of his mother, "he began obsessing about something that was untrue, and his demeanor changed dramatically."
Amber feared for her safety, and texted her neighbor to come over as Johnny insisted they call a mutual friend "to prove his paranoid and irrational accusations about some delusional idea he was having." As the call picked up on speaker, Depp began screaming insults and obscenities at their friend. He then ripped the phone from her hands and "wound up his arm like a baseball pitcher, [and threw] the cellphone at [Heard], striking [her] cheek and eye with great force." The abuse continued, until Amber's neighbor entered the apartment with her key, physically shielding Heard as he slapped at them, taunted them and raged. Before fleeing to her neighbor's apartment for safety, Amber states that Depp "picked up the magnum size bottle of wine he had been drinking out of, and started swinging it around, smashing everything he could." The neighbor made a statement corroborating the details of the attack.
Amber Heard's temporary restraining order against Johnny Depp has been granted.
Meanwhile, Johnny Depp's team has been in major damage control mode, trying to minimize the impact of these accusations. What better time to remind the world about Johnny's charity work?
Johnny Depp helps an elderly lady get a hearing aid…as Amber Heard sobs leaving court https://t.co/cYBUWqvbaJ https://t.co/b4130uYL3u

— Daily Mail Celebrity (@Daily Mail Celebrity)1464382219.0
Today, Johnny Depp's ex-wives have also come to his defense, with nothing but positive things to say about his character. Through TMZ, Depp's ex-wife Lori Anne Allison insists that she doesn't believe Heard's claims, stating that "Johnny Depp would never lay a hand on a woman and isn't capable of hurting anyone." She goes on to describe him as a "soft person" who is "even kind to animals"! The two were married from 1983-1985 and are still on good terms.
Vanessa Paradis, Johnny's partner from 1998-2012 and mother of his two children, Lily-Rose and Jack, called Depp a "sensitive, loving, and loved" person in a statement to TMZ. She goes on to describe Heard's allegations against Depp as "outrageous" - that "this man looks nothing like the man I lived with for 14 wonderful years."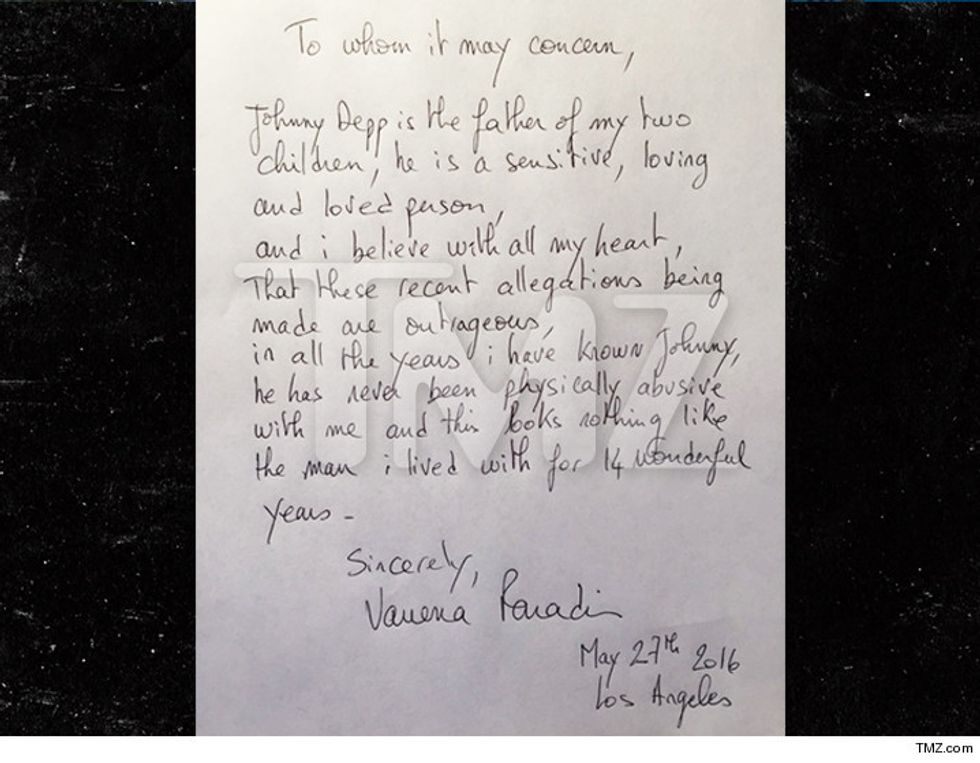 No matter how fondly Allison and Paradis recollect their time with Johnny Depp, that does absolutely nothing to disprove, or discredit Amber Heard's claims of abuse.
Just saying:

In 1989, Depp was arrested for assaulting a Canadian security guard for asking his friends to leave a hotel.
In 1994, Depp was arrested on charges of criminal mischief after drunkenly trashing his hotel room during a fight with then-girlfriend Kate Moss.
In 1999, during his relationship to Paradis, Depp was arrested for drunkenly brawling with a paparazzo outside a London nightclub, "threatening him with a wooden plank."

And this is how his most recent ex Amber Heard describes their time together in her statement:
Johnny has a long-held and widely acknowledged public and private history of drug and alcohol abuse. He has a short fuse. He is often paranoid and his temper is exceptionally scary for me as it has proven many times to be physically dangerous and/or life-threatening to me. Johnny's relationship with reality oscillates, depending upon his interaction with alcohol and drugs. As Johnny's paranoia, delusions and aggression increased throughout our relationship, so has my awareness of his continued substance abuse. Because of this, I am extremely afraid of Johnny and for my safety.
Just saying.
You May Also Like