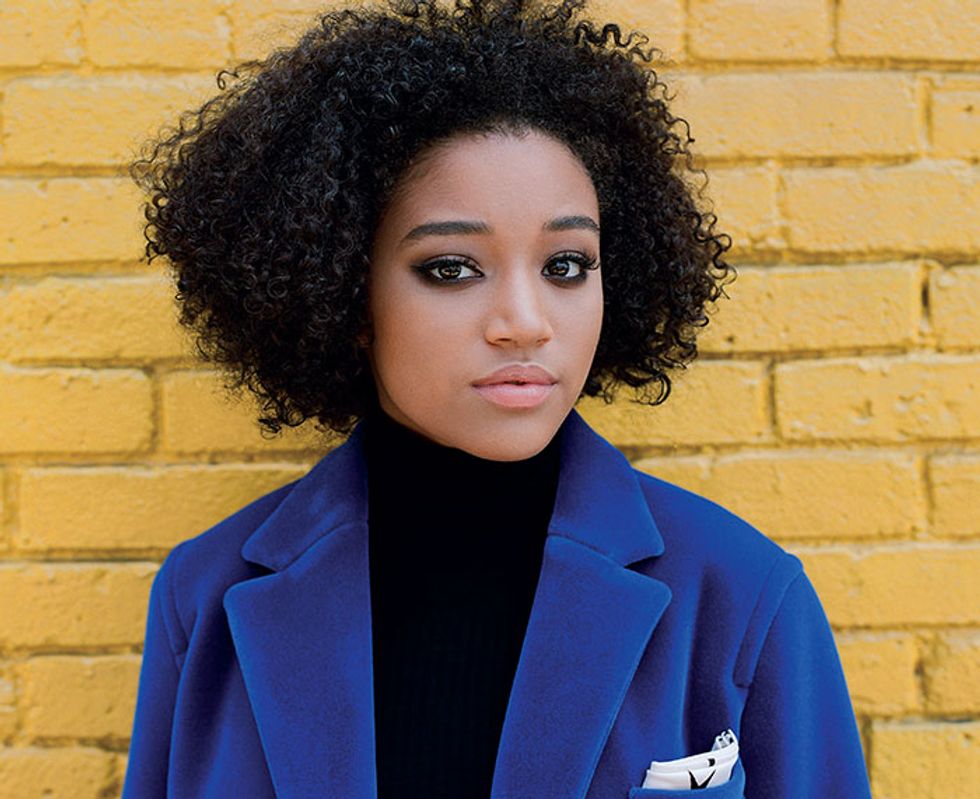 Coat by Marc Jacobs and turtleneck by Pari Desai
Actress Amandla Stenberg made headlines recently for beefing with reality TV royalty Kylie Jenner, but the real scope of this 16-year-old's worldview eclipses any Hollywood dramz. She's kept busy since playing Rue in the first
Hunger Games
film, most recently appearing on the recently cancelled NBC sitcom
Mr. Robinson
. But as she publicly tears into race and gender via social media, Stenberg's out-spoken fearlessness is also becoming known. A video she made for school, titled "Don't Cash Crop My Cornrows," broke down the rampant co-opting of black culture by the white mainstream -- calling out Katy Perry, Macklemore and Miley Cyrus -- with whip-smart analysis and became a viral hit, anointing Stenberg as a powerful new voice of a generation along the way. "I was just sharing something that I believed in. Someone once told me that it's a small revolution in itself just to be a person of color and be a woman and be yourself," she says. "I've been learning that just by saying what I believe, it's causing a fuss." In addition to her acting career, she's also co-writing, along with Stranger Comics president Sebastian Jones, the comic-book series
Niobe: She Is Life
, which follows the adventures of a "half-wild-elf and half-human, and her destiny is to unite the wild elves and the humans," she says. "Not that my destiny is to unite the entire world, but it struck a chord." In this extended interview, Stenberg discusses applying to film school, her comic book career and doing her own thang.
So, let's talk about this comic book you announced recently, Niobe: She Is Life, which you're creating with your friend.
I met Sebastian Jones I guess about a year ago now. He creates all kinds of children's books and comic books. I was first drawn to him and his whole story because he has a series called
I Am Mixed
that was just a series for kids. I read it and I was like, "Man, I wish I had this when I was younger." It goes into what it's like to grow up having different parts of your identity and different racial backgrounds. We started talking and he introduced me to this series that he created called
The Stranger Series
. There's this character called Niobe and she's half-wild-elf and half-human, and her destiny is to unite the wild elves and the humans. She's the daughter of the human king and her mother was a beautiful, dynamic fairy elf. I guess when I heard that I thought, "That sounds really familiar, in a way." Because I have different parts of my identity from different backgrounds that are often battling each other. I feel like, in my everyday life, by talking about certain issues and thinking about race and identity -- and especially now when there's so much tension -- I feel like my role is somewhat to facilitate those conversations or at least build them up.
So, you really connected with this character?
Yeah, and so Sebastian and I decided to start writing a kind of a spin-off, which is called Niobe: She Is Life. It's all about Niobe and her journey as she's a teenager and she's trying to find herself. She's running from her past and trying to delve into who she is and who her family is. She ends up basically studying under a monk and she's the only girl in this class of boys. So, she ends up learning to assert herself. I guess there's some feminist things there!
You've already managed to do some directing (the short The Yellow Wallpaper)   already but it sounds like you're interested in applying to film school to be a director?
I haven't applied yet. I'm in the process.
No rush! Take your time.
[Laughs] Yeah, but I do want to direct. 
Do you want that to be your primary focus, or would you have multiple plates spinning?
In an ideal world, my dream and goal is to create my own projects that I direct and act in and create music for. My biggest inspiration is Spike Lee, so I try to follow in that trajectory. I just want to create projects because I get tired of seeing the same projects made over and over and over again with the same kinds of people, the same franchises. There's nothing different about them and there's no space for any other kinds of people. I feel like projects don't exist for people of color, especially black girls, in the way that they should.
And it feels like that's a huge part of what's gone on for you -- giving yourself this public voice of late. How has that felt to interact with your fans as much as you do, and in such a truthful way?
I always separated my public persona from my personal passions. Social justice is definitely a personal passion of mine and I was always wary of sharing those views on a public platform, because it's really difficult to be an activist in any way. Even in the most subtle way, you receive backlash. It was kind of accidental, because I made this video or school about cultural appropriation and I posted it on Tumblr thinking it might get like 10 reblogs or something, and then everyone reblogged it. Then someone posted it on YouTube, and then all of a sudden, people were having debates about it on TV and I couldn't walk down the street without hearing people talking about it. I remember walking down Crenshaw Boulevard and I was walking by this hair salon and I heard these women talking about cultural appropriation. They were like, "Well did you see that video?" and I was like, "Whoa!" It was such a mind trip for me.
It was just bizarre to think that I could have an impact at all on the conversations that we're having. I was in no way thinking, "I'm gonna start a revolution! I'm gonna change everyone's perception! I'm gonna cause a lot of fuss!" I was just sharing something that I made for school that I believed in. Someone told me that it's a small revolution in itself just to be a person of color and be a woman and be yourself. That, in itself, is somewhat revolutionary: to have a voice as a person of color, as a woman. So, I've been learning that just by saying what I believe, it's causing a fuss. My intention is not to create drama or anything, but I have to be the most genuine me because that's how I connect to other people; that's how I connect to fans.
It must be so interesting to be in the business that you're in and see people who don't express themselves or who have that trepidation. There must be a huge sense of fulfillment and freedom in getting to be your truest self publicly.
Yeah! When there's a divide between the concept of how people think of you and the person you actually are, it can feel really unhealthy and gross. It's hard to perpetuate a certain image so... I guess I've kind of given up on that! [Laughs] I'm just like, "Here I am, doin' my thang! If you don't like it, sorry!" 
This feels like a moment where your voice and opinions are dovetailing with a huge social and political moment.
That's what's so exciting about it. I ended up creating a community of really awesome young people -- and old people -- where we all have similar ideas. Through Tumblr I've found a community of people who recognize that something's happening. [They] recognize that, at the center of this current movement, there needs to be art and creativity. And there needs to be the destruction of certain stereotypes that young people of color face, because we're the new wave. We're shaping the future. 
Do you feel like people your age are as engaged and passionate as you?
I feel like a lot of them are definitely as engaged as me. A lot of times, I'm just a conduit for their ideas. I learn from them and I'm lucky enough to have this platform to share the ideas that we collectively have. 
And obviously social media plays a huge part, like you said, with Tumblr and such.
Yeah, I was talking to my friend about how we feel like there's a modern-day, almost Harlem Renaissance for young teens and people of color and it's really exciting. The catalyst of police brutality and everything has led to this drive to create art and to connect and to spread ideas and to be dynamic. I feel like I have so many friends who are so engaged in the world and they're creating so many things, whether it be music or art or writing or poetry or all of those things. Those are the people of the future.
Styling by Tiff Horn / Makeup by Kristene Bernard / Photo Assistant: Alex Grey / Location Mama Shelter Los Angeles
You May Also Like