RuPaul's Drag Race alum, Alyssa Edwards (a.k.a. Justin Johnson) is a very busy queen and shows no sign of stopping. Following stints on Drag Race and All Stars, the Mesquite, Texas-based drag superstar recently brought his career to a whole new level with the release of Netflix's Dancing Queen. A docuseries profiling Johnson's life as he balances drag appearances as Alyssa Edwards with his role as director of Beyond Belief Dance Company. A mix of Dance Moms, the movie Fame, and Keeping Up With The Kardashians, if the Kardashians were southern and fabulously gay, Dancing Queen is refreshingly earnest and heartfelt exploration of family. Both the ones we have and the ones we create.
But if you thought Alyssa Edwards was any where close to taking a break, think again. Join up with tea giant, TAZO, Edwards has announced the launch of a new camp experience to held bring more people out of their shells. The inaugural Camp TAZO, is set to take place in March next year with Edwards as director leading campers in a whole host of specially designed activities ranging from the traditional to the unconventional.
As to what potential applicants can expect from such an unconventional combination, TAZO says to expect the unexpected. "The campaign will take people on a journey of self-discovery that reignites the curiosity that lives within each of us," says Unilever Tea Director, George Hamilton. Part self-help course and part fun-filled getaway, Camp TAZO promises to be a unique once-in-lifetime experience that will not only be one they will never forget but also help attendees grow as people.
We caught up with Alyssa Edwards to talk tea, Dancing Queen, and stepping outside of your comfort zone: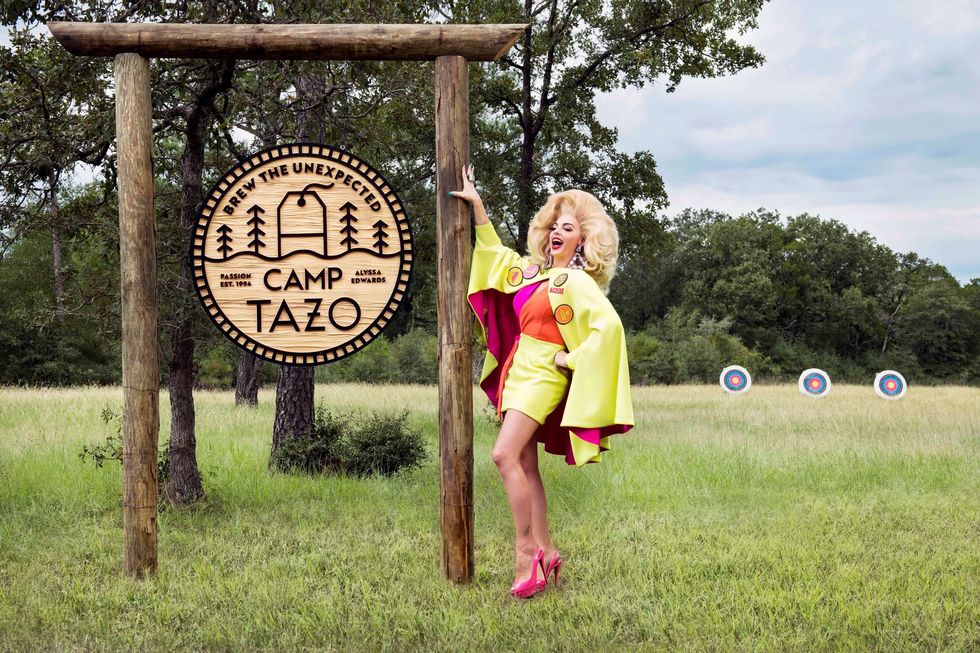 Photo Courtesy of Alyssa Edwards/TAZO
How did you get involved with Camp TAZO?
It's actually quite funny, I'm sitting at my desk and saw the TAZO document come up. You know if you've seen Dancing Queens, that I am a very busy person and I have my hand in a lot of different directions and a lot of different pots. So, I'm thinking, if I'm going to be a part of anything its going to have to be something that I believe in, then I read the first line "Do the unexpected." Basically, I was approached to create this experience based on my life experiences and I thought 'wow this is really cool' usually I'm approached like 'hey, we have this; this is the character, and this is the idea. Are you interested or not?' The most fascinating thing about all of this is how drag got me out of my comfort zone. I talked about going on stage when I was 9 or 10 for the very first time and the feelings of anxiety I felt walking on stage with a spotlight, I couldn't see one face in the audience, but I felt exhilarated afterward.
Fast forward a little bit and I go on Drag Race and I'm sharing my art with the world, then Dancing Queens, so I've been taken out of my comfort zone a lot. We started talking about what were some of my favorite things to do as a kid, one thing that stuck was the highlight of my year was going to church camp over the summer for one week. When I left that, I felt so motivated to conquer the world in a positive light, and TAZO was like 'that's it! We want to create a camp.' I'm there just sitting thinking, 'how can this be a reality though? Is this possible?' and they were like 'absolutely. We'll craft it for you and use it to get people out of their comfort zone.'
In researching, they found that 75% of people want to get out of their comfort zones they just don't know how. With me being the inaugural camp director and a whole host of Alyssa Edwards-inspired activities, this thing is going to be more than just a hoot and a holler. I am so excited, this is one of the projects that I am working on that I am most eager for and in 2019 this is going to be something that once again takes me out of my comfort zone and I'm going to be able to share that which is amazing.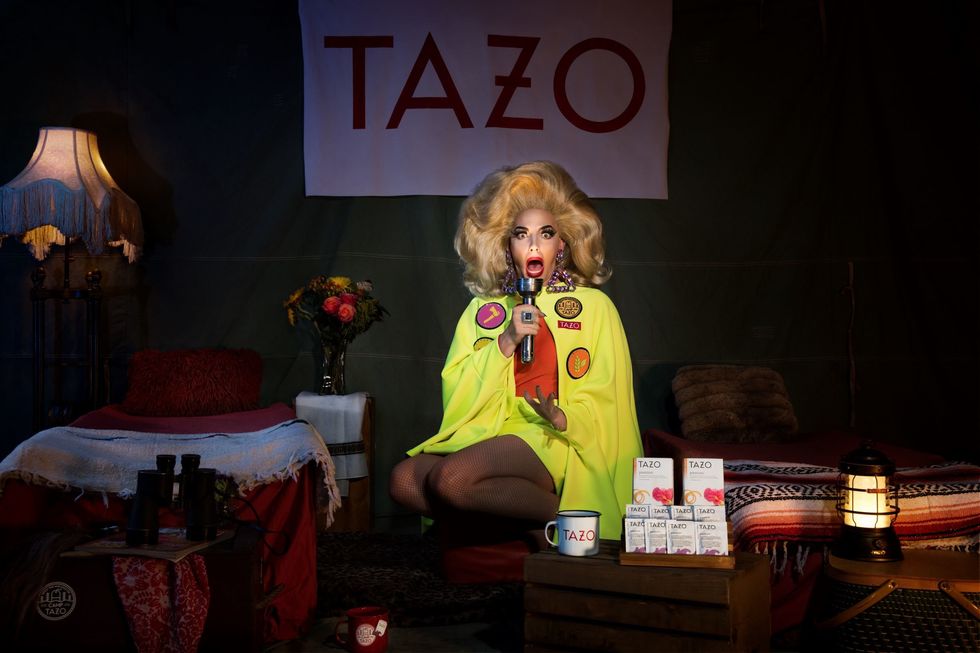 Photo Courtesy of Alyssa Edwards/TAZO
What were your experiences camping like as a kid?
Every summer, the one thing I knew for certain is that I would go to church camp at Mount Lebanon. I was a very shy kid, so I didn't really know how to make friends but at church camp it was very easy. I would meet people from all around and we would share stories and do activities and horse around. It was really fun, it was a happy place for me. I didn't feel like I was judged or called names. It was a safe space. Now I'm going to get to revisit that as Alyssa Edwards, and Justin [Johnson] as well, but I did say that when these campers roll in I need to be in full drag. Full dress and ridiculous wig on my head, I want it to be really fun. One of the activities that I hope to do is like a choreography lesson. People are very timid to dance, and dance is very good for the soul. Even something as simple as telling stories around a campfire can be difficult. Before Drag Race, I was a very private person, opening up was very hard for me. The greatest gift that I ever received was being the gift of a teacher, working with children and mentoring the youth of tomorrow. The reward is getting to experience opportunities like Camp TAZO.
Do you have a favorite kind of tea?
Well, I grew up drinking tea. Here in the south we have tea and water. My favorite is the passion tea; not only is it refreshing but in one word it manages to be the perfect description of me, my life, my character, and my purpose. I have to have ice and a lemon in my tea.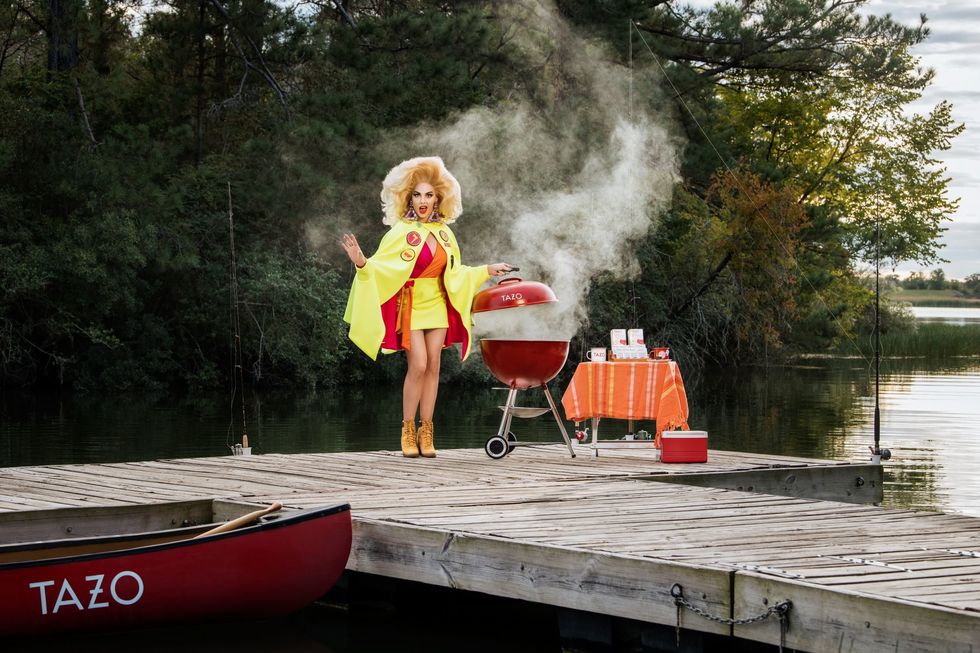 Photo Courtesy of Alyssa Edwards/TAZO
Now that Dancing Queen is out, is it everything that you hoped it would be?
And then some. It was one of those offers that was presented to me just like TAZO, I really like to analyze things like 'are you going to be motivated enough to invest your time into this?' I didn't want to produce a reality series, I don't need a pyramid and all hoopla. When Netflix rolled up into Mesquite and said, 'we are very ok with shooting a documentary series' I was like 'ok this must be a part of my purpose and a part of my plan because it just makes sense.' So, I just told them to push record, stand in the corner, and don't talk. Let everything happen naturally and capture it; the good, the bad, the right, and the wrong. Above all Dancing Queens is a triumphant story and journey. If people take anything from that I hope that they are inspired.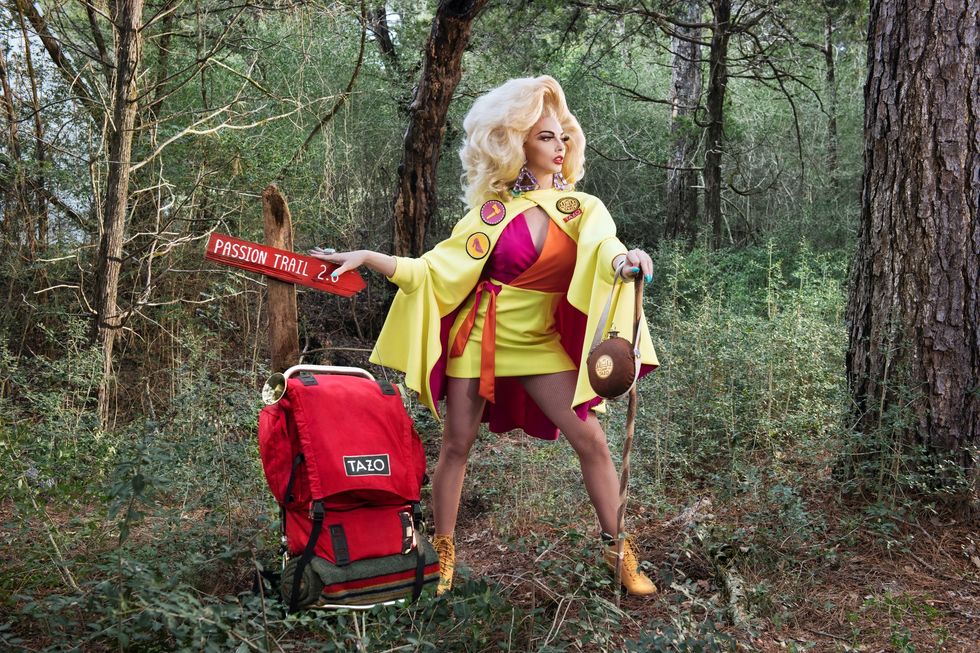 Photo Courtesy of Alyssa Edwards/TAZO
One of the interesting things in the show is just sort of an acceptance of your drag life, was it always that way or was there a point where you had to explain to them?
Oh, it definitely hasn't always been this way. I was very apprehensive about sharing my private life and in fact I kept that hidden away. I lived a double life like Hannah Montana until my season [of Drag Race] came out along with the promo pics, there was no hiding it then. Back then Drag Race was on Logo, I thought surely not all of the dance moms have Logo but it only takes one be like 'this is Justin, get out!' I was nervous because I wasn't sure if Mesquite was going to be ready for that, I didn't want my art to be judged, I didn't want my sense as a businessman to be judged. It was all sort of weird emotions, before I walked in I looked at that sign, a sign I created, and was like 'you did this, you made your dream happen.' The sign says 'Beyond Belief Dance Company: A Family of Champions' which made me think 'this is your family and its not important for them to celebrate they just need to acknowledge and move on.' I walked in and said, 'Surprise everyone!' and it was like a slow scene out of a movie, there was a pause and then everyone started clapping. 'We had no idea you were so widely talented Justin' and they just embraced it. For the ones that were a little more conservative they were like 'we respect you for being a great mentor to our children and that is what is important to us.'
You have a very motherly, mentor-like quality as both Alyssa Edwards and Justin Johnson, where do you think that comes from?
I think that's because I've always wanted a family. One of the things I always wanted for Christmas as a kid is a Cabbage Patch Doll. It was embarrassing for my mother because it would be like 'oh, and there goes Justin with his doll.' But I've always seen myself as a bit of a father too, both of my sisters had kids very young and created their families and I did the same. I was born to be a teacher, as a dancer not everyone is cut out to be able to teach, let alone kids. It requires a lot to be an educator for children.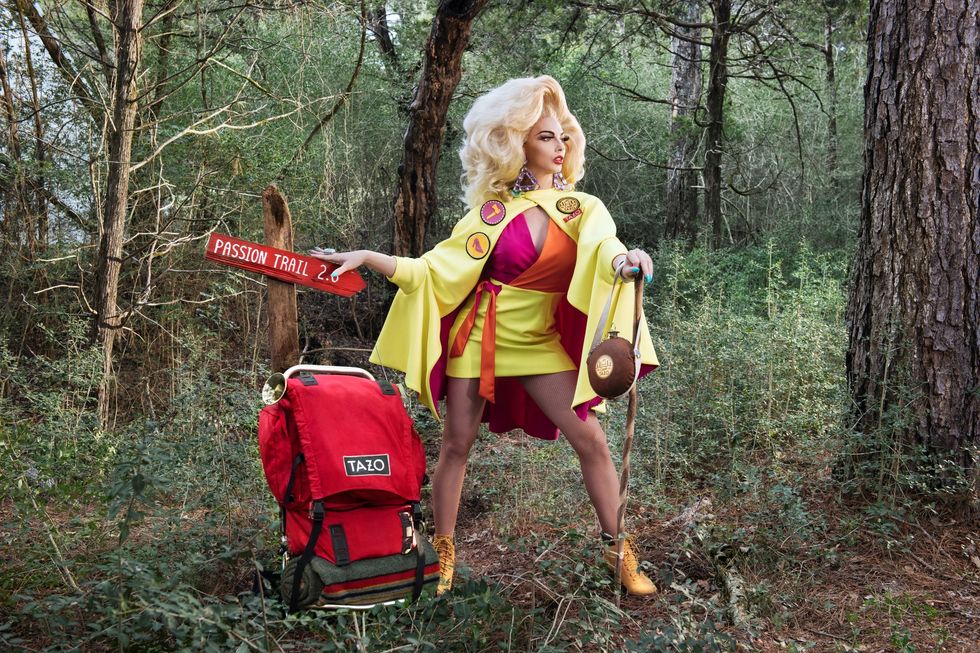 Photo Courtesy of Alyssa Edwards/TAZO
What do you think the future holds for you?
Well, if you had asked me 10 years ago 'where do you see your life?' I don't think I would have said 'Wednesday afternoon, doing an interview with PAPER and creating this camp, Camp TAZO' I don't think I would have seen it. I'm very grateful, full of gratitude, its just kind of funny this crazy thing we call life there are so many interesting tricks and turns. I've learned that you really have to go with it and trust it. As a matter of fact, at this point, I think I'm in the passenger seat with the windows down, hair flowing, yelling 'take me life! Take me where I'm supposed to go!' I'm riding this rollercoaster just like you guys. I believe my book of life is already written and is now being read out loud, I'm enjoying this chapter, chapter 38. I'm still very proud. I'm alive, I'm living.
What would be your advice for prospective camp goers?
Come with an open mind, a willingness, and knowing that all things are possible. Know that it is a thing at least worth attempting. I canoed in full drag and already tried some of these activities, I was apprehensive quite a few times but I was most definitely open and learning and growing with them. You won't have to prepare for anything that is too crazy or too wild. I think people that are eager about life and definitely love camp, with me as their director. I think its going to be an amazing experience.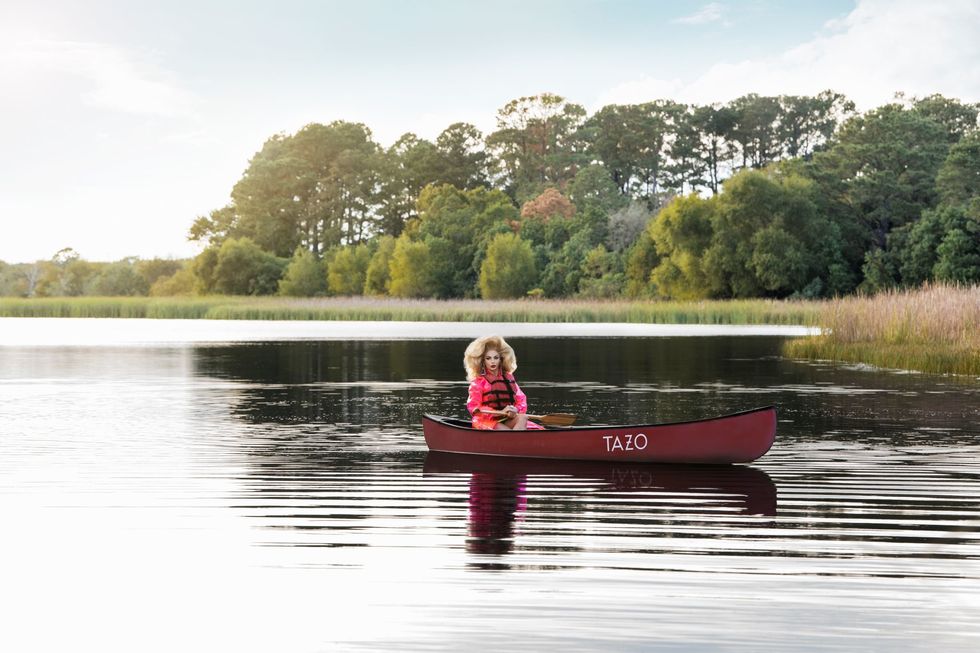 Photo Courtesy of Alyssa Edwards/TAZO
Registration for Camp TAZO is now open, if you think you have what it takes to get out of your comfort zone with Alyssa Edwards you can submit your application here.
Photo Courtesy of Alyssa Edwards/TAZO
Sign Up For The Morning PAPER