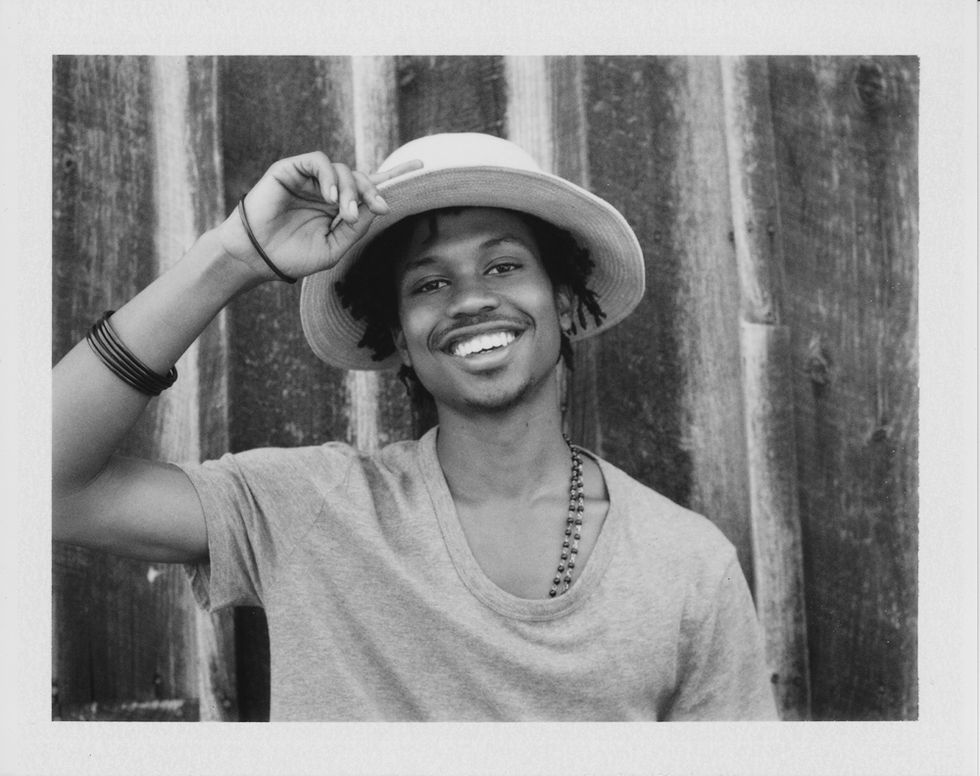 Raury is late to his own party. It's a Thursday night and a crowd has gathered in a Lower East Side gallery for an exhibition centered on the teenage musician featuring tour photos along with paintings from the Atlanta-based artist Sage Guillory. The bright, colorful R. Crumb-esque line drawings depict scenes of anthropomorphized animals and trees dancing amidst a loose narrative about the life of a little black boy wearing Raury's signature straw hat. One painting places the child in the womb of a tree, another has him sitting among a group of doughface kids and in one of the last images, he's flying alone in the sky as others reach out from the clouds towards him. As the night wears on, it's clear that Raury's not going to be able to make it.
We link up the next day and he apologizes for having been m.i.a. the night before. He lost track of time in the studio with Jaden Smith, but it turns out that what held up him was another teenager -- or, rather, two: Tavi Gevinson had invited him to go see the 18-year-old Pakistani activist, Malala Yousafzai. A couple teenage music stars got a message from another teen star to go hear a teenage activist. The significance is not lost on him.
It's an auspicious moment for the young artist, whose debut album,
All We Need
, comes out this Friday, October 16th. The gallery show and the Malala talk came at the end of a whirlwind two weeks that also included listening parties for his record, a performance on
Late Night With Stephen Colbert
(more on that later) and appearances at shows and parties during New York Fashion Week.    
This accelerated bustle of city life is not Raury's usual speed. A native of Stone Mountain Georgia, a small suburb within Atlanta's metro area, the 19-year-old spent many summers attending Coca-Cola-sponsored camps across the country where he was able to bike, raft and be among nature. "I got back home and I saw how perfect all the buildings and concrete looked [and] I felt like a caveman that was warped into the future," he says remembering the adjustment back to life in the Atlanta area. "I've always missed [nature] and I still miss it today," he says. "I always hold on to that -- it's part of me."
That small-town, back-to-nature ethos is evident in everything from Raury's guitar-driven folk-tinged hip-hop/R&B to his preferred accessory -- a straw hat. Of the former, his music journey began when Raury taught himself how to play the guitar eight years ago and continued with the release of his debut mixtape last year,
Indigo Child
. Speaking of that experience he says that when they were making the video for the tape's single, "God's Whisper," he and his team "used the last of our money and my manager, Justice, was about to sell his damn car. We scraped it together because people believed in us."
The hustle was worth it because there was instant buzz among the music industry and media over the tape. But some of it unfortunately turned sour when a few industry commentators and fans began to question all of the attention that Raury was receiving after it was revealed that he'd signed with a major label, Columbia Records, before
Indigo Child
was even released. He received the tag of "industry plant," as onlookers tried to explain away his success without even getting to know his story. "I gotta fuck with it," he says with a laugh, when asked about that experience. He took the meme a step further when he wore a shirt that simply read "industry plant" on the cover of
XXL
for their Freshman 2015 issue.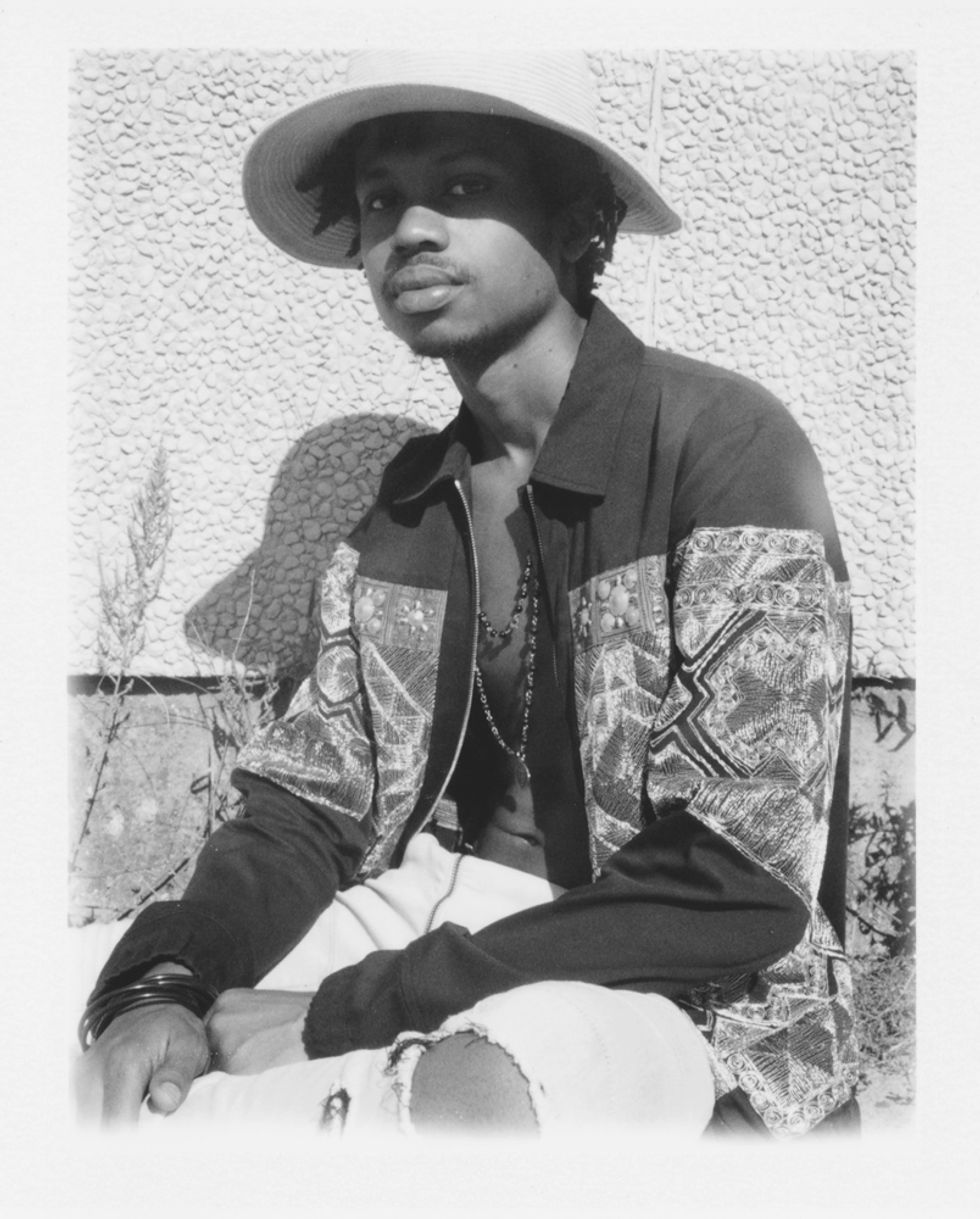 Even if Raury isn't fazed by the light trolling, he still expresses annoyance at the experience when the subject of his Columbia deal comes up during our conversation. "Nobody has written my songs for me; nobody calculated this outfit -- I just walked in here," he says with an exasperated tone. "But I did take a deal though. I'm broke and I need to be able to record."
At the listening event for
All We Need
, guests were not treated to the typical experience of hearing loud music blasted over speakers while editors, record label execs and other music industry folks clutch cocktails and trade music gossip. Instead, guests were told to grab a pair of headphones and experience the album off in their own world. That insular but communal vibe was one that fit the album, which runs the gambit of rap, R&B, folk and whatever else can be made by providing a creative black kid a guitar, a studio and the time to imagine a better world.
It's this longing for positive change that may have prompted Raury's recent wardrobe choice when he appeared on
The Late Show with Stephen Colbert
. Though his overall performance was praised, many websites pounced on the closing seconds of it, when you could see him
wearing a Mexican soccer jersey with Donald Trump's name
crossed out with a red X. He didn't say anything when he performed his single "Devil's Whisper" and instead let the message on his back speak for itself. When our conversation turns to his moment, he puts the decision within the context of where he grew up in Stone Mountain.
"Stone Mountain, Georgia is one of the major hubs and birthplaces of the Ku Klux Klan," he says. "There are still people that live there and fly the confederate flag and have it all over their cars." For Raury, there is no political irony to the type of fearmongering that Trump has spouted on the campaign trail this year. The xenophobic and outright racist declarations are the thoughts of people right where he grew up. "The people that live there are still with the confederate side and southern pride and many are counter-protesting in the most aggressive way possible," he says of people speaking out against the removal of the Confederate generals carved into Stone Mountain. "They're going up to their places with the confederate flag and got 15-year-olds holding assault rifles and shit."
But while the idea of 15-year-olds carrying assault rifles and getting indoctrinated with racist ideology is a terrifying thought, Raury still seems to be optimistic for what the future might bring -- particularly at the hands of a very different group of teens. Returning to his recent night spent with Jaden Smith and Tavi listening to Malala, he says, "I love attracting those people in my life." He continues, "And I can't wait to see what in the world we're gonna do when we're 25 because we are all literally linking up and finding each other. It's gonna be dope."
All We Need
is out via Columbia Records on October 16th. Pre-order a copy HERE and catch him live during his Crystal Express Tour, the dates of which can be found HERE.

Photos by Ira Chernova / Styled by Julie Matos
You May Also Like