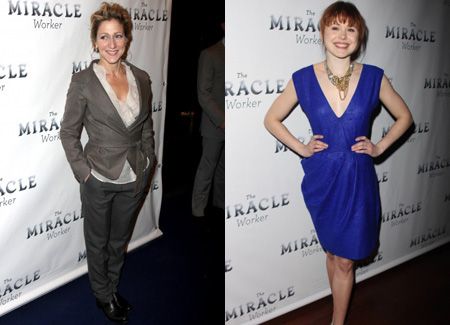 While browsing the
New York Times
Artsbeat
blog today, we were so happy to see that one of our favorite young actresses
Alison Pill
, just got a new gig. Why so excited? The New York-based actress is rarely without a job (in fact she's starring in this summer's comedy blockbuster
Scott Pilgrim vs. The World
,) but her most recent role, playing Annie Sullivan, Helen Keller's childhood teacher in Broadway's revival of
The Miracle Worker
,
was cut short. The show closed yesterday after only one month. But no worries! She's stepping straight out of her corset and into an orange jumpsuit, to play
Edie Falco
's cell-mate in the new play
This Wide Night
, off-Broadway at the Peter Jay Sharp Theater. Performances are scheduled to start on May 8th, with an opening date set for May 16th. The show is produced by
Naked Angels
, the group behind
Next Fall
, a new play now on Broadway but that got it's start off-Broadway at this same time last year. Whether
Wide Night
transfers next year or not it will be something to look forward to this Spring after Broadway's 2009/2010 season wraps up at the end of this month.
Here's a photo of Alison at the opening night party for
The Miracle Worker
and a photo of Edie arriving to see the show on opening night. Maybe Edie suggested casting Alison in
Wide Night
after she saw her performance in
The Miracle Worker
? Strange coincidence!
Photos courtesy of
Broadwayworld.com