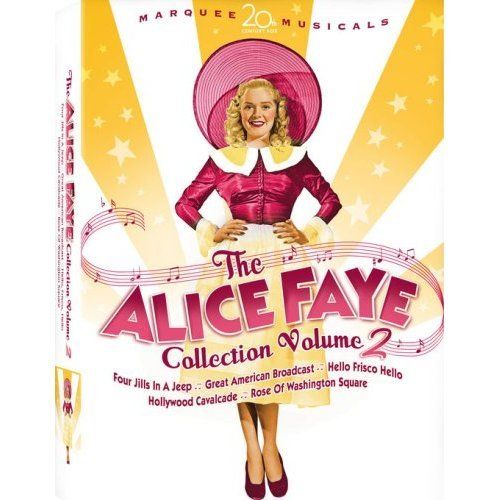 It's here: The Alice Faye Collection Volume 2. I have a soft spot in my heart for Alice Fay, the beautiful singing star of 20th Century Fox and this five-movie tribute to her many charms only makes me love her more. In Hello, Frisco, Hello, Alice and John Payne along with comic sidekick Jack Oakie are the musical hits of the Barbary Coast honky tonks. But Payne dreams of moving up to Nob Hill with the swells (especially spoiled heiress Lynn Bari). But when Faye sings "You'll Never Know" with that deep, smoky, voice, everything is right with the world.
Hollywood Cavalcade joins Faye with the affable Don Ameche. She plays Molly Adair, a starlet on the rise in the early days of silent movies. Molly becomes the "queen of the custard pie" and the film, loosely based on the life of Mack Sennett and Mabel Normand, is a tribute to slapstick comedies and Keystone Cops. Even the great Buster Keaton co-stars.
Four Jills In A Jeep follows four female performers traveling with the U.S.O. and is based on actress Carole Landis' novel which is based on her own wartime experiences. The movie co-stars Carole Landis with Faye, not to mention Betty Grable and Brazilian bombshell Carmen Miranda.
Rose Of Washington Square pairs Faye with handsome Tyrone Power who plays a gambler who falls for the fledgling singer (Faye).
And finally, The Great American Broadcast is set during the Roaring Twenties and rejoins Alice with John Payne and Jack Oakie as rising radio stars. But in every movie Faye's innate loveliness and charm shines -- she radiates and glides across the screen like a sweet dream.