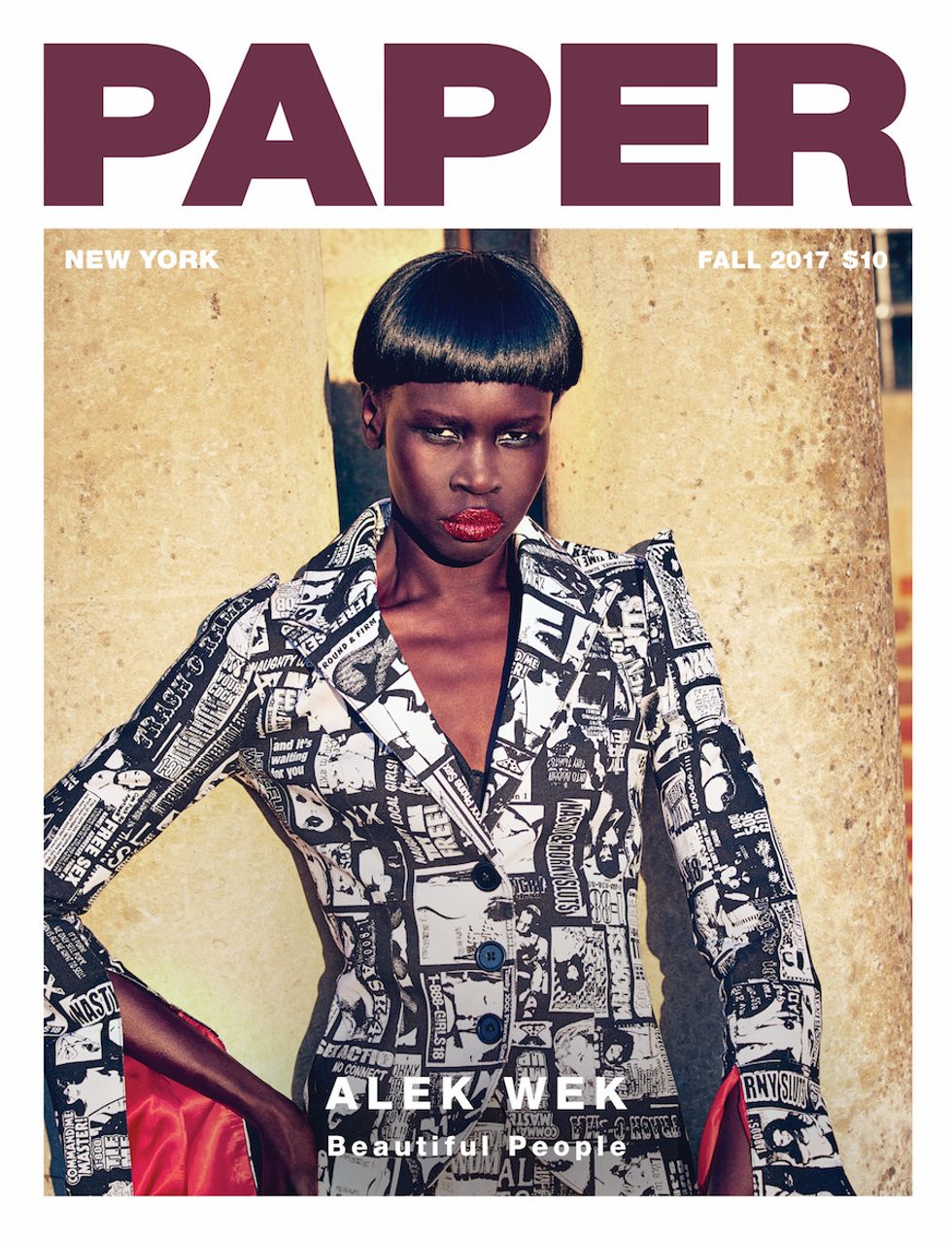 For a model to be in the fashion industry for over two decades is rare. And for a model to be in the fashion industry for over two decades while continuing to possess the versatility to star in campaigns as varied as Gap, Marc Jacobs and a newly "reset" Helmut Lang is rarer still. But in the case of the model just described, Alek Wek, it's fair to say her whole life has been a series of exceptional circumstances.
Born in 1977 to a Dinka family in South Sudan, as a kid she fled her home with her parents and siblings to escape the civil war that had broken out. When she was 12, the family made their way to Khartoum, and two years after that, in 1991, Wek arrived in London as a refugee, an experience that has informed her role since 2013 as a United Nations High Commissioner for Refugees (UNHCR) Goodwill Ambassador. When she reached the UK, she joined some of her sisters who had already been living there, and a few years later their mother would follow. Tragically, Wek's father, who had been ill, passed away before he could leave Sudan. In London, Wek caught the eye of a model scout in 1995 and went on to sign with an agency the next year. She's been a constant -- not to mention formidable -- presence in fashion ever since, shooting stunning editorials, covers and campaigns with what seems like every major name in the business, including Herb Ritts, Steven Meisel and Patrick Demarchelier.
Click through to see more photos of Alek Wek from our Beautiful People issue!
Teaming up with Ellen von Unwerth to shoot our cover story brought back memories of Wek's early days, she says. "Ellen shot me the first time I arrived in New York," Wek recalls. In those days, Wek remembers being the "literally the [only model] with my features from South Sudan on the runways." Fashion has long struggled with issues of diversity, and back in the '90s, black models had been exempli ed by the likes of Naomi, Tyra and Veronica Webb. But Wek, with her Sudanese features and luminous dark skin, has had a colossal impact on the industry. While it may have taken some time for fashion to embrace more models who looked like her -- and there's still much more work to be done -- it's hard to see the thriving careers of rising stars like Duckie Thot and Ajak Deng, both of whom are in this issue and both of whom have Sudanese heritage, and not be reminded of Wek's trailblazing.
Though she's happy to give credit where credit is due and says she "thinks it's wonderful" fashion seems to be taking greater strides towards inclusivity, she points to the consumers -- and their increasingly bigger and more direct role in dictating trends and styles via social media and the Internet -- as the true change agents. "The consumers are speaking up," she says. "If you're going to go buy something that doesn't represent you, I can't imagine you'd feel comfortable wearing it."
Speaking of speaking up on social media, Wek says she's only recently started to find her voice on Instagram. Though she joined the platform back in January of 2016, it was only this past March that she began posting more regularly. "I haven't mastered posting yet," she says with a laugh. "I don't know how to crop [photos] so I'm always like, 'Go back! Go back!' It's so foreign to me." When discussing the part social media has begun to play in the modeling world when it comes to scouting and castings, Wek says she's particularly dismayed by how much content is posted that people "manipulate with Photoshop" to "make themselves look completely different than they do in person."
"If you mislead people" to get a "hit" (or "like") on social media, Wek says, "you're not going to be trusted, and it's not real. You're kidding yourself." She continues, "You might as well focus your energy on putting something out there that's exactly who you are," adding that she thinks we have to stop measuring our self-worth in likes or followers. "The hits don't make you who you are," she says. "You are the hit."
Text by Abby Schreiber
Photography by Ellen von Unwerth
Styling by Adele Cany and Christian Cowan
Clothing by Christian Cowan
Photo Assistants: Stan Rey Grange and Kadaré Aliu
Digital Operator: Jerome Vivet
Model: Alek Wek at IMG
Styling Assistants: Shade Huntley and Diana Ferreira
Prop Stylist: Aidan Zamiri
Hair styling by Daniel Martin
Hair Assistant: Blake Henderson
Makeup by Kristina Vidic
Manicurist: Ami Streets
Producer: Emma Turpin
Designer Assistants: Claudia Higgins, Natthias Mitchinson, and Lydia Bailey
Music
Story by Jacqueline Codiga / Photography by Moni Haworth / Styling by Joanie Del Santo / Hair by Rob Talty / Makeup by Nick Lennon