Did you know that Albert Hammond Jr. was a childhood roller skating champion?
As a kid in Los Angeles, Hammond Jr. ruled the rink. He landed axels (you do single axels when roller skating, not the triple ones Tonya Harding perfected on ice). He says he was very competitive. "Kids had a lot of roller skating parties when I was a kid," he said over the phone. "And someone just saw me, told my mom that I had good balance and grace, and that I could do it if I liked it. And then I ended up just practicing for like three or four hours, seven days a week. And they wanted to move me to ice skating, because that's obviously where the money is and all that stuff. But I just lost interest in it, I guess."
I asked if you could say that roller skating was the first time he ever performed. "I guess you could say that," he said.
It would be very fun to roller skate to Hammond Jr.'s freshly released solo album, his fourth (he of course got his start in The Strokes, the epochal New York band — a special kind of hair band). The record, Francis Trouble, out now on Red Bull Records, is a burst of beaming rock that requires effortless repeat listenings. It seems light but sticky. "Sometimes I feel like rock takes itself a little too seriously, and you can't poke fun at it, and pop is a little too vapid," he said. "So I just needed to find somewhere in the middle for myself to fit."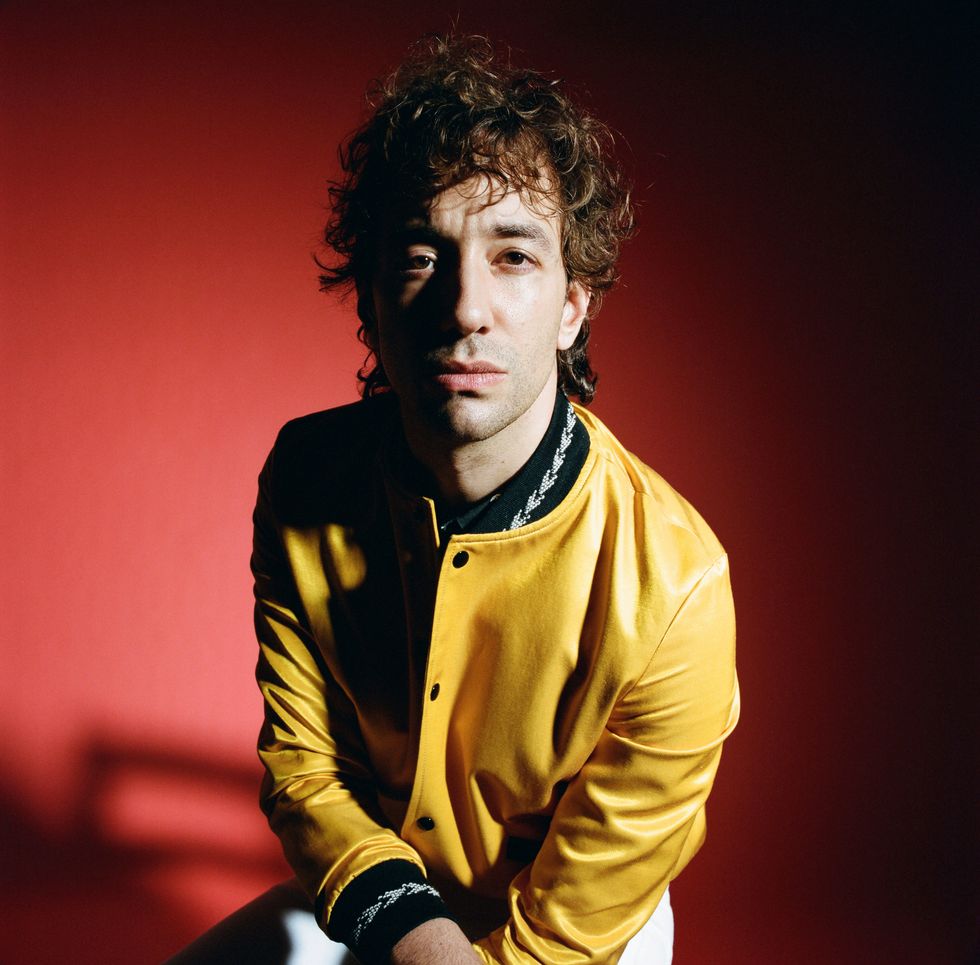 Asking artists for their inspiration is often a fruitless, boring exercise in which both subject and reporter walk away feeling uncomfortable and disappointed. It's somewhat rare for someone to pick one, clear-cut thing through which they manifest a creative work. But this is not the case for Hammond Jr., who named Francis Trouble in honor of his miscarried twin, Francis, who came into the world five months before his brother, too early to survive. Hammond Jr.'s mother did not know she was still carrying Albert when she lost Francis. He will freely tell you that Francis Trouble was inspired by the recent discovery that he was born alongside one of Francis' fingernails.

"I always knew I had a twin, but I didn't know that — I mean, we must have collided or something," he said. "It was more the idea that there were pieces of this unknown person passed to me. Sharing a womb, you can't really get any closer than that. It's as tight of quarters as you're going to get. So, it's just, I don't know. It got me thinking."
Talking to Albert Hammond Jr. is very nerve-wracking. I told him that I felt terrible probing about a family tragedy two minutes into a phone conversation. On Francis Trouble's penultimate track, he sings "How strange it is to be strangers/ Who strain for feeling."
"But it's not heavy," he replied. "It feels triumphant. That kind of duality exists in life always. It's part of how things are created. There can be great tragedy or death, or happiness, and still have an opposite feel. You can be super happy and make a slower record."
And Francis Trouble, despite easy assumptions about the subject matter, feels joyful. There are breaks from the joviality — the recent video for single "Muted Beatings," directed by Fraser RIGG and shot on 35mm film, is a circuitous love story that concludes with actress Portia Doubleday scattering Hammond Jr.'s ashes; he hoped to represent the idea "that love for life, that lust for life is forever reshaping itself" ("it's definitely time to stop dying in music videos," he chuckled). But even when Hammond Jr. gets mournful, the music is zippy; it still inspires toe tapping, and shoulder shimmying. The first track, "DvsL," has overtures of doom ("Rome was built to self-destruct/People and their homes"), but it demands a head bop.

Doubles have long been of interest. Hammond Jr. has often talked about his experiences with shadow work (see 2015's "Caught by My Shadow"), a Jungian exercise in which one recognizes and explores the darkest, most repressed aspects of the self in the hopes of coming to a more unified state of being. "I feel like as much as your shadow is thought of as a negative thing, there's a lot of creativity in it," he explained. "And [shadow work] doesn't need to be done by delving deep into your soul by fucking yourself up. You can get into that dark space quite easily." He says it's done through trial and error. "Work" is not a misnomer.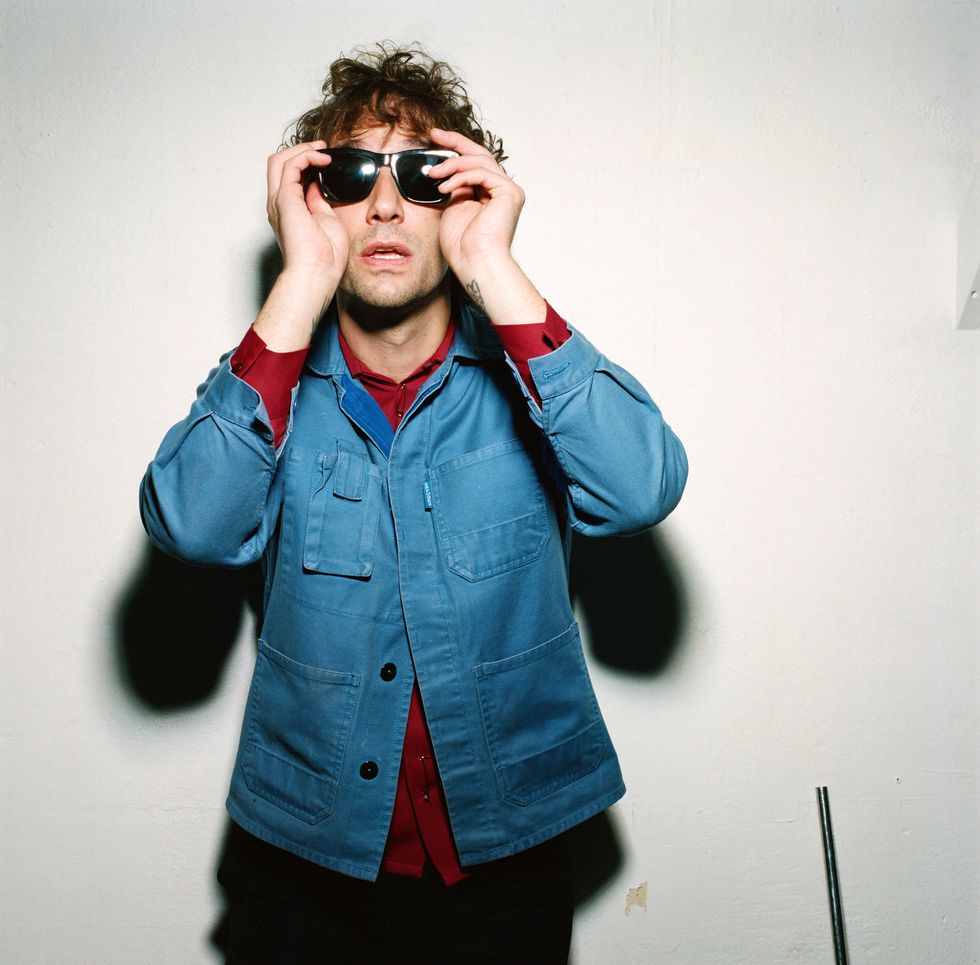 But beyond probing the recesses of his psyche, Hammond Jr. is excited to get on his tour, which kicks off at SXSW. "I need to get onstage, to entertain onstage," he said. "So [tour] actually feels like the place to be." He will be traveling with his wife, Justyna, who now does his lighting, but used to work as the director of operations at Juice Press. The band will make Whole Foods stops. Hammond Jr. "enjoys ginger in general." In addition to his music, there have been experiments in clothing design — he had his own tie collection, and even made the sleek suits Ryan Gosling sports in Crazy Stupid Love — and has prepared "vibrant clothes" for stage outfits. "I'm like a peacock," he laughed. "Attracting things with my bright colors and my threads."

The tour seems as though it will be a good one. The day before we spoke, Hammond Jr. performed his latest single, "Set to Attack," on the Late Late Show with James Corden. He sings standing, stationary, until about two minutes and 10 seconds in, when he jumps, high, feet nearly cresting on his shoulders. He gets up on a speaker and launches off it to roaring applause. He stares into the camera. "Hold on," he sings, gutturally. "Hold on. Hold on."
Stream Albert Hammond, Jr.'s Francis Trouble, below.
Photography: Autumn de Wilde
Sign Up For The Morning PAPER