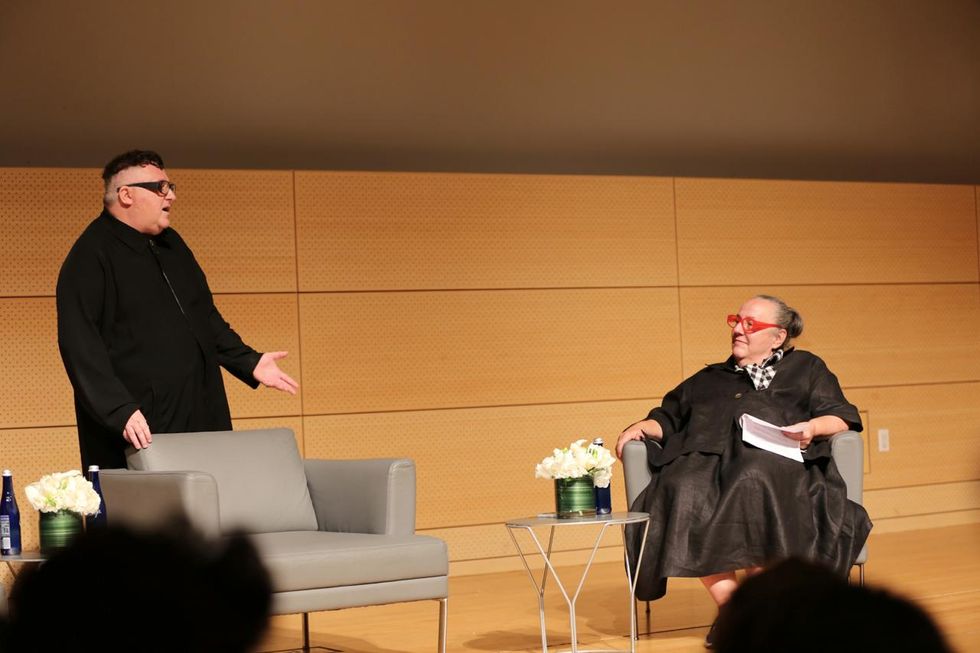 Alber Elbaz and Kim Hastreiter on stage at Parsons School of Design.
"What we need in fashion is less fear and more love," Alber Elbaz, the designer and former Lanvin Creative Director, told a capacity crowd of students and press yesterday evening at Parsons School of Design in a conversation hosted by Julie Gilhart and PAPER's own Kim Hastreiter. Elbaz, known for his romantic silhouettes and candidly emotional relationship to the women he dresses, was in town to discuss the state of fashion, offer advice to Parsons students who had lined the block to see the much-beloved designer, and perhaps indicate what his plans are post-Lanvin, the label he left last fall after one of the most successful revivals in fashion during his 15 year tenure. But not before, in a show of typical Elbaz-ian good humour, passing out kleenex and chocolate from the stage in anticipation of what would be an emotional and sweet discussion of all things Alber.
Given he was addressing a group of New York design students who would soon encounter the ever-more fraught job market for the newly matriculated, Elbaz reflected much on his eight years working with legendary American designer Geoffrey Beene, to whom he was an assistant in the '80s and '90s. Upon first meeting the notoriously mercurial Beene, Elbaz exclaimed: "I just wanted to hug him!" He advised students, who would most likely work for someone else or be part of a larger brand after graduating, to "…remain you. Let them take the best of you and along with the best of themselves, the third thing is better than both of you." Also that, "two things you can not buy in any luxury store are, muscles and time." Which is to say, that hard work and hours spent eking out an idea on a form or in the studio are much more important than being famous or looking cute on social media. After Beene, Elbaz headed to Paris and led Guy LaRoche then the ready-to-wear collection for Yves Saint Laurent, before being ousted after a hostile corporate takeover: "You can say it, I was fired from there too!" he said with a laugh.
Alber Elbaz handing out tissues ( and candy) before he begins 💦💦 pic.twitter.com/62LWlIvmm6
— PAPER Magazine (@papermagazine) May 3, 2016
On the larger, existential questions about the current sate of fashion Elbaz was optimistic offering that, "I think something really fabulous will happen because we are now questioning." His departure from Lanvin in October, along with Raf Simons' exit from Dior, were a catalyst for a serious, industry wide re-examination about the pace of the fashion calendars and the demands placed on designers. What will come of all the talk is still unsure, and the new buy-now, wear-now model some brands are adopting would only seem to increase the pressure placed on the creative minds of the industry,but the designer compared it rather aptly to an anecdote about two mice drowning in milk: the one who does nothing simply drowns and the one who flaps its arm, who struggles and questions, will make butter and eventually float to the top. He was also quick to offer, and rather self deprecatingly, that not just designers are the ones who are run ragged by the relentless speed, but also CEO's who have been, perhaps unfairly, cast as the unfeeling suits, are also dealing with the impossible demands of marketers, retailers, and, gasp, sometimes unrealistic designers who would rather make a runway statement than address the needs of the customer.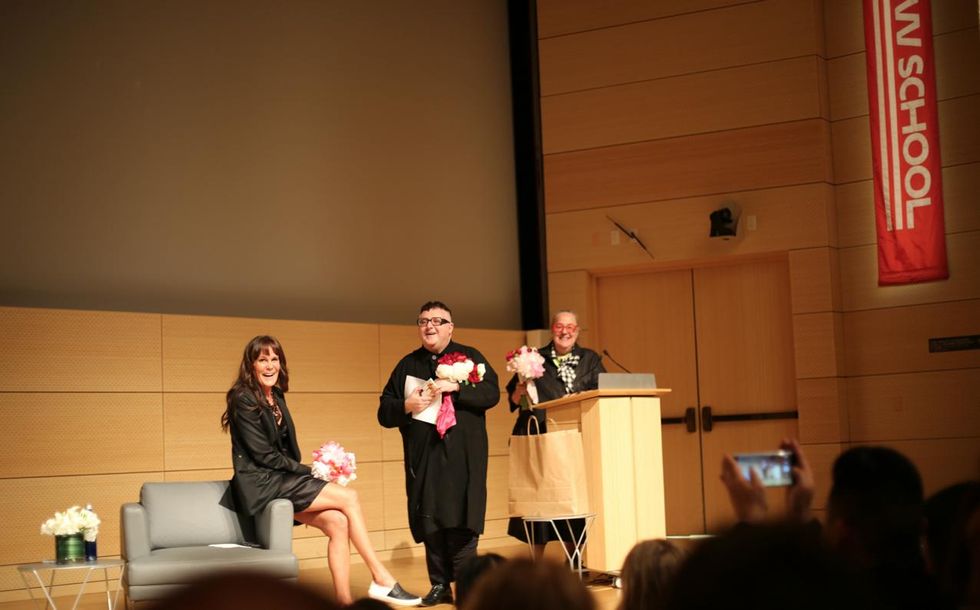 Julie Gilhart, Alber Elbaz and Kim Hastreiter
On what he plans to do next, he offered little concrete answers. Some suggestions from the Parsons students were, not surprisingly: Start your own line! Hire me as your assistant! Run for President! He admits to not enjoying vacations very much ("I don't like the beach, the heat, or the sun!") which would mean we may see Elbaz dresses on hangers in stores sooner rather than later, either under his own name or another. Would he come to New York? The love in the room on 13th Street would indicate a very warm reception should he be so inclined. Hopefully the wait will not be too long as he offered, "Being a designer is all I know how to do, I don't even know how to drive!" A New Yorker already!
You May Also Like