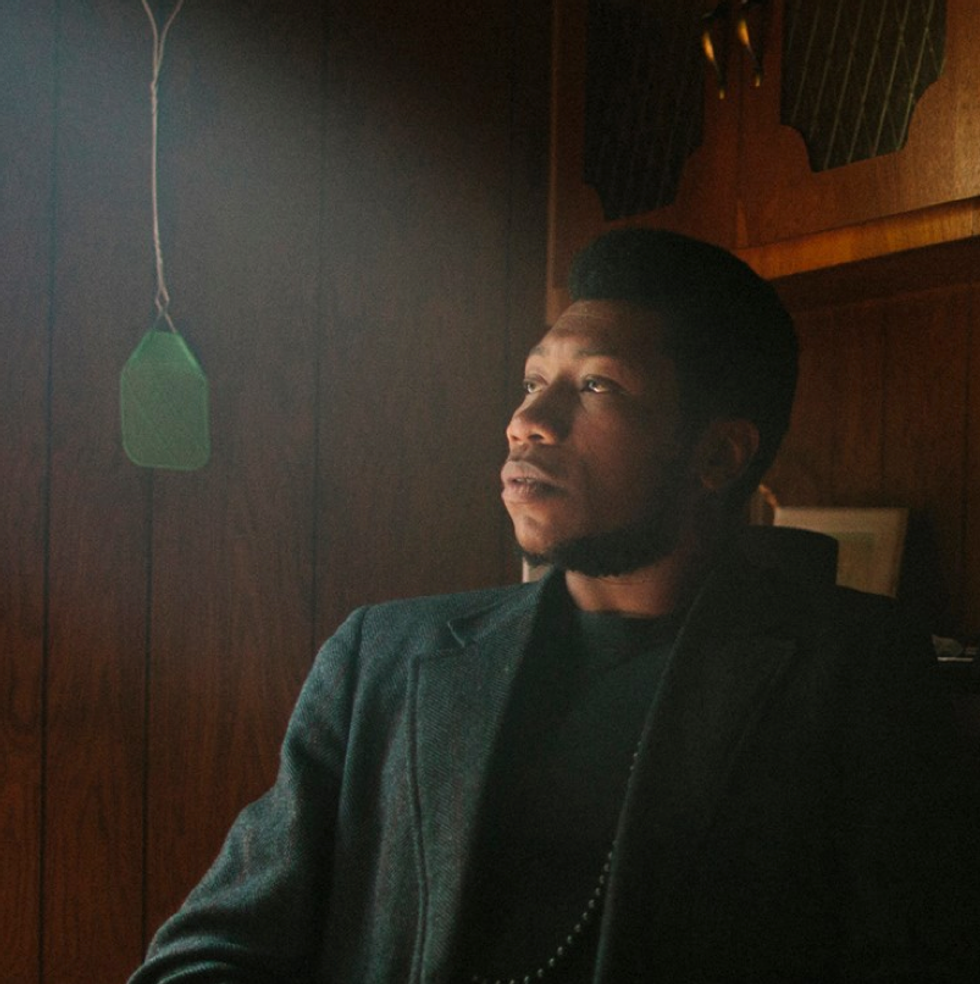 [Photo via
Facebook
]
Willis Earl Beal, the enigmatic,
mask-wearing
, genre-hopping musician whose backstory of homelessness and dismay with the music industry has been
well-mined by journalists
, is back in the public eye and fatigue is starting to show.
At least some of his discontent may be due to the time of our phone call -- 10am  --  but the state of "perpetual restlessness" in which I find him is largely due to the echoes of a separation with his now ex-wife and being, once again, in-between homes and struggling for money. He communicates with a sense of ambivalence and seems reluctant to talk to press. "It's interesting for me to be going through the publicity process right now" he explains. "When I have to do an interview, sometimes it might be after having slept in the park, or after I've just woken up." It's something Beal will have to get used to, as music publications are chomping at the bit to speak to the musician about his forthcoming record,
Noctunes
, out August 28th via Tender Loving Empire.
Originally from Chicago, Beal began his music career after a circuitous path that included a stint in the army (for which he was eventually discharged due to a medical condition), homelessness in Albuquerque, New Mexico and a series of jobs that included working security at Chicago's Willis Tower (née Sears Tower). It was in Albuquerque that he began posting
hand-drawn fliers looking for a romantic companion
, which caught the eye of
FOUND
Magazine who put one of his fliers on their cover along with an interview of Beal inside. The nascent buzz from the story made its way to XL Recordings, whose Hot Charity imprint offered him a deal and went on to release his first two records,
Acousmatic Sorcery
(2012) and
Nobody Knows
(2013). 
A few years later, ones that included a role in buzzy Sundance film
Memphis
and a departure from Hot Charity, and his lifespan as a musician has come full circle in more ways than one. "It's a long, winding story" that he'd rather not get into, he says, but it feels "like I'm starting all over again." He's back with an irregular place to sleep, back to having very limited finances and back to putting a new record out by an exciting label but, this time, one that is willing to allow him his auteur visions. "I went to [my new label] Tender Loving Empire because I knew that they were smaller" he says. "There wasn't going to be any advance, but there would be creative control and people who are excited about what it is I'm doing."
The label has helped him fend off destitution by providing motels and coordinating a spell of couch-surfing in Portland where he has relocated from Washington State following his divorce. Portland, however, isn't somewhere he is looking to stay. "I don't like Portland very much" he says. "I was called a n***** while I was here and I haven't been called a n***** in a very long time now. It's just this overall feeing of hostility towards me that I can sense. We can all sense when we're not wanted."
Reverberations from the breakup of his marriage and the frustration of being broke have left Beal in a state of emotional confusion. "Sometimes I feel incredibly euphoric and sometimes I feel extremely depressed" he sighs. "That's not due to any type of mental illness, it's just because that's how life is. Particularly when you don't have your own place to live and have to depend on other people." In all the sorrow there is an upside -- for his fans at least.
Noctunes
is the most relatable, honest and captivating album that he's created to date; it was recorded while he was still married to his wife but at a time when the relationship was disintegrating. 
"It was kind of about the breakdown of my former marriage and additionally it was about trying to create some songs about not being able to sleep" he explains. "It's supposed to help the listener fall asleep and if they can't sleep, then listening to the lyrics should be basically relatable if you have a broken heart." Thematically, the song lyrics are generic and as fundamental as they can get. Occupying over six minutes of running time, "Stay." acts as the record's central focus, tenderly contemplating feelings of abandonment. "Initially, I wrote that song as kind of a joke and then I realized that at the time, that's how I actually felt. My idea was to put some emotion into a song with generic lyrics and just keep everything simple and completely and totally as relatable as possible." 
He continues, "when I listen to it, it puts me in a place where it helps me to remember what I've learned and who I am because it's me, but it's also intended to be very general. It's almost like I'm listening to something that somebody else made that was specifically designed to help my emotions." The recording experience -- and the life events he's discussed -- have also brought on a wave of self awareness. "I know myself better now after my ex-wife leaving me. I know myself better now after meeting the new lady of my life and I know myself better now after realizing that the world doesn't owe me anything. I am more aware that I could just disappear in the blink of an eye and it wouldn't matter," he says. In
Noctunes
, Beal is interested in the idea of surrender, of "letting go in order to embrace something else, something not tethered to the ground."
Although Willis hopes the album sells well so that Tender Loving Empire can make a good profit, he continues to have disdain with
commercial success
. What really concerns him is communication and connecting, the simple act of talking to someone who relates to his songs. "Just the other day I was playing basketball and some guy noticed me on the court and was like 'Hey man, are you Willis Earl Beal?' I said 'Yeah' and he said 'Yeah man, I like your music a lot.' That really, really makes me happy," he says.
Along with finding forms of genuine connection, Beal has some more temporal goals like "getting a car and getting a place to live," he says, which means also finding a job. He tells me that he's already missed his opportunity to work today at a first-come first-serve bottling factory, but what makes him excited -- for the first time during our interview -- is the idea of landscaping. "It's such a fucking great way to earn money" he explains. "There's no boss and you're working directly with the earth and the soil. You dig, pull weeds and then they pay you at the end of the day."
For Beal, simplicity and financial autonomy are paramount but, he says, "money in and of itself is a limiting kind of way to deal with the world. I'd rather just barter and trade." Ultimately, he says he wants to "get some land and be happy. If I'm doing something, it's gotta be contributing to my happiness in some way. I'd like to believe it's not a shallow happiness -- it's something substantial." 
You May Also Like
Fashion
Story by Mickey Boardman / Photography by James Emmerman / Styling by Scott Shapiro / Hair by Matt Benns / Makeup by Kento Utsubo