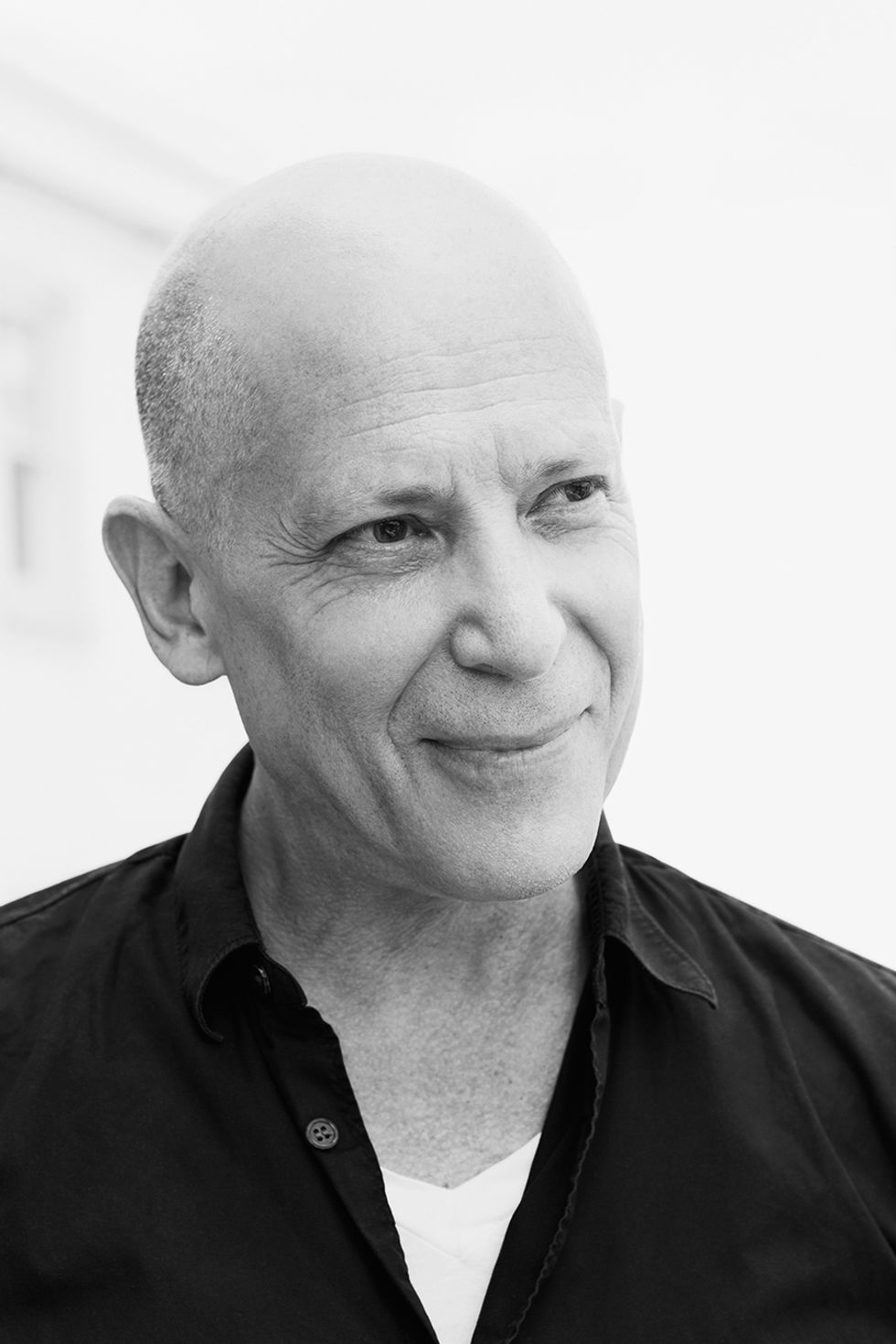 Portrait of Adrian Joffe by Thomas Lohr

For the last three decades, Adrian Joffe has translated the beguiling genius of Rei Kawakubo into a global brand and retail powerhouse that continues to upend how fashion is experienced by, and presented to, shoppers through his role as president and CEO of Comme des Garçons, the label Kawakubo founded in 1969, and Dover Street Market International, their global retail concept franchise with locations in Tokyo, London and New York. He runs both entities seamlessly, with little indication where CDG ends and DSM begins. As for the original brand, what could have easily remained an esoteric, cult label favored by insiders and crows -- the nickname for CDG's most ardent fans in the '80s due to the mostly black and inscrutably layered silhouettes -- has grown, thanks to Joffe's uncanny instincts for giving customers what they don't yet know they want. Beyond the signature label, Kawakubo and Joffe, who married at Paris City Hall in 1992, have fostered and promoted a robust stable of some of today's most spectacular talent, among them Simon Porte Jacquemus, Grace Wales Bonner, Simone Rocha, and Katie Roberts-Wood; it's an anointment that allows for otherwise commercially vulnerable artists to flourish under the care of their business and retail infrastructure. To enter DSM in any city is to engage with a 360 degree universe that is as playful as it is uncompromising in its assortment of brands and objects high and low; it's an experience that confirms that the unexpected in fashion and retail is just as viable as draconian branding and consistency, an ethos that has all but suffocated the industry writ large in this generation. Credit for breathing life into the state of shopping is due mostly to Joffe and the notion that to underestimate your customer is to fail them.
More recently, and much to the shock and glee of the fashion world, the announcement last fall that the annual spring costume exhibition at The Metropolitan Museum of Art in New York would be a retrospective on the notoriously reclusive Kawakubo and her label titled Rei Kawakubo / Comme des Garçons: Art of the In-Between (May 4-Sept. 4), has indirectly thrust Joffe, as her lontime partner and right hand, into the spotlight as well. The exhibit will cover the period between her first Paris runway show in 1981 up to the most current collection and will be officially opened on the first Monday in May with the star-studded Met Gala hosted by Vogue and its Editor in Chief, Anna Wintour, along with Pharrell and Katy Perry. It is extremely rare that a living designer is honored so singularly -- Yves Saint Laurent in 1983 is the only other example -- by the museum and Comme-heads the world over are positively beside themselves with anticipation. The thought of Rei Kawakubo among the celebrity throngs and red carpet flashbulbs is hard to square but one things is for sure, it will be a fashion moment worthy of some of her most daring and emotional collections. On the eve of the landmark exhibition we spoke with the Johannesburg-born Joffe about the state of fashion, social-media-as-therapy and the staying power of our new president.
You became involved with Comme des Garçons in 1987, but what were you doing before? Did you ever imagine that this would be your life's work?
I was running my sister's knitwear business at the time, and no, I never imagined this would be my life's work. It's all been a bit of an accident.
Are there any guiding principles you have maintained since you began your work with CDG or has it been an evolution to where it is now?
Constant evolution I think. No preconceived ideas or tenets as such. The only guiding principle I guess is the absence of one. Perhaps the only tenet is doing my best to adhere to, on the business side, the value system made by Kawakubo for CDG.
Now that Dover Street Market has been in New York for a few years and with the upcoming Met show, does it deepen your relationship with the city? What is your sense of it as a place for fashion and retail lately?
I feel CDG has always been deeply appreciated by New York ever since we first opened on Wooster Street, SoHo and then did the men's show in Brooklyn in 1986. I suppose with The Met that can only deepen and strengthen. I love the openness of New York and the curiosity of its people. As for retail in general, I feel a small crisis of confidence and a general fear of what is going to happen next. But out of each crisis and period of confusion often great things happen. But we've got to keep positive and keep fighting against obscurantism and for the values we know to be good.
Dover Street Market (DSMNY) is actually quite near the Paper offices (32nd & Madison), and it's a curious area that doesn't get a lot of attention (perhaps for the better) in terms of fashion and retail. Did you respond to the energy of the neighborhood or was it just that incredible space when imagining DSMNY?
We just found that building that happened to be there. Pure coincidence. We often don't plan anything and do things just because the opportunities arise, and they seem an interesting challenge, or a nice idea at the time.
You've said you are dubious of the buy-now-see-now model for fashion, but every season a few more designers and brands are showing this way. Do you think the capitulation to this model is inevitable? And how would you work within it or outside of it?
I will ignore it and continue to do what we do. I don't believe in capitulation of any sort and actually don't believe it will really last. It doesn't make creative sense. And actually I don't feel that people really care about it that much either. It feels like just a ruse, albeit a temporarily clever one at that.
You're on social media a little. What is your approach to your own Instagram? Is it purely instinct and fun or how do you engage with it?
It's like my therapy. I haven't got time to go see a real person to discuss my problems. So it's neither private nor work. Just very personal, very me…I like questioning myself about why I do it. It's good for insomnia and traffic jams.
Do you think it's possible for a younger designer or brand today to set-up and maintain a business in the purely autonomous way that you have? It feels like a near impossibility.
It certainly isn't easy, but with patience and perseverance of course it is possible.
Of the younger designers you encounter and support, what qualities about them are compelling to you and make you want to see them grow?
It's a mixture of talent, vision and patience. Not being blinded by the bright lights. Having a good sense of reality while maintaining your dream.
Building and sustaining any business is not without its setbacks and detours. Were there ever moments when your instincts were wrong or unsuccessful in terms of the outcome you were aiming for? Any examples?
I don't think it actually works like that. Instincts can never be wrong even though it may feel like that at first. It might not work in the beginning but then suddenly [it might] take off. DSM took five years before it started to work. You have to have faith, trust your instincts, and not worry about making mistakes. It is also important to be aware of time cycles and balances. There are many dimensions and I don't believe in unsuccessfulness. By whose standards? How does one judge that? Success is believing in your instincts and not worrying about market research or thinking you can know what people want. Rather, give them something they don't know they want yet.
In the last year it feels like the political pendulum of governments at least in Europe and the United States has swung to the far right which makes many creative people nervous. Is that something you encounter or how does that resonate with you as someone running a business based on unencumbered creative thought?
Yes of course there is great weariness and anger. And rightly so…I think fear is not a good thing for the soul though, so we have to carry on being unencumbered and do what we can to resist and fight the forces of darkness, in whatever ways we can.
Workload and designer burn-out has been a story for the last few years especially for global RTW brands. Is that something you have been able to avoid in your operation since it's more or less on your own terms? How do you care for yourself and the artists you work with to avoid that weariness?
Difficult subject. Most people I know work too hard. I guess we've got to get more organized.
Fashion media (print, digital, social etc.) has changed a hundred-fold in the past decade. What more recent platforms are exciting and interesting to you? And perhaps more simply: how do you get your news?
I still like newspapers but also read some online news sites. Depends where I am…nothing like a good old newspaper or a great magazine on a plane without WiFi and rubbish movies.
And finally: What is one hope for 2017?
He won't last.