UPDATE: Adam Saleh has spoken to CBS News about his truly heinous ordeal this morning, after being removed from a Delta flight to New York after passengers complained about him speaking Arabic to his mother on the phone.
There were at least 20 people uncomfortable about me speaking Arabic, and even more people uncomfortable about them being uncomfortable. And when the captain came, he was telling my friend and me that we needed to get our bags, because he needed to speak with us outside. At that moment, I knew I was being kicked out.
Saleh also described how the passengers had referenced the terrorist attack in Berlin, Germany on Monday, as a justification for their heightened anxiety.
"The captain didn't want to get 20 people upset; he'd rather get 2 people upset," Saleh added.
The social media star speculated on the terrifying implications this has, especially under a Trump indications, asking "What if they do this to people like my mother, who can't even speak English?"
To make everything worse, Delta didn't even assist Saleh and his friend for the flight they eventually got on (which was Virgin).
---
YouTube star Adam Saleh posted an extremely disturbing and equally frustrating video of himself and his friend getting thrown off a New York-bound Delta flight, after several passengers complained when they heard Saleh speaking Arabic to his mother on the phone.
We got kicked out of a @Delta airplane because I spoke Arabic to my mom on the phone and with my friend slim... WTFFFFFFFF please spread pic.twitter.com/P5dQCE0qos
— Adam Saleh (@omgAdamSaleh) December 21, 2016
In the video, Saleh can be seen walking to the front of the plane in the aisle, while being forced out by flight attendants and other airport personal.
"We spoke another language, and we're getting kicked out," he says to the camera. In the background, you can hear someone yell "See ya!" while other (white) people sarcastically wave, seemingly satisfied with the woeful racial profiling.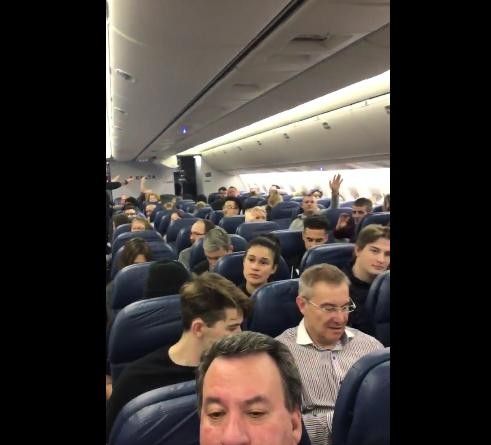 "It's six white people against us bearded men," Saleh says. At one point, a fellow passenger stands up and expresses his disgust at what is happening--almost to the point of tears.
Other passengers (white!) either stare silently at what is happening, or turn their heads to avoid witnessing it.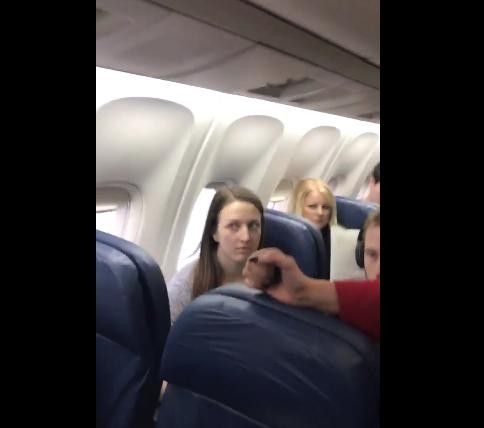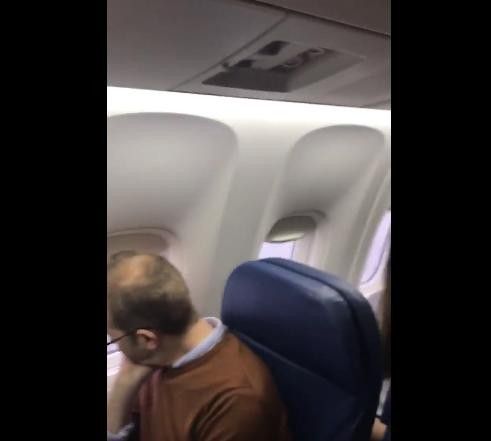 Once kicked off, Saleh and his friend were held at the airport gate.
We are still stuck at the airport and Delta has not given us any info. They keep telling us to wait. Please spread the word #BoycottDelta
— Adam Saleh (@omgAdamSaleh) December 21, 2016
Police were called in:
UPDATE: Delta just brought the police to speak to us.
— Adam Saleh (@omgAdamSaleh) December 21, 2016
And the crew was interrogated:
UPDATE: Delta just brought the police to speak to us.
— Adam Saleh (@omgAdamSaleh) December 21, 2016
Finally, Saleh was put on another flight:
UPDATE: were now on another flight with a different airline heading to NYC after being checked for 30 minutes. We land 5:50pm in NYC
— Adam Saleh (@omgAdamSaleh) December 21, 2016
UPDATE: were taking off right now and heading to our lawyer once in NYC. Any inquiries email: info@adamsalehworldwide.com
— Adam Saleh (@omgAdamSaleh) December 21, 2016
Thank you all so much for your support!! I appreciate every single one of you!!! Will talk when I land! Love xx
— Adam Saleh (@omgAdamSaleh) December 21, 2016
Meanwhile, Delta has not released an official statement, other than these tweets:
@hamzaorta95 Two customers were removed from this flight and later rebooked after a disturbance in the cabin resulted in more than 20... 1/3
— Delta (@Delta) December 21, 2016
@hamzaorta95 ...customers expressing their discomfort. We're conducting a full review to understand what transpired. We are taking... 2/3
— Delta (@Delta) December 21, 2016
@hamzaorta95 ...allegations of discrimination very seriously; our culture requires treating others with respect. *MR 3/3
— Delta (@Delta) December 21, 2016