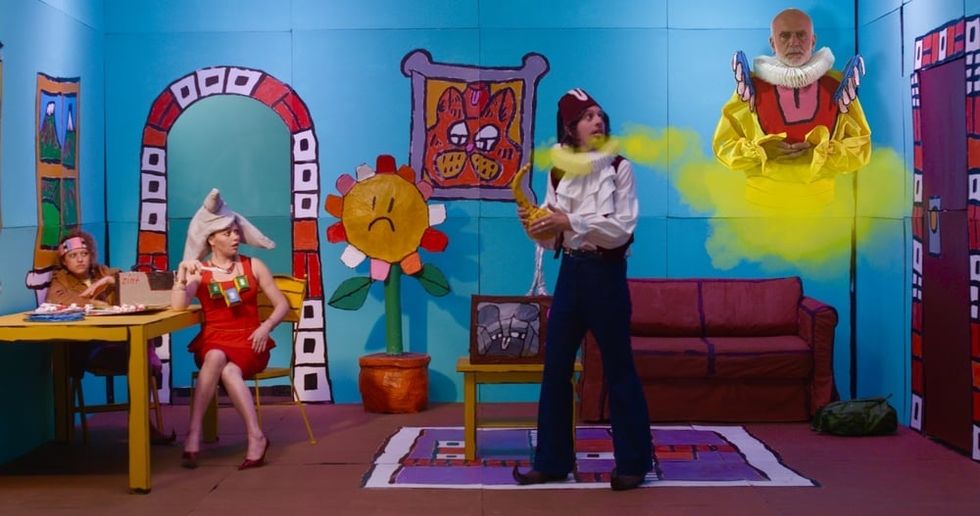 Alia Shawkat, Natasha Lyonne, Adam Green and Francesco Clemente in 'Aladdin"
Five years in the making, musician and artist Adam Green's rendition of Aladdin has finally come to life in the form of one big papier mâché acid trip. Backed by Kickstarter, everything in Aladdin really originated from Green's imagination -- with a modern, Orwellian- twist. Green stars as the titular character, alongside Natasha Lyonne, Macaulay Culkin, Alia Shawkat, Zoe Kravitz, Devendra Banhart -- in what feels like a lo-fi cartoon come to life. However, in his version of Aladdin the kingdom is run by a sultan (Francesco Clemente) who has very 1984-like surveillance tactics and his daughter, the princess, is actually a socialite.
We caught up with Green and Lyonne, who plays Green's chain-smoking, audacious mother, about the artistry behind the project, the dangers of technology fears what the follow-up to Aladdin would look like.
How long has this movie been in the works for?
Adam: For five years. I was 30 and talking about making Aladdin. It just developed through conversations. Yasmin, my wife, encouraged me to make it all out of papier mâché . That's the reason why we took it this far.
Natasha: I was 32, and he was like "I'm gonna be Aladdin and you're gonna be the mom."
What drew you to Aladdin?
Adam: I was thinking about a materialistic fairytale where someone gets material wealth for free. I was thinking about true love and how it's more important than all the wealth. Then I was thinking about looking at it through modern eyes. In my version of Aladdin, it's like the land of the 3D printer. Where would we put all this stuff? It kind of became about the planet in general and surveillance. I have a really big fear of technology.
What scares you the most?
Adam: That it will turn me into a cyborg. I feel like everybody is a little bit of an Aladdin at heart -- we're printing out our next generation of humans. We're a generation of Aladdins.
Surveillance is also one of the issues we cover. The sultan is a technophile that's obsessed with surveillance and putting everyone in the town in jail. I think that privacy is important and I think we forget that sometimes. I try to remind people that it is important. I feel like making a movie like Aladdin it's how I felt like it should be. The movie is just about a feeling. Everyone can read a Noam Chomsky book, and it will be way more profound than Aladdin is.
Why did you decide to Kickstart the project?
Adam: It was the only way to get it started. I honestly needed some money to rent the warehouse and build this stuff. There were 30 rooms and 500 props that were built. A huge group of volunteers helped to build it. At the same time, when you do a Kickstarter, it makes sure that you as a person will definitely make a movie.
Natasha: Knowing Adam for years, this project was literally the inside of his brain. It's actually a reasonable sell and exciting for independent financiers but there's always an element of quid pro quo that you're in a partnership with whoever is making the movie. It's something that literally went from Adam's brain to screen without input or a focus group. This movie was well-suited for that. This art studio in Red Hook was transformed into a movie. My experience in it was not making a movie. For me, it was much more like being a talking goblet. I felt like I was a talking 3D Garfield cat come to life. I felt like a sculpture come to life. I wasn't like, "how am I going to play this sassy, slutty Aladdin mom?" Because Adam is a musician and artist rather than a filmmaker, he's uniquely positioned to make a movie from inception to screen that untouched. If you're a filmmaker first, you have to honor certain ideas. I'm sure Adam honors writing a song more -- there are certain conventions or a structure to that. It is what it is.
Adam: I think that this would be a very difficult thing to explain to something before you made it. If I was like, I'm going to make an Aladdin, it's going to be made of papier mâché and it's going to look like my drawings. People didn't realize it was going to look just like that.
Natasha: I was very confused when I got there but I've known Adam for a long time, so I knew what I was getting involved with.
Natasha wears this crazy hat/hair contraption in the movie. What's the story behind that?
Adam: I drew Natasha as a the picture of the mom with triangle hair. She probably just thought that was the drawing of the hair, but I made papier mâché hair. Natasha was incredibly patient about wearing the hair—I think she didn't like wearing the papier mâché hair more than anything in the world. She was very gracious about wearing it. So, I gave Natasha a picture of the mom and she's smoking a cigarette in the picture. When Natasha got there, we had a papier mâché cigarette with papier mâché smoke, and it was kind of amazing. Natasha was sitting there holding it and was like, "this is so fucking heavy."
Natasha: Here's the thing—I love Adam Green, Alia Shawkat and Zoe Kravitz. I love these people. That said, this is a low-budget movie. I'm so happy to be here, but can I have another $600 to wear this headpiece? It was like wearing a fucking giant rock on my head. The thing about the costumes is that they're 3D but operate as one-dimensional. The mobility is rigid. For example, the steering wheel on the car, you end up acting like a cartoon because it's not like the wheel is going to turn on the car, so you're forced to keep your arms rigid on the wheel because you don't want to look like you're miming things. It's almost like the objects are very alive, but I have to be very rigid. It's always really cool to discover new languages during the movie.
Natasha, did you relate to your character in Aladdin? She's pretty sassy.
Natasha: To be perfectly honest, I don't know that I did. I don't think I really tried to. She's a boozy, broken woman. I just tried to be an extension of Adam's imagination, really. No part of me identifies with being a mother or a mother to Shawkat and Adam. I identify with being a mother to my dog, and there are some people in my life that are 17 that I care about.
Adam: First of all, Natasha plays the character amazingly. She's a genius. I thought the character would be like a Marge Simpson or a Peggy Bundy, but what ultimately ended up happening was that Natasha ended up putting in another element to the character. Her character became more subtle and intelligent than I imagined. I actually didn't picture the character being as nuanced as Natasha made her because Natasha is a great actress.
Adam, what would be your follow-up to Aladdin? Will you work with papier mâché again?
Adam: It would be funny to make a war movie out of papier mâché—where all the soldiers are made out of papier mâché in battles. It could be a movie where people die and go into the afterlife and half the movie is in the battle and half is in the afterlife. Or it would be fun to make a Hanukkah epic—kind of like Spartacus. Nobody's really told the Hanukkah story right.
Aladdin comes out on April 15th in North America and will be available worldwide on May 12th. The film will be available on iTunes and Amazon Video-On-Demand, as well as through AdamGreensAladdin.com.