Actor, filmmaker, musician, and photographer Adam Goldberg called me last month from Albuquerque, a city in a state perhaps best known for its proliferation of turquoise, a painterly desert landscape, Navajo and Pueblo culture, alien visitors, and a particularly heinous meth crisis. Goldberg didn't want to be the kind of coast-dwelling nightmare who blithely dismisses the vast expanse between New York and Los Angeles, the sort of Kombucha-swilling hellion who freely uses the term "flyover country." But he really, really hates Albuquerque.
"I'm very wary of disparaging towns, but even the people that live here call it the Land of Entrapment," he chattered at warp speed. "I mean, I literally tweeted at Postmates 'Are you in Albuquerque? Please don't make me go outside.' I'm sorry, it's one of my least favorite places on Earth and also it doesn't really agree with me. I get these Albuquerque allergies and headaches like the second I get here. The whole thing is just a fucking drag."
Goldberg was in Albuquerque filming an upcoming movie; he'd previously gotten stuck there while shooting the Epix series Graves. He didn't see any aliens, although apparently "there's just a sense of impending doom." And a lack of vegetables. He had been forced to order chicken fingers at his hotel. They were not good.
But while Goldberg was in New Mexico to act, the craft for which he's best known (when approached by fans, it tends to be for parts like his indelible turn as Chandler's insane roommate Eddie on Friends, Hannukah-saving Jewish superhero The Hebrew Hammer, and Mike in Dazed and Confused — although apparently valet guys always recognize him from the time-travel extravaganza Déjà Vu), right now he's focused on music, which he records under the moniker the Goldberg Sisters. The new Goldberg Sisters album, HOME: A Nice Place to Visit, was released earlier this month, and, as on previous records, Goldberg sang and played every single recorded instrument, save for the violin and trumpet.
So why the Goldberg Sisters? "Strictly speaking, I do have two half-sisters," he explained.
"But I had sort of forgotten that. I mean I didn't forget that I had sisters, but obviously it's not related to that. And so there's this sister I have—I mean, you could be talking to her I guess now, it's unclear. Her name is Celeste, and she's my alter ego, and she's the sort of master mistress mind behind the work, and I'm just the sort of like, the actor who drags her along to Albuquerque."
Goldberg, 47, apparently alongside Celeste, has steadily worked in Hollywood for more than two decades, and he's been making music for nearly as long. A Los Angeles native, he grew up obsessed with bands like Sonic Youth and Built to Spill, and started recording for fun while working at famed LA shop Book Soup. Although initially armed with just a Tascam four-track, an amp, and a wah peddle, he picked up more musical skills as time went on, playing with bands like The Black Pine. In 2003, he soundtracked his own film, I Love Your Work, recording many of the tracks with The Flaming Lips' Steven Drozd; two years later, he began recording at the Lips' fabled Oklahoma studio, Bell Labs. In 2009 he released an album, a mixture of the Bell Labs songs and tracks he crafted at home, under the moniker LANDy. But there were other things named "Landy" — namely a Taiwanese pop star called Landy Wen. And thus the Goldberg Sisters were (was? It's a plural, but applies to only one person, thus confusing copy editors everywhere) born.
Goldberg, like loads of musicians, doesn't like to describe his own music, preferring to leave it to the listener, or, say, the reporter. "People say stuff like 'dream pop,'" he said. "I don't know, whatever that genre is. I get psych pop, people say. They're just very sort of textured, kind of moody songs I guess."
The prevailing aesthetic on Home seems to harken to a Manson-era Los Angeles; the music has a sort of sandy lightness undercut with gloom, a combination familiar to all of us who spent our childhoods as neurotics by the sea. Harry Nilsson is an obvious influence (there's a song titled "Dear Mr. Nilsson") though Goldberg also says he was inspired by some combination of Burt Bacharach and Sonic Youth. And an easy descriptor for much of the music, which seems to vibrate, would be "trippy." I tested this concept in real life, and the album proved a nice accompaniment to visions of the Cookie Monster in the clouds. It seems readymade for road trips to Joshua Tree where everyone wants to escape from Hollywood, as Turtle and co did on Entourage, a show on which Goldberg guest starred (though not on that particular episode, titled "Tree Trippers," which is lazy even by late-season Entourage standards). But Home is an unpretentious record — the best hook features Goldberg repeating "get off my dick" over and over again.
Goldberg says that the album reflects on a strong sense of place: his actual home, where much of the album was recorded in a garage. He's also been working as a photographer ("I'm heavily into it") for years now, and many of his photos were shot in the house, which he and his wife recently sold. "[The work] is sort of about my ambivalence about home," he said. "I always think of home as this place which is both frightening and comforting at the same time." His family recently rented the house from the new buyers while they were moving, turning their home into, quite literally, a nice place to visit.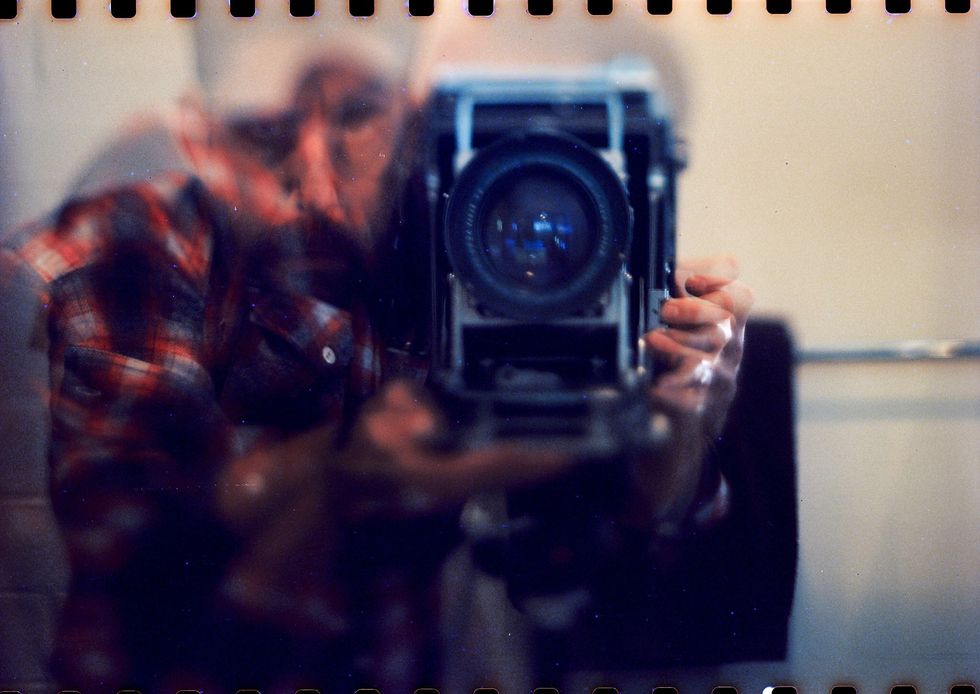 At the moment, Goldberg is most consumed by his music and photography; he shoots on film and then scans the negatives, posting often on his beloved Instagram account. But he's certainly best known as an actor (an accomplished one who appears in everything from prestige television like Fargo to prestige rom-coms like Julie Delpy's Two Days in Paris to prestige blockbusters like Saving Private Ryan), and is aware of the negative implications that come up when actors dip into the music industry. "Obviously, I would want [the music] to be judged on its own merit," he said. "I mean, it's sort of like having your cake and eating it too, I guess." An acting career can bring about the kind of recognition not usually given to emerging musicians; then again, as Goldberg himself points out, he's not the sort of celebrity who gets incessant star-making coverage.
"My beef is that I'm not successful or famous," he said. "I'm not an A-list fucking movie star. I'm a character actor who's jumped all over the place and done everything from totally mainstream television to totally weird films to directing strange movies to whatever. When people think of me, they're not gonna look at some sort of all encompassing body of work. But the bottom line is I've spent more time playing music and taking pictures probably than acting."
"[Acting] is just a more public way of working," he continued. "I mean I only have myself to blame, obviously, as far as that's concerned. But I do feel like it's all just art, you know. And I'm not saying that about the acting, I would actually put that in its own category. Very, very rarely is it art, and usually just a means by which to make a living. So it's frustrating for me to have the perception of me sort of distorted, or I'm cheated by the fact that I just literally don't know how else to make a living at this point in my life in order to maintain my overhead. I mean, it sounds totally ridiculous, but my Instagram account is more indicative of who I am than anything you've ever seen me in."
Goldberg is earnest about his work. But he's still funny and self-deprecating, shrugging off any and all compliments, which is especially refreshing if you've ever met an actor of any kind. Despite all his protestations, his film work is worth your time (to all Jews born post-Clinton administration: I beg of you, please get it together and watch The Hebrew Hammer). And so is the record. Send some groceries to New Mexico.
Photos by Adam Goldberg
Sign Up For The Morning PAPER