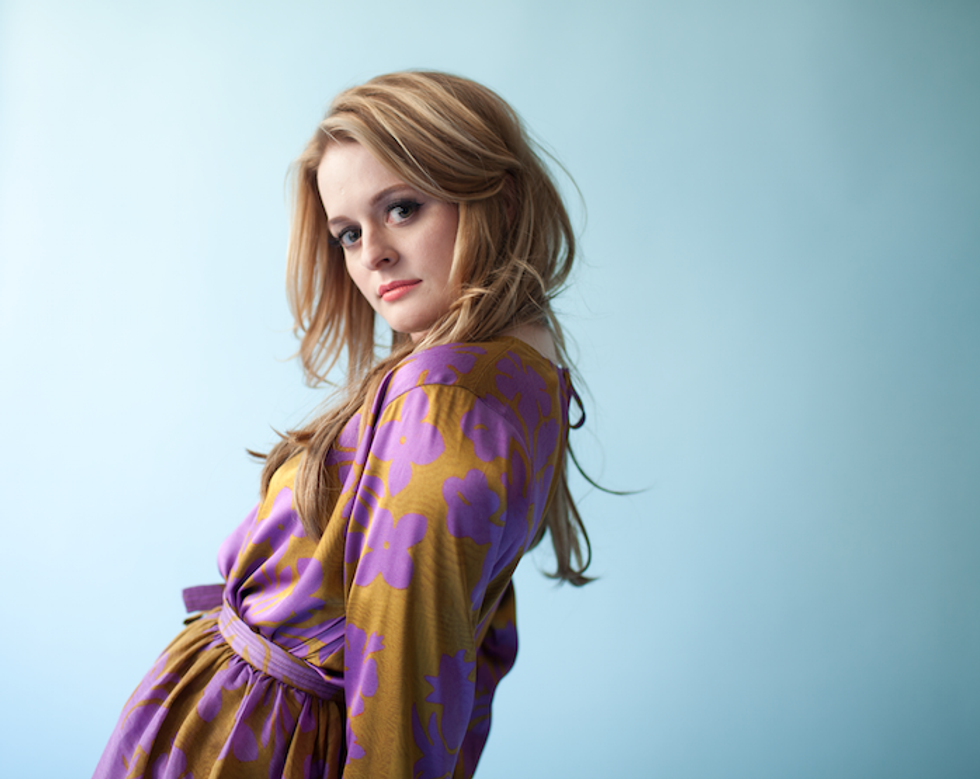 Dress by Cynthia Rowley
"I do the biggest blonde moves of all time," actress Fallon Goodson tells me, admitting that just today she'd already tried to go through a revolving door the wrong way and put all of her outfits on backwards during a photo shoot. "Once I drove off from the gas station with the gas pump and whole long tube detached [from the filling station] and still attached to my car...A guy was waving me down and the gas station guy just snapped it right back on. I could've taken it all the way home with me if no one stopped me."

But though the petite blonde-haired actress might look the part (and, by her own admission, occasionally act it), Goodson is no ditz. Beneath her bubbly, self-deprecating exterior and Lafayette, Louisiana-bred Southern charm, lies a shrewd young actress/producer who's forging a promising Hollywood career.
Currently appearing in indie flick
Maladies
(which also stars James Franco, Catherine Keener, David Strathairn and Alan Cumming), a film she also produced, the 28-year-old actress plays Patricia, a troubled young woman who lives in a rambling house on the Rockaways with her equally-disturbed brother James (Franco) and their longtime friend Catherine (Keener). The film, set in the 1960s and directed by mononymic artist and filmmaker Carter, forgoes a straightforward narrative plot in favor of character studies; its interests lie in the ways people cope with societal pressures and expectations and what happens when these expectations conflict with a person's sense of identity.
It's never totally clear what afflictions these characters suffer from or what triggered them. Throughout the film, we get bits and pieces of James' back story. Previously a soap opera star (Franco's real-life stint on
General Hospital
was apparently prep for his
Maladies
role, Goodson says, and black-and-white clips from the soap can be seen in the film), he suffered an undisclosed mental breakdown and is out of work, living in Keener's home, and trying to make a go of it as a writer. The other characters' histories are less clear. As an artist with a cross-dressing fetish, Keener seems to be the most together of the group while Goodson's Patricia appears as the most outwardly disturbed. Bewigged and skittish, her character moves in-and-out of reality like someone suffering from schizophrenia. But, Goodson says, the point was never to diagnose any of the characters. "We didn't want to give them labels," she says. "The characters are a combination of things."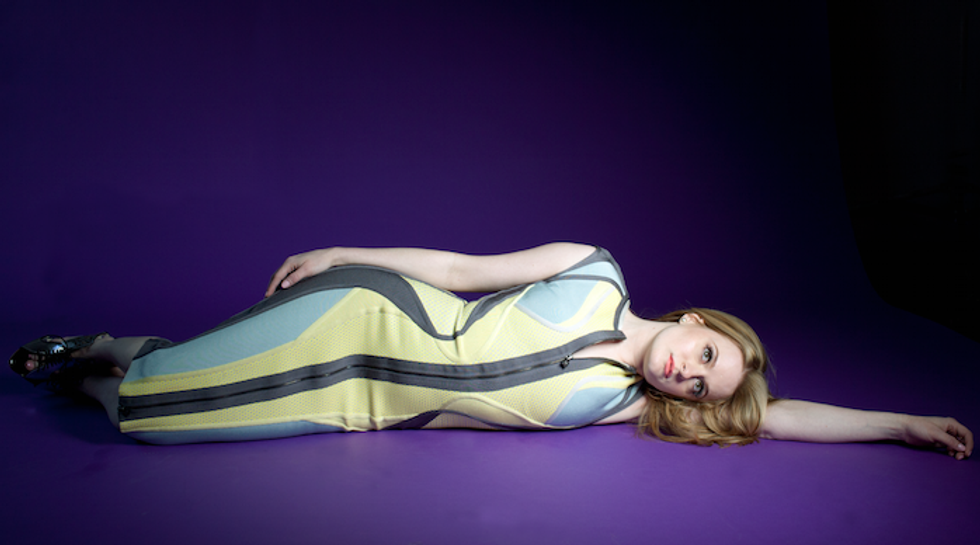 Dress by Herve Leger, shoes by Sophia Webster
Having so convincingly portrayed a woman on the verge (or, more accurately, past the verge), it's hard to believe that Goodson almost didn't get the part. Originally attached to the project as a producer, the actress expected to have only a small role in the film. Goodson says the part of Patricia cycled through various actresses including Julianne Moore, Chloe Sevigny and Blake Lively before landing on Claire Danes. But last minute Danes pulled out ("I think that's when she got
Homeland
"), and a week before shooting Goodson was cast.
A scramble to prepare, the actress says she locked herself in a hotel room in the days leading up to the shoot and wrote an autobiography for Patricia. When more time permits, she says her acting prep is usually quite research-intensive ("I'm a research junkie"). It's a takeaway, she explains, from studying Broadcast Journalism as a college student at Southern Methodist University. And, while talking to her, it's clear this journalistic curiosity has helped her beyond getting ready for roles. Once a green college student who, when moving out West, Googled "How to go to L.A. and meet a manager or agent" and even paid a woman $1.99/minute for entertainment industry advice, she's now a savvy young player adept at knowing how to crack Hollywood's numerous -- and complex -- codes. She's become fluent in Tinsel Town's business speak, describing the industry's protocols and union bylaws, casually peppering our conversation with references to Taft-Hartley and SAG vouchers.
For the uninitiated who imagine Hollywood to be a place where beautiful people can still move from small towns and get discovered in drug stores, it's a reality check to hear the young actress describe the arcane rules that make it difficult for upstarts to break into the biz. She tells me that she initially found her way into producing as a way to get her SAG card, which would verify her membership in the Screen Actors Guild and allow her to audition for roles (most projects are only open to union members). "I was sitting on sets for 8 hours a time on big TV shows and they'd be like, 'Sorry, we ran out of [SAG card] vouchers.' It was just exhausting. So I got my dad to invest in a low-budget Christmas TV movie and from there on, I ended up producing. But I never really meant to be a producer." The flick,
A Holiday Heist
, starred Lacey Chabert (who some might know as Gretchen Wiener from
Mean Girls
), Chris Kattan and Vivica A. Fox. (It's not on Netflix.)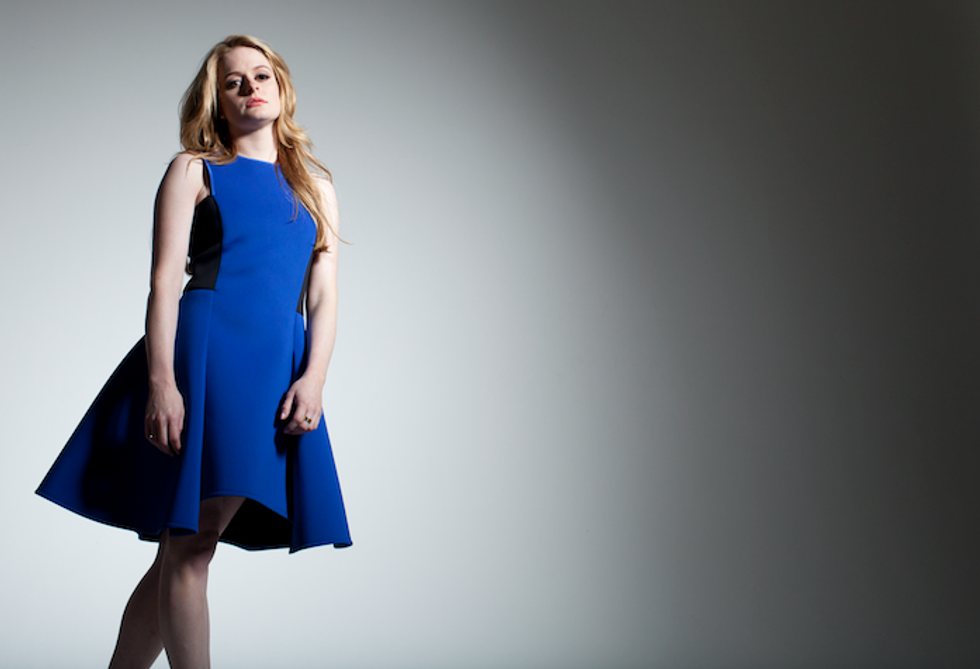 Dress by DKNY
It was not long after
A Holiday Heist
that
Maladies
came her way. And now, on the heels of that film, she's got a busy schedule. She's wrapped up work on two projects directed by Franco,
Black Dog, Red Dog
and
Child of God
, the latter of which is a thriller based on the Cormac McCarthy novel of the same name ("I'm brutally murdered in it"). She's also teaming up with director/producer Eli Roth (
Cabin Fever, Hostel
) on an undisclosed horror movie.
It's obvious she's already got the looks of a Hitchcock blonde and she says she has an affinity for that kind of material, too. And she has no problem with gore. "I'm always like, 'Can I get on
Grey's Anatomy
? Can I play someone with their leg chopped off?'"
Legs intact or not, Goodson will become a more familiar presence on the screen and on movie credits in 2014. Which may make it more difficult for her to get away with a recent "blonde moment" she had while shopping at L.A.'s famous outdoor mall, The Grove.
"I had on a pair of those workout shorts where they have the built-in underwear in them. I was shopping and walking around and while I was leaving, I realized they were inside out. I was like Quailman from
Doug
. As I'm looking down I was like, 'I can't believe this just happened. I'm so glad no one knows who I am.'" Yet.
Styled by Eli Wasserman / Hair by Brian Magallones for Exclusive Artists / Makeup by Robert Sesnek

Photographed at Dune Studios