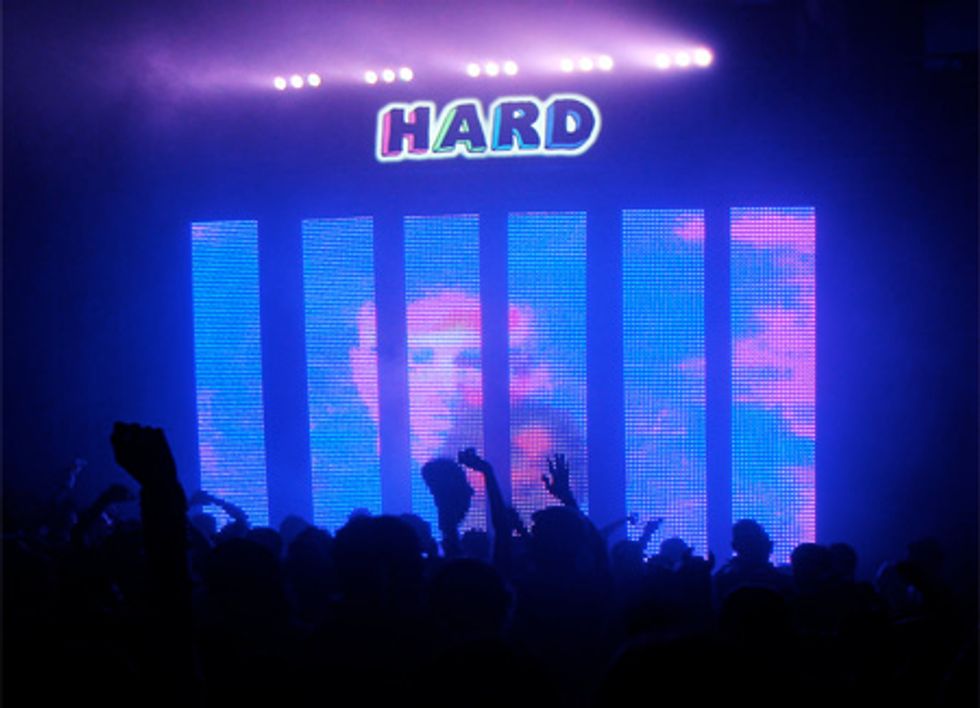 HARD Haunted Mansion gathered over 10,000 music freaks together this past Halloween at the Shrine Expo Hall in Downtown L.A. for what was for many an epic evening, featuring headliners Justice, Soulwax, Boys Noize, Crystal Castles, Simian Mobile Disco, Deadmau5 and Crookers as well as L.A.'s own DJ AM, Jason Bentley and Destructo. It was a truly unique evening -- where else could you find Sarah Palins dancing with Steve Zissous to "We Are Your Friends"?
The event planners had a naughty trick up their sleeves, and at 11 p.m., a figure stepped out onto the elevated Shrine Auditorium Expo stage wearing a Daft Punk helmet and a black leather jacket. The crowd was understandably freaking out in anticipation, but after a 30 minute climax, the mysterious figure took off its mask, revealing himself to be DJ AM. Though slightly disappointed, the crowd was pleased to see DJ AM perform after his recent plane crash...
The rest of the night's events were incredible, with a packed line-up including dance hit superstars Boys Noize and Simian Mobile Disco. Well into the early morning, the crowd "saw the light," and plowed through each other in the dark, all flocking towards the neon cross onstage where Justice performed a brilliant set.
As makeup and masks were wore off by 4 a.m., the one thing that seemed to remain was the incredible energy that united such an overwhelming number of people that evening.
Photo by Kristopher Peerali