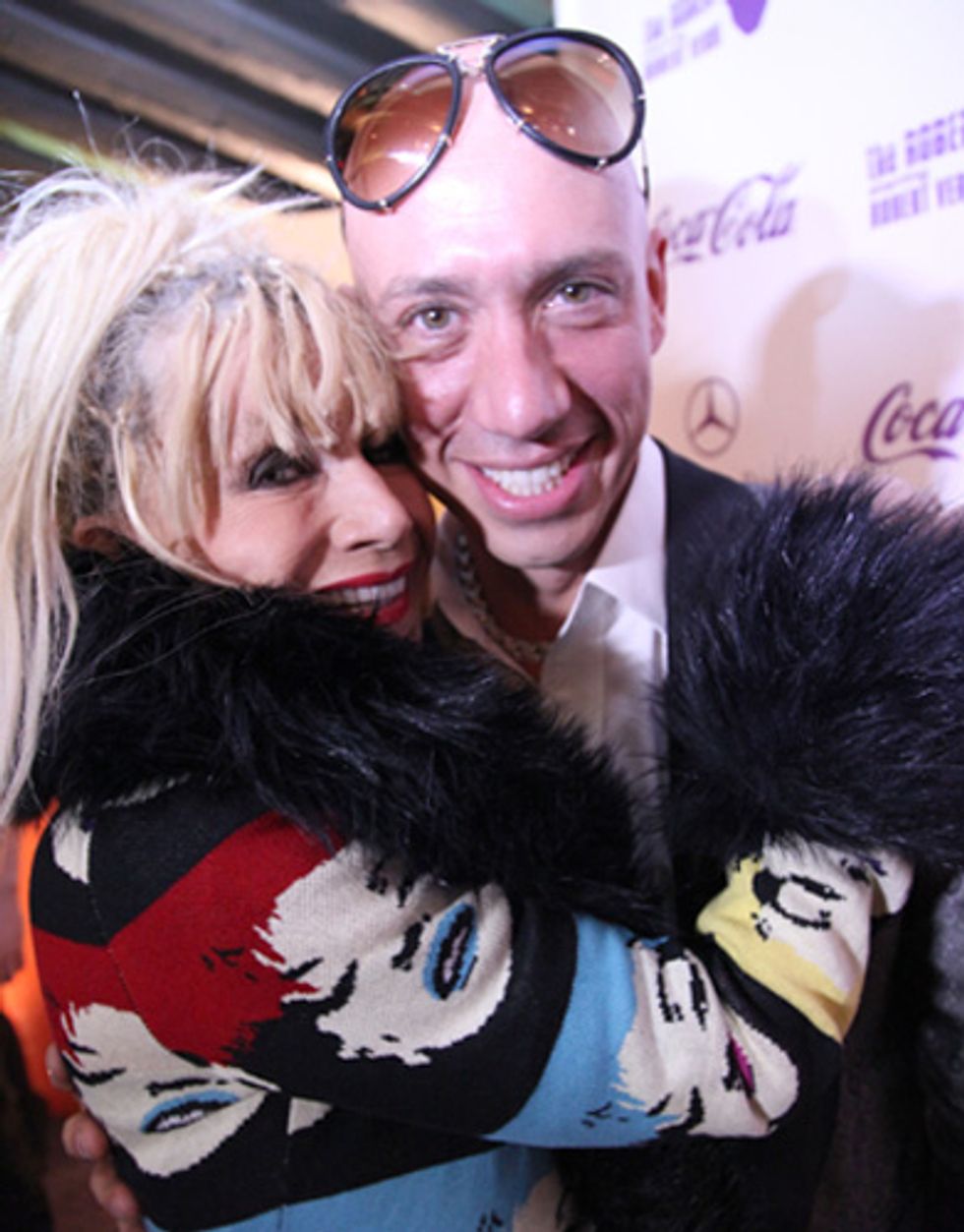 Robert Verdi
will tell you when you don't look good. The lanky sylist's candidness makes for an entertaining, albeit occasionally goofy, new
Logo
reality show
The Robert Verdi Show,
the first two episodes of which premiered last night at the
SVA Theater
in Chelsea. Although Verdi's directness is mostly used as comic relief on the show -- his normal-sized assistant's weight is frequently commented on, and Verdi  accuses him of breaking an elevator in the second episode -- several of last night's guests, who included
Betsey Johnson
,
Fern Mallis
,
Casey Spooner
and
Adam Dugas
,
Colin Cowie,
and aerodynamically coiffed duo
Dangerous Muse
, confirmed that Verdi's frankness is what makes him a good stylist. "He has a big mouth" said
America's Next Top Model
head mistress
Miss Jay Alexander
. Former
Project Runway
contestant
Jack Mackenroth
, who says he's glad the current season of
Project Runway
isn't as boring as the last, echoed the same sentiment with a bit more diplomacy. "He's decisive," Mackenroth said. "He knows what looks good on a person. He works with
Kathy Griffin
, and sometimes she's really adamant about what she wants to wear. But if he doesn't like it, he doesn't put his name on it." Indeed, previews for Verdi's upcoming season show Verdi and Griffin squabbling over a dress.
The City
star
Erin Lucas
, however, told us that
Britney Spears
is the celebrity most in need of Verdi's discerning eye. Longtime Verdi client
Sandra Bernhard
, who was bundled up in a faux leopard print coat, shared an important night time winter fashion tip with us: Aquaphor and socks.  "My feet are really dry. It's just horrifying -- I hate the sound of a dry heel across a bed sheet," she said, before changing the subject to the man of the hour, whose intuition, Bernhard believes, is his greatest gift: "He knows about human emotions and instincts." Big mouth aside, Verdi says his job goes way beyond choosing the most flattering neckline for his clients. "It's understanding a lot of social psychology," he said. "[Being a stylist] is really contingent on understanding what a lot of people don't understand, but that you need to understand, to understand fashion. That's a quote!"
Photo from PatrickMcMullan.com