She's hilarious, she's a master freestyler, she can rap to a ukelele beat, she's a style icon rocking looks like SZA's little sister, and now her first EP is out. Abby Jasmine, or @abbyjasminexo as she's known to her 700k followers across her socials, can do it all.
The 20-year-old Staten Island native is among the entrepreneurial Generation Z-ers wielding Instagram as a secret weapon to create all-in-one brands for themselves through memes, fashion and music. She got her start making comedic viral Vines, which often featured her rapping chops, but she always wanted to get serious about music. She steadily built buzz which she's parlayed into a record deal, and now she's showing us what she can do beyond a 30-second clip.
Her debut, Trap Mom is a jam-packed, hyper-confident, no-fucks EP comprised of 7 tracks of flexes, boy byes, stack-counting and advice to her haters. There's something infectious about hearing it all in her baby vocal fry flow, and you can tell she worships Future and Young Thug from the thumping, sticky and syrupy trap beats underneath her verses.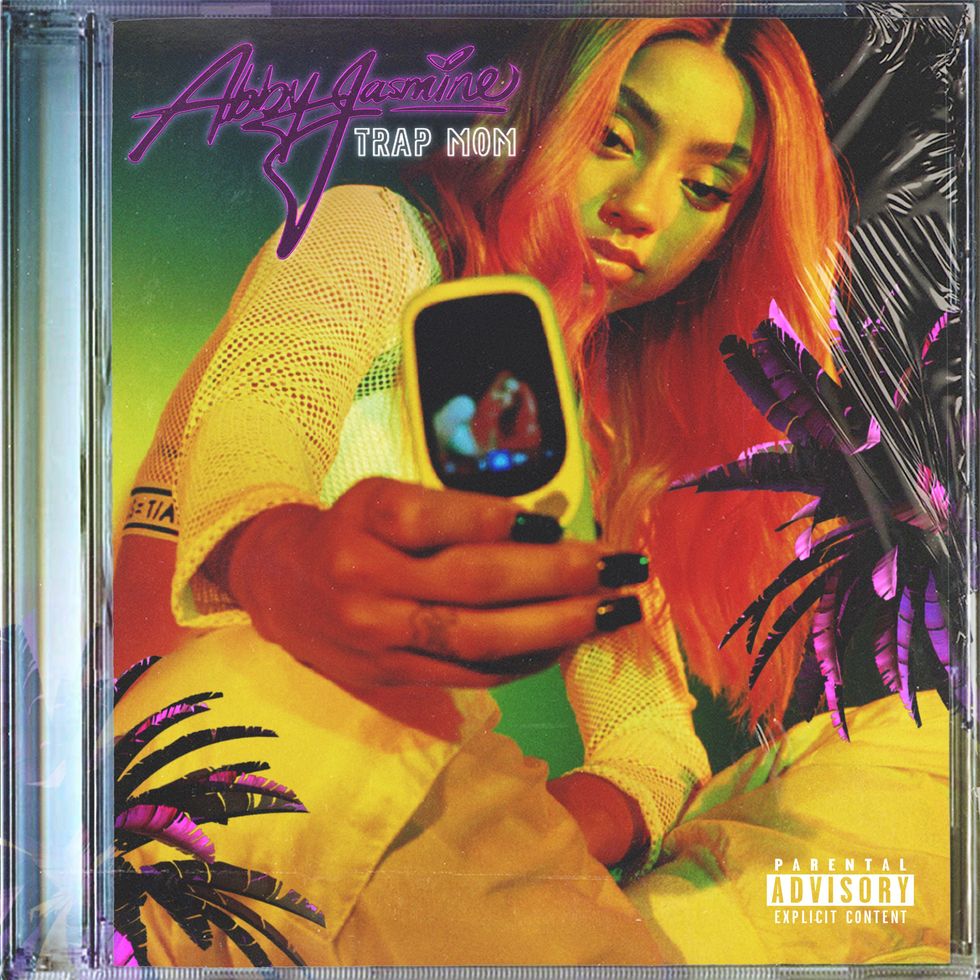 While she tells us agin and again that she doesn't care what we think, and suggests we can get the hell out if we're not down with her, there's also a brutal honesty in her songs — she's as candid in her verses as she is on Instagram. On the opener "Front Door," she fronts: "Yeah you know I'm stackin' never, ever lackin'/ tell that little hoe to pull up if she want some action" but quickly gets real as hell: "I feel like it ain't fair/ I feel like I do too much for n*ggas who ain't been there/ but I still ride for you/ I still cry for it if it came down to it." It's the combination of her fierce bravado and blunt honesty that makes it bang.
Today, PAPER premieres Trap Mom and chats with Jasmine about her Instagram come-up and musical roots.
How does the content you create for social media and your music relate creatively?
In everything I do I'm 100% myself, and I just do whatever I feel. If I make a funny video I'm gonna post it, if I'm in the studio and we make a fire ass beat I'm gonna make a song to it. Nothing is ever really too planned with me, I just go with the flow of things.
Have you always been musical, or was it a skill you only realized you had after experimenting on social media?
My mom and dad are both musicians (s/o to them for giving birth to me); I grew up singing and playing piano, [so] music was something that always came really natural to me, and I always wanted to take it more seriously. But back then a lot of people doubted me and it made me doubt myself. Once I learned the art of not giving a fuck, I just said whatever and made it happen. Looking back I didn't even think we would even be in the position we're in now, but we here and I got fuckin' PAPER premiering my shit bitch!
"Once I learned the art of not giving a fuck, I just said whatever and made it happen."
Tell us about creating Trap Mom. What do you want listeners to learn about you from it?
I got the nickname from my friends a couple years ago cause I used to sit in the trap in my bro's crib and serve niggas all hours of the night when everybody went out and no one was there to do it. As time progressed, I just defined it as a woman (or man, niggas could be trap moms, too) who just handles business and gets shit done despite the circumstance. Trap Mom is a collection of my thoughts and different feelings I was experiencing during the recording process. I was getting over a lot of shit that was holding me back, so you gonna hear a lot of "IDC, and IDGAF" in this project because it's true, I don't.
Who are your biggest musical inspirations, and who are your favorite social media creators?
Young Thug and Future are the goats. "Throwaway" by Future is in my top 10 favorites. I pull inspiration from all different types of music. Right now I been listening to a lot of Saint Jhn, Young Dolph, and Jhene Aiko. I like to watch a lot of tiny food videos, makeup vids and ASMR. I deadass find myself looking at one and then I end up sitting there for like 45 minutes 'til I'm like, Bitch, what are you doing? Also, I think Khadi Don is the funniest woman on the Internet. That is all.
Sign Up For The Morning PAPER