With a renewed interest in clean eating, natural products, and connecting with nature, society is focused on wholesomeness. Sensing that desire for a primordial lifestyle, designers Abdul Abasi and Greg Rosborough looked to the sartorial tendencies of isolated communities and lost cultures in their spring 2019 collection.
Related | Public School Graduates to Sustainable Style
"We're thinking about a pre-industrial time when things were handmade," Abasi explains citing the Hopi and Navajo tribes of Arizona as a point of reference. Natural textiles with a weatherworn look were cut and draped into shapes reminiscent of kimonos, kendo jackets, and ascetic robes. Shades of saffron and maroon evoked Tibetan monastic orders while the opening looks in black and closing ones in white, respectively touched on solemnity and purity.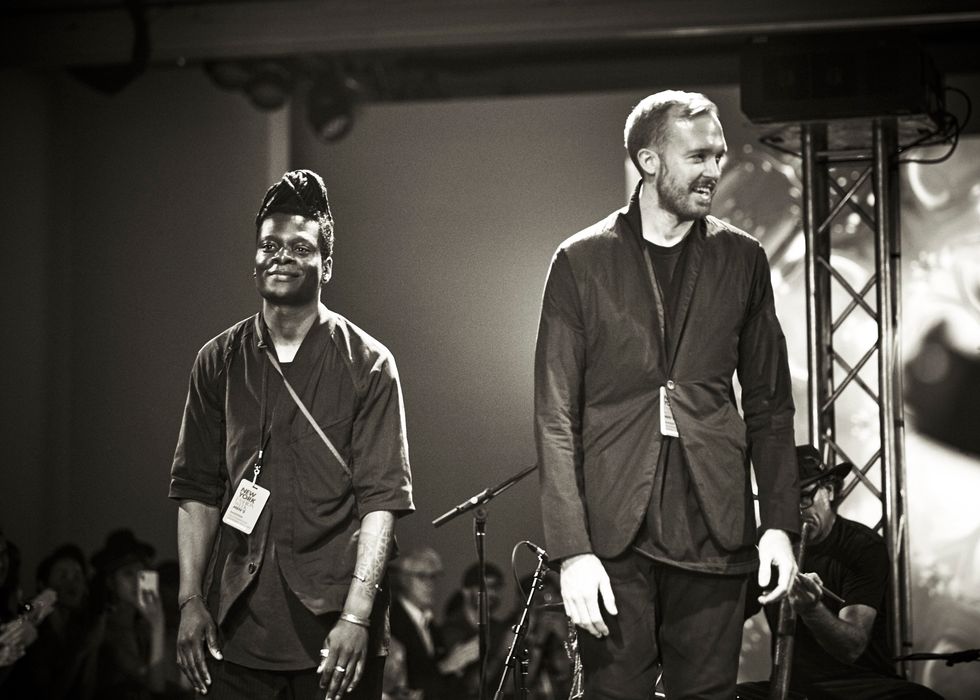 Abdul Abasi (left) and Greg Rosborough (right) on the runway post show.
"Marc [Meuller] told us that the most amazing night of his life was spent in the Moroccan desert with a Bedouin tribe," Rosborough says referring to the multi-instrumentalist who played the drum and didgeridoo at the runway show. "They wore cloaks that made their bodies more mysterious." That ambiguity came through in open silhouettes cut to accommodate different heights and body types.
Standing in sharp contrast to fashion's current preoccupation with flashy body-con clothes, the collection's subdued, meditative nature proves that simplicity can make a bold statement.
Sign Up for the Morning PAPER