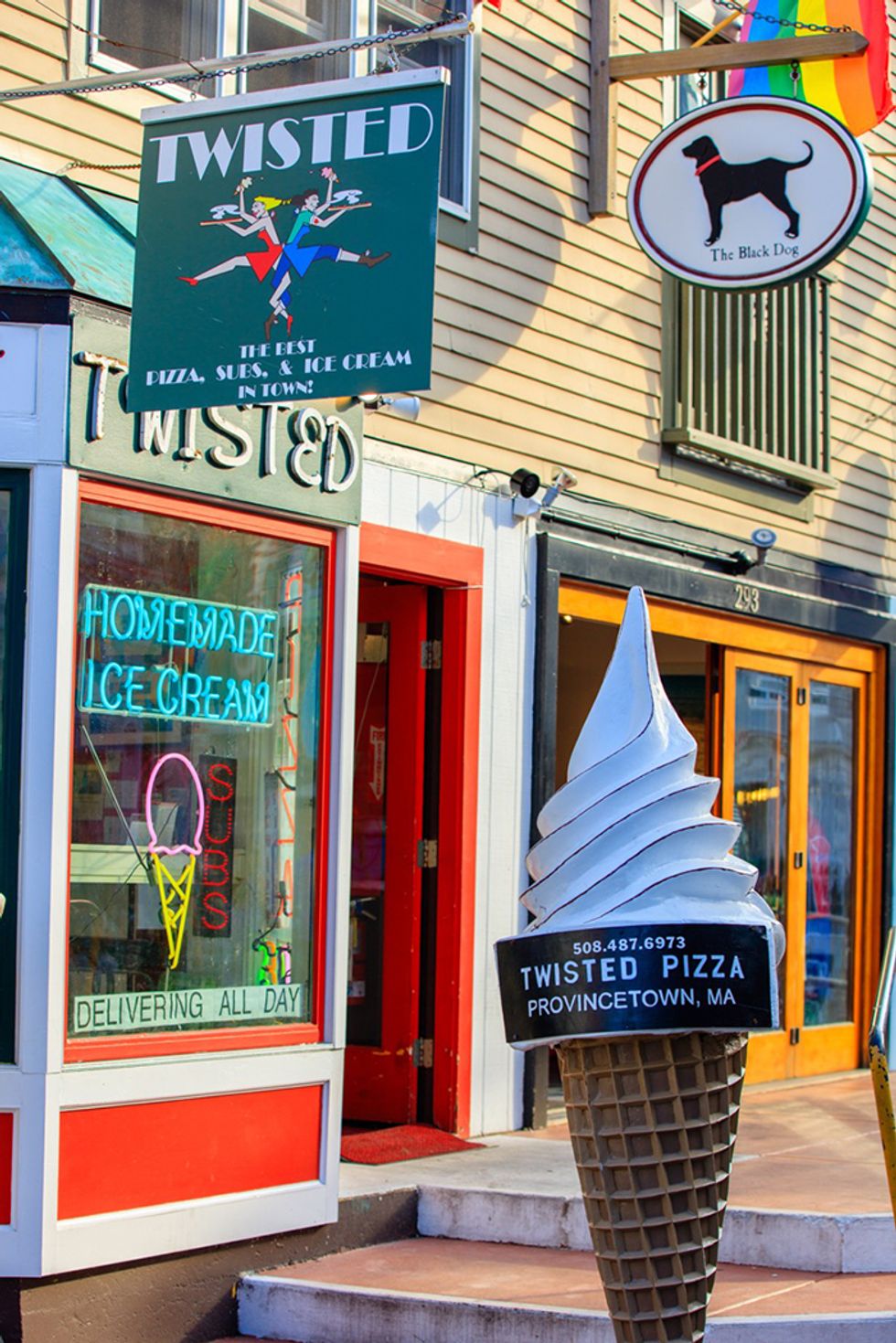 Photo from Twisted Pizza and Ice Cream on 293 Commercial St.
The proper timeline is as essential for a night's success as a good outfit, hydration or breath mints. In Provincetown the right schedule can ensure you're having as much fun as a tourist while being as educated as a native. And, like many nights out the world over, the perfect ending usually involves pizza.
7:00 - Dinner
The best way to prepare for a long, boozy night is rich, calorie-heavy comfort food, and Bayside Betsy's is a Provincetown synonym for uncomplicated home cooking. The menu feels like it came from your favorite suburban diner yet feels perfectly in place in Ptown. Meaty lobster rolls, tender prime rib, or Pasta Betsy (pasta tossed with artichoke hearts, asparagus, tomatoes, shallots and more) are tried-and-true classics. Don't worry about starting your night sober, their drinks are an indulgence of their own. If you've ever had a desire to have an electric blue drink (to match the décor), than check out their cocktail lounge, Mixers, which caters to the restaurant patrons as well. It's the place to get a drink inspired by the natural landscape without containing any natural coloring.
Bayside Betsy's, 177 Commercial Street, Provincetown, MA 02657, 508-487-6566
9:00 - Drinks
Once fortified, grab a well-crafted cocktail at the Shipwreck Lounge, where couches, fire-pits and a cozy courtyard create an environment conducive to conversation and meeting new friends. The pictures you take here won't be the ones you quickly delete or regret posting the next day -- there's sophistication to the place that feels a bit like you're hanging out in the lobby of a harborside boutique hotel. Order one of their specialty martinis to jump into your night or ease into it with a local wine. 
Shipwreck Lounge, 10 Carver St, Provincetown, MA 02657
10pm - Dancing
Everyone's a perfect dancer after 2 to 4 cocktails so flaunt (or feign) your confidence at The Crown and Anchor, an all-in-one campus of fun in Ptown: it includes a performance area, hotel, restaurant, and three bars. Best of all, the bars don't have covers. Start at the Video Bar, which, at night, often projects music videos on their giant screen like Destiny Child's "Bootylicious," Rihanna clips like "Pon de Replay" or "Diamonds," George Michael's "Freedom '90," and other slumber-party approved hits. After you've had your fill of videos, migrate outside where you can get some fresh air and take a breather by the deck and pool area. Get back into the action by entering their more dance-friendly bar, Paramount, which is connected to the pool area as well. Expect club hits, platforms for dancing, a rowdier crowd, and a general lack of inhibitions.
The Crown and Anchor, 247 Commercial Street, Provincetown, MA 02657
1am - Nourishment
Keep the night going, and prevent a morning hangover with a perfectly greasy slice (or three) at NYC Twisted Pizza and Ice Cream, which stays open until 2am. If you haven't made a new friend yet, there's no better way to bond than a late night pizza. Whether you trust someone who orders a Hawaiian slice is up to you.
NYC Twisted Pizza and Ice Cream, 293 Commercial St, Provincetown, MA 02657