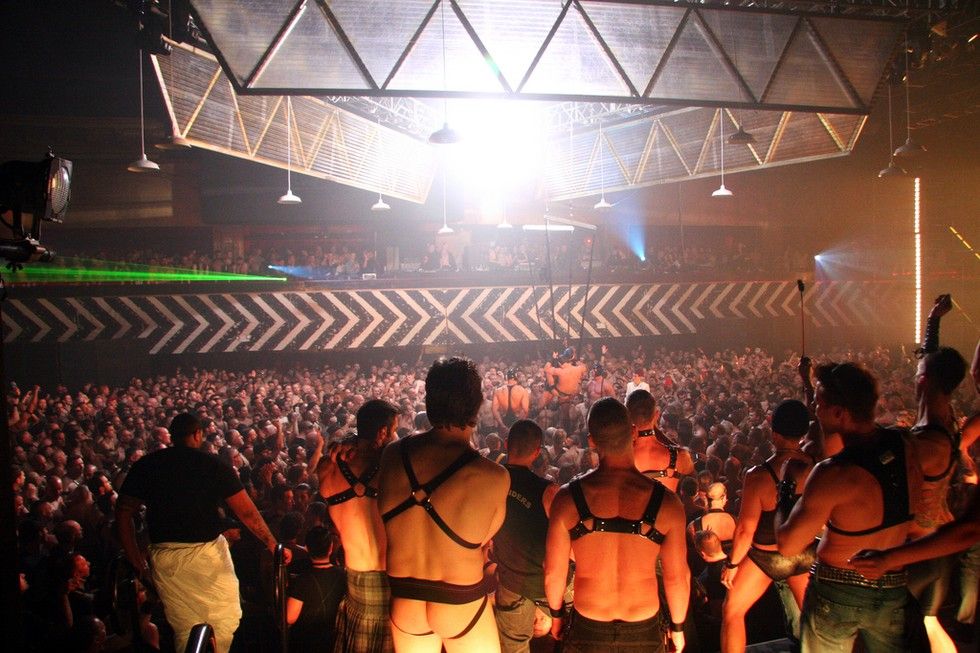 Rejoice, bitch -- the most important celebration of gay fetishism in the Tri-State area is mere days away. Thousands of masters and slaves will gather at Roseland Ballroom next Saturday for dancing, merriment, and leather-clad amusement for the annual
Black Party
. For those of you who aren't familiar, the Black Party is a gay S&M-themed dance party, where your dirty, dirty dreams can come true. Especially if your dirty dreams include swaying in a sling while accountants and lawyers by day don chaps and a harness and call you "boy." I could not be more excited. And though I know it sounds like heaven, without proper planning this BDSM Shangri-La can become a horrifying hellscape quicker than you can scream, "Spank me!" Here, I share a list of tips to ensure the Black Party only leaves your butt bruised, and not your soul.
Dress Appropriately:
The Black Party is more or less a costume party. Don't be the spoilsport who dresses in their normal gear. At the least
find yourself a harness
! No one is going to want to dominate you in
your Old Navy cords
.
Drink Lots Of Water
:
The Black Party starts at 10 p.m. Saturday night and goes to 3 p.m. the next day. If you're going to last, you have to hydrate!
Avoid The Bathrooms
:
OK, I know I just told you to drink a lot of water, but, seriously, you can never un-see that
shit. Never.
Don't Judge
:
But that said, whatever you see at this event, try to keep an open mind. Like, maybe you might see someone being fisted on the dance floor. This happens. A lot. If that's the kind of thing that would make you freak out and start pointing and laughing or to act righteously offended, this might not be the party for you. No one is going to force you to your knees and make you lick their boots. Unless you want them to.
See you next Saturday, bitch? Go
here
for tickets.
Above: photo via TheSaintAtLarge's Flickr stream.