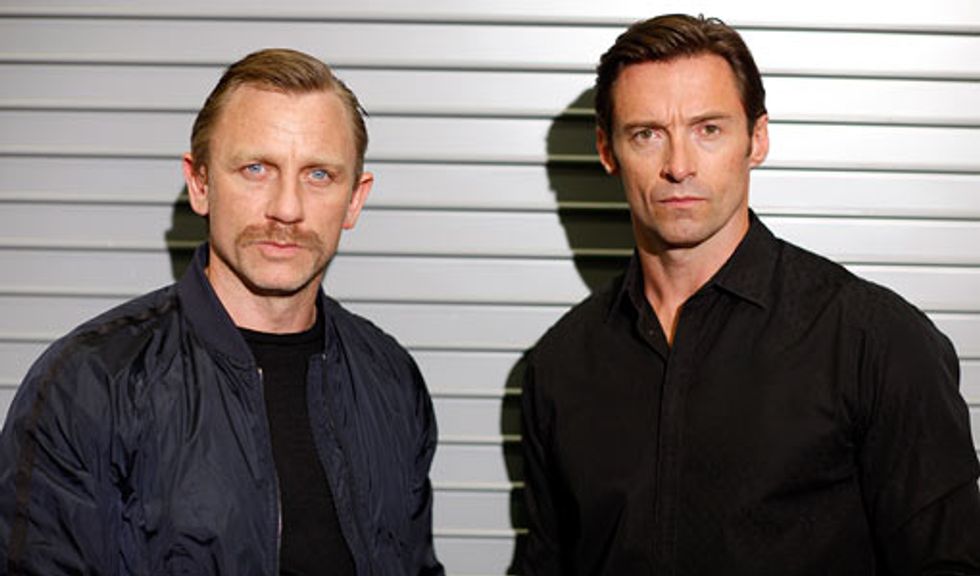 It seems awfully early to be giving out awards for the 2009/10 Broadway season but after seeing a matinee performance of A Steady Rain on Saturday, I have an award I'd like to give out before the Spring Tony-rush. And the winner for Best Ass on Broadway is... a tie between Daniel Craig and Hugh Jackman, the show's two blockbuster-quality stars. How can one really choose between Craig in gray, high-waisted suitpants with suspenders and Jackman in a classic workman's khaki? They're two completely different tastes.
I realize that this is not a nationally recognized nor legitimate award but sometimes shows come along that call for a change in the rules. (The short-lived Best Performance in a Re-Created Role Award, inspired by Reba McEntire's performance in Annie Get Your Gun comes to mind.) And I believe that once more people see A Steady Rain -- set to open tomorrow Sept. 29th -- they will understand the necessity for this new award as well, although the new play about two Chicago cops is already getting a lot of attention and fan appreciation. On Saturday afternoon the two very handsome and physically fit actors got a standing ovation and were greeted by a mob of female fans gathered outside the stage door and across the street as they hopped into their waiting black SUVs.
I can assure you that this is not the same scene greeting Philip Seymour Hoffman outside the NYU Skirball Center after Othello!
A Steady Rain will open on Sep. 29th at Gerard Shoenfeld Theatre, 236 W. 45th St.