Our potential Doomsday is finally here -- namely the moment we've all been dreading since Donald Trump was named the Republican presidential nominee back in July. But other than voting, what else can you do? Protest the man who goaded the American electorate into this parodic shitshow of democracy, obviously. As such, we're currently compiling a running list of all the anti-Donald Trump capers happening across the country this fine election morning -- which features everything from bagels to the classic en-masse "boo" -- in a sort of fuck off to this circus that's engulfed our collective cultural consciousness these past few months. Check it below.
Star Wars Stans

A short time ago (last night) in a galaxy far, far away (midtown Manhattan) a group of four men assembled in a van and beamed scrolling, anti-Trump messages onto various buildings.
YG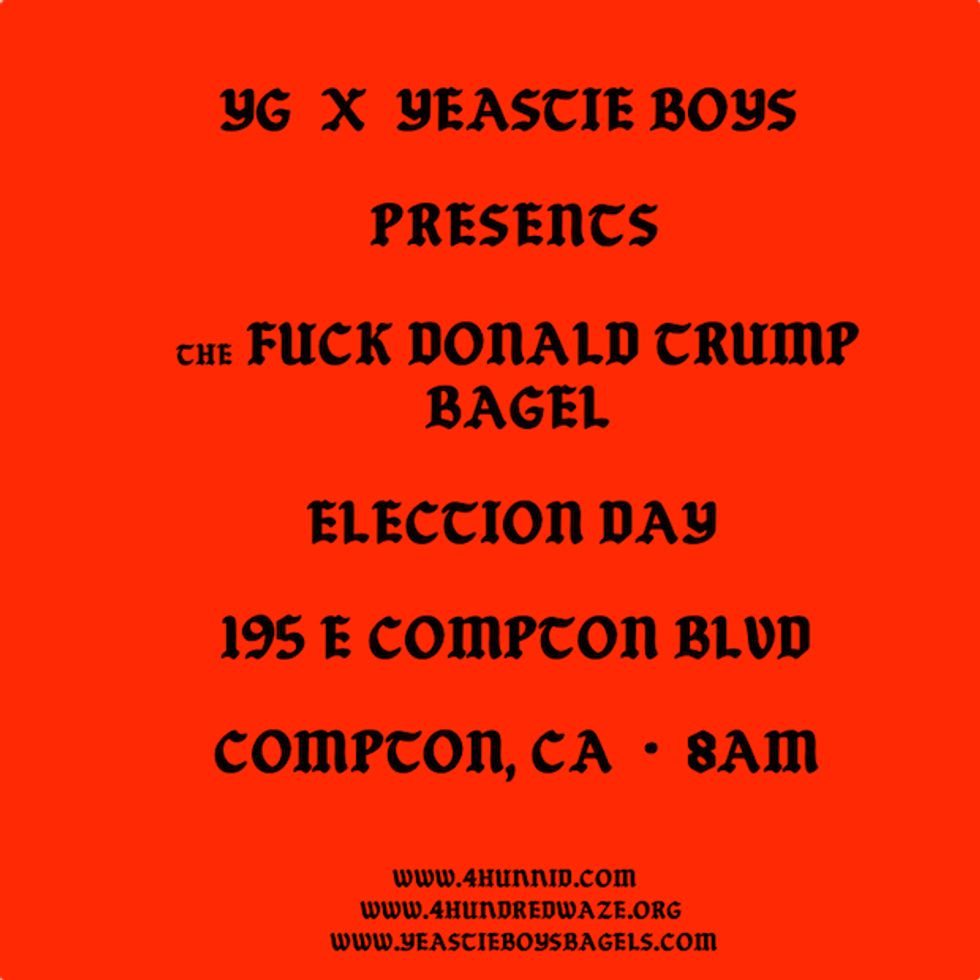 Rapper YG, he of viral "Fuck Donald Trump" fame, is apparently giving out blood red, hand-rolled "Fuck Donald Trump" bagels in his hometown of Compton, CA for free today. A collaboration between his non-profit 4 Hundred Waze and punnily-named bagel purveyors Yeastie Boys, the bagels will be available in limited supply.
Topless Women
Earlier this morning, two women went to Trump's Midtown East polling site and took off their shirts to reveal the words "Trump, grab your balls" and "Hate out of my polls" painted on them. One of them also reportedly had "Femen USA" on her back, though both women kept yelling "Grab your balls! Off of my boobs!" before their arrest.
Royal Jordanian Airlines
Our election has become such an international joke that even Jordan is taking this opportunity to LOL at us. Behold, Royal Jordanian Airline's new, tongue-in-cheek fare sale to the good ol' US of A ahead of Trump's election and subsequent Muslim ban. Ugh.
Memelords
Live from Teenage Stepdad's feed is the 1st Annual Trump Voters Who Aren't Dickheads Convention...
Booing Crowds
Nothing like a classic, booing crowd, amirite? And, of course, seeing as how Trump is extra despicable, he gets one on the way in....
...and an even bigger one on the way out.
Parades, Parades, Parades
Chance the Rapper, who performed for Hillary Clinton at Tidal's Get Out the Vote rally in Cleveland, Ohio, on Friday, performed a free concert in Grant Park--in his hometown of Chicago--which resulted in the MC leading thousands of people to early voting polls.
Felt crazy to be part of this. @chancetherapper #paradetothepolls #Election2016 pic.twitter.com/WASY7Zp0uf
— sophia. (@SooFeeYah) November 8, 2016
DEMOCRACY IN ACTION.
Many of the people chanted "Fuck that Trump," for good measure.
.@chancetherapper leads huge crowd through the loop to early vote location. @cbschicago pic.twitter.com/XtBN5D6GUH
— Charlie De Mar (@CharlieDeMar) November 7, 2016
NYC's Department of Sanitation

It's good to know Gotham's garbagemen are also well aware of where the proper trash pick-up locations are.


Marilyn Manson

If you're going to release your new music video on election day, might as well be one in which you decapitate a Trump effigy? NSFW, obviously.
And in the aftermath...
For tomorrow, if (God-willing) Trump is not victorious, a Facebook event called "Point and Laugh at Trump Tower," with 13,000 planned participants, is happening at 725 5th Avenue from 11 am to 2 pm.
Be there. Be jeer.
And while less savory, there's also a "die in" at Trump Tower option if he does win...
photo by Will Ragozzino/BFA.com

You May Also Like