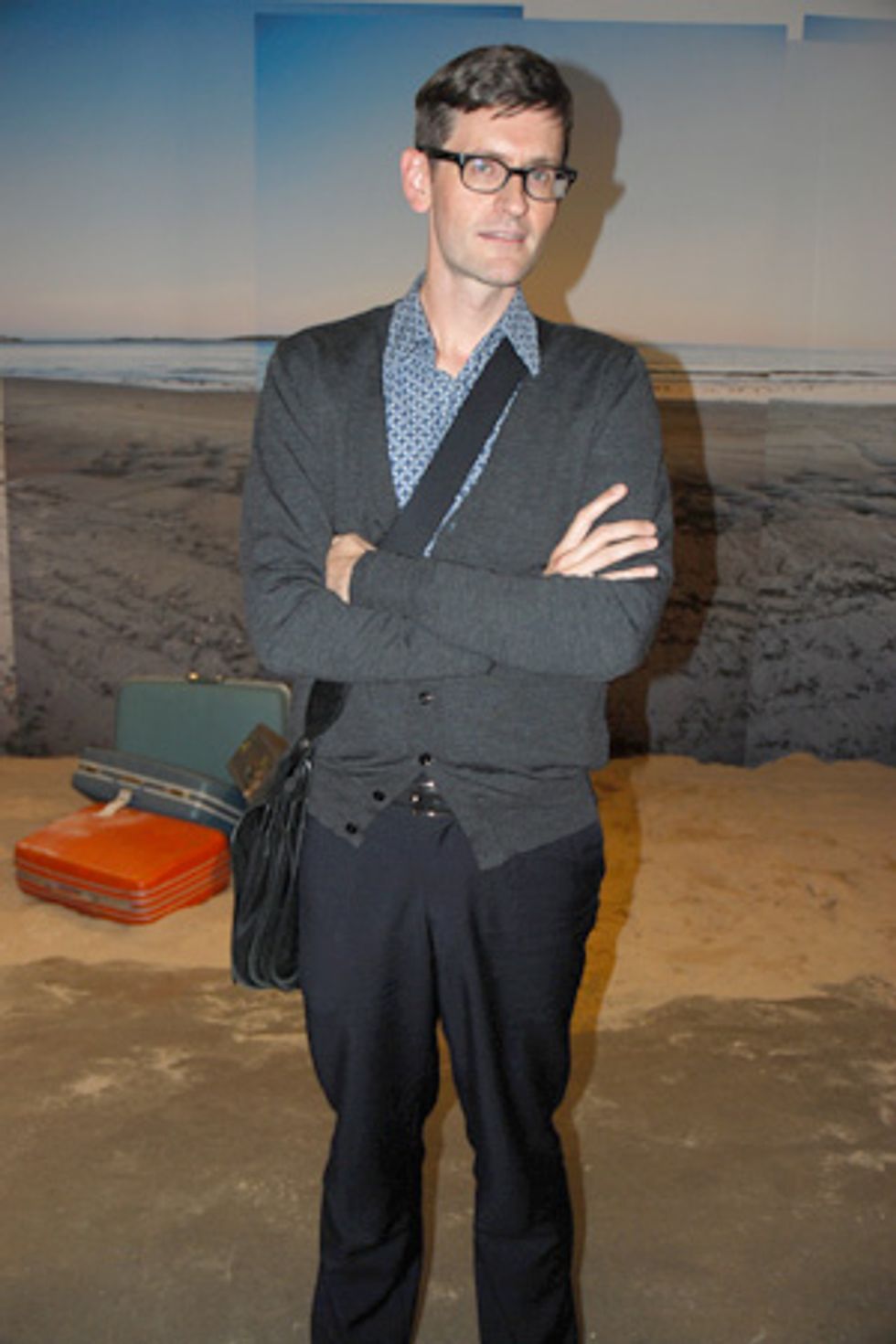 WHO: Mark Holgate
OCCUPATION: Senior Fashion Writer for Vogue
SPOTTED: At Milk Studios for the Boy by Band of Outsiders presentation
WHAT DID YOU THINK OF THE COLLECTION? DID IT MAKE YOU LONG FOR SUMMER? Well, it kind of does. It makes me long for an idea of summer, it's a great idea of summer. It's the perfect summer; easy, cool, casual and great. And not so high-bar. That's what's great about [designer Scott Sternberg's] clothes is that he thinks things through so well, but it never looks like it's overly complicated. They're beautifully tailored, and he does casual wear really, incredibly well. What's really amazing is that he always manages to make presentations fun. The models are having fun, they're busy playing ping-pong, you're trying to avoid getting hit by a ball. Last season, he did an incredible installation downtown in SoHo. It was a deconstructed office building, and now he brings the beach to the West Side Highway basically.
LEAST FAVORITE FASHION TREND RIGHT NOW? Can we just leave the '80s alone? I'm tired of the clichés of the '80s. if it's done interestingly and well, then it's great but I just feel as though it's been heavy-handed and a little obvious. I remember it the first time around, I certainly didn't wear it the first time around, but I remember it.
WHAT'S THE MOST PLAYED SONG ON YOUR iPOD RIGHT NOW? Speaking of the '80s, I'm listening to the music that I would listen to as a kid, so "Reward" by Teardrop Explodes.
CLICK HERE FOR PAPERMAG'S COMPLETE DOWN-LOW FASHION WEEK SPRING 2010 COVERAGE. >>