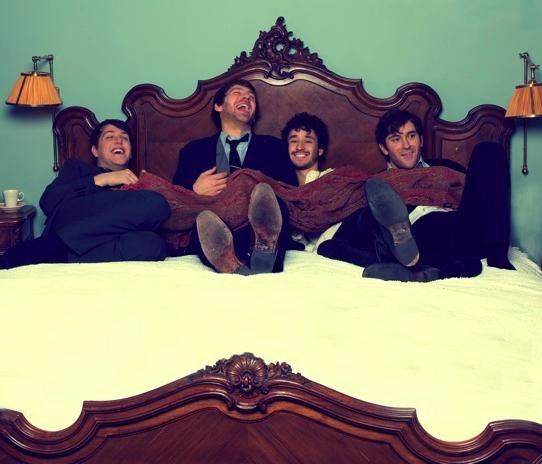 NYC quartet (and
PAPER TV
stars) the
Postelles
are getting ready for a cross-country tour in support of their new,
Albert Hammond Jr
.-produced EP
White Night
. Before they hit the road, however, they're generously playing free shows every Wednesday at the Bowery Electric starting tonight through Feb. 17th. They'll also be swinging by
Carnegie Hall
March 2nd to partake in
Who
tribute concert, "The Music of the Who." Below, frontman
Daniel Balk
and drummer
Billy Cadden
discuss their recent shows with
Vampire Weekend,
how
Woody Allen
influences their sound, and give us a few travel tips.
Besides playing a tribute concert to the Who at Carnegie Hall the same night your EP debuts, how else will you celebrate White Night's release?
That night we will definitely be out and about, hitting as many bars as possible throughout the city in anticipation of our US tour. Having said that, Carnegie Hall is a perfect celebration for the release of our EP, as it is one of the most beautiful venues in the city.
What Who songs will you be covering?
We will be covering "Can't Explain" because we find our music relates well to the Who's early punk sound. We would be going out on a limb, trying to cover "Pinball Wizard."
You count Woody Allen and Grace Kelly among your influences. How have they shaped your sound?
Woody Allen's influence on New York City can not be overstated. His subtle descriptions of love in the big city have had a huge impact on our lyrics. Grace Kelly was the face of a generation that meant so much to us and has impacted our music tremendously. We often find great films to be similar to great songs. Watching Grace Kelly in Rear Window and Woody Allen's Manhattan inspires our band to create music that will have the same effect on music listeners as their movies did on the viewers.
White Night is out March 2nd on Astralwerks/Capitol.
You just came off some dates opening for Vampire Weekend. Any highlights?
We'd never played in Canada before and we were really impressed with how amazing both Toronto and Montreal were. We felt like we were in Europe, which was pretty amazing considering it was only a seven hour drive from New York City. Along with the traveling, seeing Vampire Weekend preview their new tracks for audiences that had never heard the new songs before was inspiring. They were great and really engaged the crowd, even though they didn't know every track. We learned a lot from that experience.
After your Bowery Electric shows, you leave on a lengthy cross-country tour. Do you have any traveling tips to share with readers?
On our tour we travel from Minnesota to Florida to Denver to Portland which means it will be vital to pack both bathing suits and winter coats! Also it is important to keep yourself busy. Bring a few books and travel with people you like, because by the end of the trip you may not be as fond of one another. You don't want anyone to jump ship, so patience is important. We feel that appreciating the beauty of the country will be easy and make it very pleasurable. But for the average traveler, pack what you need, don't pack your whole closet! You can always get stuff on the way, unless you are traveling through almost every state in the country like we are. That's a whole other story. 
The Postelles' White Night is out March 2nd on Capitol.