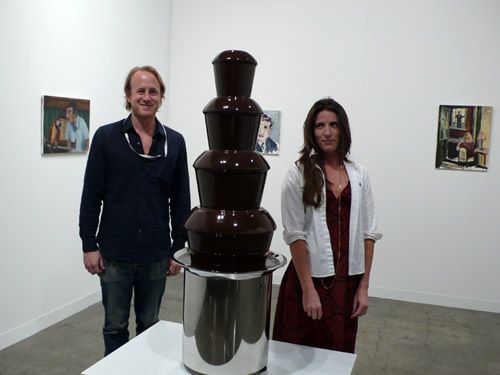 Taxter and Spengemann is one of my favorite galleries in New York. Kelly Taxter and Pascal Spengemann are young, attractive and absolutely on top of their game. Their gallery isn't folding. It's actually expanding. Whaaaa? I know, it's weird, but it's actually not at all weird when you consider their roster of up-and-coming artists and the range and variety of shows they put up at any given time. Lately, they're teaming up with Andrew Kreps Gallery to present a unique environment called T&SnKreps on the first floor of their old space on 22nd Street. They're moving to a space on East 12th Street, but we'll get into that later. I met up with Kelly for a little SESSH down in Miami, amidst all the parties and SELLING OF ART going on.... Here's a snippet of what we discussed:
Kelly, if you could describe the essence of Taxter and Spengemann in one word, which word would that be? (I love the word essence.) Irregular
Talk about T&SnKreps. I am so interested in this.
It's a season-long collaboration with Andrew Kreps Gallery taking place on the first floor of our former gallery. We're putting on shows that we couldn't or wouldn't do on our own and I have to say, it's a lot of fun.
The new space you're moving into (123 E. 12th Street) -- isn't there something historically interesting about it?
Yes, Frank Stella used our building and the one behind us as his studio for many years. You can see our space in a few books of his, like the one about the Moby Dick series that my friend Justin recently found for me (long out of print), and in Working Space. I think most recently he used the building behind us, which is huge and gorgeous in a similarly dilapitated way. That one has had a weird past also -- the 19th Century elite of New York bought their ponies there and then during WWII the ladies of the city made bomber planes in
there.
Wow, how cool! How did you land there in that ridiculously awesome spot?
Pascal lives on 12th and he saw a sign walking to work and we called the number and we signed the lease.
Easy. Simple. That's how I like things, usually. So, now that you're all up on 12th Street, and it seems like Chelsea is going the way of the Dodo, can you comment on the possibility of the "new Chelsea?"
Whatever happens next will probably be more like L.A. -- disparate groups of like-mindedness.
Do we need another Chelsea?
I've never taken a position against Chelsea. It's a place for a whole lot of people to see really excellent and really shitty free art. It helped us start up more easily. I mean, now I'm really sick of it -- been there since '99 in some capacity. I don't think its such a big deal if a bunch of galleries huddle up. Safety in numbers. New York can be brutal for new small businesses of any kind. I think the most important thing is to define yourself, whether you're in the "arts district" or Timbuktu. That's your job as a gallery: to find artists and make a program that does something else not just IS
somewhere else.
Where do you see the New York art world in five years?
Well from 03-08 it got really really big. Maybe from 08-13 it wlll get really really weird. The art world is not weird enough.
I couldn't possibly fit a complete agreement statement with that in this space. "In this economy???" is my favorite new phrase. How is the economy affecting your gallery?
We are in an expansion so our perspective is all warped and our minds already bent. Of course less people will buy art but I am not old enough or wise enough to understand the impact of that. I will learn along with everyone else. Learning is good.
You're just throwing pearls of wisdom at me. Sounds like your head's in a good place. This must help every aspect of your business. And it's clearly paying off. We can't WAIT to see what you guys come up with next. We'll be there to see the innaugural show at the new space in January, which is a solo show of the work of Matt Johnson, starting on the 10th. Readers, you should come too!!!
Pictured above are Pascal Spengemann and Kelly Taxter with a peice by Frank Benson. Photo by Johnny Misheff.