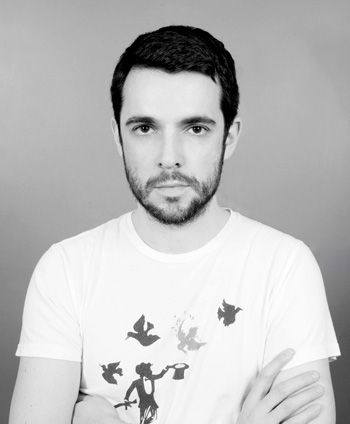 Hailing originally from Northern Ireland, Eamon Harkin is one half of Mister Saturday Night, the incredibly successful party he runs with Justin Carter -- which is having its last run at Santos Party House this weekend. "First and foremost a DJ," this promoter and producer came to Gotham from London to work in the "underground" scene—something he insists is more a spirit and set of values than anything else.
How did you get your start here?
A friend of mine in London had a party, Calling All Kids (named after an Arthur Russell track), and after moving here five-or-so years ago I started that weekly party here at Sapphire¬—old school house club on Eldridge St. It was a lot of post-punk, disco, indie rock, and underground dance music.
I also played at Motherfucker, which was kind of the top of the tree at that point, which introduced me to Justin D and then my residency at Studio B, called FUN.
Weren't you also flying to Berlin to do parties at that time?
Yeah, after playing at a club called TAPE, I started making repeat appearances and helping the owner with booking, I brought in European guys, James Friedman—it's a wonderful place, and Berlin is really at the top of the clubbing ladder: the city values and supports the nightlife industry and what it brings to the city—it's still cheap there, so lots of artists and creative types. I suppose it's a bit of a cliché but there's just lots of underground stuff going on, so it's great to go there.
What makes something underground?
That's a good question…it's got something to do with the spirit of the way it's presented. Sure it's entertaining, but [throwing parties] is also an art form, and it's underground if it's pure to the values of the music as it was originally created. A place like Santos tries to be the essence of downtown NY: the clash of different scenes that have a thread of being creative, innovative and adventurous towards new kinds of music—and that's what Mister Saturday Night has been all about.
Like, we'll have Kerry Chandler play—he's an old school, soulful NJ house hero, then we'll have Francis and the Lights, who is this charismatic Peter Gabriel type character, playing an energetic post-punk live performance.
With all those guys, there's no bullshit about it, it's their art form and they love music passionately—that's the kind of thing that I'm attracted to and we go after.
That brings me right to the next question, are you Mister Saturday Night?
[Justin Carter and I] pretend that we're mere pawns for Mister Saturday Night's game; he's this larger than life character that sits behind us and runs the party, and is the party. If you've been to Santos on Saturday he even speaks to the crowd, magically coming out of the speakers…
In the end we wanted to produce something with a unique name and story, more than a couple of headlining DJs—something with a good aesthetic and personality.
What is your relationship with Justin Carter, what does he bring to the table, and vice-versa?
Around the same time I was working at Studio B, Justin Carter was the music director at APT and invited me to be a resident a weekly party with Afrika Bambaataa and DJ Lindsay from Negroclash. After working together we teamed up with DJ Doug Singer to create Sunday Best at the Yard—a 15 week series last summer that we booked top-notch DJs for and acted as the residents. It was a roaring success and we decided to work together more closely. He has impeccable taste and a great skill set, but we're greater than the sum of our parts in that the decision process between us is very democratic—booking at Mister Saturday Night you'll see the personality of our tastes coming into play, challenging each other in a constructive way. It's funny, as DJs we play solidly together, you find that Justin would go more deep and soulful than I would, and then I would go a little edgier and harder, and putting them together makes a great set.
So if you guys are Mister Saturday Night, then what is New Release?
New Release came from Justin's weekly email list, which had a lot of subscribers and was a great weekly listing of cultural things to do in New York. We took that and made it more music-focused, curated to include great underground parties (including our own), or things like a documentary about Sonic Youth or whatever— and now the website will go live in the next couple of weeks.
For someone with his ear to the ground, whom are you excited about?
At the minute, I'm currently obsessed with the Detroit sound, from people like Theo Parrish, Omar S, and this guy Kyle Hall who's only 17. Detroit House is raw, soulful, with this vibe of Detroit that I can't describe because I've never been there! But I can feel that atmosphere from those producers for an ongoing basis. They'll all be at Sunday Best this summer and were already at Mister Saturday Night—it matches my desire and mood for great, soulful house.
In Europe, there's this deep house label from Germany called Innervisions. New Release did a party at (le) poisson rouge with two artists in March (Âme and Henrik Schwarz). They have a fantastic deep house vibe with a streak of world sounds in there…the right amount of soulfulness and restraint that matches my personality.
So what's all this I hear about Mister Saturday Night ending?
Yes, actually, this Saturday is the last one—it had been a perfect marriage, truly, with a great vibe and wonderful people, and we worked hard and spent lots of hours there during the week discussing lighting and booking talent. But even though we were brining in like 550 on Saturdays, Santos simply needs more revenue to keep it afloat—but the relationship is still strong. People are genuinely disappointed, so there's hunger and appetite, and so we'll be doing Mister Saturday Night through May and June at (le) poisson rouge and a secret Brooklyn loft—so it's by no means dead.
What made your time at Santos a great underground experience?
Programming music in two different rooms that came together cohesively, bringing in diverse people. This week will be unique, DJ Pierre and Mark E. But last week we had Rub N Tug in the basement, so there was disco, punk rock, rock 'n' roll—a real downtown crowd in there. Then upstairs was Kerry Chandler doing his soulful house, but with a live holographic projection of all the old soul singers singing in track with the old school house people. Oh god, it was perfect! We almost wanted it to be our last Saturday because it was great crowds, a great vibe. They were kicking people out at like 4:45—what a way to go out, and that was the vision: to do that every week.
Is having that diverse, mixed crowd always the ideal for a party?
Good question. A lot of people say it's great when you get lots of people together—I don't want to sound snobbish, it still needs to be the right kind of people, with a common value of acceptance and adventure. I mean, if you go to a wedding, there's lots of different kinds of people there but you still need to play "Billy Jean" to get the dancefloor.
At Mister Saturday Night, there were old school house heads—guys who used to go to the Paradise Garage, or Danceteria; then there are guys with more of a downtown, indie and rock 'n' roll vibe; we've seen a strong gay presence. So you've got lots of people that appreciate music in different ways—when you've got those combinations together it's exciting.
It can be almost equally satisfying to just to throw something like Ewan Pearson at Love, where we had 400 people really into techno but it was great: they were into just listening to great techno through the soundsystem at Love -- it can go either way. I would say the different elements coming together is more my taste. That seminal, old New York story of punk rock meets rap, like via Bambaataa is what it was sort of like when I first moved here. You kind of got that at Motherfucker. I haven't seen that happen a whole lot since then, it's more discrete scenes.