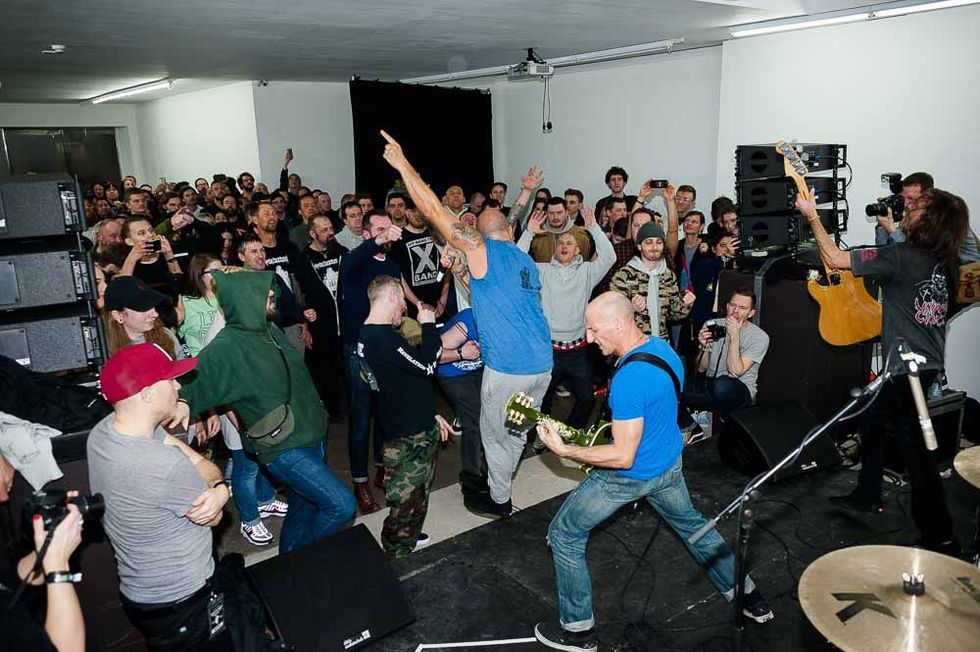 Most fashion or streetwear collections that draw from hardcore punk are met with either outrage or indifference. Anyone passionate about punk covets the genre and its history, so celebrities outfitted in faux-vintage leather jackets emblazoned with obscure band logos or outright theft of punk intellectual property elicits eye rolls. And for the uninitiated, the imagery is often just another logo or slogan screened or stitched on a garment, lacking context or nod to its anti-establishment roots.
Rarely does a designer occupying the high-fashion space ever have the pedigree or authenticity to draw from hardcore punk with any credibility, but Sweden born Jockum Hallin's connection to the community that created the aesthetic is both earnest and authentic. Hallin co-founded Scandinavian brand Our Legacy in 2005 with partner Cristopher Nying and while the clean design and price point of the line doesn't immediately scream "punk," he spent his salad days in the '90s going to all-ages matinees, playing in hardcore bands, and thirsting for any bit of intel about American punk. The brand's recent collaboration with Vault by Vans draws from the motivational sloganeering and iconography of the American hardcore look, fusing it with a minimal, bold color palette, rife with youthful energy.
"It's totally an homage (to hardcore)," Hallin said. "This aesthetic made me who I am and I developed from there. The challenge for me was to make something that felt timeless."
Center to that loveletter are some of Vans' most iconic sneakers, modified with Swedish-sourced leather and several garments that repurpose hardcore salvos, including "Use Your Head" and "P.M.A." For Hallin, the Authentics, Half Cabs, Sk8-Mids, and Old Skools symbolize more than just form and function. Hallin spoke of the hours he spent as a teenager, flipping through Thrasher and other skate mags and punk zines, looking at ads and photographs of Vans, equating them with the pulse of the movement. Whether you were growing up in Sweden, Boston, or Washington D.C., owning a pair of Vans connected you to the disparate punk scenes burbling up all over the world and signified your perspective and ethos.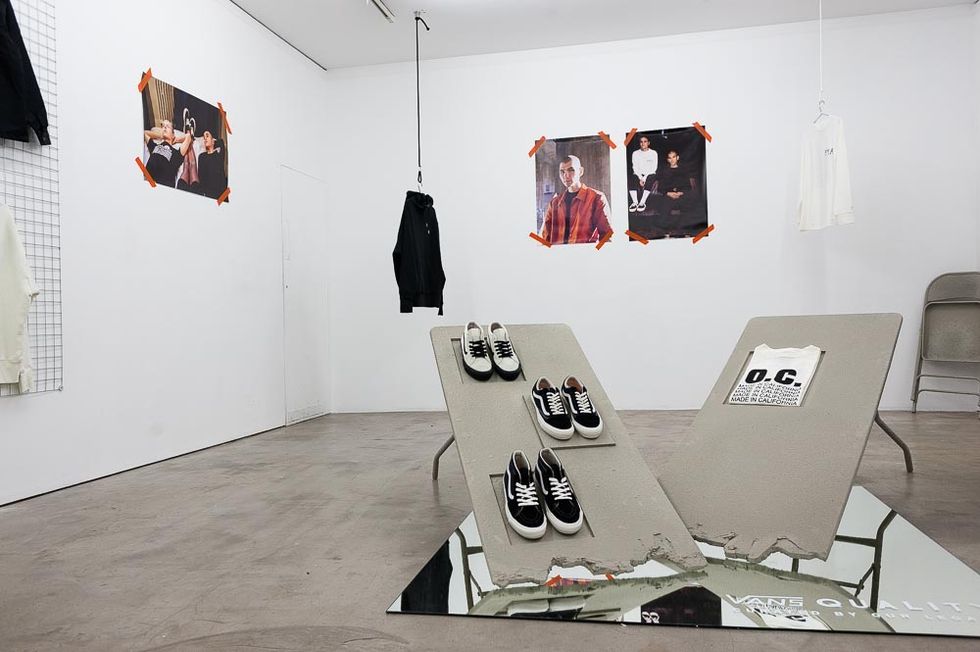 With his collection, Hallin sought to tie into Vans' history with the birth of American hardcore. The cross-pollination of Our Legacy and Vans' audiences is an interesting juxtaposition that mashes up the perception of each brand, pushing them confidently into new spaces. "Collaborating with Jockum and Our Legacy was more than just working to bring product to fruition," said Vans Head of Global Design, Colin O'Connor. "It's telling the next chapter of youth culture, while having a foothold in history. We really feel like the time, attention, and detail poured into this represents the verve and vigor that birthed punk, skating, and keeps them vital today."
While Hallin's designs took inspiration from the past but remixed it to something new and fresh, one nod the project did give to the '80s was the inclusion of Youth of Today, who performed at the collab's launch party in a stark gallery setting in the somewhat incongruous location of Fitzrovia, the posh neighborhood in Central London. What Youth of Today -- like Vans -- captured was, in many ways, the opening up of punk and hardcore to include more followers. Whereas it began as a small subculture centered in New York's Bowery or inside Malcolm McLaren and Vivienne Westwood's Sex boutique in London, it eventually spread to such unlikely locales as Westchester County and the Connecticut suburbs. It was in this latter area that Youth of Today formed, led by a charasmatic and self-proclaimed "physically fit, morally straight" frontman Ray Cappo (now a prominent yogi, going by his Hindu name Raghunath) and friend John Porcelly. The band stood out with both their clean living ethos and look. In defiance to punk's nihilism, Youth of Today furthered the idea of abstaining from drinking, smoking, and taking drugs, outlined in Minor Threat's song "Straight Edge," almost branding with punchy, anthemic songs, and a look that replaced the leather jackets, boots, and wild hairstyles of punk, with varsity jackets, hooded sweatshirts, shaved heads, and high top sneakers. The no bullshit approach to music and style eschewed punk's excess, becoming relatable and attainable to any kid, anywhere.
"You can't really say why you respond to music, but maybe there's this middle class thing that the Youth Crew [the nickname for the followers of Youth of Today] embodied," Hallin explained. "If you listened to really politically charged crust punk played by anarchists, [that] might not be as relatable."
During the performance in London, Cappo spoke from the stage about his quest to find Vans as a teenager in 1983 after seeing Ed Colver's iconic photograph of a stage diver on the back of Wasted Youth's debut LP Reagan's In(1981). "Back then, if you were Vans or were a skateboarder, you were a loser" he said to the audience, while perched up, squatting towards the crowd on a PA speaker. "But to me, they were the frickin' coolest things on Earth."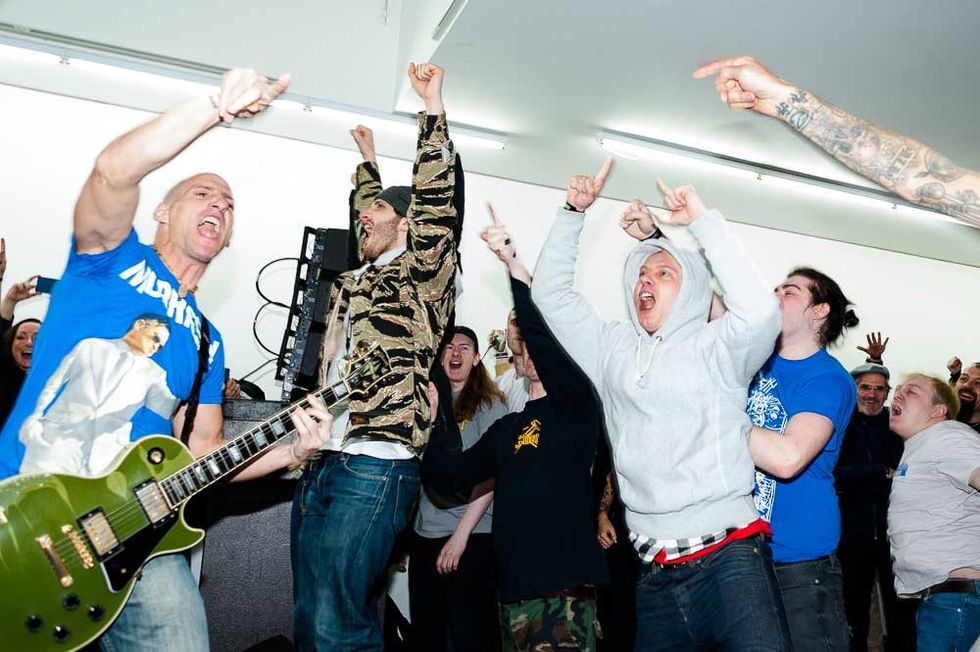 Along with the four Vans silhouettes that Our Legacy included and customized for the capsule, the long and short sleeve T-Shirts, hooded sweatshirts, and coaches jackets expand on and celebrate straight edge hardcore's culture of literally wearing your heart on your sleeve. Drawing from the logotypes and shirt designs of Youth of Today, Gorilla Biscuits, and Orange County, CA's own Uniform Choice, as well as borrowing the Bad Brains' overarching theme of P.M.A., Hallin's intent isn't to create another graphic tee. Entirely printed and manufactured in California, the designs themselves were screened at a shop owned by Cortney Dubar, brother of Uniform Choice's Patrick Dubar, who pioneered printing on all sides and sleeves of T-Shirts, creating some of the strongest branding in punk.
One of the band's most recognizable songs and slogans was and remains "Use Your Head," a phrase that appears on the back of a long sleeve shirt in the collection. Hallin spoke of how simply wearing a shirt with your favorite lyrics, shouted that you were not only a fan, but a believer. In an era when the real estate on clothing is so often occupied with profanity or suggestive imagery often lacking context and simply to get a reaction, perhaps the most subversive thing for brands to say is something overtly aspirational. Channeling that spirit, it's Hallin's hope that those who buy the collection not only wear it, but dig into the heritage that inspired it and take something tangible from it.
"It's definitely empowering," he said. "And for the fans of Our Legacy or those that aren't familiar, maybe it's something new and uplifting."