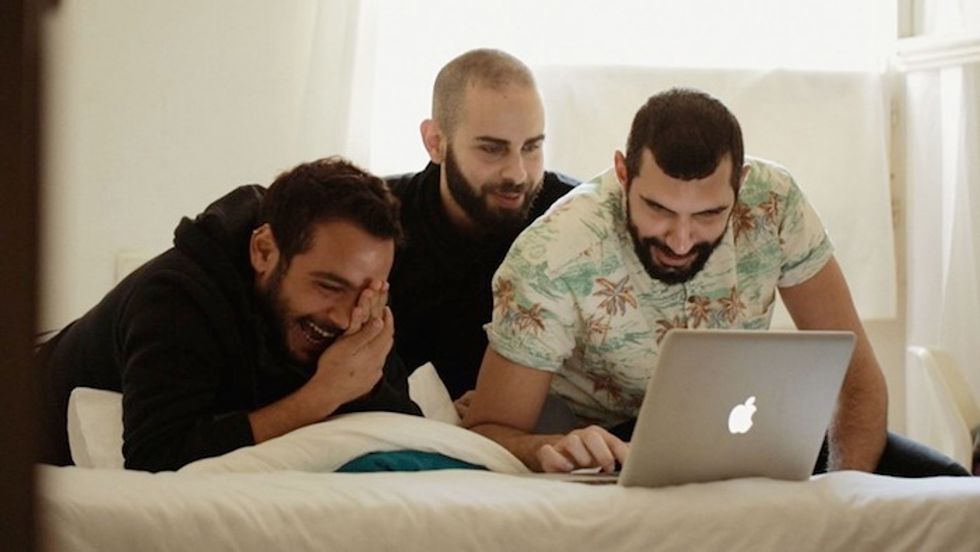 Tel Aviv has long been home to one of the Middle East's most vibrant LGBTQ communities, though the struggles of many living in the shadows is still an unfortunate reality as depicted by a new documentary called
Oriented.
An intriguing look at the juxtaposition between the personal and political,
Oriented
shows viewers what it's like to be gay in the Middle East, as many still grapple with the myriad familial and societal pressures that encourage them to stay hidden. The documentary focuses on three Palestinian friends living in Tel Aviv, Khader (a Muslim living with his Jewish boyfriend), Fadi (a "
Palestinian nationalist confronted by guilty Jewish love
") and Naim (a man who must come out to his family); over a 15-month period, we follow the charismatic trio as they navigate their personal lives in the midst of the Israeli-Palestinian conflict of summer 2014.
It's also worth noting that the title is a brief acknowledgment to Edward Said's concept of "orientalism," which first-time director Jake Witzenfeld says is a nod toward his own identity as a Westerner (Witzenfeld is British but lives in Tel Aviv). However, it's clear that a significant portion of the film is also dedicated toward addressing related misperceptions, as Khader says early on that "the west has monopolized concepts of liberalism and of being out of the closet." 
And though the film originally started as an apolitical project, it's inevitably remade itself into an intimate profile of the actual people living through this all, the ones who "hope that people recognize us and our desire to be recognized, and just know that we exist in this big mess."