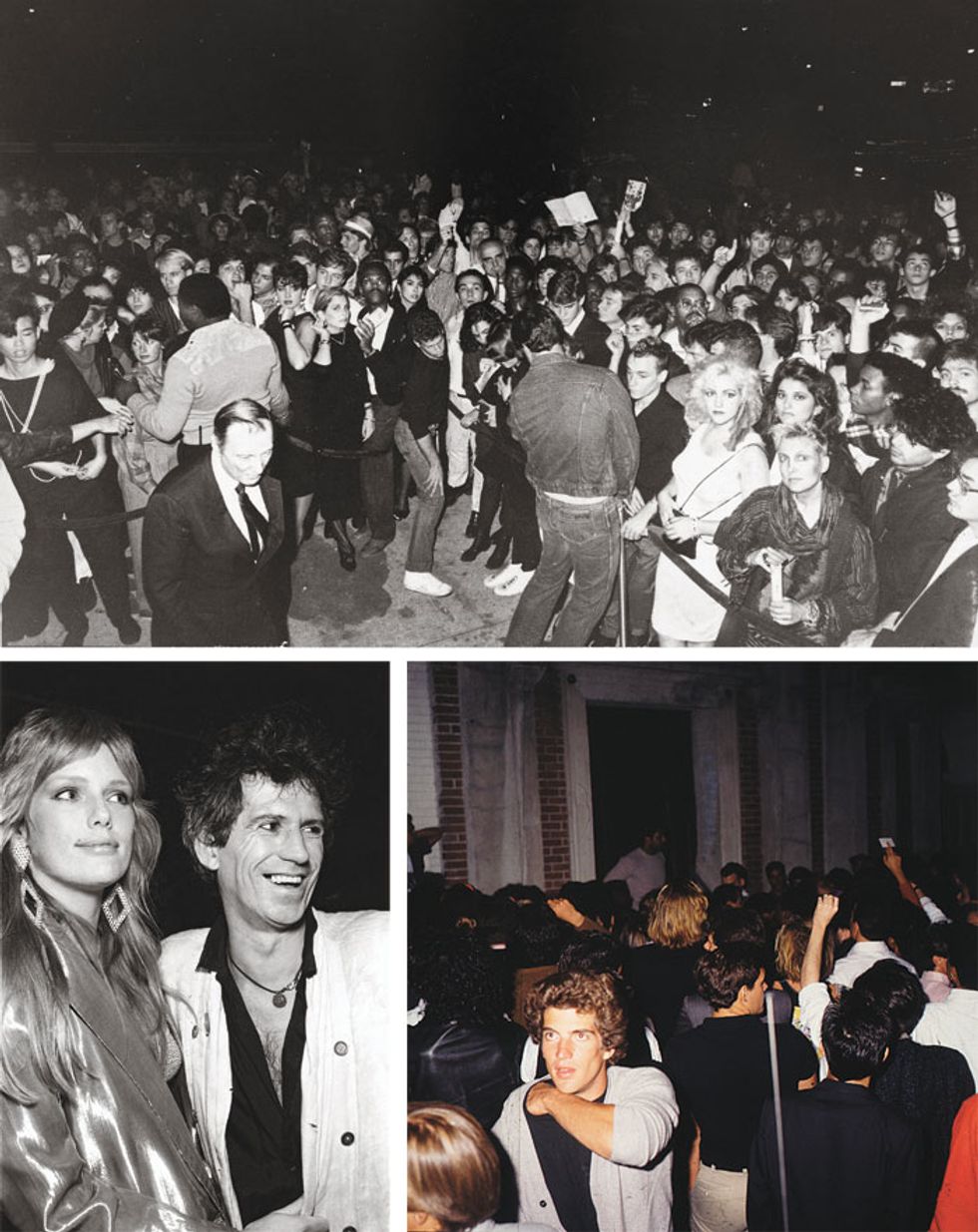 (Clockwise from top): The crowd outside; JFK Jr. waiting to get in; Patti Hansen and Keith Richards.
"It was more important that we make our mark than make it rich," says Eric Goode, one of the four founders of the legendary nightclub Area, which was only open from 1983 to 1987, but managed to be more influential and memorable than Studio 54. And those memories -- of over-the-top art installations, decadent after-hours antics and the famous and fabulous -- are all collected by Eric and his sister Jennifer, Area's art director, in the thick, oversize tome
Area
, published this month by Abrams.
Every six weeks or so, Area (which Goode started with his brother Christopher and childhood friends Shawn Hausman and Darius Azari) completely transformed itself. Themes like "Religion," "Elements," "Confinement," "Sex," "Future," "Fashion," "Art" and "Suburbia" went way beyond even the craziest of Halloween party décor, reimagining the 33,000 square foot space into a 3D multisensory mind trip. For the "Food" motif, Area's pool became a giant bowl of alphabet soup. "Gnarly" had a skate ramp with skateboarders gliding by the dance floor. "Religion" included a 10-foot burning cross and a confessional booth complete with a "priest."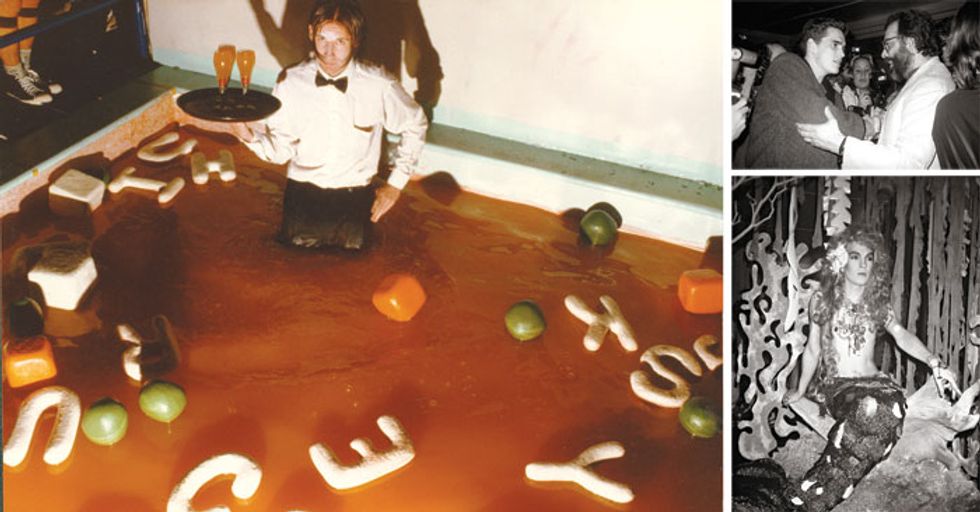 (Clockwise from left): "Alphabet Soup" by Marc Gabardino; Matt Dillon and Francis Ford Coppola; Bernard-Zette as Mermaphrodite for the "Elements" theme.
If you were lucky enough to get plucked from the manic and overdressed crowd flooding the club's entrance on Hudson Street, the first thing you saw once inside was a hall of dioramas showcasing Area's house performers in costumes. It was like the American Museum of Freaked-out History. Gender-bender Bernard-Zette would be posed in the lounge on any given night as Jesus Christ, Jim Jones, St. Sebastian, Brooke Shields, Anne Frank or Jane Jetson, to name a few. Inside the club, there was an enormous aquarium with live sharks, and a coed bathroom that soon became a VIP room without a velvet rope or guest list.
Warhol set up a Polaroid studio there, photographing Area's beautiful people. As Keith Haring, a regular contributor to the club's rotating installations recalls in
Area
, "I remember I had sex in the bathroom one night. That was one of my favorite times there: in a stall in the men's bathroom with two other people."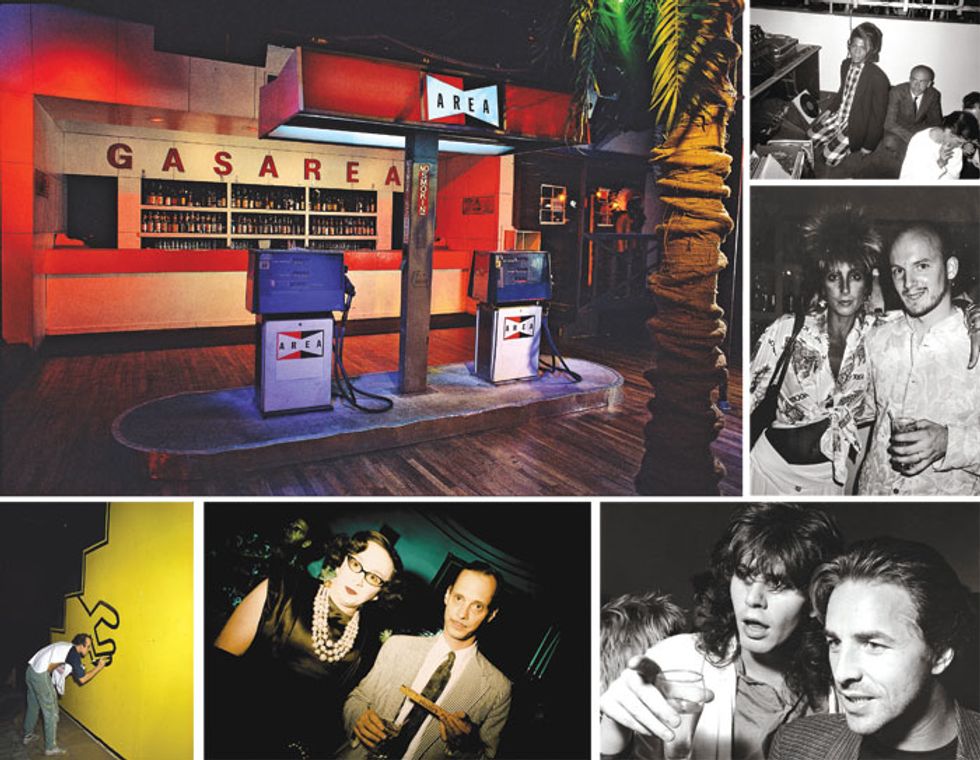 (Clockwise from top left): Dancefloor for the "American Highway" theme; Jean-Michel Basquiat and Francesco Clemente; Cher and Sawn Hausman; John Taylor and Don Johnson; Patricio Bisso and John Waters; Keith Haring.
Famous faces were everywhere. There were the artists: Warhol (who once created an "Invisible Sculpture" that was literally nothing in a hall window), Jean-Michel Basquiat (who would DJ), Francesco Clemente, Barbara Kruger and Kenny Scharf. The entertainers: Grace Jones, Billy Idol, Madonna, Sting and Cher. The socialites: Elizabeth Saltzman, JFK Jr. and Bianca Jagger. And the celebutantes: Teri Toye, John Sex, Michael Musto and Billy Erb. Federico Fellini came one night and was so dazzled that he sent a thank you note.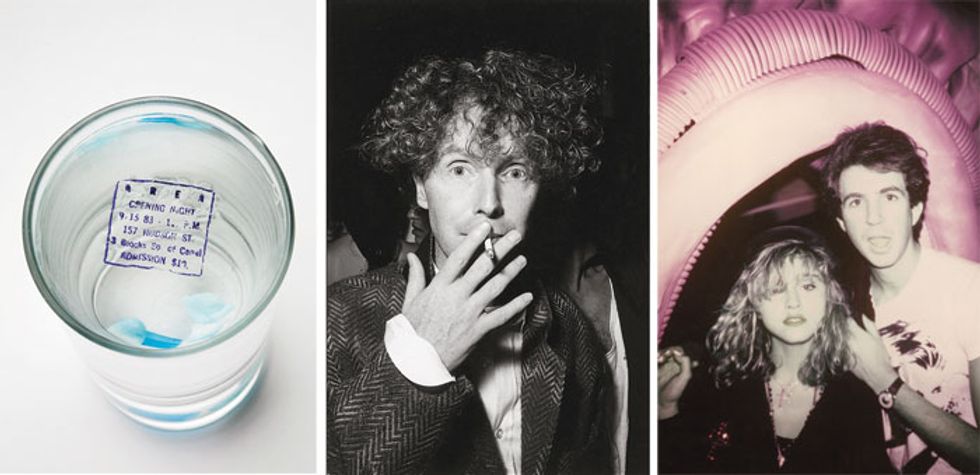 (Left to right): The first invite was inside a pill capsule that opened in water; Malcolm McClaren; Madonna with Area founder Eric Goode.
The invites, which were art themselves, became instantly collectible. For the opening, Area mailed a blue pill that when dissolved in water, spelled out the party details. For "Gnarly," a box released an amyl nitrate capsule that ambushed the receiver with a noxious odor. In the book, Jennifer Goode recalls that after that stunt, Judy Collins called the club demanding to be taken off the mailing list.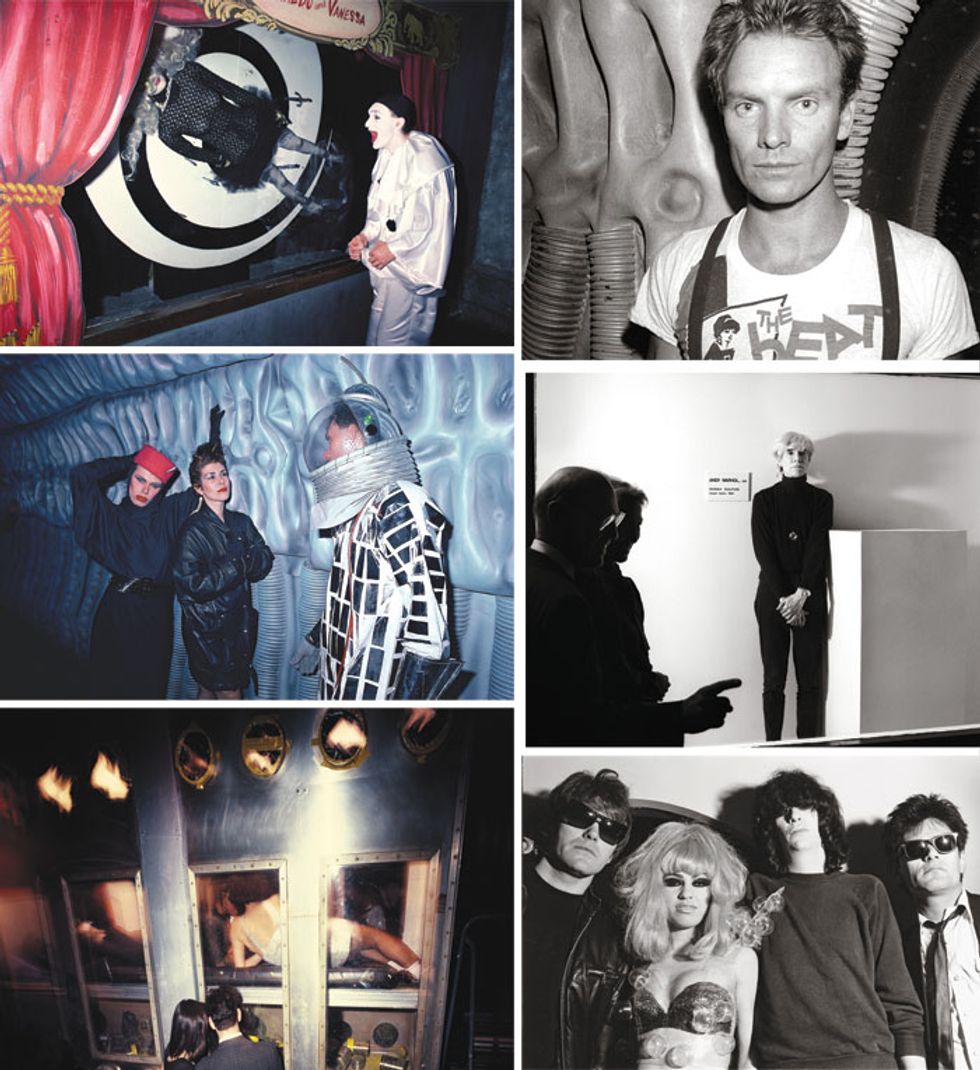 (Clockwise from top left): "Carnival" theme; Sting; Andy Warhol with his "Invisible Sculpture"; The Ramones with Christina Downing; Performers inside the glove boxes for "Future" theme; "Science Fiction" theme.
Warhol was always at Area. One night he brought Studio 54's Steve Rubell with him. In The Andy Warhol Diaries, Warhol wrote: "Steve Rubell was walking around saying, 'great, great,' being so jealous, wishing it were his club."

In 1987, after transforming 25 times, the club closed with the theme "Childhood." It was a fitting end to a place that gave birth to the most creative parties in the history of New York.

All images from Area 1983-1987 by Eric Goode and Jennifer Goode; Original photos by Ben Buchanan, Wolfgang Wesener, Richard Pandiscio, Patrick McMullan, Tina Paul, Claudio Elisabetsky, Valerie Shaff, and Peter Serling.