Whether he's designing out dresses emblazoned with Spongebob Squarepants's face, or quilted purses shaped like coats, Jeremy Scott knows how to make a splash. The designer -- and current Paper cover star -- cheerfully embraces all things flashy and wacky, fun and luxe, which makes him a favorite designer for pop stars like Miley Cyrus, Nicki Minaj or his muse, Katy Perry, who want the exuberance of their clothes to match that of their personas. Here we've rounded up ten of Scott's top pop moments, and the beautiful people who surround him.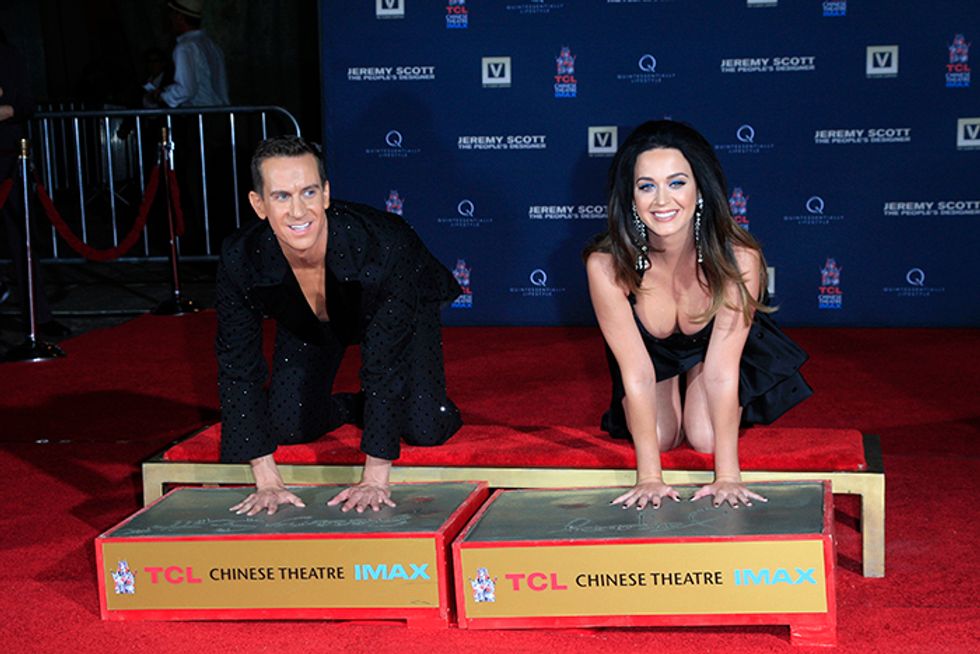 The premiere of Jeremy Scott: The People's Designer
September 8, 2015
Director Vlad Yudin's film tracks the rise of Jeremy Scott, from growing up in Missouri to helming Moschino, filled with interviews from Scott's cavalcade of celebrity friends. Unsurprisingly, the doc's LA premiere drew an equally star-studded crowd, including Vanessa Hudgens, Liberty Ross, Rita Ora, and Lily Collins, all sporting Moschino looks. Scott himself appeared with BFF Katy Perry, wearing matching black crystal-encrusted ensembles. They memorialized the night by putting their handprints in cement.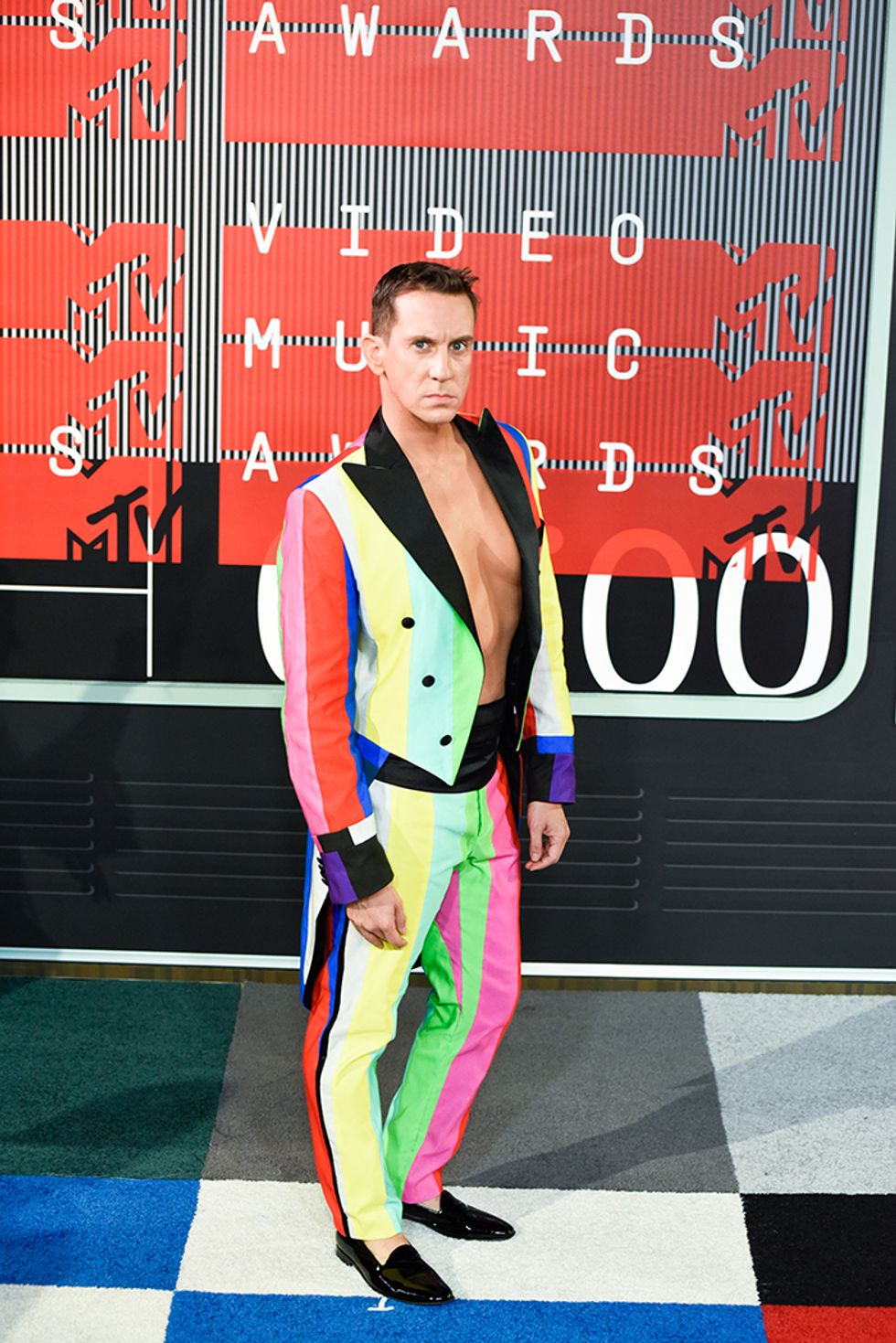 Photo by Owen Kolsainski/
BFA
.com
The 2015 MTV Video Music Awards
August 30, 2015
For this year's VMAs, Scott was invited to update MTV's iconic Moonman, giving him a metallic rainbow sheen, peace-sign chain, and coloring his flag with the technicolor bars of a TV test-pattern. That same bright pattern was reflected in the show's red carpet, which was also a Scott creation. Host Miley Cyrus, a Scott devotee and friend, also wore a collection of out-there Scott pieces throughout the show.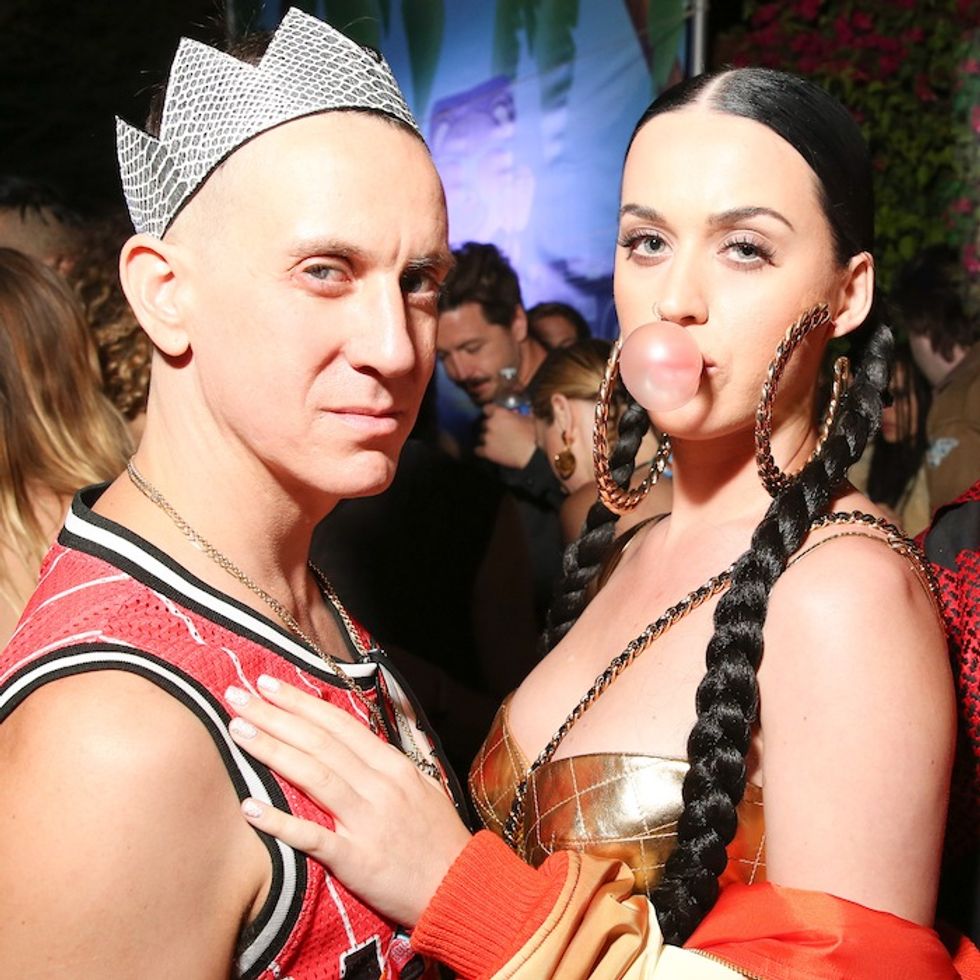 Photo by Benjamin Lozovsky/
BFA.com
The Moschino Coachella Party
April 12, 2015
The invite to Scott's Coachella party is always a hot ticket. This year, it was sponsored for the first time by the designer's brand, Moschino. (Adidas partnered with Scott on the fete the past three years.) The guest list -- curated by Scott -- included Katy Perry, Jourdan Dunn, Alexander Wang, FKA twigs, and Robert Pattinson, while Skrillex and Diplo occupied the DJ booth and provided the party's soundtrack.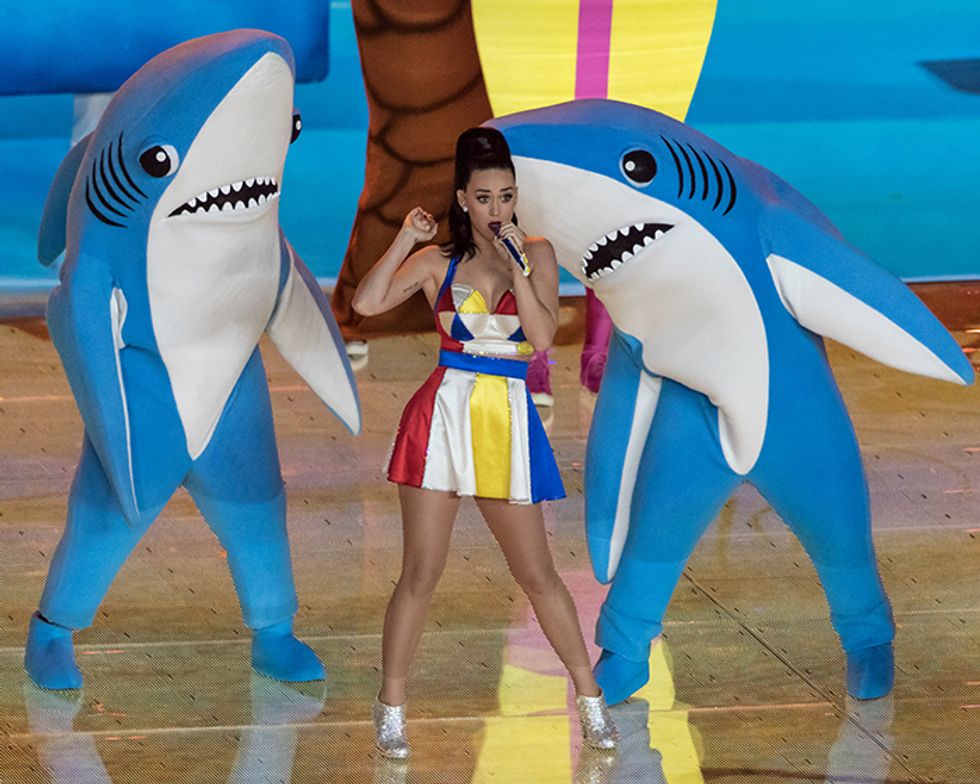 The Super Bowl XLIX Halftime Show
February 1, 2015
Katy Perry's Super Bowl XLIX halftime show costumes -- including the beach ball bikini forever made famous by Left Shark dancing behind it, and silver shooting star gown -- were a collaboration between Scott and the singer for her first Super Bowl performance. This wasn't Scott's first time being featured during the Super Bowl, though. In Madonna's 2012 performance, her back-up dancers wore Scott-designed track suits.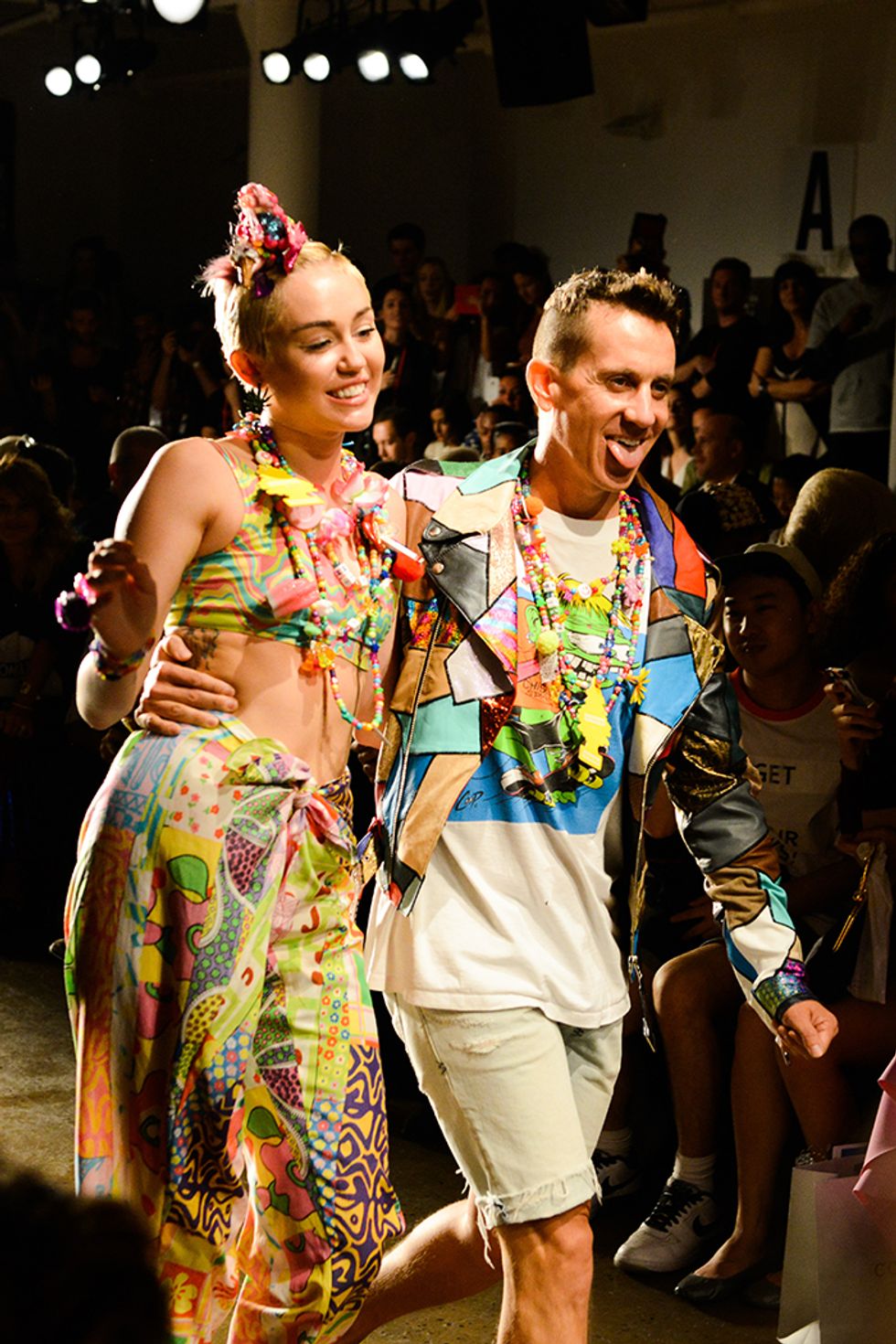 Scott's Funky Collaboration with Miley Cyrus
September 10, 2014
Prior to fashion week of fall 2014, rumors swirled about a collaboration between Scott and Cyrus to be unveiled during his show. When Scott's Spring/Summer 2015 collection went down the runway, it featured handmade plastic jewelry -- troll dolls and brightly colored toys featured heavily -- designed by Cyrus, who then took a final bow with him at the end of the show.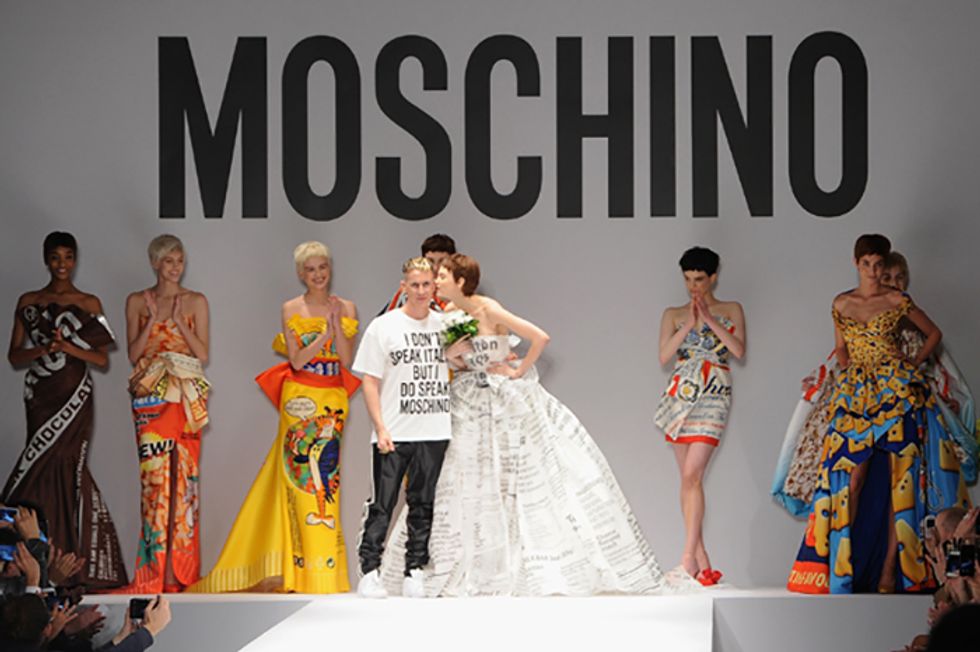 Scott's Start at Moschino
February 21, 2014
In fall of 2013, Scott was named creative director of Moschino and his famous friends were nothing but supportive of Scott's joining the Italian brand. Both Rita Ora and Katy Perry walked the runway during his debut show and Perry also signed up to be the face of Moschino's fall 2015 ad campaign, and sported a Moschino gown at the 2015 Met Gala.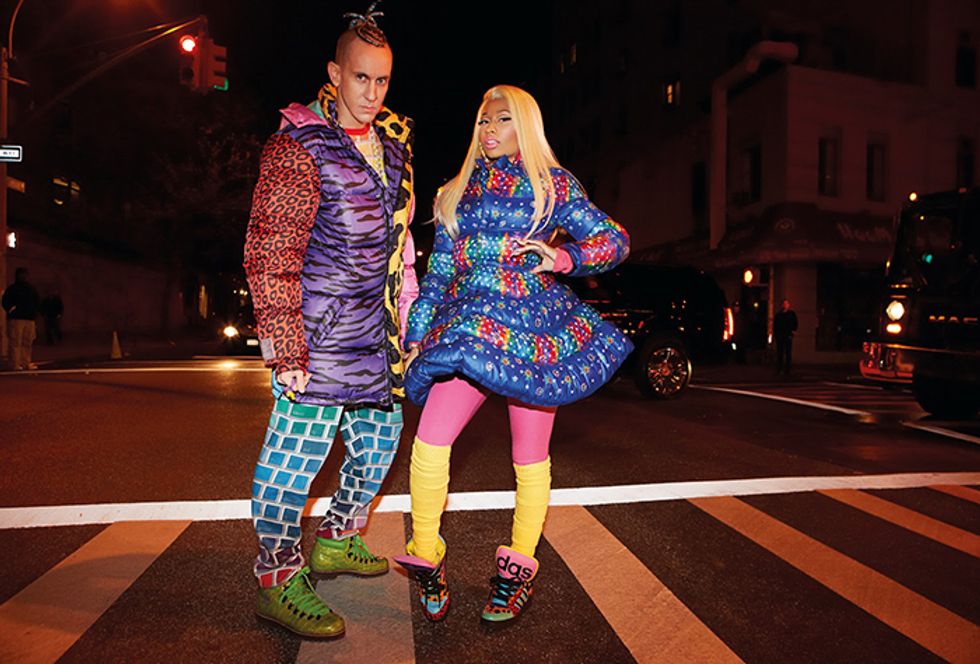 Scott and Adidas
2008-Present
Scott kicked off a collaboration with Adidas designing sneakers in 2008, a partnership that's been long-lived and fruitful. His unique aesthetic resonated with rappers and sneakerheads alike and his 2012 collaboration with the brand kicked off with a video featuring a slew of his famous musician fans, including Nicki Minaj and Big Sean, and Korean band 2NE1. A year later, A$AP Rocky worked with Scott on a signature take on Scott's iconic winged sneaker. When Kanye West debuted his first fashion collection with Adidas, Scott reportedly used his pull with Adidas to get the show off the ground.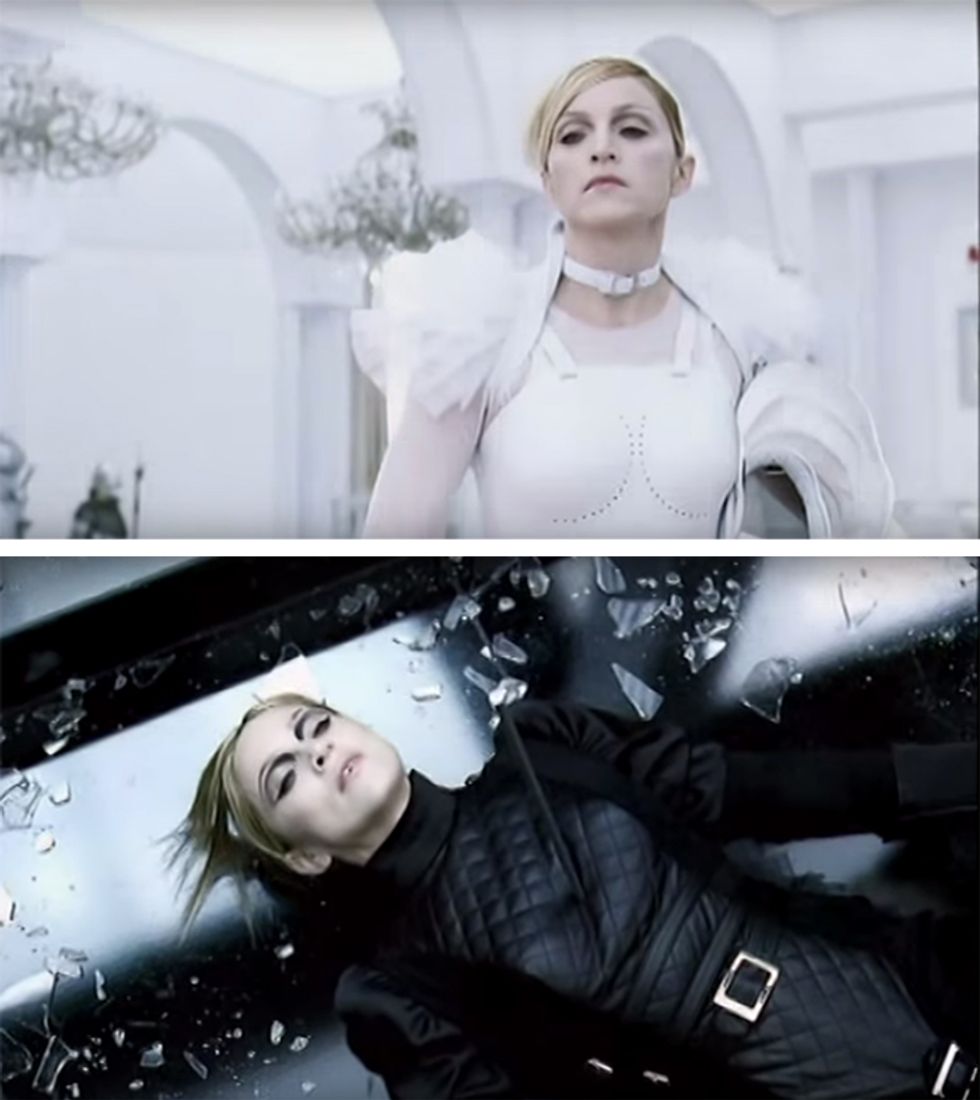 Film stills from
Die Another Day
music video
Dressing Madonna in the "Die Another Day" video
October 22, 2002
The Queen of Pop has been a long-time Scott fan. Madge wore his creation, an elaborate fencing outfit, in her video for her Bond theme song "Die Another Day" and he went on to contribute costumes to several of her tours, including her upcoming
Rebel Heart
performances. And like Perry, Madonna also selected a Moschino gown to wear to the 2015 Met Gala.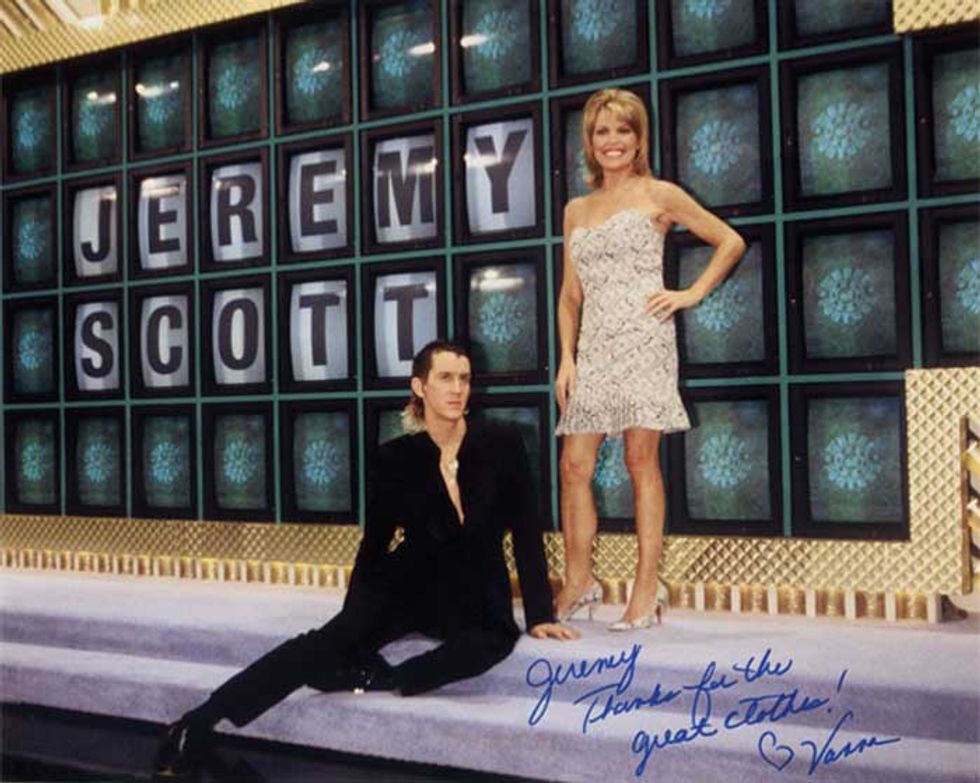 Vanna White wears Scott
December 31, 2001
In an attempt to update their image,
Wheel of Fortune
invited Scott to dress Vanna White. For five shows, White wore Scott-designed outfits while turning the tiles, including a dress printed with dollar bills bearing Scott's face.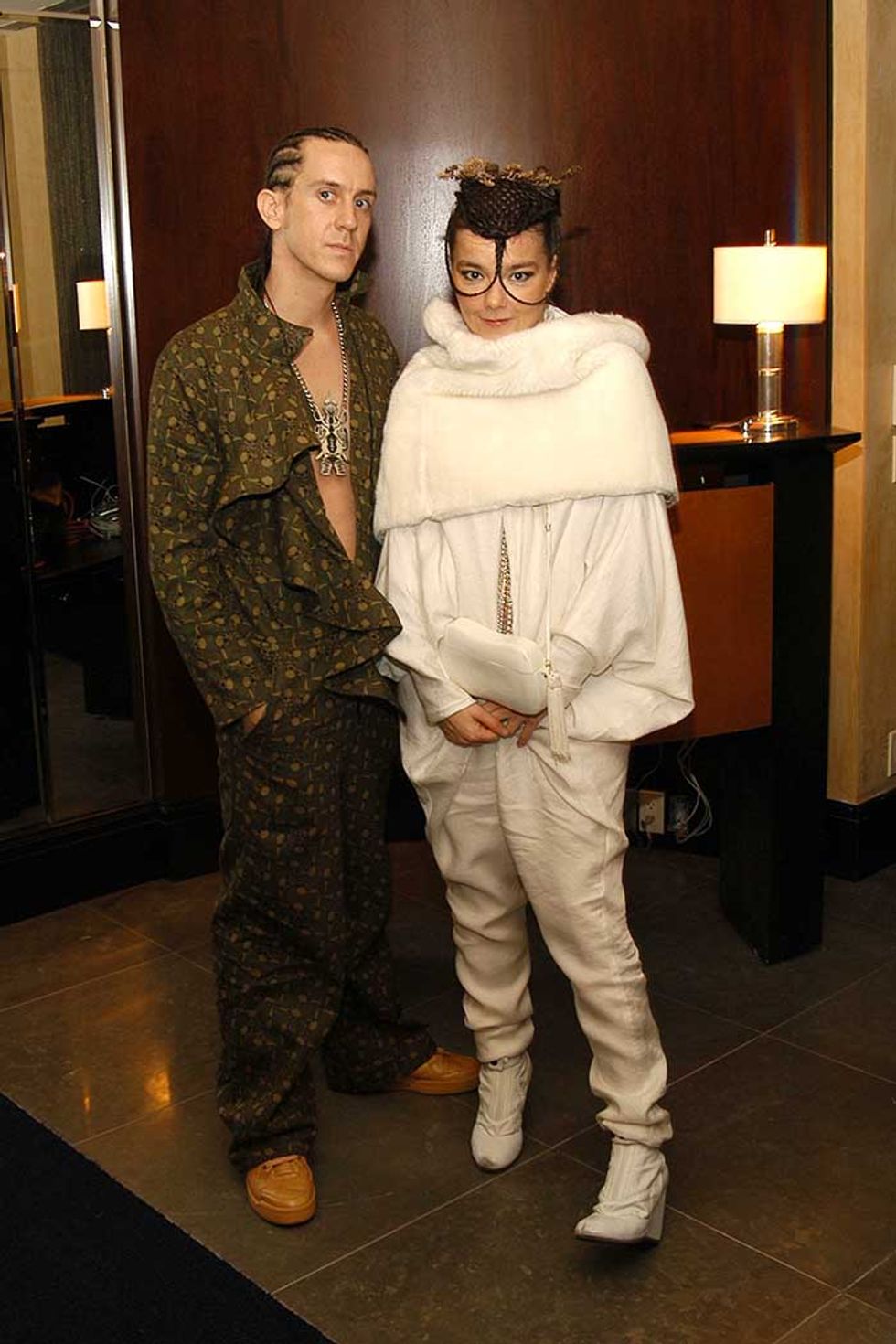 Bjork backs Scott
Late 1990s
Bjork has never been shy in her wardrobe choices, so it comes as no surprise that the Icelandic singer was an early adopter of Scott's clothes, reportedly phoning him up after just his third show and asking him to dress her. He provided costumes on several of her tours, including
Homogenic
and
Biophilia
.
You May Also Like