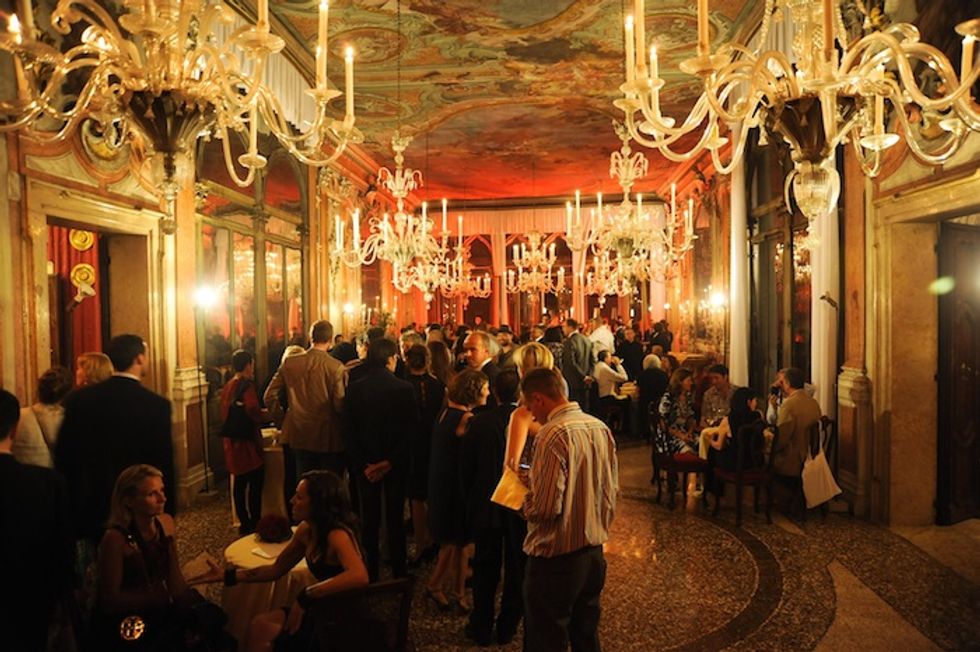 A scene from a Biennale party. Photo by Joe Schildhorn/
BFAnyc.com
Once every two years, Venice takes a timeout and is transformed into the epicenter of the art world. The Biennale spreads itself thickly over the city, taking over 30 pavilions in a decrepit park built by Napoleon, filling the huge halls of the Arsenale and overlapping with frescoes in small chapels and churches. And, as with any massive cultural event, the city turns into a nonstop party during the vernissage, which continues today and tomorrow before the Biennale officially opens to the public on the 9th. Basel may have pop-up beach clubs but the Biennale has parties in grand palazzos. While there's a slew of invitation-only dinners and receptions, some of the best action (not to mention people watching) will go down before-and-after the main events. Here are the best pop-up clubs, hotel bars, and local joints to enjoy a few drinks after a long day soaking up art.
Loulou's at the Bauer Hotel
(San Marco, 1459, 30124 Venice)
Loulou's, the swanky London nightclub tucked away on the cobble streets of Mayfair, is relocating to the Bauer Hotel's B-Bar from May 1st-10th. "It's going to be ten days of complete extravagance," says Garrett Moore, whose production company, Immersive Cult, is bringing the colors and patterns of Loulou's to Venice for the opening days of the Biennale. "We've taken the materials from Loulou's and made them completely crazy," he says, describing the ambience as "patterns on acid." An actor dressed in a giraffe costume will be roaming the streets by day to promote the club -- we're guessing he'll become the city's best-bribed employee.
Le Baron at Palazzina Grassi
(Ramo Grassi, 3247, 30124 Venice)
Imagine Le Baron's Chinatown location, then take away the karma sutra wallpaper and fog machine, add chandeliers, a "Krug Lounge" and a longer bathroom line and you're in the club's pop-up at Palazzina Grassi. This collaboration is hosting the annual Gagosian dinner as well as smaller evenings for Italian artists and curators. Sponsors include Belvedere and Hublot so expect a hefty earpiece and gold-plated clipboard at the door.  
Harry's Bar
(Calle Vallaresso, 1323, 30124 Venice)
Grab the makeshift table sandwiched between the entrance and the bar for a good view of this establishment's notorious crowd filtering habits. The bar is usually cramped with tourists looking through the photos they've taken that day, and the small tables at the back are on permanent reserve for aristocratic-looking, elderly Venetian couples and their handsome children. After glugging a couple of overpriced Bellinis and wolfing down a plate of Paccheri alla Genovese, you'll be ready for a long night.
Al Timon
(Cannaregio, 2754, 30121 Venice)
On the other side of the island, far from the Biennale Giardini is Al Timon, a small joint that should hit the spot if you're looking for a local pre-game. The tables overflow out of the bar, spilling across the sidewalk and onto a docked barge boat. You're probably not going to bump into Klaus Biesenbach and his crew but go for a cheap plate of cicchetti (Venice's answer to tapas) and big glass of red wine before heading to more extravagant festivities.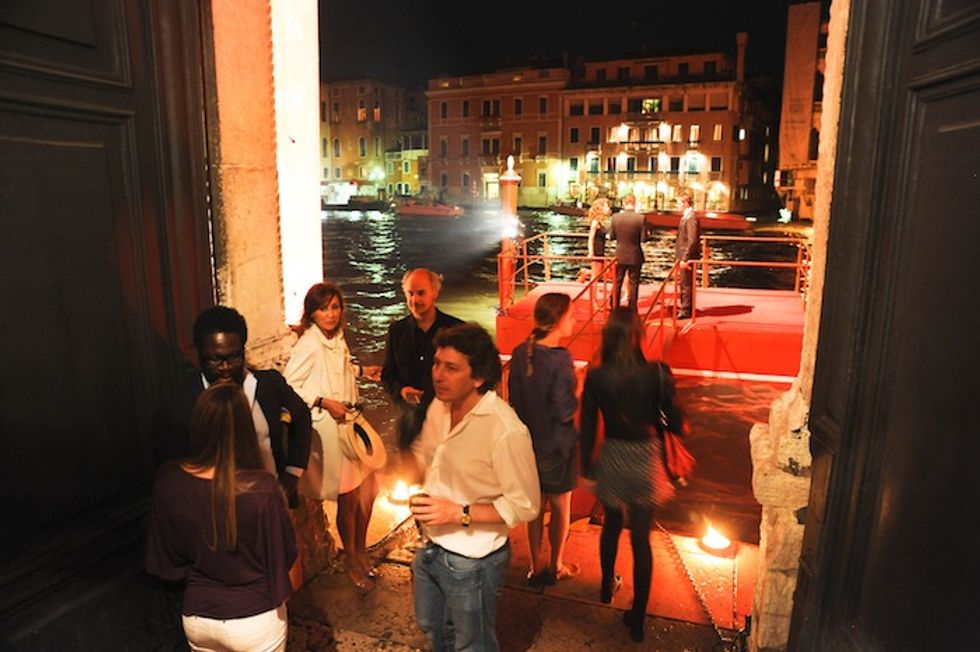 A Biennale party. Photo by Joe Schildhorn/
BFAnyc.com

Piccolo Mondo
(Dorsoduro, 1056/a, 30100 Venice)
Founded in the early '60s, this old haunt is a great spot for the last ones standing. It usually stays open until 4am, depending on the crowd. Expect a mixed batch of local oldies, gap year students in baggy tie-dye and other wanderers dancing and drinking, trying to delay the moment when they have to go back to their Airbnb.
El Sbarlefo San Pantalon
(Calle San Pantalon, 3757, 30123 Venice)
This cozy, wood-paneled bar is great for a low-key drink. Try not to be distracted by the table lamps that have champagne bottles for bases or the sauces artistically drizzled over your pre-dinner snack and focus on the live jazz and strong drinks.    
Venice Jazz Club
(Dorsoduro 3102, Ponte dej Pugni, S. Margherita S. Barnaba, 30123 Venice)
Visit the Venice Jazz Club and you'll enter an underground, live jazz scene that only the locals usually experience. A team of musicians and instruments take over the cramped stage every night of the week (except Thursday and Sunday) from 9pm onwards. Book in advance to get a good table, close to the band.
Hotel Excelsior
(Lungomare Guglielmo Marconi, 41, 30126 Lido, Venice)
If you want to get away from the art hype and treat yourself to some alone time, hop on the Vaporetto to the Lido and have a drink on the terrace of the Hotel Excelsior. Roll around on the well-manicured lawns and dip your toes into the filthy Adriatic waters before slipping back into a pair of fancy sneakers and heading back into town.
Campo Santa Margherita
(30100 Venice)
If you're all pumped up with nowhere to go, head to Campo Santa Margherita, a bustling piazza in the Dorsoduro district, and sit outside at one of the local bars. Whatever time of night you saunter through, you'll be sure to find toddlers running around the square and university students squatting on the ground drinking beers.
Cantina Do Mori
(Sestiere San Polo, 429, 30125 Venice)
A classic Venetian haunt that has been open since the 1460s, Cantina Do Mori is worth stopping by for a round of drinks on the post-Giardini, pre-party-hopping Vaporetto ride back home. With its chalkboards, copper pans and old wine barrels, this classic bacaro, (Venetian wine and snack bar) is Medieval Italy with the perks of real bathrooms and electricity. 
You May Also Like