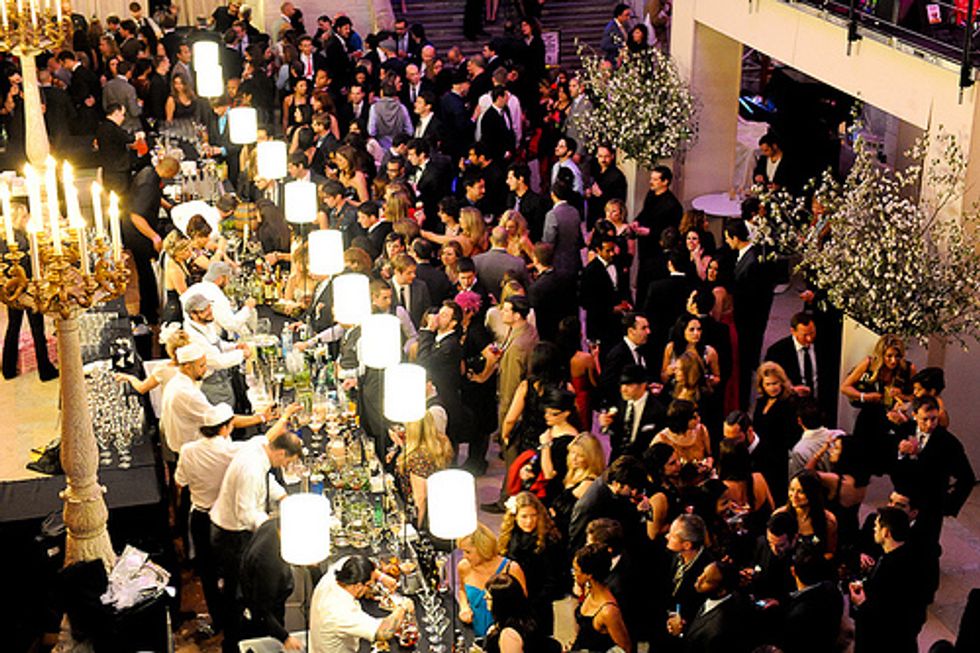 The grandfather of New York booze festivals begins tonight on the steps of the New York Public Library. Mosey by round about 9 PM and, tipped off by magnificent millinery and dashing tuxes, you'll wonder if a high society ball is taking place within the stacks and grand salons. Less an aristocratic affair and more a cotillion for cocktailians,
the Manhattan Cocktail Classic
is an indulgent five-day marathon of soirees, seminars, and semi-gratuitous drinking sessions. 
The Gala: A notorious shit show, the gala is still a ton of fun, especially if you're fond of scantily clad go-go dancers, exotic birds, and copious amounts of booze. There's no better excuse to put on a fancy dress or your shiniest shoes and drink a thousand sample sized cocktails. Expect a dry cleaning bill, sore feet, and a severe hangover. Tickets are sold out, but we bet there are is some last-minute Craigslist scavenging to be had. 
Do Not Resuscitate: It is a beautiful thing that proper Old Fashioned's and Brady Crustas have been revived from the annals of 19th-century cocktail books. But there are also some cocktails that should stay within the pages of those dusty tomes. On Saturday, some of the cocktail world's most discerning historians (including David Wondrich, Philip Duff and Audrey Saunders) will vote their least favorite classics off the boozy island. 
Gentleman's Cocktail Crawl: This may be the fanciest bar crawl you'll ever stumble along. From the Breslin at the Ace to the Libertine at the Thompson Hotel, this Saturday afternoon tour through some of the city's plushest parlors allows six splashy drinks at over a dozen gilded hotels. Put your frat jackets away and pop your martini-drinking pinky. 
The Darkest Night, Sleep No More: If you haven't been to this phantasmagorical feature wound through the labyrinth of Chelsea's McKittrick Hotel, now would be the time. Mainly because it includes a bar full of Scotch. Monday evening, the bizarre Hitchcockian hotel will open its doors to MCC-goers for an evening of wild drinking and Twilight Zone wanderings. 
Indie Spirits Expo: Peanut Rum Liqueur. Antica Sambuca. Iceberg Vodka. A scavenger hunt for esoteric booze, the Indie Spirits expo has all of the whimsical ingredients you need to impress the next group of unsuspecting dinner guests. Your know-it-all food friend won't be able to help but balk when you pull out the Corsair chocolate rye for a round of nightcap Old Fashioneds.